Microsoft Edge gets a new bug reporting and tracking website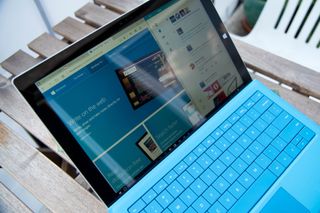 As part of today's Microsoft Edge Web Summit, the company officially revealed a bug reporting and tracking website for its web browser. It will allow web creators to submit bugs they have encountered while using Edge and see how those bugs are being fixed.
The site, which can be found at Issues.MicrosoftEdge.com (opens in new tab), is Microsoft's solution for giving users a better way of submitting bugs specific to Edge. Previously, the company used Microsoft Connect for bug submissions, but it was not very efficient. This new site should give web developers and Microsoft a better way to communicate so that Edge works better in the future.
Microsoft also introduced a new Platform Data site (opens in new tab) for Edge, allowing developers more access to the data that the company collects and uses for Edge. API Usage and API Catalog are the first two data categories that will be available to developers with the Platform Data site.
Yeah Big Brother keep watching.

I thought MS was trying to consolidate all feedback into the Feedback Hub. Doesn't this work against that?

We needed to make sure Edge had a developer feedback channel open to all web developers, which means being completely cross platform and in the open. On the back end, it's integrated into the same database.

Makes sense. Hopefully this level of transparency is coming soon to the Feedback Hub for OS issues too.

It is for Developers, not end users.

Edge require many development like downloading in back ground and pausing download etc.......

Guys ... Speaking on feedback and web browser ... I already set my Edge and Cortana on my Lumia 830 .... but when I do some questions to Cortana, the Bing gives back links and annoying ads (is ok, Cortana is recently launched in beta here in Brazil) BUT it also gives me back some porn-related ads on the 'web' tab in the embedded Cortana browser... Feedback inside Cortana is enough? What else can I do about that (porn-related ads appearing in Cortana results) ? Thanks !

to change security setting somewhere

SmartScreen filter already activated. Security Search inside Cortana activated too. Still giving me porn-related ads suggestion on Cortana web results after questions. I just figured out it happens more frequently if I ask something about 'position' (like my football team position in local championship )... I guess Bing don't really block everything we want... but the worst part is Bing (or MSFT) allowing these annoying and suspicious ads all the time (and in the top of web results).

open Cortana, click on the hamburger on the top left, click on notebook, click settings scroll down to safe search, make sure it is set to at least moderate if not strict.

Maybe now the'll finally get that Adobe Flash crashing bug corrected so Edge is usable for many people.

Is that what it is? I went back to Maxthon because Edge performance is AWFUL. Firefox is better, but it crashes a lot. Maxthon is the only thing that kept me from going back to Windows 8
Windows Central Newsletter
Get the best of Windows Central in in your inbox, every day!
Thank you for signing up to Windows Central. You will receive a verification email shortly.
There was a problem. Please refresh the page and try again.