Microsoft Edge gets tab previews and more in Windows 10 build 10565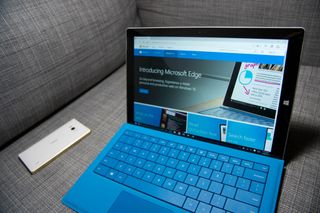 Alongside a new Windows 10 Insider build comes an update to Microsoft Edge with some new features. The new version of Microsoft Edge in Windows 10 build 10565 includes tab preview, syncing for favorites and reading list items, and more. Here's the full breakdown:
New EdgeHTML features:
CSS initial and unset values
New Microsoft Edge features:
Tab Preview (preview contents of a tab on hover)
Syncing Favorites and Reading list items
Drag and drop for file upload is now supported
As usual, this version is included in your update to the new Windows 10 Insider build, so it doesn't require any extra work on your part to acquire. Be sure to let us know what your favorite new feature is in the comments below!
Source: Microsoft
Windows Central Newsletter
Get the best of Windows Central in your inbox, every day!
Dan Thorp-Lancaster is the former Editor-in-Chief of Windows Central. He began working with Windows Central, Android Central, and iMore as a news writer in 2014 and is obsessed with tech of all sorts. You can follow Dan on Twitter @DthorpL and Instagram @heyitsdtl.
Tab Preview! Waited for this...

Hope it now syncs bookmarks, favorites and the rest. Those are more important than this.

Isn't that what it says it does in the first paragraph?

It was a mistake releasing Edge before it was ready.

Finally drag and drop! I can convert from chrome!

Now just need extension support and support for downloads over 4GB then i can can finally get rid of firefox

yesterday i visited adblockers site and there is an edge extension reminder for when it's ready. i gave my email to notify me

Again I am saying. Reduce the size of all icons and boxes in Edge. Be "Modern" but not by enlarging the elements' sizes. And also they should make the favourites bar more productive like the bookmarks bar in Chrome. Just iconography needed. No full names!

This. My Bookmarks Bar in Chrome is full of icons with no name, it's just more productive

I'm running on TP post RTM and Edge is nearly unusable for me on three machines including my regular use Alienware 18, my Surface Pro 3, and Lenovo W540. It crashes or hangs too often while rendering any multitude of sites. Clean installs, even tried the localhost remapping trick for crappy sites on the shitlist. Nothing helps. Of course, I've been providing feedback. I have been using it since before rebrand, it's never been less usable than it is now. I am patient, I'm not sure about the rest of the world if this is a common occurrence. Hopefully it's just tied to TP build.

I can confirm that it's a TP build issue. I have an Alienware desktop running TP where Edge is unusable. I have a HP Stream 13 with Retail build, where Edge is as smooth as silk.

Do tab previews work with touch? Can someone explain?

I would imagine not as you can't really 'hover' in touch mode.

CSS initial and unset values nice!

My favorite feature, number one, is the swipe left/right to get back to the previous webpage or skip to the next page. Very sad it isn't part of this update. I hope microsoft will still add it in a next update before threshold 2 "prime time". tabbed preview should have been implemented as standard tabbaed previews just like metro version in windows 8.1. The current implementation I think will be frustratingly annoying in the long run. It takes a full second (if not more) to see the tab when you do mouseover. Not a good glanceable experience (especially for tablet experience). I want tabs to be glanceable in less than 3/10ths of a second. The best experience is an instant experience. It is best achieved by having tab preview standard in view. It should be added like an option for tablet mode or in settings or something of that nature. Already looking forward for build 10566 for that matter. I agree syncing favorites should have been on Edge since launch of windows 10 back in july. Happy is it finally supported.

Happy to see new features but the thing Edge really needs is plenty of stability improvements. It's infuriating to use sometimes. There's nothing worse than a browser that becomes completely unresponsive for long periods of time or is always crashing & losing your tabs.

What about the browser remembering its position? Or the problem when pulling out a tab and it keeps opening a new instance? Or the problems with ESPN and YouTube? Those are my biggest problems with the browser and the first two impact my work/job tremendously.

I haven't been able to receive preview builds since 7/29. I am on Fast. Today, I disabled preview builds, rebooted and then re-enabled and rebooted again. Nothing so far but hoping for later. Anyone else have this trouble?

I hope they fix the stability issues first. It sucks at handling media and all the other garbage that is ruining the web.

Don't forget the forced closes.. I have them at least 5 times a day

It might be your graphics card. I updated mine and Edge stopped crashing and slowing down.

Gesture/swipe navigation?!?!?!?!? When?!?!?!?!?

When a do we get to choose the destination for downloads? "Save as" anybody?

Still cant believe these weren't included in the first build?

This. How is this still not sorted!

I just installed firefox after failing on xbox one, my tablet and desktop trying to play the latest episode of The Blacklist in the Viaplay app (like Netflix + live sport). Problems on xbox is ok since its DP. But im not impressed with Edge on the phone either. Its failing on everyday tasks - no matter the device. Everyday tasks that million of "normal users" are expecting to work. Pathetic.

I'm running the latest build now but still having the same problem as before in Edge: When I try to import my favs from IE I get an error message "unable to import". I thought with this new build this would be fixed but I guess not. Anyone knows a solution or a workaround?

Yay for syncing! is there a way to have the latest Edge version while still using a non preview copy of Win10?
Also, that browser really needs an option to make graphic items smaller. And tracking protection lists like IE

Metro Internet Explorer still the best (on tablets)

Can't wait for extensions!!!