Here's what's fixed and what issues are in the Windows 10 PC Insider preview build 10565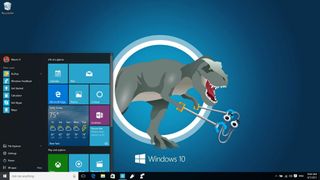 As part of the release today of the Windows 10 PC Insider preview build 10565, Microsoft has provided a list of what's been fixed in the build compared to previous versions, and a list of known issues as well.
Here's the breakdown of the fixes, via Windows Insider head Gabriel Aul:
You should no longer see a warning message in the Settings app > Update & Security > Windows Update regarding changed ring settings for preview builds unless you actually change your ring settings.
Background audio playback works again when apps like Groove are minimized.
We fixed the issue where clicking on the system icons in the notification area quickly results in Windows Shell blocking the launch of fly-outs like Audio, Networking, etc.
After Build 10525, we heard a lot of feedback that some context menus were too big for mouse. We've made adjustments to many of the context menus to make them smaller for using them with a mouse.
You can now pin contacts to the Start menu from the People app.
Certain apps won't appear twice anymore when pinned to the taskbar.
Hiding desktop icons via context menu on the desktop now works.
Windows Store apps should now be updating automatically.
Here's a list of what issues Windows Insiders should be aware of when using Windows 10 build 10565:
The search box does not work if you are in a locale where Cortana is not available. We are currently investigating workarounds.
The Xbox app for Windows 10 will consume gigabytes of memory on your PC if you have any Win32 games (non -Windows Store games) installed on your PC that have been identified as games or added by you in the Xbox app. Closing the Xbox app will release your PC's memory.
WebM and VP9 have been temporarily removed from the flight builds. We continue to develop a VP9 implementation that we intend to ship in Windows. Expect VP9 to return soon in a future release.
Small form-factor devices, like the Dell Venue 8 Pro, that boot with rotation or virtual mode screen size set larger than the physical screen size will experience a bluescreen on upgrade and will roll back to the previous build
Source: Microsoft
Hmmm... This time they broke less things. ;-)

But the xbox app taking gbs of ram worries me.

I think they meant storage as in hard drive, not RAM

Heh, in the original post they actually say "all available memory" ;-)

That's funny. Sad but true too.

Fix the broken pixels top left action center please. It's something to be ashamed of. It's there for months.

Noticed that too thought it was just my PC. Annoying it is.

I thought the same until I saw it on every device in every store, home, whatever. Once you see it, it will haunt you. I wonder why nobody sees such things at Microsoft. They should have a team for pixelperfection/consistency.

WHY?!? Why did THIS have to be brought up! I had never seen it before. I was happy. THEN somebody had to bring this up! I Can't Stand it! SMH. Please, next time just leave us poor ignorant people alone and not spoil things for us by pointing out things like this. I could have been happy not seeing it for a long time to come.

Lol sorry! Imagine what I've been going through past months.

Welp. I just noticed this. Damnit.

I hope you're providing this feedback on the official app. It's useless to post it here unless you want a flare if drama.

You really think that helps? All my feedback gets max 3 votes. The feedback system is fundamentally flawed for things like this. Only hyped stuff gets votes there.

You think they only look at the top 10 items? Plus, if you post that feedback and everyone notices it then maybe it'll get upvoted by everyone who is as annoyed by it as you. Don't complain about something if you're not willing to put in the least amount of effort to fix it. It takes less effort than actually complaining. Plus, who knows what your other feedback is. Maybe they truly are things no one cares about. Or maybe they are things that people already posted and is just redundant.

I don't see any broken pixels. Where should I see them??
[update] oooooh nooooooo, there are some pixels missing, noooo, now this will drive me crazy and obsess me

When you bring on the action center look at the very top left of it. Sometimes it is hard to see depending on what is behind the action center. Sometimes it is very clear to see. Try changing what's behind your action center in the top left area. You'll see.

I've tried everything, even removed transparency. I don't see this issue. It could be certain graphics cards doing it. I'm using an Nvidia GTX 670 with latest drivers.

And yet going over my PC and SP3 its pixel perfect, how strange. Maybe its a USA thing.

Also the bottom of the text on the calendar tile is cut off.

Fine on mine. You guys should get the latest graphics drivers for your graphics cards.

nothing to do with graphics.

Then why are only some people seeing it? I am pushing my face right in the area and changing settings, trying different backgrounds and I don't see this issue. And graphics is everything when it comes to drawing on the screen. Before I installed nvidia drivers everything was off.

you know that a bug is not reproduced on every single device in the world. right? This issue is happening on my surface pro 2 when the calendar tile size is medium and it is showing the date. Drivers are up to date. (You don't even need to check because Windows itself makes sure they are up to date)

Latest build from yesterday fixed it for me. Are you checking on that build?

That is where I was checking it. I run my windows on a big 27 inch monitor and it's a bit high so I wouldn't have noticed it until I looked. But I guess I looked after they already fixed it.

I don't see any broken pixels. I have the latest nvidia drivers. Though, they still haven't fixed mail notifications for me. Still nothing in the notifications section.

Guys,the latest build from today has fixed it!!!! Wow!!!

The mail issue? Damnit I still have it. :(

What about mobile build??? When does a new build for mobile OS will appear
And what about official build for mobile OS

They plan on releasing it this week, maybe we'll get to see it tomorrow 'fingers crossed'

That xbox app one could be annoying if you use that to stream, right?

Finally I can minimize groove music and it'll still play :)

I know, Right. This one's been a little frustrating, especially when trying to use a Surface 3 in tablet mode :)

So does this mean I shouldn't install on my Dell V8P??

That's what I'm thinking. Not moving Stream 7, though I really want to for messaging, but, not gonna. Debating moving SP3 to fast though. That Xbox bug could be super annoying though.

Is this about the error/bug at the first boot in the previous build?

That xbox bug will sure as heck annoy more than a few people lol.

It actually made me switch back to slow after I read it. I just switched to fast so I could get messaging then I read this and switched back before the build came.

"Too big for mouse"? What the fuckity fuck are people complaining about, nowadays? So some people are complaining because some elements are touch-compatible just because they are "too big"?

I didn't complain, but the new context menus looked terrible, with way too much space between each listing. It never occurred to me that they were designed for touch. You may scoff, but details like that matter.

Instead of making something one-size-fits all for the context menus, they should choose one size for desktop mode and one size for tablet mode.

How about this for simplicity. Don't even bother about which mode you're in. If the menu is launched by the right click of a mouse, make the space between menu items smaller. If the context menu is launched because of a finger touch and hold, make it bigger.

Switching DV8P to slow ring. Spent the weekend clearing up space for this build to be met with this crap.

Yeah, a bit sad about this bug too.

Is anyone else getting blank tiles..? =/

When will we have transparent tiles for desktop/tablets tho???

I'm hoping that we'll get the ability to load apps written for Windows Phone 8.x on Windows 10. There are some apps that would be incredibly useful to have on my desktop that are currently exclusive to the phone. I don't mind at all if they can't be resized. It would just be nice to have it available on the desktop.

Still not feeling warm and fuzzy. Exercising patience.

My mom's DVD player still doesn't work and it worked before windows 10. Posted via the Windows Central App

is it the hardware or missing software? If it's software get VLC or something

So I wonder if Cortana will now work in Australia again on this build.

Anyone else have problems with connecting to wifi after the update????

I had 3 roll back 2 PCs (a Dell and an HP netbook) because of the wifi. I had no problem on my modern Lenovos.

when do they fix those tiny blurry icons on taskbar?

I've noticed that the icons are blurry as I open the start menu but then they clear up. Not sure if that's related or not.

And why does the start menu still have a different context menu when they are trying to unify it? Posted via the Windows Central App for Android

Did they fix Hulu and Netflix app streaming? Broke it on surface pro 3 with previous build.

Didn't break it on Surface Pro 1 with previous build. Have you tried uninstalling and reinstalling Hulu/Netflix? it seems odd it'd work on much older hardware, but not newer hardware.

did they fix the network stack? Plex was sorta broken as well as browsing SMB shares from Linux to Windows 10 Host.

I just want to know where to get that wallpaper ;-) :-P Posted via the Windows Central App for Android

Edit: got it
https://onedrive.live.com/?cid=60607f24b60d0ceb&id=60607F24B60D0CEB%2114... Posted via the Windows Central App for Android

It looks like install from USB is broken. If I install using Easy2Boot from the ISO, the ISO is mounted as drive Y: but I still get the 'required dvd\cd drive device driver mssing' error. Release ISO works fine under same circumstances
Windows Central Newsletter
Get the best of Windows Central in in your inbox, every day!
Thank you for signing up to Windows Central. You will receive a verification email shortly.
There was a problem. Please refresh the page and try again.