Microsoft Edge tips and tricks shown in new video, responsive images support revealed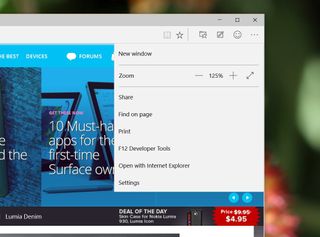 One of Windows 10's biggest features is its all new web browser, Microsoft Edge. Just in case you might not be familiar with it, the company has whipped up a quick video that shows a few tips and tricks for using the browser.
The video is hosted by Stephen L. Rose, the senior product marketing manager for Windows and devices at Microsoft. He shows off how the Cortana digital assistant is integrated with Edge to help people find out more information about, for example, their favorite restauant. The video also shows the built-in reading mode, a way to make notes inside web pages that can be shared with friends and more.
If you are on the developer side of things, you might want to check out a new Blogging Windows post. The Edge development team talks about "srcset", which the team calls "our first step on the path to fully supporting the picture element for responsive images." It shows that, even this late in development, the Edge team is still working to put in more features that will allow it to support more advanced web site code and design.
Source: Microsoft (YouTube); Blogging Windows
Windows Central Newsletter
Get the best of Windows Central in your inbox, every day!
Honestly, hope the extensions are monumentally better in Edge than IE... Added adblock plus today and a blind person could see the performance drop...

Your better off using tracking protection lists. The ie add-on is well not very "optimised".

Prefer to not see any at all

TPLs have no performance hit.

Dnt vs all ads blocked. It's not a question of tracking, I just don't wanna see any or have them weighing down pages

It's not "do not track", tracking protection lists are simply the same lists used by ad block.

Yep -- in order to block the tracking, the ad is blocked. And because it's native to IE, they're blocked much earlier in the process than AdBlock can.

You could always use the hosts file to block adverts

Mine crashes all the time

I just block most ad hosts via the routers hosts file list, with the increasing attacks coming from drive by adverts and the intrusive tracking done by the companies it's becoming less palatable to accept them. The advantage of the hosts file is that it works on all connected devices and there's no performance hit on the devices, downside it can break things though that's a rarity depending on what you do. There's no real measurable difference visiting the websites with the modified hosts file compared to without the hosts file.

I'm liking that Surface skin

I too like it very much!!

Hopefully that is not the Washington Redskins. That would be offensive.

Chicago Blackhawks. NHL finals. Hockey

Thanks.Glad to hear that.

+1 why does the link sometimes not work in the app, is it a regional thing?

Don't know.. Super Annoying though.

It's because of YouTube's new API. WC needs to update their app. Thanks Google.

Hopefully it will be way better than IE. But the question is with add-ons and extensions support. Haven't played much with it but feels sleek and refined than any other browsers out there.

Just want to be able to pin a tab like firefox

You can pin to start menu... I know it isn't the same, but I actually like it more... Pin windows central website to start for example, and it makes a live tile that shows the latest headlines....even though it isn't an app

They both have the word Pin, but they are monumentally different things.

Not able to load the video. What are responsive images?

Not to sure... Winbeta said something about choosing the best quality and size of images to display on a device, like whether to do an hd or not, to speed up browsing or something. Please someone correct me if I'm wrong.

Many websites these days are responsive. They adapt their layout based on the browser width, using one codebase. However there is currently no well-supported native method of using different images for different browser sizes. There are currently two proposed, and the 'srcset' that Edge has implemented is one of them.

Responsive images means the browser will only serve the image set by the designer for the medium intended. For example the designer creates 5 images for the various resolutions they are targetting, this is then referenced via imagesrc statement so you would download a 70Kb 800px image instead of a 200Kb + plus 1600px image, it's one of the last sticking areas for responsive design in web developing a site.

WHO EVEN CARES ABOUT CORTANA SINCE IT'S ONLY AVAILABLE IN LIKE 2 COUNTRIES. NO BUT SERIOUSLY. APPLE ANNOUNCES NEW MUSIC STREAMING AND IT'S IN 100 COUNTRIES AT LAUNCH. CORTANA IS REGRESSING TO FEWER COUNTRIES WITH WINDOWS 10 VS 8.1 SERIOUSLY WTF.

Sorry your country isn't able to take advantage of such a fantastically, wonderful, useful, amazingly professional personal assistant named Cortana, yet.

I live in Canada. I have Cortana right now. I just lose it when 10 comes out. It isn't about Cortana being amazing, it is about a classic MS problem of never going international and focusing on the USA to the detriment of other nations and its bottom line.

I hate to burst your bubble, but Cortana integration didn't exist in Windows 8.1, so the fact that it is there at all is an improvement. Also, the operating system hasn't even been released yet. How do you know that more countries won't be included at launch? Apple Music is a completely different service/product. You seem to forget that Apple Music is based off two services (iTunes Store and Beats) which already have a global presence. Even with that, the only thing really needed for music services is licensing agreements for the particular country and infrastructure to serve the music. Cortana requires indepth data on the countries it is being integrated into and language support if the nations don't have English as a primary language. TL,DR: Great products aren't made overnight. A little patience and a little less caps lock would do everyone in the world some good.

Cortana works fine in windows phone 8.1 in Canada. Microsoft has announced that it wont work in Canada until an undisclosed time frame. That's how I know. Canada has English as the primary language, AND IT CURRENTLY WORKS HERE BUT IS STOPPING.

You do realize that actual launch of Windows 10 for phones is at least 3 months away? Probably closer to 5 months. Once again, I think you are jumping the gun on being angry about features being taken away. If it comes time for release and Microsoft hasn't reintegrated the countries it had previously on Windows Phone 8.1, then I will agree with you that Microsoft botched the release.

5 months away???? Lol thats all I can say at MS

do you know how dumb do you sound saying "at Microsoft" I mean you are replying to a person who have NO idea when Windows 10 Mobile will be released. nobody knows but the thing is Windows 10 for desktop is the base of everything, so it has to be completed to fully work on Mobile version and polish it, just like Xbox One. so yeah it will take a while after Windows 10 Desktop but the person above doesn't know more than anyone else on WC or other site. Only Microsoft knows... and it will be ready after Desktop RTM

I don't think 5 months. More like early 2016 if we are lucky.

Imagine preparing a musician for a world tour. You'll have to familiarize them some with the different cultures, but for the most part they'll be doing the same thing everywhere. Now imagine teaching a personal assistant to work for anyone around the world. They'll need to have fluency in every language, deep knowledge of each culture, and perhaps learn different ways to do things depending on the context. How long do you think each of those will take? Would you prefer for the Cortana launch to only happen when she's ready for everywhere?

I'm not sure what is confusing about this. It works now, it is stopping. That's stupid. Gosh you fanboys are ridiculous. You'll forgive anything, even when they reduce and remove features you back them up and excuse it.

Customising a Digital Assistant (read Cortana) should not be as difficult as that! After all, the countries are mapped, locations of Restaurants, Landmarks, Hospitals, Gas Stations, etc., etc. is all done. Cortana can make a beginning with that (an American accent in the bargain is fine!!) and start to study user habits and preferences, becoming more useful each day! It is preferable any day to a clipped, curt pop-up stating 'Cortana isn't available in your country', especially after so much expectation is built around the feature and it receives rave reviews everywhere!!

Exactly. Microsoft ALWAYS blows it when it comes to international launches. A Cortana with a caveat is better than none at all.

Your better comparison should be Apple Music and Xbox, still, your point is valid, MSFT need to get out and spread their wings.

You do get the fact that a music streaming services is completely different from a digital voice assistant and a whole lot easier to get up and running in a hundred different languages then it is to get Cortana working correctly in a hundred different languages ;-) Posted via the Windows Central App for Android

Comparing Apple Music to Cortana? How does that make sense?

I hope there is a clean graphic driver for 4K monitors using Displayport 1.2 with Intel HD 4600 GPU integrated!

Uh oh at 2:15, they better fix that inconvenience.

The link is not working on mobile

Literally so annoying when Microsoft itself doesn't even do correct photo edition on their own products! What even is that logo supposed to be on the example tablet in his video?!

Can I install w10 technical preview from Linux?

You'll have to make a disc with the ISO and do a clean install, so yes you can.

Just rename the shit from Project Spartan.

Who ia going to use "Open with Internet Explorer" ;)

Getting an error "Couldn't Load Video"

Can somebody who uses Edge tell me how the OneNote feature works? Does it save the notes and allow you to return to them, or does it just save a link to that page?

Which part of the video shows responsive images?

why is he writing "ε" instead of "e" ?? i find it cool i'm gonna use it :)

Microsoft bring back home Button, don't remove features!!

I feel Edge is designed as a mobile device browser. When I click the right mouse button, the menu is almost empty.