Microsoft Edge is getting its own Personal Shopping Assistant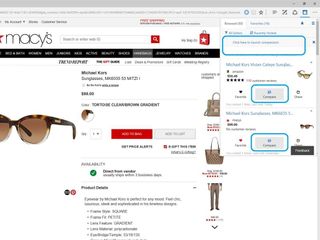 Microsoft plans to release its Personal Shopping Assistant extension for its Edge browser soon for Windows 10 PCs, after previously launching it for Chrome and Opera. The extension, developed by the Microsoft Garage division, is designed to help web users with their online shopping.
The Microsoft Store listing for the Personal Shopping Assistant extension (opens in new tab) (via WalkingCat) is already live, although it doesn't look like its available to download just yet. When Microsoft does launch the extenson, it should work just like its Chrome and Opera versions. Here's a list of its features:
Automatically remember all your browsed products
Save products to favorites and get price change notifications
Compare products across sellers and make smart choices
Shop and save products from 1000s of shopping sites around the world
Login with your Facebook, Microsoft or Google account and take your assistant shopping with you on all your devices
Share your products with others via email
Email a link to access the assistant on your phone
Give feedback from within the assistant using the feedback button
Windows Central Newsletter
Get the best of Windows Central in your inbox, every day!
Why is this assistant not Cortana? And also, why I don't have the Cortana icon in my Edge?


Does the OS region currently set to countries where Cortana is available especially US? But yeah, this should be a part of Cortana feature. Though the problem is that not everybody have Cortana available, still this could've at least make it available when the functionality is available and have it on Cortana whether Cortana is available to that region or not. For now seems Extension is doable. Balance approach maybe and optional.

Hopefully it'll evolve into a Cortana feature eventually. Since it's a garage project I doubt they could just go ahead and put it out as a Cortana branded feature but I wouldn't be surprised if eventually Cortana does this and works more like a bot type of interaction too

That Cortana icon only shows up when she knows the websites street address, or if she has a coupon for that site

I just want to turn it off so MS wont data mine my browsing so as to be able to shower me with shopping suggestions.. It will be bye MS asap..

Bye MS asap? And what is the alternative? Watever computer you use you are subject to ads. Example: I use MS Edge with Bing as my search engine. I've been searghing to buy a car on Bing. The folowing weeks I was invaded by GOOGLE powered ads about cars, on every website i visited. I am sure MS doesnt share data with Google, so i think google is very aware, for some reason, of my browsing history. Conclusion: I can switch to Linux, MAC or othe computer available on the market, but I will never have 100% privacy.

Don't believe the propaganda. MS doesn't do one tenth of what is said and not even a fraction of what any Google product does.

You should download it ASAP so you can turn it off!

It's a garage project already released on chrome and opera, they are just porting it to Edge which is a great thing. Undoubtedly the features will be folded in to Cortana eventually but why wait for that when users could have those features today?

Without cross platform availability, Edge is still just the Chrome installer ;-)

I see the good point for that. The problem though, MS is still struggling with Edge I'm the first place. I rather than focus sort out things and polish Edge for Windows. Still I think having Edge cross-platform is a good idea to help Edge gain mindshare and market share.

Yeah... because waiting worked out so well for Windows Phone, why not extend that philosophy to the browser market ;-)

Although that would be really nice, I honestly doubt it would happen since Edge is a Universal Windows App. Its just one of those core apps that if they made cross platform it would make look bad for the platform.

Interesting statement -- without any clear examples to demonstrate your opinion. Sounds like you're saying Edge is awful and for any other platforms to "see" it would make it look bad.

I think you're twisting his words. I believe he meant releasing a UWP elsewhere would look bad for UWP. Not that its even possible.

And to me, you're the one twisting his words. Just speaks to his making a random statement with nothing to back it up.

What's being UWP anything to do with it? If it gets cross-platform, then the developers will use the SDK for other platforms, it won't be UWP of course because that's Windows. Whether the quality of Edge be good or bad, that's up to the developers. It can be dependant of how good the SDK is to develop apps. On iOS, Edge won't have much integration just like any other browsers om that platform and that's fine. The important is the experience for the end-user. I think having it cross-platform would be a good idea since like it or not, W10M atm isn't a popular platform among users at all. Edge is only exclusive to Windows 10, though growing, it won't offer the seamless experience for their favorite mobile devices that is either iOS or Android.

You are right, it would be build using the SDK for the other platforms but use the same rendering engine and features. I could see a case for at least getting it on Android if possible. Being able to share your bookmarks, synced passwords etc. between Android and Windows 10 PC would be nice for those on Android (I'm not but I see the benefit here for sure). Chrome can do that now so without Edge on Android all those nice sync features are a big reason to use Chrome on PC of you run Android

Groove is cross platform.

Good point, Groove is cross platform. I guess that makes it not so farfetched that Edge could be, especially now that the Chakra core is open sourced. On the other hand, after using the Mobile version of Edge I can tell that not only does it provide a sub-par experience in comparison to its PC counterpart, but the mobile branding was designed completely around the Windows Mobile design scheme, meaning they would have to essentially completely re-do the UI. Also, I get the feeling Groove was a special case as it was adapted from Xbox Live Music, which was already cross platform. The purpose of Groove is to provide an interface to access Microsoft's music database and your own music, which a simple music player where you could plug into an API is much different from building an already established web browser from the ground up on another OS. And I meant that It would look bad for UWP as a whole, not for Edge. Plus, releasing Edge on other platforms *could* cause it to become fragmented in terms of features and versions.

Really cause apple's safari seems to be doing great on only ios devices

Shows what you know ;-) It's also on macOS devices. I do use it on my iPhone, but I use Chrome on my MacBook and Surface Pro 4. One advantage being that Chrome on my Mac uses Keychain to share saved logins with macOS Safari, so it all shows up in Safari on my iPhone. Best of everything...

It also gather your information and helps build a valuable profile of sellable information. Remember to not do anything work related in it since Google in their ToS has the right to use and sell anything you write, search, look at or read.

The Apple fan that you are, a bit hypocritical don't you think being Safari isn't cross platform?

With LastPass and, hopefully, Xmarks for bookmarks and open tabs coming soon to Edge (they told me in early 2017), I don't see any need for a single browser across multiple devices. All my passwords and bookmarks and open tabs are kept in sync between all browsers on all devices (except Edge on bookmarks, because no Xmarks yet). I use Edge, Firefox, Opera, and occasionaly IE11. I also have Chrome on some systems, but only use it for occasional compatibility testing as a general policy of avoiding Google products to the extent reasonably possible. Different browsers let me have separated sessions or login to the same site as different users for some testing and IT functions. I don't think there is any benefit to using a single browser across mulitple systems that is not implemented better via LastPass and XMarks.

Wait, the garage team made it for a msft product?

More bloat? Posted via the Windows Central App for Android

how is an extension bloat? Every browser has extensions. You choose to install or not. I have the amazon assistant extension and i like it. I have adblock plus, lastpass, translator, etc. If they are useful they can't be considered bloat.

How is an optional extension "bloat"?I'm really curious unless u just consider everything you don't like as bloat.

Extension...so not a bloat when its not even a native feature. You have at least a choice not to install it.

So you don't understand what bloatware is?

Sorry guys, I know asking question makes a person dumb. And I also know that my question is one of the dumbest questions ever asked, I admit. Peace out! Posted via the Windows Central App for Android

You just wanted to spread some negativity without even knowing what the topic is about since it is how the internet is today, right?

Give it up Giddora. The guy admitted he was wrong
(I wonder how many times you've ever done that on the internet!) Posted via the Windows Central App for Android

This seems nice, though before more extra features, MS must first sort out Edge ongoing issues especially with its stability and performance that still exist on AU (though better than TH2). Implement missing common essential web browser features that exist on other browsers for ages especially from Firefox, Chrome, and freaking IE even have. Tab management and behavior is still broken on Edge and lacks all other drag-and-drop features. Other features still missing:
- Middle-click on navigation buttons and home to make a new tab of it (basic feature that other browsers have it for eons).
- Tab and Session syncing that even IE had. Seriously, this is one big obvious missing feature...or maybe for them its not obvious or because "we" don't care?
- Mute function for each Tab and button for it.
- Manual Full screen function that web browsers have since forever. Yes, not so important feature but still necessary when a user choose to browse full-screen and also used for Kiosk type PC.
- In relation to Full screen but something more, "Immersive Mode" like from Metro IE for touch is still missing (especially for tablet use, but also nice to have for desktop mode to have minimal UI).
- Jumplist....when this will be back?
- Better History and Favorites management
- Consistent New Tab/Start Tab page when dark theme is in use. Idk why this stayed light which is odd. The design aesthetic is odd to leave it light even its intentional.
- Quick menu to change Search Engine within the Addressbar like from IE.
- Progress bar on Addressbar or Tab. Edge for W10M have this but not on desktop/tablet/Continuum. Extra feature that IMO is better to have it now:
- Pop-out floating mini window for videos and media (Also this should be a new feature for UWP for any apps who wants to use it like Skype, which will benefit from smartphones to desktop)
- An easy Direct Quick-search to any website from Chrome using Tab key.

Good. Post that in Feedback Hub

Love it! I hope it will bring competitiveness and more options for busy shopper that wants the best price.

As I no longer use Edge no point in commenting further. I love Windows but I am confused as to why Microsoft keep issuing new add ons to their products etc without getting the core product operating properly first

Microsoft isn't one entity... The have thousands of teams working on different things.

Integrate it into Cortana. She already gives me coupons.

I love that feature. I was purchasing shoes online and got 20% off due to Cortana.

Yeah integration is cool unless it takes up a huge response time, makes me think I can just type what I want and get things done faster than Cortana. It should work effectively even with low speed data/wifi.

edge was always lacking a shopping option when searching, why is this an extension?

It would be nice for it to be integrated for those that don't know how to install extensions. Cortana serves the same purpose in less capacity automatically.

So I can finally take my shopping assistant with me on all my devices???
So we will get extensions on edge for mobile?

"take your assistant shopping with you on all your devices" ... As long as all your devices do not include a Windows phone that is.

For 99% of people, that comment is true. Posted via the Windows Central App for Android

Windows has a larger market share, globally, than just one percent, but your point is still valid. That said, you'd expect Microsoft, if any, not to use the same marketing phrase as say Amazon or Google when describing the availability of their services across platforms.

Its funny how they are trying to make it seems like they work on W10, yet they cant fix a simple issue with Cortana - when she says the weather in F instead of C even though its selected in the settings...

This sounds good, shame it's not through Cortana, but still a good idea.

It needs notifications integration but I think this is a great extension.

Is there a way to turn off auto tracking of products? I don't need it to log every single product I view on Amazon

Hey there, the shopping assistant is now available. just got it today. In Australia