Microsoft ends Nokia Device Hub and Storage Check betas; both are included in the Lumia Cyan update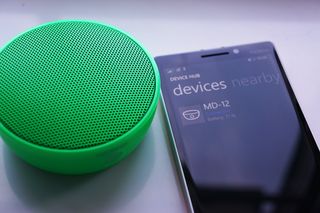 Microsoft has today concluded the Nokia Device Hub and Storage Check beta programs, which allowed Lumia Windows Phones to connect to a variety of wireless accessories and anlayze on-board internal storage.
The apps are now part of the Lumia Cyan update and can be found on any up-to-date Lumia Windows Phone. If you're rocking Windows Phone 8.1 and Lumia Cyan, you'll be able to easily manage all your wireless devices in one place using the commercial release of Device Hub and check what space you have remaining with Storage Sense.
What's different between the beta versions and final public releases is a few new features. For Device Hub, these include Bluetooth discovery, "find my device", support for more devices (including Bluetooth LE heart rate monitors, headsets, speakers, etc), as well as improving the overall user experience. As for Storage Sense, we're looking at moving apps and whatnot.
Consider the trial concluded and testers thoroughly thanked. If you'd like to enjoy the final release of Device Hub, wait patiently for Windows Phone 8.1 and Lumia Cyan. Once both are installed, you're good to go.
Still waiting for Windows Phone 8.1 and Lumia Cyan? Check out our tracker pages for more details!
Windows Central Newsletter
Get the best of Windows Central in your inbox, every day!
Rich Edmonds was formerly a Senior Editor of PC hardware at Windows Central, covering everything related to PC components and NAS. He's been involved in technology for more than a decade and knows a thing or two about the magic inside a PC chassis. You can follow him on Twitter at @RichEdmonds.
Waiting for cyan update for dev preview.... But thanks anyway ;)

Not sure if that's sarcasm, but you don't get Cyan over the DP.

I thought Microsoft said that they will fix the bitlocker bug.

Sometime... Microsoft can't ignore us... (They can, but that made them more stupid than they already are some times..) I'm not going to restore my device, since their backup system is just stupid.

What is stupid about the Windows Phone 8.1 backup system?

It's developer opt-in, which means that the vast majority of your app data still doesn't back up.

^What he said. I played some games at that time, but after restore; Bam, everything gone. 8.1 has app-backups, but haven't noticed it anywhere (only some Bing apps and 6tin).

If they can make backup not on one drive but in the storage of the phone or in sd if the phone support it I will be better.I tried to backup with OneDrive couldn't let me restore it even android makes backup in the phone

Or backup (and updating) on your pc. To have something like a backup, local is a need. Apple has that... (switched from iPhone to Windows Phone; a good and bad decision).

Not sure if that's sarcasm, but every lumia will get cyan soon or later, regardless you've DP or Not.

Not every (poor 810 owners)

LOL, this is so sad. I really hope they release a 6 inch high end device for T-Mobile that is compatible with the 700 band. I'll need to replace my phone.

My bad. I thought he meant that he was waiting for it to be released on the Developers Preview, just as WP8.1. But yeah, you're right, everyone (except us 810 owners) will get it.

He meant he wanted cyan update over dp, i.e the bit locker problem solved.

They've also concluded their Nokia Storage Check beta in favor of the new Storage Sense feature in WP 8.1.

Updated :-) We only got the email after publishing the article!

The body of the article talks about the discontinuation of Storage Sence, instead of Storage Check Sence is part of WP8.1, Check was the Nokia exclusive..

The article still says Storage Sense and the title Storage Check ...

Does storage sense allow you to move maps to sd card yet?

No. And that is one of the future we expect from storage sense but MS did not incorporate. And that is the reason why the Nokia beta labs decided to keep Lumia storage check in the store - the mail says so. Wish if this was incorporated in storage sense.

No, but the beta app used to let you

No, but they're keeping the beta app available for that purpose.

Nooooooooo! Storage sense is better!!!!

Well with all the apps and everything been updated and released. Can we get cyan and 8.1 MS!! Waiting patiently during the slow rollout!!!

Talk to your carrier about that and be patient. Sometimes people act like obligated kids when updates come out. You'll get it...

Bet you a pound that a lot of carriers won't be arsed about releasing the update especially to phones like the 920

If I was a gambling man, I would take you on that bet. I believe that every Lumia phone will get it. The newer ones will get it first, like always, and the others will follow. There's not enough new Lumia phones on the market that carriers can forget about the others.

I'll take that bet. I'll pay up as soon as my 810 gets Cyan.

I would have lost that bet. I forgot about the T-Mobile 810. The 810 didn't even get the Black update. Well, other than that phone, I believe the rest will get Cyan and 8.1.

Yes I believe it will comeout on all phones as well. I think after cyan. The gdr1 update will follow asap also.

If the ASAP means another usual 4-5 months, then yes you are right. If you truly believe after 1-2 weeks of cyan+8.1 you will get the GDR1 as well, you are naive like a 5-year old whol still believes in Santa Claus and also you suffer from mid-term memory disease that you forgot the story of the previous black or amber update delays. There will never be such thing as "ASAP delivery" of software update on the Windows Phone platform. Never. There will be always 4-5 months of carriers saying they are "teeeeesting" or "improoooooving" or put here any kind of lie BS that you can imagine, up to your creativity.

How to save HERE maps to SD card without Lumia Storage beta? Windows Phone 8.1 will not replace all features.

THIS!! Save maps to SD card option should be a feature in HERE maps itself.

Or a feature of Storage Sense

^ this makes sense. May be we can expect an application update from here maps / drive soon.

Luckily, I moved the maps before updating...

Pls note - this app is still available in store.

The beta app is still there, you just need the link or QR-code, as you can't find it in the store anymore. I moved my maps AFTER the update with the beta app.

It's up to the carriers to authorize the release of 8.1 with cyan. The majority of older Lumias are not going to see the update

Every Lumia will be updated to 8.1 that is running 8. There are only a handful of new Lumia phones out there (930, 630 and its variants, and the upcoming 530). Every other phone besides the 1320 and the 1520 is essentially old. So, by your logic, no other WP (Icon, 928, 925, 920, 1020, 720, 520 and its variants, and other WP8 phones I forget to mention) will get the update. EVERY WP8 phone will get the 8.1 and Cyan update yo.

Actually, Lumia 810 isn't getting it :(

That's the fault of the carrier who made the 810 obsolete long before they should have.

I forgot about that one. Well besides the 810, every other WP will get the 8.1 update and Cyan. Thanks for correcting me!


Believe me, I wish I couldn't make that correction.

Are they going to take Other Storage out of beta and make it an official "feature-not-a-bug"? 9.5 GB on my 928. The pre-8.1 update didn't clear any of it either.
2.5 GB on my 520. Have hardly touched it since reverting it back to 8 from the DP. Freaking recockolous.

Do you have files that are not recognized by the phone? For instance, I had .mkv files on my lumia that I could open with moliplayer but the phone itself doesn't recognize those files. So they weren't being counted under Videos but Other. Other is apparently anything the phone does not recognize. Not really a bug, just a bad, unintuitive name.

Not d ones wid DP i guess

What about the many phones that never got black. The common example around here is the 810 on T-Mobile. However, the aio/Cricket 620 never got black. And quite a few other Win8 Lumias around the world never got Black. The status page at nokia.com lists everything as "Under Testing", but just like Black, I expect some of those will eventually transition to "Not Available" when the carrier decides otherwise.

Why are there even still Lumia software exclusives? I think now that it's all Microsoft it should be integrated into WP OS. It kind of feels like a half-baked OEM addition like it once was. Same goes for Glance. Also it would be a good addition for all WPs!

In time I guarantee Lumia exclusives will be gone, but remember, cyan was still nokias firmware, Microsoft is just releasing what they did prior. Glance and stuff in sure will be ported, but that will likely come with wp9

Makes sense! I hope you are right :)

I just hope cyan will fix the post processing bug.

My 1.1GB others is not getting deleted by the storage check app.

I would rejoice at that sight myself. 9.5 GB on my 928. 2.5 on my 520. :(

Can anyone confirm if "Weather & Calendar" has returned to device hub options when enabling NFC for the DT-910?

Still waiting for 8.1/cyan update and ull find urself like tomcruice in Oblivion movie, sitting and waiting for 8.1 in space station :P

Coldfilter older lumias? Which phones comes under older lumias?

For all you ignorant people! US with DP! We will get cyan! A fix is coming! So shut up and go play with Android or bite an apple!

Wow there sure are some idiots in here! Unreal!

Well too bad that Storage sense won't let me move maps to SD card. I have 8GB onboard memory and my maps won't fit there. SD card option for maps is a must.

Can you move apps to the sd? Or does one keep the beta app?

And when will that fucking Lumia Cyan update come for 520 ?????

I can't move my maps to SD with storage sense, what a big fail by Microsoft... How can they forget this?

is offline map data storage location changing option available in lumia cyan storage sense....like storage check beta....

This so hyped cyan update is so full of bugs on the 1520 ! Is so annoying !!!

Storage check beta has an option to move downloaded offline map to sd card. Storage sense cant.,

Hey, I had no idea these were even a beta, learn something new every day.

Sure seems like a big mass of confusion as to what is happening, and when it is happening. I hope they get their act togeather as they seem like a bunch of clowns right now. I have two 520'sa 820 and a 925 waiting for 8.1 . Seems like its been awhile and its still not pushed out.This cant be helping WP8' growth. '

Hmm, seems like the ideal time to download SC beta to PC whilst we can, so we can sideload it if it disappears from the store (if one has a dev account). The map-to-SD function is an essential function. I am astonished MS forgot this. How slack is that?

That won't work. You can only "sideload" apps that are in the store (or that you created yourself).

The beta version of storage check was sadly of of date so it makes sense. Guessing their cleaning house in r&d

Well, Storage Sense has already in the DP version of Windows Phone 8.1, but that final version is still needing improvements over time. Just keep it up, team.

Sorry, but this is a clueless article. The sole reason why "storage check beta" has existed all this time is because it was - AND STILL IS - the only way to put maps on an SD card. 8.1 didn't change anything in this regard. So they damn well better not remove it from the store!

Yup, I'm running Lumia Black WP8 on my 1520
And I installed this app and deleted all the maps on the device, then downloaded the maps again on my SD card via this app