Microsoft's latest layoffs take down Bryan 'Like a Boss' Roper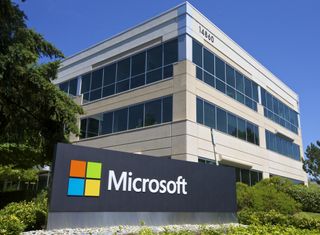 Over the weekend, Business Insider reported that Microsoft is gearing up to cut around 700 jobs in its latest round of layoffs this week. Though there isn't yet any official word available from Microsoft on the exact number of layoffs, Microsoft's Bryan Roper — best known for being productive "like a boss" at the 2015 Windows 10 devices event — has confirmed on Twitter that he is part of the cuts.
According to Business Insider's report, Microsoft is expected to announce the cuts officially alongside its quarterly earnings report on January 26. Further, the expected 700 job cuts are a part of a previously announced plan to eliminate 2,850 jobs. We've seen a trickle of layoffs since, and Microsoft said it expects to complete the cuts by June 2017.
While the exact number of layoffs in this latest round remains a mystery for now, one thing's for sure: Roper's enthusiasm will be missed.
Windows Central Newsletter
Get the best of Windows Central in your inbox, every day!
Dan Thorp-Lancaster is the former Editor-in-Chief of Windows Central. He began working with Windows Central, Android Central, and iMore as a news writer in 2014 and is obsessed with tech of all sorts. You can follow Dan on Twitter @DthorpL and Instagram @heyitsdtl.
I'm sad, he had some great enthusiastic output on the products he showcased. I like guys with the kind of energy like him. Best of luck to Bryan finding a new job. Layoffs are never fun.

Enthusiastic output yes. But did you notice that everything he showcased on that Build event except for the sketchpad and map was just bullshit? Because I did. I bought a Surface because his great enthusiastic presentation convinced me. I am still waiting for that great inking support on Word and Powerpoint. And no, I am not talking about just drawing, but Text editing, using the ruler in Powerpoint, etc. Maybe it wasnt his fault, but he still betrayed me. He convinced me to buy that Surface.

I am afraid you will not see great ink support in Office apps until Nadella sends extermintors into the office developers offices and removes all the mice. (Keyboards too, because coders use skortcut when the rest of us would use a mouse.) Untill developers are actual ink users, they will not develope good uses for it.

that only means that he was great at his job

He betrayed you? I don't think he ever had the decision making power that you think he had.

By the way text editing already available but only for desktop version Word. Rulers in PowerPoint desktop is in insider Office Fast and Slow rings. I hope they release these features soon

Despite all his hard work?

One very nice presentation is hard work?

I kinda doubt you randomly get assigned a major presentation on your first day or by just sitting around shopping for new hats.

Totally classless move Microsoft. 700 people gone and the face of your products at events in one of them? Shameful!

Laid off like a dead unfunny meme, sucks.
I'm sure he's made enough of a name for himself that he'll recover in no time.

That's so wrong of MS to show him off at all these major PR events in 2016 and lay him off in the first month of 2017. He was like the face/spokesperson of MS at these events.

Like the face of W10Mobile and continuum... I am worried about what that means for continuum and mobile (phones) going forward...

Isn't WP being passed to that winstonhorse company? And then there's rumores of x86 PC phone surface phone. I think we can say w10m is dead. Its gonna be anorher sailfish os

What do you suggest, that the guy spends his time NOT doing his job?

wouldn't be the first time.
zuneinsider.com comes into mind..

That's what reality is. Nobody seems to be a sacred cow in Microsoft. It is what it is. When you have a job, you accept the fact that you can be laid-off anytime because the company's interest comes first. This is why you don't get attached to things...learn to let go. I do wish him well.

Somehow the next Ms event got less exciting. Gonna miss the roper....

Guess he's gonna be "productive like a boss" at Google and help them beat MS to the punch with their own idea!

they got rid of roper? ..... man I going to miss those hats !!

And energy, and awesome presenting skills. He will be missed.

Sad to hear this. Wishing Bryan and everyone else impacted the best.

I sometimes wonder if people at Microsoft in charge of these things still have a functioning brain or if they're waiting for AI to replace it. Roper, alongside Panay, are two of the best presenters Microsoft has had IN YEARS. You listen to Microsoft's presentations and they're always a snooze fest. Panay and Roper were the exceptions. Cutting him is Microsoft just shooting itself in the foot. Again. Who will they put in his place? Terry Myerson, who has the charisma of a wooden plank? Or one of those extremely competent yet extremely boring engineers? Or will they resurrect Belfiore who no one misses since Panay & Roper stepped in? Oh well. Best of luck to him. I'm pretty sure he will find a new home soon. Hopefully one that values him more than Microsoft did.

You forgot that Office woman with the short hair. Not sure I've seen her since the iPad launch of office, but still.

For once, I completely agree with you.

Nailed it! Was one of the few presenters I can tolerate. Quite amazed they let such decent orators go, yet still have a ton of people that struggle with the basics of presenting.

Couldn't have said it better. Good presenters are the evangelists of any company. Leaving it to eggheads like Meyerson and Nadella is a bad PR move.

And I say that as someone that couldn't do it either. We need less suits doing the demos and more regular Joes/Jolenes. This is my personal opinion, but Joe Belfiore and Panos talk, they are the only too that I can listen too comfortably from the suits, of and Phil Spencer is not bad. But Roper and the other guys have a users angle, that the rest of the suits don't. My top 4 are Panos, Brian, Joe, Phil, in that order. The rest simply come across as politicians. I get that, but it does not please my ears. I cannot name any other presenters, which is telling.

Roper could sell iPHones ****, and i still would cry "shut up and take my money".

Ms in public relations is zero

Agreed all accounts. Especially how cringe worthy Terry is. TBH though, I do miss Joe Belfiore.

True...Myerson is horrible to watch present. Wish they'd just let Joe B present it all.

Who needs sleep meds when you can load a video of Meyerson speaking.

I'll agree with you this time.

I don't think this is anything new, they've been cutting effective public faces of things for a long time unfortunately. I'm amazed Major Nelson has been around as long as he has. I'm not saying that because I don't like Larry, but just based on their past history. I'm hoping they keep him around a long time, he's been great for building community and good will!

Please DON'T bring back Pompous Joe

Satya is an idiot, he also resigned top pureview engineers Samu Koskinen, Toni Kovaniemi, Eero Tulop and Eero Salmelin Of course Huawei that are not loosers like him have hired immediately them Now we have discovered how nadella is making profits again with MS... Only by closing strategic projects and resigning thousands of good human resources This ceo is a total incompetent and shoul be kicked out of MS asap before it's too late

all doomy and gloomy. Roper is a loss for sure but it looks like the cuts are clearly equally spread between what made up Nokia and other redundant aspects of MS. Still I am amazed that after the face time Roper had and the effects smartly taken advantage of made out of his statements that they didn't find another place for him within the company. Doesn't seem like he is too upset though as hes reaching out to others in his position to maybe start something new.

The folks who carried over from Nokia's D&S division were already all fired. Juha was one of the last ones to leave. These cuts now are targetting actual Microsoft employees.

Eero tulop, eero salmelin and Samu koskinen the fathers of 1020's impressive photocamera have been immediately hired by huawei mobile (source LinkedIN) There is only one person that should be resigned immediately in MS... That's satya

He must have rubbed someone the wrong way

might be. sometimes someone just has your number...

Y'know I don't think Microsoft cares much about the image they project.

A positive Roper-image is only seen by us, the fans. Others won't care cause they don't know who he is.

No that's not true. He was used in many windows 10 videos especially in the last major update in the public so anyone who saw him and liked him would be impacted by this. It's not like MS has alot of people like this, with an attention grabbing personality, promoting their products.

But only the die hard fans that follow this news daily will know they fired him. The general population would not know and would not care!

That's fine, you don't get it, but consumers will.

Apple has developed an impressive business with their fans

Why would they? They have a monopoly on computers, office software, and some would say servers. They could care less because they know XYZ corp. isn't going to go to Google Docs, GApps, etc for their stuff. They will bend over and take what MS gives. Review the Youtube video about Comcast not giving a you know what and replace Comcast with Microsoft.

I'm refering to regular consumers not the enterprise. MS isn't doing as well in the consumer market as they are in the Enterprise. So image matters their. It's not good business to do somehting like this. This is one of the many nails MS is putting in it own coffin.

Maybe that's why Terry lost all the weight. He's gonna be seen more now.

You guys do understand how layoffs work, right? He may have appeared awesome on videos but when it came time to review he was deemed unnecessary and let go. We lose a lot of great people at my job who were integral in making our department what it is but if performance review comes up and you stack at the bottom and cuts needs to be made, it doesn't matter what you did in the past looking forward is what they care about. It sucks but that's how corporate America looks at it.

In that case his boss didn't put him in a Job where he can perform at best. It is obvious for anyone that he has certain skills many company would love to have in their personnel. Assign him the job he can excel at, instead firing him because that deopartment doesn't need his work anymore (and maybe he wasn't THAT good in his "regular" job)

Amid record profits...yay

Waiting for Sarkar and Aul to be next.

he was an embarrassment on stage

Microsoft has had a hiring freeze in place since November as well. Lots of tech companies are letting people go lately.

Strange decision to let somebody go who was able to deliver messages so well, I mean its not like they will not have to continue to do this sort of thing. I guess somebody didnt like him and he got the elbow, shame.

Ditto. Seems messages still have to be delivered. I know Panos is good, but Roper was particularly adept at showing the software.

What divisions are being elimated?

I hate it when people call Microsofts CEO Nutella. That is disrespectfull and unfair. What did Nutella ever do wrong? It's a delicious snack and brings joy to our lifes.

ha ha. I know.....but when your as NUTTY as he is, and your name is that close...I just have to. The Jar'ed Nutella is a way better ceo than the walking kind!

Not sure if your tongue is firmly in your cheek but many Windows Mobile fans in particular are not happy with the retrenchment from the mobile space i.e. no more new Lumia devices to tide things over while they wait for the often roumured "Surface phone." Add to that the lack of (Windows) mobile focus, the failure to attract developers to build UWP apps or port existing ones from iOS/Android, the loss of all the Nokia talent that could have saved Microsoft the embarrasment of its continuing decline in mobile market share, further hurting the platform as companies dump their support of existing mobile apps. You can also add the disrepect shown to Windows in general, bringing out new cool stuff on competing platforms ahead of Windows or even instead of Windows. I think it's still too early to call on whether the "Microsoft everywhere but Windows" strategy will work in the long run as people spend less and less time on PCs and more on mobile and tablet devices that don't require them.

There is only one place where i'd like to see this ceo, *jail*

Hell, I was laid off this past June. Sucks because I miss it but I work for AT&T now

Gave up on your singing career?
(famous name)
Heh heh

Well let's be honest, he was too cool for Microsoft on stage.

So sad about that, and yet I'm happy about he building the next billion-dollar company. One with fresh ideas and vision

I would love to see someone more stylish and fit instead of some fat guy in stupid hat. He might be an awesome person, but as an "image" for the company... Come on, he is no par to Panay, Spencer or Mayerson... especially Panay

Different strokes for different folks. Balmer was a walking advert for a well fed fat cat, but man when I see him dart across that stage, I knew he had some passion. There has been a glut of eye candy, but I cannot remember the name of a single person that I found attractive. I can remember the ones that blew me away through, like Panos and Brian and Joe. Spencer is pretty good, because you get the feeling he is a gamer, albeit in a suit. Hell, Steve Jobs looked poorly long before he was poorly, but people listened. If you only want messages delivered by eye candy, then Youtube fitness channels may be useful. David Attenborough is simply the greatest wildlife presenter, but his appearance will cater to only the tiniest niche of a minority fetish. There is a reason the Victoria's Secret girls wear wings and not opinions. Play to your strengths.

And well, everyone laughted at Balmer, and no one jokes about Nadella or Panay. That kind of tells, something. And well, what were the strenghts of Robert? Is he a good passionate guy? But there are a lots of them in MS, let's call them all on stage, right? Wrong, we need to call the one wo will "sell" our products. It seems, that someone in MS decided that the guy with a passion could solve their problems, and as a result, people do remember how he looked on a stage and do not remember the products. And finally, if he were really an awesome engineer, who just wasn't sucessfull to present something, he would probably be left out of marketing campaing but hold to his job. And yet, he was fired, so he was not valuable enough for MS, and they do have a high standard for thei engineers. Look, i am not saying that he is a bad guy, or that all presenters should look like an army of clones with ideal proportions etc., everyone is equal and the only thing that matters is if you do get things done, or not.

Because what he looked like has any correlation to how good he was at his job, you dumb shallow ****.

Well, technically he was a presenter and a brndrepresentative for Microsoft, so yeah, that kind of person should look good. I don't want someone to assosiate my line of products with "hey, that funny fat guy in a hat", right? And actually, everyone are reffering to his hard work in MS and etc., and do you actually have some example of his work? Was he ressponsible for development of some app or another technicall stuff, or just an ordinary developer? Well, there are tons of them, let's bring them all on the stage, right?

You are a sad, pathetic excuse for a human being.

At least I can think logically.

Myerson, seriously? This strange person with his arrogant permasmile?

Yeah, well he is not the best example, I agree. Surely, neither Spencer or Mayerson can "compete" with Nadella or Satya... But they are the heads of their divisions at least (Xbox, Windows).

Bummer, guess passion doesn't always translate to job security.

Nadella is the worst. You can do better Mr. Roper. I'm sure working on cruise ships was more enjoyable than working for ice hearted Nadella.

I doubt Satya said "hey I know, let's fire Bryan Roper, who needs him?" it's very unlikely he had any say at all, very unlikely he even had a list of names. Layoffs are someone else's problem/job at a company the size of Microsoft.

I'll miss this guy, really liked his personality, Terry Myerson doesn't has the charisma of Bryan. Sad day indeed for my favorite company.

Maybe he could be hired for google, for their version of the continuum in Android that is going to be used by more than 1%. And he can be showing us how productive it will be in other platforms.

Nice, someone that is looking beyond the traditional features folks need on phones like battery life. I was just writing a post about what I'd like to have on Android in AndroidCentral and what I wish to come is the termux app as a native feature, so that users can become productive on Android, something which has been promised by Win32 on ARM but with so many low marketshare of Windows Phone I'd supose the Surface phone will be too expensive for me, so I'd probably won't upgrade to a Surface Phone in Autumn. I'm wishing to get a phone that costs about $300 not more than that.

Never heard off the man ..... so...

Then you did not watch any of the Microsoft events...soooooooo

This is likely the reason for cutting those projects yet at the same time bought that AI company. I am wondering if those projects that were cut is going to the new company that was just bought? Microsoft seems to be doing a replace worker with small specialize company sought of deal going on.

Bryan? This man was doing a great job. He just faded off the stage slowly. How hard does one need to work again?

Is it safe to say Joe Bilfiore had been canned?

I still have a live tile folder on my phone named Productive Like A Boss. Bryan, you rock!

Anyone still want Nutella as CEO?

Really sad... it seems MS is going the wrong direction. Take it from a WP/ W10M who felt betrayed.

I personally found his presentation style to be somewhat obnoxious so I'm not sure why people loved him so much. I imagine if his work was that important that MS would keep him, unless he's just a terrible employee and causes needless problems at work.

His presentations made Microsoft look cool again. He is going to be missed #LikeABoss ☹

All always miss him rip like a boss

And 27 BILLIONS for LinkedIn, Satya is the best.

Gotta get that quarter point stock price increase. How about the top 10 execs take a paycut....and they get rid of 50% of their foreign contractors.... Oh and Brian I think it's time for that tell all book...right?

I liked him he made high tech stuff look easy to use and cool. who will microsoft use to replace him on device presentation Stage One of Microsoft greatest problems has been communicating with the public if a Company fails to do that right they fail to sell Products. Take windows smart phones I do not think they advertised them right. Some people think they are dead but at least a few OEM are making them and selling them. With the coming redstone 2 and 3 updates and the x86 Emulation software Windows smart phones will be very useful smart phones because of the huge volume of Desktop PC Programs they will be able to run in their "Continuum" mode but who will know or care un less Microsoft advertisee them right. People wont buy what they do not know exists

Cut people. Cut division. Cut products. These are all for short term gains in quarterly profits. Eventually Nutty-I-Tellya is going to have revive suffering areas of the company and deal with increases competition in the cloud. Anyone who uses stock price to justify his continued employment needs to understand these things. He is a profit by hatchet engineer and you can only gain by cutting so much. On the PR side, this is insane. It's almost like the Executive team doesn't like anyone with a pulse outshining them. Where is Ben "The PC Guy"? They keep Joe hidden. Now the bounced Roper? Panos knows too much, so they'll probably have to live with one good presenter, but who knows with Nutty-I-Tellya.

Oh how I miss Balmer...at least he cared enough to buy Nokia...then this guy guts the one purchase that could have saved MS Mobile.