Microsoft is finally testing dual-screen support with Xbox Game Pass on Surface Duo
Xbox Game Pass beta now supports spanning with games that have touch controls.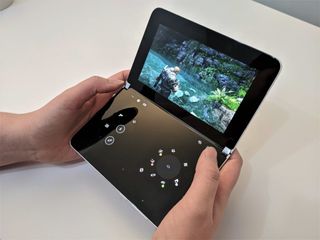 (Image credit: Windows Central)
What you need to know
Xbox Game Pass beta now supports spanning on Surface Duo.
Gears 5 has a dedicated control scheme for when using the Duo in gamepad mode.
Microsoft has rolled out an update to the Xbox Game Pass Beta app that adds support for dual-screen devices like the Surface Duo. Games with dedicated touchscreen controls (like Minecraft Dungeons)are supported, and it brings to life the dream of having a portable Xbox console in your pocket.
On Surface Duo, spanning the app when a game with touch controls is running will place the game itself on the top display and the controls in the bottom display, turning the Surface Duo into a makeshift gamepad. Developers are able to tailor the on-screen controls specifically for their game, so some games might feature different touchscreen buttons or layouts.
The ergonomics really make playing games on Surface Duo feel right, as your fingers don'get it the way of the actual game. Some games even support motion controls with the Surface Duo's built in gyro. For example, when playing Gears 5, you can look around the environment by physically moving your device around.
Microsoft teased this kind of functionality when it first unveiled the Surface Duo back in 2019, but it unfortunately wasn't ready at launch. It's great to see that the feature is now available as part of the Xbox Game Pass Beta app. Hopefully it rolls out to the main Game Pass app soon. What are your thoughts? Let us know in the comments.
xCloud on Game Pass
Take the finished version of xCloud for a run out

Game Pass subscribers can check out xCloud on their Android phone or tablet right now with the Xbox Game Pass (Beta) app from the Play Store.
Zac Bowden is a Senior Editor at Windows Central. Bringing you exclusive coverage into the world of Windows 10 on PCs, tablets, phones, and more. Also an avid collector of rare Microsoft prototype devices! Keep in touch on Twitter: @zacbowden.
Glad to see it. They should have it baked in for Duo 2

Indeed, glad it's here now. Hopefully it gets matured for Surface Duo 2. Would be better to have Switch-like controller attachment for Duo 2 as well, since actual physical controllers is better than touch, at least for me.

There's only three touch screen enabled games in Australia, one of which is Gears 5, and it's absolutely terrible, there are just too many controls to translate well to a touch screen.

Game's pretty garbage to begin with so you're not missing out on much

That's like, your opinion man.

You aren't missing much. IMO the Xbox controls don't translate well to touch. They might be good for a narrative game like Tell Me Why, but I couldn't even take playing Golf with your Friends on it.

I did find that the Minecraft Dungeons implementation was incredibly good, it controlled like a mobile game, rather than a console game on mobile, and the third game, Hellblade, I haven't tried, but I imagine it would be fine as well, given the style of game.

You can customize the controls for many games including Street of Rage 4 and Minecraft Dungeons. In fact, those games have custom buttons/designs already and it actually plays very well, better than expected.

What they need to do is take the idea from the surface NEO keyboard and make a magnetic joystic cover that interacts with the touch screen...

I don't think that that would work. Having the keyboard stick to the screen magnetically is fine for the typing motion, which perpendicular to the screen and relatively gentle. Much of the force when using a joystick would be parallel to the screen and some people would get quite vigorous, so the magnets would have to be extremely strong to prevent such a cover getting pushed straight off. You'd need something that actually wrapped around the sides (in landscape orientation) of the phone.

Yes this, but implemented to avoid any slippage issues such that John mentions. Packaged up with the Duo 2 they could market this as the Xbox Duo. Pity they stopped developing windows phone as this could have all been under the windows ecosystem.

This is great news, it is one of the most compelling use cases for a dual screen device. Aside from a big spec refresh on the next gen version, my remaining problem with the Surface Duo is that the device appears to be a full year behind in android updates.

You mean Android 11? Cause it just got the March security update

Is it just me or is Andriod maturing to the point where the annual updates don't really seem to be offering anything new? So not sure being a year behind OS update is a big issue these days

Absolutely essential.
Surface Duo and XGP.

Very cool! I tried Minecraft Dungeons. Will continue this weekend.

can't wait to try it! but it seems like it's too much work to make customized controls for every single game. just make the default controls.
Windows Central Newsletter
Thank you for signing up to Windows Central. You will receive a verification email shortly.
There was a problem. Please refresh the page and try again.