Microsoft formally introduces the Xbox Music Pass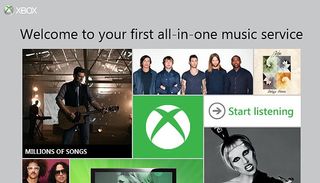 Microsoft has fired out an email introducing consumers to the Xbox Music Pass, which was previously branded the Zune Pass. The subscription model opens up an impressive catalogue of music that's available for streaming, download and purchase (should one wish to cancel the subscription but retain music tracks). We've previously expected the company to launch the rebranded streaming service as successor.
Paving way for the future, the Xbox Music Pass will work on Windows Phone, Windows 8 and the Xbox video game console (only streaming is supported on the console). Consumers are able to add up to 5 devices at any one time, and only two may be removed every 30 days. This limit is more than enough for the average user, but has leeway for those who have multiple desktops, laptops and phones.
For $9.99 it's well worth the investment. The service is pretty expansive and has room for improvement. So in case you've been hiding away, Xbox Music and the Xbox Music Pass is what we're dealing with now.
Windows Central Newsletter
Get the best of Windows Central in in your inbox, every day!
Rich Edmonds was formerly a Senior Editor of PC hardware at Windows Central, covering everything related to PC components and NAS. He's been involved in technology for more than a decade and knows a thing or two about the magic inside a PC chassis. You can follow him on Twitter at @RichEdmonds.
Ive had this service for a while now, it truly is amazing! if i hear a track i like i can do a search on my phone using the sound recognition and then download it straight to my phone. Well worth the money!

Yes it's great but after the 30 trail all of your downloaded songs get the error "we are unable to confirm media usage rights for this content" even if you renew for one year and all Xbox music customer support can do is tell you to reset your device and redownload all of your music...

I had the same issue but sorted itself out after the trial, it seems to be a temprory thing while transitioning from trial to paid sub.

It's not a temporary thing unfortunately. I've been a paid subscriber for about 2 years now and I'm still getting this issue. Everything was fine until I upgraded to WP8.
I synced a 14 track playlist to my phone this morning and only 10 tracks would actually sync. Of those 10 tracks only 4 of them will actually play. The others get the dreaded error "media rights" message.

And to add, you can't re-download without purchasing which means only 10 downloads per month to get all of the songs with errors corrected.

If you had a zune pass previously, you will still get the 10 downloads a month if you kept your membership current.

Sorry 10 purchases which means that I can only "re-download" 10 songs per month. Once you have an item in your collection, delete then re-download, the only option is to purchase.

That's not true. If the song is available via your Xbox Music Pass, you can download the tracks or album. It takes a few seconds for Buy to change to Download when viewing the album on your WP8 device.

Do you how embarrassing it is to tell people "oh there's some weird glitch going on and that's why I can't play music on my phone and no one knows how to fix it..." So ashamed.....

Try going to Music, then Songs, choose Cloud Collection and then hit the play button. The first few skipped through and then it seemed to redownload the rights. Never had a problem since.


Yes, it's truely great feature... and I can get the Music which my forefather use to listen.. lol. Only concern is that Payment Method is extremely annoying.. Microsoft doesn't accept Debit Cards and I don't have Credit Cards..while Paypal sucks.

Been using Zune Pass since almost 5 years now. Can't imagine my music world without it. Amazing support, great concept and best of all a solid tool to discover new music worldwide. Going to keep using it for a long time, I'm sure. :)

i just wish smart dj and streaming an artist for free with ads was available on on xbox and windows phone. it's available on win 8 and win 8 rt on my sruface. not sure if this is an Australia thing or not but no can do currently.

Smart DJ is available on the WP8. I have it installed.

He means the free ad-supported service that's only available for win 8 and rt.

Until they bring back Zune desktop app or similar product, I'm out.

Its not trolling.... Its how a lot of us feel.

You can still use the Zune Software and it's available to download somewhere on the MS download site.

Yes, Zune can still be used......for older devices. Not for any of the wp8 devices.

I have Windows 8 in home base PC... I listen to XBOX Music and download/stream as well..in the office I have Zune on Windows 7.. I donwload/Stream Music whenever I wish and copy the whole music to windows phone 8 using normal usb cable.. the only issue i face sometimes is the Rights Management... from 100 songs.. may be 5-10 will not play due to content rights issue.

Think #Wp8 syncing sucks? Miss Zune features? Let your voice be heard http://t.co/tXdAxdnp

Think #Wp8 syncing sucks? Miss Zune features? Let your voice be heard https://t.co/tXdAxdnp

sorry for the dup post

Xbox music is a joke and their claims on the Xbox music webpage are borderline fraudulent. Good luck trying to sync xbox music/playlists between windows devices.

The Xbox Music apps are far from perfect and I hope Microsoft can improve them rapidly, but the basic service is awesome and well worth the money. At the end of the day it's about having a large music library at your disposal (which it does), at least they have that covered pretty well.

I have seen tons of improvements with Music Info and eXPlay, yet ubfortunately we have seen ZERO improvements for Xbox Music and Xbox Video.

What exactly are you guys doing to "break" the functionality? I have thus far been able to get my music and playlists synced between my devices, though I admit I don't have my new phone, so maybe I'm missing that part of the equation...sure the transition from the Seattle to France team have left a lot behind, I'm hopeful that they will become quite the formidable service.

Yes, you are missing part of the equation. A wp8 phone.

What's the problem with syncing music? Not trying to troll but adding my music to the cloud on win8 and it automaticly showing up on my wp8 has been a seamless experience. Did I get lucky?

If you started out with wp8 and win8, you are using it as designed.
For those of us that have had Zune since it was Zune, it's not a good experience. I started with the 1st generation zune, then Zune HD and now Windows Phone 7.
I still use my Zune HD in my vehicle because the audio output is superior to that of my Trophy. I have always enjoyed wireless sync with both mobile devices so that songs added to my phone or Zune auto sync to my pc and to the other device, but for some reason MS effed up the wireless sync for Zune in Windows 8.
I was holding out for a Lumia 9xx to come to Verizon, anyway, but now I don't even want a wp8 and I'll be going back to Windows 7 until all of it gets sorted out.

Yup!!! Don't forget all the other problems!!!

http://answers.microsoft.com/en-us/winphone/forum/wp8-wpmusic/master-list-of-issues-with-xbox-music-on-wp8/b1c64834-de43-4af6-8069-4626090289a3

Pretty long list! Would like to see WPCentral do a story on that!
When I use smart DJ on my phone, it only picks about 20 songs and that's all it will pick. Zune would have kept going.

Works great for me. I can't imagine not having the Xbox music pass. I'm even on the grandfathered plan with the 10 downloads. Its awesome. WIndows Phone, Surface RT, Xbox its everything you want when you want it. Simply kills iTunes.

Is the service still up and running? I started with Zune HD and have a WP7 still, but it seems that my subscription has canceled or something. I've had the problem lately where the application crashes anytime I go to "Marketplace," and my subscription isn't updating on my phone so a lot of my music won't play. Yeah, I still have/had the 10 downloads, and it rocks... but I wasn't sure if they are phazing it out since it stopped working for me near the end of last year...

Completely agree. XBM right now is no where NEAR the same experience as the Zune Desktop app. Hell, you need 4 friggin apps for Windows Phone 8: Xbox Music, Xbox Video, Pictures, and the stupid Windows Phone 8 Sync tool (which doesn't actually sync anything, but is a transfer tool.) Oh, and that WP8 Sync Tool in the Windows 8 Store is simply horrible. Way to ruin the entire music and video experience when you have a WP8 device.

Did you also know that you cannot sync or transfer ANY Xbox Video content to your WP8 device? Yep, no TV shows or movies. Below half ass attempt IMO.

I'm a long time Zune user as well, and I can easily think of some excellent Zune capabilities I enjoyed with my Zune HD and Lumia 900 that are no longer available to me:

-automatic wireless uploading of songs I downloaded on my phone to my desktop computer, complete with song rating information
-synching songs recently played by my friends on Zune (with Zune HD, not with Lumia 900)
-no "can't confirm media usage rights" errors
-much better, more complete Smart DJ's

I couldn't disagree more - I love the service and have no issues with synching across devices at all using Windows 8, WP8, Xbox... everything just works and works well.

Tell me how to make a playlist on my phone and play it on my 360.

does anyone know if you can have phones as part of your 5 devices, as when I upgrade soon my give my wife my lumia 800 and want to know if we will have to pay for a second account.

Phones count as devices but there is no support for 7.x so Lumia 800 is out. Even if there was support your wife's phone would need to be associated with the same Microsoft acct as the Xbox music pass holder

You can still stream and download music on WP7.x but other features are not available.

Hey Creepin, can you tell me how? Maybe its a regional thing but I can't find any way to make this happen? Would be great if I could.

you would use zune to sync music on the wp7.x device, they both have to be linked to the same account, which is what makes it kind of a major pain in the ass to share the service with family members.

i love the service, but the software implementation of it ever since the rebrand and the wp8 rollout has been so poorly mishandled that it has really diminished the level of enjoyment i used to get out of it.

now it's just a service relegated to finding music on my phone, and then streaming music when i'm on my tablet/desktop but there is no resemblence of any ecosystem, which is a major fail on msft's part. if they want to go the apple route and link everything together, they need to put forth a far better effort. if i wasn't already sold on windows phone and windows 8, i would probably have dropped wp8 and just got a spotify account and gone that route.

the only experience that's worse imo is the sony music service, but at least i can use that on various platforms in a pinch. plus getting a year of it for like $13 via playstation plus is a killer deal.

You have to have a paid subscription, and you have to associate your MS account with the phone. As said above, it can be a pain in the arse when sharing your account, but you're not meant to be sharing it anyway so this won't change.

Ok so its a regional thing. Zune pass was never available in NZ so I guess that's why I can't get even limited functionality

It would be great if Microsoft could make some discounts for who as more services for example live gold+xbox music pass...

I agree, you pay for the music pass but you need to have Xbox gold to sync/stream music pass content on the Xbox, feels like a double dip to me

I know Xbox Music on WP and W8 leaves a lot to be desired but the Music Pass is great. Now if only they bring a Movies pass or some sort of a Music + Video bundle that will be awesome.

Music videos as well. Would be great for a party.

There are music videos already

The service is great once you get past the drm issue when the trial expires. But the music player on windows phone 8 is pretty awful. Playlist management is horrendous

That's exactly my point. I want Zune back. The least they can do is rebrand the god damn software so I can sync my stuff without having to bend backwards.

I totally Agree the Zune Music Player Should come back rebranded! It was one of those goofs companies make that should never have happened! It was great for Music and looked great as well!
The only thing I hate about Micosoft right now is the freakin Windows App Store website and how the apps Store on the Zune player were laid out! I think they should build it a lot like the Google Play store! I think what Google did was amazing and think all App stores should mimic them!
I like to see what I purchased not donwloaded! I mean what I paid real money for in a list and a list of Favorite apps I want on my device if I should restore it!
And please release a freaking DRM song fix for my albums to convert them from Zune to Xbox on my computer! I should not have to redownload all those albums or use some playlist fix thing!!!!
Bah I feel better now! :p

The player on Wp8 and W8 both suck. I won't be renewing unless they are updated...err fixed... Significantly

I use Nokia music to create a mix and then use this as a music discovery app. I can then use Xbox Music to download any albums from this newly found artist to my phone. I then play all on random in my car on the daily commute. Found loads of new music using these 2 apps. Well worth the monthly fee and i hear new songs every day that i wouldn't normally hear on the radio.

Had it for years. Don't need anything else. Just hope the next update for Xbox music brings it to the level of Zune.

Playlists pretty much non existent
Quality noticably poorer than local files or other streaming service
No caching
Really want to like it but can't

As a two year user of Zune pass I have to say I am extremely dissappointed with Xbox Music pass. Zune just worked. Since the switch to Xbox Music on WP8 and W8 I have had problem after problem. I just don't understand why you would scrap what, to me, was the best music/video marketplace, phone syncing program.

What about bringing the brilliant Podcast service they had on ZuneHD to countries outside the US. Podcast as it is right now on wp8, is terrible

At the very minimum Xbox music should upload your music from your playlist so that you can stream it to your phone and Xbox 360. As it is most of my playlist are unplayable on the 360 because 2/3rds of the songs are not on available on their service. Mind you, they might have the song but if it is not from the same album that's in their library they won't match it. Hence, it's broken. Anyway, I'm still on WP7.5 and am glad I can still use Zune. If this doesn't get fixed I might jump ship when my upgrade rolls around come November (plenty of time to fix.) Doesn't make sense that they go backwards on something that worked so well......

Do whatever you can to stay on 7.5, because 8 doesn't allow you to have a piece of mind when it comes to syncing, etc.

So Right.
Zune = Great .....
Xbox Music = Garbage
MS = Confounding customers every chance they get.

Good comments, think we will sit this out for now...

Do you still get the 10 downloads a month

Only if you grandfathered the old $15 plan

I think I only get four devices on my pass... I was try add a new device and wad blocked because I had removed two and had four. (A wipe and reload creates a new device)

The problem I have is that I have had a zune pass since the beginning, and now I have a WP8. Songs that were downloaded do not transfer no matter what to WP8. Supports solution is to download all songs directly from my phone, or to get Windows 8, download all songs again on it and THEN I can transfer that new music on my phone. It is literally a huuge problem for legacy users, not new ones who have Windows 8 and WP8. Very unfair if you ask me for then to just say to get a new operating system and download 6k songs again.

That is exactly my same argument. Please do us all a favor and vo to the following page to vote to have Zune sync back :http://windowsphone.uservoice.com/forums/101801-feature-suggestions/sugg...

Really enjoy having the service, completely hate the new app on wp8. Not intuitive, not well organized. Zune app was way better. Why not just utilize the same app and just rebrand it MS?

Please go to this page and vote to have Zune sync back: http://windowsphone.uservoice.com/forums/101801-feature-suggestions/sugg...

Or $99 per year, like getting two months free.

I have used Zune for well over 3 years and loved it. Got the family 3 new Lumia 920's this weekend and went through horror and shock that is the XBox music app and the Windows Phone sync tool. Needless to say I will be cancelling when my sub is over in March and going to Spotify or something else. This is hands down the worst implementation of software I have ever seen for syncing, it is even worse than I-Tunes and I didn't think that was possible.
Love the new phones hate the music pass and xbox music.

What blows me away is that MS hasn't even acknowledged that it sucks, or at least shown us the light at the end of the tunnel. It's a huge fails. Media consumption is the crux of mobile devices right now and MS is "mailing it in"

Please go vote to have Zune rebranded and brought back to us for all sync : http://windowsphone.uservoice.com/forums/101801-feature-suggestions/sugg...

Well its broken especially for WP7.xx users coming from the old Zune pass with monthly tokens say good bye to purchased music

I wish they'd find a replacement for that Gagamonster pic in the lower right.

Creating playlists on Xbox or Surface, brings incomplete playlists to WinPho8. Creating playlists on the phone is a joke.
The Win 8 app needs a LOT of work.
Other than that, I like it a lot.

They need to make a web Client,iOS android Apps also are needed

Xbox Music was a big step backwards from Zune. I'm almost done with it...

Please go.to the following page to vote on having Zune rebranded and brought back to us for music and other syncing: http://windowsphone.uservoice.com/forums/101801-feature-suggestions/sugg...

Music pass is amazing! I love it!

Xbox music app on my phone is so slow and poor, playlists are a arsr and don't sync to w8 phone...

I am a grandfathered Zune pass sub for last 3 yrs or so. My quarterly renewal is up for 1-21-13 for $45. I've cancelled the auto renewal 3 times now since Xmas and just turned it back on. Was trying to switch to the $99 annual plan but it won't let me. I assume I have to let current cancel and re-up. The nightmare that xbm is, I dunno if I want to.

Hey MS, could you please formally tell me how to manage this cloud? I got 145 Christmas songs that won't go away now.

I am apparently still crossing the Rubicon as I have two different Zune Passes - One on the old plan with 10 saves each month (about to expire, so considering I am out of the country I may have issues) and the newer $9.99 pass. Now, I have had no real issues with crossing over, as I have the Zune client on my desktop and am running W8. Currently using only the new pass and the only error I get is the Sync error so not syncing apparently across devices...BUT....

I am now playing those same tunes through the Xbox music on my Surface which siply synced to my Zune folders on the network, and everytyhing currently syncs to my WP7.5 Titan. As I said in the first paragraph, I am sure when I move to a new WP8 device it may get more complicated, but for the time being, if I download on the phone, it syncs with Zune and if I download in Xbox, I have had few syncing problems to the phone.

Can anyone tell us what the music app aituation is on 7.8? I hear the icon changes, but must still be Zune, right?

In 7.8 it's still Zune. I'm using it.

Such a pity the implementation is so poor in Windows and WP.

I've been getting that very same email for a few months now. But they need to rewrap the Zune software in W8 and X-Box trappings and add WP8 support and then they would have a killer app. The X-Box music app is highly deficient and really hampers my experience with it.

You and I are on the same page, please go to this page and vote to have Zune rebranded and have them.bring it back to us: http://windowsphone.uservoice.com/forums/101801-feature-suggestions/sugg...

I was about to buy my Lumia 920 and now you guys are making me over think it! :P

(Currently on WP7.8).

No Major regrets just Microsoft needs to ajust a few issues! Some are minor some are major... Doesn't mean the phones a wash just we want some of the old stuff streamlined and some new stuff we want it improved!

Hold off for now. WP7 is still a much better and more stable platform, imo.

There is still a lot of work to do on Xbox Music. WP8, Windows 8 music sync has very much to be desired. I also notice the library is smaller on xbox music than zune. Multiple items for acdc on zune and only 1 on xbox music.

Go to this page to vote for a Zune rebrand and sync to phone app:http://windowsphone.uservoice.com/forums/101801-feature-suggestions/sugg...

For two cents it wouldn't be worth it.
I can drag and drop music to my phone now, no programs required.
Keep that, ditch the rest - especially that ugly dead tile - and try again.


It seems to me that there are obvious issues with the music service that Microsoft provides. I would suggest every single person that wants change, or want Zune back(as a rebrand) to go to the following page and make your voice heard AND also to vote for Zune to come back: http://windowsphone.uservoice.com/forums/101801-feature-suggestions/sugg...

I haven't upgraded to windows phone 8 yet. Nor have I used Xbox music much on windows 8 laptop. But on my Xbox 360, windows phone 7.5 and Zune on windows 7 desktop, this service is amazing. For .$9.99 I able to download alot of albums and songs ( I have never read how many I'm allowed but it's over 10). Granted I don't own the songs and will not be able to play if the service is cancelled.

When will the Xbox Music Store be available in India? Also, will it be available for unlocked Lumia 920?..thanx

Anyone else having issues with importing a Zune playlist from windows 7 desktop software to the wp8 and having to go through the track list on the phone to delete doubles of songs (half of which won't play due to licensing) just to have them deleted from the playlist on the phone? I have been spent 2 days of doing this and still can't sort it out! My Zune still works fine though, just going to use that instead.
Windows Central Newsletter
Thank you for signing up to Windows Central. You will receive a verification email shortly.
There was a problem. Please refresh the page and try again.