Microsoft FY18 Q1 earnings: $24.5 billion in revenue on continued cloud growth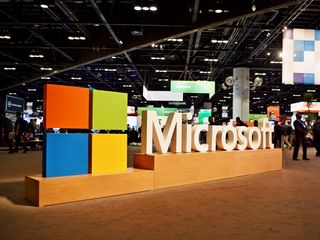 (Image credit: Windows Central)
The earnings report for FY18 Q1 (opens in new tab) shows a total of $24.5 billion in revenue and $6.6 billion in net income. That's up from the same period a year ago, during which Microsoft brought in $21.9 billion in revenue and $5.7 billion in net income.
Here are the highlights from this quarter's release:
Revenue was $24.5 billion and increased 12%
Operating income was $7.7 billion and increased 15%
Net income was $6.6 billion and increased 16%
Diluted earnings per share was $0.84 and increased 17%
Microsoft beat analyst expectations, which predicted $23.56 billion in revenues. That's in large part to the continued growth of Microsoft's cloud business. Intelligent Cloud revenues in particular were up 14 percent to $6.9 billion, driven by a 17 percent increase in server products and cloud services, along with Azure revenue growth of 90 percent. Office products were also a highlight of the quarter, with commercial Office and consumer Office revenues up by 10 percent and 12 percent, respectively. LinkedIn revenue came in at $1.1 billion.
Revenue in Microsoft's "More Personal Computing" category, made up of Windows OEM revenue, Surface, gaming and more, was relatively static at $9.4 billion. Most interestingly, Surface revenue was up by 12 percent, an increase Microsoft pins on sales of the new Surface Laptop. Gaming revenue was also up slightly, increasing by one percent due to 21 percent Xbox software and services revenue growth, but lower hardware revenue. Here's a look at the highlights:
Windows OEM revenue increased 4% (up 4% in constant currency), ahead of the overall PC market
Windows commercial products and cloud services revenue increased 7% (up 6% in constant currency) driven by annuity revenue growth
Search advertising revenue excluding traffic acquisition costs increased 15% (up 15% in constant currency) driven by higher revenue per search and search volume
Surface revenue increased 12% (up 11% in constant currency) driven by sales of the new Surface Laptop
Gaming revenue increased 1% (0% in constant currency) with Xbox software and services revenue growth of 21% (up 20% in constant currency) offset by lower hardware revenue
As usual, Microsoft will hold a conference call and webcast at 2:30 p.m. PT / 5:30 p.m. ET on its investor site (opens in new tab) to discuss the earnings.
Dan Thorp-Lancaster is the Editor in Chief for Windows Central. He began working with Windows Central as a news writer in 2014 and is obsessed with tech of all sorts. You can follow Dan on Twitter @DthorpL and Instagram @heyitsdtl. Got a hot tip? Send it to daniel.thorp-lancaster@futurenet.com.
Yep, those numbers clearly indicate that Microsoft is a failure and doomed like all those who comment here like you to believe. (and yes, that was a /s)

Frustrated haters like you will only see them succeeding. Sorry!

He was being sarcastic... 😂😂😂

If you believe what you read in here, you definitely think that Microsoft is close to bankruptcy...

Their mobile and wearable business are.

Nobody thinks MS is failing as a company, they're failing their consumers. If Nadella wants to turn MS into the next Sysco systems, fine. then they can run commercial about what an important company they are, but the truth will be they'll no longer be shaping the present and future of technology.

"Nobody thinks MS is failing as a company, they're failing their consumers." You mean like how when people here comment with "I think Microsoft is doomed from now." (when commenting about Microsoft in the Enterprise)? Or simply write "Microsoft is dead"? Yes, people here are prioclaiming that Microsoft is dead, not just in the commercial but enterprise space. Just yesterday Wal-Mart announced that they would let their employees choose between a PC or Mac, and supposedly that was the end of Microsoft. If you are not seeing the claims that Microsoft is a company that is doomed, then you are not reading the comments that well. It has been claimed for years that Microsoft would fail - XP was the end with the "Fisher Price UI", then Vista with the protected path, then Win7 with the new TCP/IP stack which would bring the Internet down, to Win8, and now Win10. From Surface RT, to Groove, everything Microsoft does causes people to declare the end of the company. Remember last year when Surface sales dipped a bit, and that meant that Nadella should give up? A small, one time dip resulted in people wanting Surface to end. But then if it were cancelled, people would be complaining about another failure that Nadella gave up on. Here we see that Surface was up 12%. Of coursre, the competition has their tablet which has seen one YOY quarter rise, but the rest were down, and somehow that is a product that drives the company.

So yeah, alot of people on this site hate MS and if their numbers show any weakness they troll. But there are others like myself who believe MS is headed in the wrong direction. My point is profits are not the only measure of success. It's viral that technology companies invest in technology.

"Nobody thinks MS is failing as a company, they're failing their consumers" Precisely. To be more specific, they're failing consumers. Other business customers are quite happy. Nohone, the doom and gloom is going to be profetic, because abandoning the consumer space is going to make it hard for MS to be relevant for business in the future. They'll have their niche offerings like the cloud, but they'll be a shadow of their fomer glory. Enterprise professionals and leaders are consumers, and they'll pick which ever ecosystem covers all their needs, and guess what, that will not be MS much longer. Once Alphabet gets heavy into Enterprise and Cloud (they are a distant 3rd to MS and Amazon's Web Service) how can MS hang on when Alphabet will literally has every aspect of hardware and software tech covered? As a MS shareholder, their earnings make me happy, but as a fan and consumer, I'm very concerned for their legacy and long-term relavance.

Indeed, this is just short term the next growth point for the competitors is the enterprise as consumers take their devices into the work place and demand to be supported because they are comfortable with said devices and since a happy work force is a productive work force, the employers will have no option but to tailor IT policy to support these devices. The flow has reversed, enterprise users are no longer taking tech home (a PC in every home) it's the consumers who are taking tech to their work place. This is why foregoing the consumer space is a catastrophe and by a large extent it decimates their entire UWA platform because for that platfrom to thrive they need developers and developers can only monetise on a user base through advertising and app interactions therefore no consumers - no developers. As compared to the enterprise market, consumers are solely app and trend driven. Hence why there has been zero traction with the windows store and not to mention Microsoft still has a mountain of API's that they need to transition into the UWA ecosystem. Therefore cutting all that coding hours was counter productive albeit it increased the share prices a fair bit but in the long term it has put Microsoft on the absolute back foot. They are not leading the pack, they are chasing and falling behind. For example compare the momentum between Hololens - Microsoft's take on Augmented Reality despite having a massive "headstart" and the ARkit from Apple. It's absolute night and day - because Microsoft's vision is Enterprise driven whereas Apple's is Consumer driven.

What flow has reversed? How do you think PC's got into the corporate space to begin with? Folks bringing in their PCs with VisiCalc on it, much to the chagrin of centralized IT. No change here. Read "Invisible Empires" or search YouTube for the "Revenge of the Nerds" series. There's zero traction in the Windows Store *because* UWP is terrible. Back foot? Microsoft is investing gazillions in AI, IoT, etc. And Azure, Microsoft's cutting-edge cloud platform, is the fastest-growing cloud platform, up almost 100% again this quarter. What "coding hours" did Microsoft cut?

@nohone; He he he he...those are same folks that claim the Lumia 920 was heavy... I totall agree with your comment...

Not so fast. Without mobile, I believe they will.

Hardly. They're consistently in the top quadrant for a whole number of cutting-edge technologies.

Those who speak doom, including me, talk mostly about long term success. There is quite a chance these numbers won't keep rising when Windows is used less and less.

Well, let's examine how Windows is used in 2017, vs iDroid, and the potential drop in Windows usage, troll....
......
Smartphones? Windows 0 - iDroid 1
Desktop Home? Windows 1 - iDroid >½
Desktop Ent? Windows 1 - iDroid ¼
IOT? Windows 0 - iDroid 1
Server? Windows 1 - iDroid 0
Tablet? Windows >¼ - iDroid 1
Infotainment? Windows 0 - iDroid 1
Government? Windows 1 - iDroid 0
Schools? Windows 1 - iDroid >¼
Business? Windows 1 - iDroid >¼
Film/Music industry? Windows >¼ iDroid 100 gabillion
......
I don't expect anyone to hold me to those numbers as far as accuracy is concerned, rather the point is that they're most likely close to reality.
But, the point is that these numbers aren't currently on the move. Let's be realistic. ANYTHING IDROID HAS TAKEN FROM WINDOWS IT HAS ALREADY TOOK, granted a slight increase in Chrome OS vs Windows. This barely spells death for Windows. According to my figures, IDROID IS IN IT'S PLACE, AND WINDOWS IS IN IT'S PLACE FOR THE MOST PART. The shift is virtually stagnant for now. iDroid is for the most part done taking from Windows, mainly because the smartphone market is already saturated. Because of this iDroid adoption is slowing a little, and Windows is picking up slightly.
Case, and point..... If Windows is going to be taken out in the next decade it's not gonna be by iDroid, and no other platform is on the horizon... Windows is safe, and even you wishful trolls can't deny that... But, I know you will😂😂😂😂😂😂😂😂😂😂😂😂😂😂😂😂😂😂😂😂😂😂😂😂😂😂😂😂😂
Please, trolls. Give it a break for just one day.🙄

"Anything iDroid has taken from Windows it has already took" Forever is a long time, but at this time and the foreseeable future, I couldn't agree more. At the highest hype of iPhone and Android devices one would think that Apple and/or Google could have moved into the desktop marketshare; made some kind of dent or something fueled by their hype and popularity of their house hold names. But nothing. Microsoft's Desktop Marketshare has not even budged from it's Dominance. To add, the highest hype of the iPhone and Android devices is now beyond us. The market is saturated and the excitement around smartphones is greatly losing it's luster. What makes Microsoft so impressive is that it is performing this well without even being part of the biggest electronics movement in history; the smartphone. And what are those companies that rely on the popularity of smartphones going to do when their bread and butter products start to get stale in the eyes of the consumer? Will the hype and house hold names get stale too? If it does, then what?

Exactly... Windows is sustainable, because it's capabilities aren't limited.
.......
iDroid making Windows PC irrelevant is only in the minds of a relatively few pathetic trolls. If you ask the average consumer if they ever see their iPhone, or Android, device ever replacing their Mac, or PC, they will ask you what you've been smoking....
Man, I tried to do my online studies on an iPad, and an Android tablet, and it wouldn't work... Once my Surface 3 came in I was in business. Now, to be fair, mobile processors, apps, and overall hardware, are becoming more powerful, and everyone knows that Apple will show OSX on ARM any day now. So, when those mobile browsers are fully capable that will give people less reason to rely on Windows. But, we're still a ways off from that. These idiots talk as if Windows is irrelevant now, just because WM failed. That's stupid. Surface is all over the Airport. I see as many Surface products of various kinds, as I see Macs....
Let's look at it like this.. I see..
About 20% Surface products
About 20% Macs
And about 60% Windows PC'S
I don't recall ever seeing a Chrome book, although they're there, just to insignificant to make a difference.
😂😂😂😂😂😂😂😂😂😂
And, our next mobile device is potentially going to run Windows, and be a Surface.. 😂😂😂😂😂.
I can't believe a troll would be stupid enough to even open these articles.

Agree to a point. Apple will make you think it's barnbusters for the x. But I just don't see it. The x does nothing for me. I'm actually keeping my 6s for another round because the new ones offer nothing compelling. I really wished ms got behind the major banks etc to get the major apps. I would still rock the 1020 and 950xl. At least they were compelling devices when released but ms squandered any traction they had for cloud profitability. I just hope they can figure out things for the next device.

@rodneyej; To add a little jelly to the toast, WOA isn't even out yet and I really believe as time goes forward Microsoft will start eating some of Android's ice cream as well as cake...

Yes. And, as I mentioned earlier.. Although a Version 1 Surface Ultramoble might not be perfection, the real excitement comes from the prospect of a version 2, 3, or even 4. The first version definitely won't makes huge waves, but by version 3, or 4, this device is gonna get really good, finding exactly where it fits as it evolves around it's intent, and the user... That's gonna bring some users to MS for their mobile device.

Of course we know you mean that but as nohone stated there's always talk about MS dying in the long run based on anything they do. I can say Apple will eventually die and be right because no company will last forever.

While I am only one person I will no longer be using their cloud service, As I don't have a windows phone for photo and music for uploads in the future. Also no reason to keep office 365 (was using it for the extra storage) Google and open office will be on my pc when my 12 months subscription expires.

I AM using onedrive and office 365 on my New BlackBerry KEYone. And its awesome. Its more capable, and i have a Surface Pro 2, so its logical i got those Services. Microsoft apps on Android are awesome. Give a try, mate.

Ditto here on an iPhone 6. MS is great on iOS.

Care to describe the version of your long term success? What should they do? Try keep WinPhone alive and drop Cloud, stop maintaining c# & c++ & open source projects, don't provide VisualStudio / svn / project management for free, stop being biggest contribute to git, stop UWP/BC/FC/XPA, etc?

Microsoft as a company will be fine. As a consumer brand, that's a completely different story. They will continue to dominate PCs as PCs continue to shrink in use. Unless you are a consumer of cloud services, or use Office at work, you wont care about MS much in the future. MS will be more like IBM and less like Google or Apple. Nothing wrong with that if you are a shareholder. Its kind of disappointing if you were a Windows mobile fan.

Unless you are a consumer of cloud services

Even if that were the case, XBox, Office, OneDrive are all consumer-facing features built on cloud services. We're all consumers of cloud services. Agreed, wish Windows on the phone had succeeded, but like many other things in the years between Gates and Nadella, Microsoft totally biffed it.

Yep I'm sure those shareholders HATE Nadella. Time to bring the pitchforks and tiki burners

I am bringing the pitchforks to rake my money in.

I'll bring the tiki burners to light the path incase you drop some money. :)

Lol, Call me a Tomb Raider!!!!!!!!!

I'm sure shareholders love Nadella. It's consumers, developers, partners and I'm sure many employees who hate him. I bet Windows hardware partners really love seeing Surface Laptop sales for example. It was one thing to say you were doing hardware to promote new types of devices to OEMs, but to introduce hardware just to deprive OEMs of sales seems foolish in the long term. I see the point of Surface Studio, Surface Book and HoloLens, but Surface Laptop seems like a giant F-U to tons of good Windows ultrabook makers.

"It's consumers, developers, partners and I'm sure many employees who hate him." I am a consumer. I bought a new Surface Pro. I have a Xbox One X on order. I have three Windows Mixed Reality headsets. I am a developer. I bought a new machine to do dev work. I bought two of those Mixed Reality headsets to test my holographic apps. I have personal apps I have written on the store. I am working on using the bridge to get my company's application on the store. I am not an employee. But since I live a couple miles from Redmond, I know many of them. I know more people who have left Google or Amazon in the past couple years than I know Microsoft employees who left the company. In fact, i know more Microsoft employees than Amazon/Google employees. Only one Microsoft left Microsoft, and that is because he is in his late 50s and with the Microsoft stock price being up because of Nadella, he retired. The company I work at has a steady stream of Amazon and Google employees who start to work at my company. And contrary to the FUD, Microsoft is in, staying in, and increasing their investment in the consumer space. Xbox One X, Surface Laptop, Windows Mixed Reality, new versions of Windows (with consumer focused updates being free for consumers), and more. Yes, they have shut down a few small services that were for the consumer, which very few consumers actually used. But the repeated drum beat of Microsoft hating consumers, that they are getting out of the consumer market does not line up with the facts. Because they are not getting out of the conumer market. Other companies routinely shut down consumer products. And every time it happens, it is cheered. "Cutting the fat" is the common line. At Google it has even become a yearly tradition - "Spring Cleaning" they call it. How many social media apps has Google had? Apple has had numerous social music services, multiple consumer online app suite. And when each of those were shut down, no body claimed that it was the end of Apple. But shut down a music service that didn't diffetentiate themselves from the competition, and every single service out there is losing money; shut down a phone that, while the best on the market, was losing marketshare. And the company hates consumers and is leaving the consumer market. Now if you would excuse me, some people at work are going to the TV room to play a little Halo on the XB1s, both of which are Microsoft consumer products.

Xbox is a great product that was built and fought for by 2 other CEOs, you'd think the current CEO would respect that. In fact he hadn't, he's been cutting them budget for games.

That's thing nohone, you live in the US where Microsoft is almost solely focused whereas elsewhere... it's very, very bleak. Everyone i know has an ios device and android device, sure some have windows based laptops... but beyond school and assignment work. They gather dust... people do not "love" Windows or ios or android they "love" the ecosystem and the interoperability between devices. You can not say the same for Windows as it virtually has zero consumer accessories, they could have done so much with Xbox and Cortana... but no.. The roll out of Microsoft Rewards should have been rolled out sooner but better late than never. I am hoping they will start expanding more rapidly and bringing Cortana to more markets. They need to put more investments into the Cortana team so they have more coding hours available to them, since after all Microsoft is cloud focused and the point of interaction to Microsoft's cloud is Cortana.

Shhhh not so loud you're making to much sense, I'm not sure some people around here can handle that

** MS Employee disclaimer: I work at MS. I have nothing to do with any of the devices you mention above. My thoughts are my own and not the company's. ** RE Satya's popularity: Internally I would say that both anecdotally and through public metrics (daily polls, annual larger poll, etc.) that Satya Nadella is very well liked. Personally I think he's doing great at reinvigorating the company at all levels. I started at MS about a year after Satya became CEO, so I can't talk about how it was under previous leaders, but I can say that even since I started the culture has changed in a positive way. I think developers and partners also have a pretty healthy respect and are mostly positive about his impact. That is totally anecdotal because I'm in engineering and not sales, partnerships (or whatever you would call that type of position) or anything else that talks directly to partners. I have a lot of software dev friends, most of whom work elsewhere, and by and large they seem to have a mostly positive view. Admittedly this is all anecdotal and I'm trying to completely debunk anything you say. I'm just adding my perspective as food for thought. In regards to the Surface Laptop I think it's not as big a deal to OEMs as others do. I also think it fits the mold of the other devices released in that it's defining expectations for a market. In this case they're using it to define what a Windows 10 S device should look like (ie, that it shouldn't necessarily be an 11 - 13" netbook). Having a targetted device category with matching OS featureset that hits targets in education, healthcare or other verticals seems like a good idea and something that grows the pie to everyone. To me that's a win-win. As I mentioned, I have no direct insight into any of my analysis. I learn more things from WindowsCentral and similar sites than I do at work for a lot of these things, so don't take my employer as meaning I know anything. I'm required to put the disclaimer due to our social media/public commentary policy, but I'm not trying to pretend it means my perspective is any more informed than yours. I would, however, be interested to hear your thoughts about what I've had to say. Edit: Words and stuff.

Try to peel your eyes off the stock ticker this morning and get some work done! :-)

Try to peel your eyes off the stock ticker this morning and get some work done! :-)

That's probably the best response I've ever gotten on this forum. Love it.

Great to hear :). I personally can only talk from what I see, heard and been told. Maybe you could tell the relevant people that they need to be more aggressive in rolling Cortana out to more countries and increasing investments in the Cortana team. Why? Because Cortana is Microsoft's tie in to their Ecosystem, the more people who use Cortana they are less likely to use Siri, Google Now and Alexa. Sure, it would have helped if Microsoft didn't swing that darn axe on the mobile division and decimate the entire momentum and consumer trust in the process. As then Microsoft would have had a mobile platform to leverage as we all carry a smartphone with us day to day. What I've seen will shock you to the core, there has been massive shift towards ios and android devices in the younger generation which may be blatantly obvious but the pyschological attachment is far I can see has been completely disregarded. They only use windows based laptops because that's what they use at school - so to do work and assignments. For media consumption, they use their ios and android devices even though their laptops are perfectly capable. Because they have been conditioned from a young age to use these devices for media consumption. Because as parents get busy and to some extent lazy, they just give their iphone or android smartphone to their little toddlers to entertain themselves through constant replays of dora the explorer, peppa pig and other cartoons. When Microsoft axed Kids corner, you lost the most under rated USP for the mobile platform - this is why solely focusing on telemetry is just daft. Because there is no way to quantify user satisfaction - the brief moments when you smile after seeing a favourite picture in the photohub. People are not numbers, they cannot be categorised sure behaviour can be analysed and perhaps influenced to certain extent but never completely categorised. As we all have different life experiences, for instance as a INFJ I am always mistyped as a ENFJ, ENFP, INTP, INFJ and so on. So these kids, growing up and ios and android devices - interacting with accessories in the respective ecosystem.. how are they going to know Windows exists as an ecosystem if there is almost zero consumer accessories? The Harmon speaker although an awesome device, it's US only right now and out of the spectrum for many people at that price point. Fast forward down the line, now these kids are grown up and they want to use the ios and android devices that they have grown up with at work and they refuse to use anything else. So what will employers have to do? They will have to tailor to their employees demands to ensure high moral and productivity, now here at this fork in the road Apple and Alphabet / Google will decimate Microsoft in the enterprise sector through sheer consumer momentum alone. Simple reason - Social media and the next logical growth point for Apple and Google will be the enterprise when Smartphone sales plateau. When Microsoft took hold of the enterprise, social media didn't exist as it does now - people got their news from word mouth, news papers and News programmes etc. The current trend of consumers bringing devices into the work place will not cease, Microsoft cannot afford to be enterprise centric anymore. By foregoing the consumer market, Microsoft just gave the only incentive that galavanises developers - monetisation through advertising and app interactions on a wide scale. Enterprise users are not that app centric compared to the consumer sector. Focusing in getting Windows into schools is not a solution, it's the first step, the second step is having a device and ecosystem that the next generation can use daily to increase familiarity and sub conscious attachment. It is that sub conscious attachement that fuelled the "PC in every home" era. So Microsoft most focus on creating an accessory ecosystem and a mobile device that people can use enmass. Lastly, they need to pushing more development on the UWP platfrom over their competitors - Mixer still does not have a UWP app, Linkedin does not have a UWP app for example and the Skype experience is shambolic and the UWP app updates arrive almost a month after the ios and android updates. Because if they don't Microsoft will cease to exist in many households, right now I can countain on one hand how many households actually use windows based laptops for media consumption - it's 4 out of every one I know and my household is one of them so realistically 3. In regards to Skype, it virtually doesn't exist because the experience has been going down hill over the years and due to the aggravation they have cause many people. I'm sorry, it's become a long winded comment, it's not a rant but a condensed comment of what is really happening outside the US. You just need to look at the youth engagement numbers between ios, android and windows devices and you will see what I mean. These youth are not getting any younger.

Agreed, Kid's Corner was a huge loss. I wish they had given it a different password than the master, instead of killing it. IMHO, UWP hurt Windows much more than it helped, because it was such a limited set of APIs compared to traditional Windows ones, whether .NET or not. It shackled Windows to the lowest-common-denominator, and destroyed Windows development. I surmise that it was a left-over from the old Windows 8 make-everything-touch days (which also severly hurt Windows). In retrospect, UWP was a terrible idea.

I disagree, UWP is the way to go and currently the reason being they haven't been able to transition the Win32 APIs in a timely manner is because they just don't have the coding hours available. Microsoft did axe their dedicate team of testers and an insane number of talented people. Which drove up their share prices but in the long term, it has put Microsoft on the absolute back foot when it comes to UWP APIs. So therefore they need to hire more staff to transition all the Win32 APIs to the UWP platform. In regards to Kids Corner, the issue is most people didn't know Kids Corner existed and so many parents never used it - every time I showed people that they were amazed their android devices or iphones couldn't do that. I have seen zero adverts for Kids corner anywhere... except on the smoked by windows phone campaign videos.

But there is no value in UWP. It's a holdover from the ill-concieved Windows Phone days, when apparently the people who made these decisions decided that there was no problem with requiring developers, in an extremely competitive market, to rewrite apps from scratch on a significantly inferior developer platform. It killed Windows Phone, and it severely damaged Windows. The investment required to basically rewrite Win32 for UWP is huge, and there's no market for it. Then you have the degraded, compared to Win32, user experience, which is more like Silverlight than like a Windows application. UWP flopped tremendously. Like Windows Phone/Mobile, throwing more good money after bad is suicidal. Microsoft has been hiring thousands of technical people. And the firing of the Nokia folks has nothing to do with the share price increases, other than the good signal dumping Windows Mobile and the phone hardware business sends. MSFT is through the roof because of the Microsoft cloud.

There is value in UWP, it's not just for mobile as the UWP encompasses iot devices, mixed reality, xbox and windows (desktop / laptop and tablets). But the place where UWP apps make sense is mobile devices as the apps can adapt to various screen sizes. I'm aware that investment required to transition win32 APIs to UWP is huge but they aren't making that investment, they are more focused on competitor platforms for short term revenue. That undermines developer confidence hence why the UWP platform has not taken off. The market where it made sense and the market which developers could have monetised the most was cut off by Microsoft by refusing to WM10 a fighting chance after the D & S acquisition and when Satya Nadella took over. The thing is the value of UWP is that it is the transition and core of the "one core" of Windows - the former making way for progressive web apps and Mixed reality apps whereas the latter is all about code efficiency by being able to code once and have the app adapt to any device automatically. Therefore being platform agnostic so therefore should Microsoft want to get into the infotainment market for instance, the universal windows platform would be able to adapt as in essence it's a IOT device with a display. There are other advantages of UWP: Reduces coding hours, bug fixes required, reduces the amount of resources that the app uses and by being sandboxed it almost means it's far more secure than win32 application. Where injected code is very much a reality whereas with UWP it's not that simple to inject rogue code. So yes, there is value in UWP and furthermore cognitively "value" is a subjective matter - it's all about what you perceives as advantages and disadvantages along with the logistical analysis of each advantage and disadvantage. As to presume Microsoft's competitors will stand idly by whilst they strengthen their (Microsoft's) B2B hold is profoundly naive which is why foregoing the consumer space is catastrophic. As sooner or latter people will demand greater interoperability between the work place and their own personal devices. It will simply happen because it's much more efficient and cost effective to tailour IT policy for personal devices as opposed to issuing devices to employees and testing devices said devices. Therefore enabling Google and Apple to gain a foot hold in the enterprise sector due to the better direct hardware integration. With WM10 Microsoft almost had that, I can navigate my college resources with a single login. So not only Microsoft could leverage their enterprise foot hold, they could also sold their or partner mobile devices as it enabled greater interoperability with the infrastructure - this is why you had many organisations issue windows phones to their employees. But they wiped that out in favour of cost cutting and being "enterprise centric". In any case Microsoft needs a mobile device if they are to have any future relevance. There are so many ridiculous factors at play, one needs to see all angles, subjectively and objectively, in third person and first person.

The "benefits" you ascribe to UWP are entirely theoretical and not based in experience. These are the very same sorts of benefits that were touted around what ended up being the massive fail with the shared platform in Windows 8 / Windows Phone 8. Yes, you could write an app that in theory ran on phone and PC, but it was utter garbage compared to both a full Windows app and what you could write for, say, iOS. UWP has only costs and drawbacks in real life, no real benefits beyond the theoretical. Mobile was cut off by Nadella because it was a massive failure with no win in sight. To stay in that would have meant frittering away millions of dollars and engineer hours on a lost cause. Dollars and hours that could have been used on important technologies that actually have a future. And Mobile failed in part because UWP was a terrible strategy. A Windows developer platform designed primarily for support of small screens and much lower-featured platforms was always going to be a huge loser. Apps written for Windows in UWP are terrible, because UWP is terrible. It's the same sort of mistake that was made in shipping Windows 8. Speaking of mobile, Ad Duplex just released a new report on Windows phone (lower-case) usage. Even now, at the end of 2017, after the 1020, the 1520, the 550, 650, and 950, it turns out that devices 640 and lower (i.e. more than three years old) comprise 2/3 of the Windows phone market. Let that sink in. Only the cheap phones ever sold in any quantity, and no one upgraded to better, more expensive devises. Windows on the phone was dead (and has been IMHO ever since the WP 7 debacle). UWP has no advanatage in bugs, hours, complexity, or features over .NET. Zero. And it has a horribly simplistic and limited UI paradigm. And it's not backwards compatible for previous versions of Windows. This last point is of supreme importance, even ignoring all of UWP's other failings. It's the same mistake Ballmer made when moving from Mobile 6.5 to Phone 7, and then to 8. No backwards compatibility. It's a killer before the project even gets underway.

Your forgetting the entire crux of the matter, it failed because there was no long term vision. The Xbox division and bing were not the same years ago. Ballmer sunk a tonne of money getting customers who suffered RROD issues. Surface had massive stock right down. The windows phone 7 transition failed because Microsoft used the CE kernel, that dates back beyond Dreamcast. You must first theorise then implement to create experiences, that takes time and long term vision. Every single product you use and take for granted existed as a theory in one point in time. As I said you are completely disregarding the crux of the matter, it was not given sufficient time. Furthermore Windows phone 7 was ill balanced, they disregarded their enterprise partners, it also did not have the basics, it co-opted peoples msd cards as it own, there was no landscape support - the HTC touch pro 7 was a mish mash of experiences. When they transitioned from 6.5 Microsoft at the time did not allow the HTC HD2 to upgrade to wp7 because it didn't have the three buttons needed for a 'consistent experiences'. Plus the mobile license was not free, then it was made free and hardware requirements relaxed, then you had the zune fiasco, which then became Xbox video and music. Then later groove. Each iteration was rebooted and therefore poor planning - again 'not enough time given'. The first iPhone got away with a browser, zero apps and no copy and paste functions because it's Apple. People let that slide.
Blackberry for example shipped their playbook tablet without certain features and they got hammered for it.
Same with Microsoft, hence the 7.5 update packed a tonne of features. By the time wp8.x came out, OEMs were already skeptical due to being burned during the kernel change. The Nokia advert - the smartphone beta test is over bite them in the rear. As soon as that aired, the CE kernel was shelved. Then you had the issues with US carriers and exclusive devices'. Then thrown in the fact they had only one partner - orange in France selling secure sims needed for tap to pay. Whereas in the US that method.meant Microsoft was screwed by the big three carriers. My point is you are totally disregarded the countless factors why Mobile never took off in the US as it everywhere else in the world, without a strong mobile base, there weren't going to be many UWP apps that will make the transition from silver light apps for example. Also Microsoft is also to blame again as they also used to use tools not available to developers. So yeah, before you go on about UWP as failed platform. Think about the chain events that have lead upto this point. Everything happens for a reason and as I said value is subjective. To find value in anything one must always think long term. Otherwise there isn't much point to anything in life.

Of course there was a long-term objective. Come on, we're talking Microsoft here. The long-term objective was flawed, that was the problem. They tried three times over six years, incrementally moving in that direction. It was premised on fatallly flawed assumptions and violations of core Microsoft principles, the primary one being backwards compatibility. To ship a series of new developer platforms that totally broke with the past, while incurring the immense cost and competitive disasters of resetting the platforms, while Apple and Google were iterating on theirs, making them increasingly attractive, was hubristic, something unfortunately characteristic of the post-Gates, pre-Nadella era. The vision was fatally flawed. UWP has been a failure. Nadella, thankfully has realized this, and corrected course.

The key point to iteration is the transition time is little to non existent. Microsoft didn't allow for such things, they just stopped and started - from scratch. So developers had to do the same and Microsoft at one period didn't give developers access to the same tools. Plus the messaging was all over the place - all windows phones will get windows 10 for free, but not all windows phone did not make the upgrade cut. In the meantime, Microsoft was flip flopping with decisions. By then they were more focused on ios and android. The windows store and windows 10 mobile was neglected. There were so many obvious bugs in the office apps for example the when trying to copy and paste from the top of the document or the bottom, the copy and paste bar would appear before you could copy. Tap and hold did not often enable to select all, if you were able to do so, it wouldn't copy until the 3rd attempt. So yes, UWP didn't pick up for many reasons. By undermining the UWP platform they also undermine their mixed reality platform as it is co dependent on the UWP for apps to get off the floor. UWP is not just for mobile, for the current phase computing it makes more sense for smartphones and mobile devices. As mobile devices will be the defacto platform of computing until battery technology and nano tech combine - that is years away. So yes, Microsoft cannot push aside UWP. You're also not considering the obvious fact, by pushing aside UWP Microsoft will be deemed retarded for pouring decades of research and resources into unifying the Windows core only to just put it aside and be dependent on their competition to create a viable platform. Not to mention the vast loss of credibility, they have already lost trust and confidence. Most people living in the US do not understand Microsoft's predicament and the ensuing peril that will follow should Microsoft continue to disregard their own platform.

Not at all. Whatever UWP morphs into can still be used for mixed reality, or a pure .NET set of APIs can be built. The problem, again, is that in it's recent-past-state, UWP was shackled to lowest-common-denominator, which, along with lack of backward compatibility and very poor Win32 API coverage, doomed it from the start. Who, much less Microsoft, cares one whit whether you "deem them retarded"? Seriously, you think that's a critierion for anything? What matters is to recognize a strategic mistake, and learn and correct. This appears to be what Nadella is doing, and the market is rewarding him for this, shallow theoretical pop-philosophists notwithstanding.

I messed up and bought an HP Spectre instead of a surface. Never again, my next computer will be a surface something. Their hardware partners have needed and still need a wake up call. And let's not forget l, alot of MS "partners" are all too happy to build cromebooks or whatever else. I'd must rather see MS go full Lumia these guys.

Im the opposite. I had 2 surface products and won't buy another. They were'nt as high quality as they were made out to be. They keyboards were flexy, They would lock up etc when put in the dock, and a few other things. I loved the main device, just these issues were not what I would expect from a premium device. I am now running dell 2 in 1s, and am much happier. Performance is better, cost is WAY better, and overall feel and useage is better. I lost my shirt selling off my two surface 3s.

And 12 percent growth in Surface led by sales of the laptop shows Microsoft has given up on the consumer market. /s

I don't think 12% is a good number here. A brand new product (Laptop) was out at the beginning of the quarter and the new Surface Pro was also available. The Surface Pro 4 is two years old now. I would expect a much bigger increase in revenue with these new products coming out. They were down 26% last quarter. This certainly doesn't make up for that.

"I don't think 12% is a good number here." Yes, they should be like Apple. Which has seen the iPad decrease by double digits YOY every quarter except for one since it was introduced. Or be like the Mac, which has been stagnant for 30 or so **years**. Yeah, those are products we should look up to. Apple released a new MacBook Pro after years of new ones. Sales were up the first quarter (I believe the number was) 4%, and has declined since. Troll harder.

Didn't say anything about Apple. They have nothing to do with this unless you want to compare total sales. Microsoft cannot compete there. It was quite troll though. I was looking at the wrong year. This quarter the previous year was up 38% so another increase of 12% isn't bad at all. Still, $1 billion is sales isn't very many units. That probably isn't even 1 million with all Surface devices combined.

Mention Apple and you immediately get defensive. I know you like to pretend you are a Microsoft fan, mostly to give yourself some air of credit and authority to back up your complaints, but your words show otherwise. The reason I wrote about them is because you have decided with your very own words that Microsoft is a failure in everything. Their only competitors are Apple and Google. And since people like yourself hold Apple up as the gold standard, then why not compare to them? When you are talking with an Apple fan, comparing Microsoft to Apple is fine as long as Apple is declared the winner. But compare Microsoft to Apple, and show Apple is losing and the Apple fan starts having a temper tantrum, complaining about comparing the two, it some how being unfair, or not letting the Microsoft product stand on its own. Just like you usually do. And you have done that very thing here - we cannot compare Apple and Microsoft, unless it is in total sales then comparisons are perfectly fine.

Comparing percentages when the actually numbers aren't even close is misleading.

Nohone, that applies to fanboys of every product. Not just apple there buddy. MS fanboys are quite the little ******* too when you say something against them. I agree apple is as stagnant as they come. However, Their marketing and app catalog keep people coming back. Me, personally, I could NEVER use a macbook/Imac. They are just pure crap in the useability department. lack of proper I/O, no touchscreen, etc make them a non starter. I would rather use Chrome OS at this point than MacOS. Windows Mops the floor with them both. It's crappy when you read here and MS make so many missteps with certain things. But, Winidows 10 on my devices is AWESOME. I am afraid that Nadella is going to gut all consumer based features out of it however. Mobile is an entirely different matter. I use Iphone because android is not for me, and windows 10 mobile abandoned me when they decided not to update my 1020 (best peice of moible hardware I have owned BTW). That being said, the app catalog on the iphone makes the iphone a much better phone than any windows device. People can say I dont use this app or that app. BUTTTTT you can get alot of user friendly apps that you cannot get on windows moible. and NO....websites are not as useful as apps on a phone. I don't care what you are doing. APPS are it for mobile. Again, If Nadella does not figure out how to get apps, or app like features to work on the new "unicorn", it will sell like every other windows phone. BTW, it sitll is a phone no matter what you call it or spin it.

So...whiny little *******....it's ok for you to fanboy out at everyone else but it's FANBOY'ing if someone does it to you....nice! crybabies...

You don't seem to understand what these numbers mean. Both that 12% and 26% are year to year numbers, not quarter to quarter numbers. So, whereas Q42017 was 26% worse than ther Q42016, Q12018 was 12% better than Q12017. According to the specific numbers I did some calculations on, (but am not sure if they were accurate so I am not posting them here) Q12018 was actually better than Q42016, so it may have "made up for it" entirely and then some.

Yeah, I said that. I was looking at the wrong year. I thought last year would be Q1 2016 which was way down since the SP4 wasn't out yet.

MICROSOFT IS DOOMED!!!!!!!!!!...........

.......................................................to make more money.

.......................................................to make LESS money than its competitors, losing positions

No, we as consumers are. It all looks like they are windingup every section of company which is not as effective in short term as cloud based solutions for B2B.

Oh my gosh, Surface revenue is up 12%... Yeah, they are going to ditch that worthless drag on the company

How much cash in overseas banks?

Windows Mobile/Phone is still dead.
Don't know why some people upthread are harping on about, "Where are the naysayers?".
The "doomsayers" focused specifically on WM10. A few angry folk were wishing ill on Nadella and MS. However don't pretend that they didn't know that MS' cloud services and Office products are huge money makers.

Either you have not been visiting WindowsCentral lately or you have not been reading the comment sections of every article. The doomsayers did not focus just on WM10. WindowsCentral became the destination spot for Microsoft haters and trolls. Go read Nohone post above.

This is great news for my upcoming Surface Mobile device... Fund those R&D dollars.😂😂😂😂😂😂

Don't count your chickens Rodney. Most of that is going to the shareholders and board...oh, and Nadella's bonuses! ha ha ha!

but but surface is losing /s (thanks if you consider the long period between sp4 and s pro)

Microsoft are distant second (even third) in everything so nothing of this actually matters for bragging
Windows Central Newsletter
Get the best of Windows Central in in your inbox, every day!
Thank you for signing up to Windows Central. You will receive a verification email shortly.
There was a problem. Please refresh the page and try again.