Microsoft FY19 Q3 earnings: $30.6 billion in revenue on cloud demand, solid Surface performance
By Dan Thorp-Lancaster published
Microsoft's earnings are looking up again, largely on the back of continued solid cloud growth, Surface performance, and Office 365.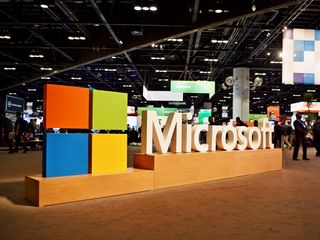 (Image credit: Windows Central)
Microsoft today announced its earnings for FY19 Q3 (opens in new tab), showing revenues of $30.6 billion and $8.8 billion in net income. That's an increase from the same period a year ago, in which Microsoft took in $26.8 billion in revenue and $7.4 billion in net income.
Here are the highlights from this quarter's release:
Revenue was $30.6 billion and increased 14%
Operating income was $10.3 billion and increased 25%
Net income was $8.8 billion and increased 19%
Diluted earnings per share was $1.14 and increased 20%
"Demand for our cloud offerings drove commercial cloud revenue to $9.6 billion this quarter, up 41% year-over-year," said Amy Hood, executive vice president and chief financial officer of Microsoft in the earnings release. "We continue to drive growth in revenue and operating income with consistent execution from our sales teams and partners and targeted strategic investments."
Windows, Surface, and gaming
For the largely consumer-facing side of Microsoft's business, all categories saw an upswing compared to the same period a year ago. Windows OEM revenue increased by 9 percent, while Windows Commercial products and cloud services saw an increase of 18 percent. Surface and gaming, meanwhile, were both up by 21 percent and five percent, respectively. Rounding things out is search advertising revenue, which increased by 12 percent.
Overall, this segment, which Microsoft' refers to as "More Personal Computing," brought in $10.7 billion, which was up eight percent over the same period in 2018.
Cloud and Office
Turning towards the company's cloud offerings, which continue to drive solid growth, Microsoft saw its revenues for its productivity and business offerings rise to $10.2 billion, up 14 percent over last year. The company's "Intelligent Cloud" business, meanwhile, increased by 22 percent to $9.7 billion.
Here are the highlights:
Office Commercial products and cloud services revenue increased 12% (up 14% in constant currency) driven by Office 365 Commercial revenue growth of 30% (up 31% in constant currency)
Office Consumer products and cloud services revenue increased 8% (up 10% in constant currency) and Office 365 Consumer subscribers increased to 34.2 million
LinkedIn revenue increased 27% (up 29% in constant currency) with record levels of engagement highlighted by LinkedIn sessions growth of 24%
Dynamics products and cloud services revenue increased 13% (up 15% in constant currency) driven by Dynamics 365 revenue growth of 43% (up 44% in constant currency)
Office Commercial products and cloud services revenue increased 12% (up 14% in constant currency) driven by Office 365 Commercial revenue growth of 30% (up 31% in constant currency)
Server products and cloud services revenue increased 27% (up 29% in constant currency) driven by Azure revenue growth of 73% (up 75% in constant currency)
Enterprise Services revenue increased 4% (up 5% in constant currency)
Once again, Microsoft will conduct a conference call and webcast to provide further insight into this quarter's numbers, along with a look forward, at 2:30 p.m. PT (5:30 p.m. ET). You can follow along at Microsoft's investor site (opens in new tab).
Dan Thorp-Lancaster is the Editor in Chief for Windows Central. He began working with Windows Central as a news writer in 2014 and is obsessed with tech of all sorts. You can follow Dan on Twitter @DthorpL and Instagram @heyitsdtl. Got a hot tip? Send it to daniel.thorp-lancaster@futurenet.com.
That's some serious money making machine if you ask me

And yet again microsoft show growth where are all the Microsoft are done people now? I hate Microsoft cut some of its products but I can also see why.

So many armchair CEOs here looking bad with each quarterly report.

Going to be a Trillion Dollar Company by Market Cap tomorrow !

Very impressive growth and well rounded too.

But I thought you were doomed without a mobile OS!

These aren't really consumer products they are selling. They really don't have any interesting products for me beyond the Surface devices and those are just classic PCs. Nothing that interesting. Doesn't mean they aren't wildly profitable. They are obviously going in the right direction. Kinda sad as a long time Microsoft fan.

"as a long time Microsoft fan"... Hehe. Good one, bleached. If there were one legendary anti-MS poster here, guess who that would be?

You know, it could all be based off of the bitterness of seeing a once great path of technology squandered by laziness and compliancy.

Compliancy to who? Customers? Shareholders? How terrible. How lazy! What does compliancy and laziness get you other than a $1T market cap and a hot brand?

Typical BS from an insecure low end Android device user.. Pathetic

Its called evolving and adapting that's what good companies and CEO's do

Quit crying😭😭😭😭😭😭 Get a life

So profitable but can't be bothered with W10M..

It's almost like there's a connection there.

WCOS could be their shortest path towrds small-creen-sim-ready palm PC no?
WM runs no XPA/UWP we run on our PC (or IOT, 2in1, notebook, AR, etc), it's pointless tbh.

I do love this comment. I do.

As one of the few original Windows Phone/Mobile users, I've let that go, now. I still enjoy some of their products and recently bought a Surface Pro. As much as I miss using my Lumia 950 XL as a daily driver, I'm content with my Note 8...now (with much kicking and screening lol). Granted, there are a couple of features I still miss, but what can I do? At this point, I think MS is trying to position themselves to take advantage of the next big form factor, when it comes to mobile. Samsung has tried, but fail to make a product that's truly useful as a foldable device. Not to mention the screen issues it has in terms of the crease and inevitable damage that occurs, if the screen protector that comes on it is removed. In this case, I'm glad MS did not try and rush the Andromeda/Surface Foldable PC. The technology is too new and MS would be burned at the stake for trying to innovate with new technology. Mobile will be back, just not in the way we thought or hoped. A truly all-in-one device is what will be the next big thing. MS still has a bit of time to get their Core OS right for current and future devices form factors.

Lets put some of that money into proper QA team for Windows.

Absolutely. Ever since they got rid of the QA team for patches it's been one disaster after another.
I'm sure it more profitable to be like Google and treat all you user-base as beta testers, but it's a major PIMA to have to screen and pre-test EVERYTHING from MS on patch Tuesdays before we release it to the businesses.
W32 does not lend itself to "rapid iteration" and it shows.
That is of course one of the driving reasons MS is putting big money into CORE OS, to re-engineering Windows so it can be more easily (and granularly) iterated. Once they get that down, it is a short step to a full subscription-service OS which will stabilize their revenue stream greatly as it disconnects it from hardware purchases (just like O365 has done for their Office revenue.)

But they have the insider program, it's a QA team, without the pesky wage cost!
Windows Central Newsletter
Get the best of Windows Central in in your inbox, every day!
Thank you for signing up to Windows Central. You will receive a verification email shortly.
There was a problem. Please refresh the page and try again.