Microsoft has received over 3,000 HoloLens app ideas so far for new contest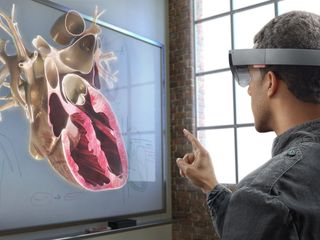 There are apparently a lot of people who have ideas for apps that can be used for the Microsoft HoloLens augmented reality headset. Microsoft started a "Share Your Idea" contest for the HoloLens a few weeks ago, and now the company says that over 3,000 app proposals have been submitted so far.
The announcement comes in the form of a blog post which mostly concentrates on Microsoft talking about how visual assets for any HoloLens apps should be created. That includes making all new assets, converting previous art to work with the HoloLens and capturing 3D objects and editing them so they can work with the app.
The "Share Your Idea" contest deadline is Jan. 11. The top three app ideas will be decided upon by a judging panel at Microsoft and put to a public vote. The winning app idea will be made by Microsoft and released as an open source project so other app developers can get some helpful hints.
Source: Microsoft
Windows Central Newsletter
Get the best of Windows Central in in your inbox, every day!
Cool! Can't wait to see the ideas that the smart people of the world have submitted!!

Hopefully their not all **** related.

This is my app idea, just check it out :) What I had in mind was more academic related. Everytime while reading or revising I can ask Holo lens to mark a particular word for me and save it's solution. Next time I come across the same word somewhere else in another passage, it'll recognize it and highlight it for me, telling me that its associated to something. It can jog my memory and help me with my studies. Same concept can be applied while studying anything else. Can use it to save concepts in mathematics say Apollonius' Theorem which I forgot to use in a question because many a times it so happens you forget how you solved a question or how you approached it. So next time I visit the same question it can highlight it for me or show me a photo of the solution I took months back, it'll obviate the use of sticky notes and other stuff we end up using next to a problem. Can just pop up the photo I saved on One Note, can be quite conducive to students. Instead of having to constantly turn pages in my notebook looking for the solution or peruse through a bulky books, Holo lens can just mark stuff for me, save it's solution in one note or within the app itself and just prompt me next time I come across it. https://microsoftstudios.com/hololens/shareyouridea/idea/the-highlighter/

I liked your idea think it has a lot of potential to help a lot of people. I also liked the piano teacher one hopefully if they did that they would make a guitar one too.

It's a good idea, but I think it would be more practical and help more people if it was a regular Windows 10 PC app rather than a Hololens app. I don't think Hololens is priced for or aimed at students.

Microsoft has recently made strides in image recognition as I read in an article, combine that with this and recognize words or similar conditions would be great.
But students aren't the one who sill benefit from this, people who's work involves lot of paper work can use it too. It can have medical application as well.

Surprise! HoloLens is a Windows 10 PC.

I hope I win with my "Virtual Displays - Extend Your Desktop" idea. It's currently 13th over all and 2nd for the business category. I would post a link and ask for some support from you guys but doing that in the forums got me a lovely little warning so I won't do it here :) Nothing to stop any of you searching for it and giving it a like / share though xD, much appreciated anyone who does!

Virtual displays are good idea but I think the limiting factor would be the narrow field of view for HoloLens.

I think the limiting factor would be the display companies complaining about lost profits from it.

Exactly what I wrote in the comments section.

From what I can tell the FOV would be perfect for two 23" monitors side by side. But you are right it is limited at the moment but I fully expect Microsoft to reduce that limitation as they slowly perfect the technology, I think it's important to note that in the current form the HoloLens is only an alpha version. Microsoft knows that the FOV is by far the biggest problem with the tech and the hardest challenge they need to overcome so for sure they have many people dedicated to doing just that. I don't see my idea as something that will be game changing in 2016 at all if ever, all I know is I see a problem (working from home) and one way to solve that problem or at least help reduce it is to have these virtual displays. And if you read the full idea you can see its not just limited to laptops and dual screen situations but is very tied in to Continuum for phones, if you want to sit on the sofa and get some work done but you don't have a display dock or wireless for your TV, no worries just slip on your HoloLens and get the Continuum experience right there. In my view the beauty of the idea is that it's so simple and has many different possible applications for real world situations, not everyone will need this and the people who do won't need it all the time, but when you find yourself needing it for whatever reason, it will be right there ready to help you be productive like a boss.

Your idea is great, no doubt. I just wish they overcome the limitation, it can be executed very well if you're at a considerable amount of distance. But while sitting close to a scree it could be a challenge. The continuum part is amazing. I would love to see how these ideas shape up.

Thanks, I'm sure by the time this product huts the consumer market (could be talking 4-5 years here) the FOV will be considerably better than it is now.

Microsoft make best use of those ideas and bring them into reality before any other comes makes similar product with more features and makes Hololens "App Gap"

Haha ..well seriously saying i don't feel this app gap in my phone :/ why ppl say same shīt all the tym

Don't know about snapchat but I really liked periscope which I want either twitter or any good windows 10 mobile developer to make official or third party app for us.

And call it they re-invented the hololens.

How does this compare with the Samsung virtual headset phone thing

Virtual Reality - these headsets completely replace everything you see with another "reality" Google Cardboard is the simplest example. It uses your phone to display an image close to your face to make it seem like you are in the game or alternate reality.
Augmented Reality - this takes what you see and overlays images on top of it. Keeping in theme with the game ideas, this would let you literally past Minecraft in your room. This would likely be more for business, but I imagine plenty of games will show up over time. Posted via the Windows Central App for Android

It doesn't compare, the HoloLens is a computer sitting on your head with an amazing amount of power and tech behind it. The samsung thing is the equivalent of getting some duck tape and strapping your phone in front of your face.

How about my iOS bridge app... Just kidding. But seriously how about porting existing apps

You know one thing ..Appstore doesnot allow to any app for publishing before it has absolutely zerp vrash problem..i think that would be amazing if they port apps after building them for iOS

Unfortunately there's likely to be bugs that exist on the windows version that don't exist on the iOS version

If your app wins you made a mistake by not developing it yourself and selling it

The contest is not necessarily about developing your own app. It's about asking people for ideas. Having an idea/concept for an app is one thing and developing it is a completely different game altogether.

Well considering I don't have $3000 to drop on the dev kit, its not possible for me to make my app.

I saw something better than hololens at a Samsung booth, a headvisor with a galaxy snapped into the front, much more likely to become mainstream etc

Yeah that sounds so amazing and innovative, I cant wait to walk around the house with a phone taped to my face lol

Look, look I've got the brand new Samsung headset. Let me just show over there.....(walks into a wall)

Did you ever see that google glass parody video with the guy walking around wearing it and kept getting in accidents and hurting himself? Sounds like it would be the same for this samsung crap haha

I just wanna catch em all :) pokémon

Never going to happen unless Pokemon makes it themselves, funny story, the Pokemon company uses software I made I was quite surprised when I saw them on saleforce one day haha

Jack Daniels it's the best

2995 of them are ****-related.

Yeah the "give me cortana in 3D just like Halo 4" ideas are annoying. Microsoft will never do that because it would be seen as sexist

I'm looking forward to the Eva Angelina Virtual Assistant app.

She does like to get hands on. Help you finish the task at hand.

Virtual gaming with holoLens is all I want.

I'd only like it if they resolved the speed / delay issues. While that demo they did on-stage was amazing it was unbelievably slow.

Pokemon battles us an amazing idea, and Virtual assistant (Cortana) walking with us will be a cool thing toooooo...

I don't think this one will happen, the app needs to be open source by the end of it, and Microsoft cant open source someone else's property.

is it 3000 separate ideas or a complete total wether the saem or not

There are a lot of different ideas and a lot of duplicates or ones that are very similar.

If you're interested, check out my idea "Windows Holo Player - Welcome to the amazing world of holographic video streaming". A generic app that would support many of the very specific ideas that have been suggested. It would be suitable for release as open source project and start to seed a new category of media.

Microsoft has recently made strides in image recognition as I read in an article, combine that with this and recognize words or similar conditions would be great.
But students aren't the one who sill benefit from this, people who's work involves lot of paper work can use it too. It can have medical application as well.
Windows Central Newsletter
Thank you for signing up to Windows Central. You will receive a verification email shortly.
There was a problem. Please refresh the page and try again.