Microsoft Health is now available for your Windows 10 PC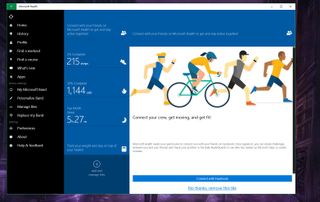 Microsoft Health is now available on the Windows Store for Windows 10. You'll be able to download the app to synchronise data to and from your Microsoft Band. The app is already available for Windows Phone and Windows 10 Mobile, and now everyone within the Windows ecosystem can take advantage of included features.
With the latest release, Microsoft Health has become a universal app listing. From the app description:
Hit the store link below to download and install Microsoft Health on compatible Windows-based devices.
Rich Edmonds is Senior Editor of PC hardware at Windows Central, covering everything related to PC components and NAS. He's been involved in technology for more than a decade and knows a thing or two about the magic inside a PC chassis. You can follow him over on Twitter at @RichEdmonds.
What a disappointment :( I was hoping for something equaling the web dashboard feature-wise. Instead all this is is the mobile app with its UI tweaked for a bigger screen. I don't see any reason to use this over the web dashboard, maybe except for the app's ability to sync your Band data (but only over cable, BT is not supported yet) which might be handy in the 1% of cases where you don't have your phone nearby. Sad.

Of course it's the same functionality as the mobile app. It is the mobile app converted to an UWP App and added UI for Tablets / PC.

I've built my own Dashboard app using MS website and the Web Hosted apps for Windows 10 =) But I can't publish for obvious reasons.

So... you made an app based on a website to have the power of web site plus notifications and Live Tile? Cool :D Any simple tutorial to do this? Or you need to be a dev and know how to code it?

Daniel please if i vote up the forum still add a down vote, please fix

There's a web dash for my Band 2? Didn't know that. Thanks for the heads up :)

https://dashboard.microsofthealth.com Posted from Windows Central for Windows 10

Thanks :) Loads of stuff there. Like it.

You can create custom workouts there and Band guide you through each exercise.

OOH HEALTHY.... Posted via the Windows Central App for Android

Good add to Win 10's growing cadre of UWP apps. But this needs to mirror the Web portal's offerings asap. It's a pale imitation of what it should be. Web portal is far richer and superior.

Android - Google Fit integration is the only thing which can make this app usefull . And hope it dosent become bloat in future builds

God no! The last thing I want is Google tracking my health data, selling it and trying to shove more useless ads down my throat. I wouldn't trust Google with my shoe size

"I wouldn't trust Google with my shoe sizé" ...... that made me laugh....so funny

Thing is Microsoft dosent make its Band available in most of the countries. Thus adding an app withought integration will make app useless to 80% people and will be one of the blotwares as the Cortana tile in my country

While that may be true, the Microsoft Health apps primary function is to be a companion to the Microsoft Band. Microsoft Health without the Band is next to useless i.e. no sleep data, no workout data, no explorer data..... you get the picture! Count steps and estimate calories burnt is about all it can do with the Band syncing data to it.

Yup and I am cool with it, untill it starts as mendory app in windows 10 that will waste space in 32GB tablet

Thanks MS. Screw scroogle and iSheep

The new windows central app is too lush... U guys have made a truly useful app. Keep up the good job. Much love

Agreed! Posted from Windows Central for Windows 10
Using My Beastly 1520

Agree, just loving the rich notifications and constant updates to the app. Beautiful and useful

This has been a pretty good week, a new Facebook app would put the icing on the cake.

*Another* new Facebook app? I'm going to assume you missed the news of the arrival of the Facebook and Messenger apps on Windows 10 recently. While not perfect, they're a lot better than anything they've had previously. Enjoy! Posted from Windows Central for Windows 10

No I didn't miss the news, I'm aware of the Facebook app for windows 10. I was referring to the mobile version. I hate the current Facebook app for mobile. The PC version in my opinion is decent. Posted from Windows Central for Windows 10
Using My Beastly 1520

If you shrink the windows of the W10 UWP apps, you'll see why they haven't posted to mobile yet. They still have work to do to make those apps scale down properly. Posted from Windows Central for Windows 10

I'm just wishful thinking. Posted from Windows Central for Windows 10
Using My Beastly 1520

Does it have step counter and GPS tracking from smartphone like the good old msn health&fitness? Or only works with the band?

Step tracking works without the Band.

Step counting works without the Band though I doubt you'd want to carry around your laptop all day.

If this is built into your phone (called SensorCore on Lumia devices), then the Health app definitely tracks steps from phone as well as Band. For any time you're not wearing your Band, it'll use the data from phone. This is why the Health app will sometimes show a slightly higher step count than your Band. Posted from Windows Central for Windows 10

I'd like to see them utilize sensorcore much more. For sleep tracking, for activities, etc. Great way to get people more into using the app, for those who don't own a band.

I hoped this would work with Fitbit.

If you're already syncing to your phone (Win10M), will it automatically sync to your PC (WIN10) as well?


Yes, assuming your phone sent the data to the cloud. BT support will be added later according to them.

That's great news! Thank you, good sir knight.

Anyone call tell me how to buy band2 in India?

Keeps telling me sorry I can't find your band, Please make sure it's nearby and paired to your phone :/

Glad they added true tile transparency on Mobile :)

Sync doesnt work at all. Always tells me that the Band couldn't be found. But it is connected via USB.

My installation stuck on Restoring user data. Anyone have suggestions how to fix it?

Me too it has been restoring data for over 30 minutes. has yours installed yet?

I've rebooted my SP3 and pressed Try again after restart.
It has been installed in no time on second attempt.

Well, looks like another POS app from MSFT. Downloaded app, connected Band 2 crashed my Surface 3. Rebooted, connecte Band then opened app. Error message, can't connect - make sure your phone is nearby. Nice. No bluetooth and app fails when connected via USB plus moronic error message. What's not to like about this

I haven't installed yet, but I'm guessing there is still no way to edit or manually add an exercise! It is absolutely ridiculous that MS can't add a couple of lines of code to make it as useful as every other fitness app out there! I had a run where I accidentally paused half way through. My options are to delete it or have it be wrong, awesome. Its great when I'm cycling outside using my Band 2 but worthless when I hook my bike up to the trainer indoors. No way to add that, thanks. I have to sync everything with Runkeeper and add it there and now I have to manage two apps instead of one. Thanks again MS for the 90% solution!!!!

So disappointed by the app, was also expecting same functionality as the website., and layout does not feel optimised for pc/laptop

The app couldn't find my band 2, so I ended up downloading the Microsoft Band Sync App from Microsoft's website just to get the data to upload. If that's the case I could have just used that in the first place.....hopefully this will get fixed in an update.

There is an update and it is fixed now!

Just updated and it synced perfectly. Thanks!

Just saw this too. This means a lot to me, I can now move it up my start screen! Sent from my Lumia 830 running Windows 10 Mobile

Just down loaded update, are we all still finding 'run' and 'bike' activities missing?
Windows Central Newsletter
Thank you for signing up to Windows Central. You will receive a verification email shortly.
There was a problem. Please refresh the page and try again.