Microsoft helps launch the Eurovision Song Contest app on Windows Phone and Windows 8.1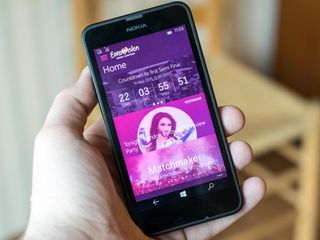 Microsoft has entered into a partnership with the European Broadcasting Union (EBU) to help develop and launch the official 2015 Eurovision Song Contest mobile apps. Those apps are debuting on Windows Phone and Windows 8.1 before they launch for iOS and Android later this week.
The Eurovision Song Contest is one of the longest-running TV shows in the world. It began in 1956 and allows each country that's a member of the EBU to submit a song that's performed on the show. Each song is then voted on by the public, along with a professional jury from each country, to determine the winning song. 40 countries will take part in Eurovision 2015, with over 200 million people expected to watch the show later in May.
Microsoft says:
Here's what users of the apps can expect right now and when the Eurovision contest itself starts in May:
An overview of the latest stories, photos and videos
MatchMaker: Find out with which Eurovision decade you match best
Music shop (album release 20th April 2015), now also with the karaoke version for each song
Merchandising shop, where you can buy your own Eurovision souvenirs
Coming in May 2015, right before the shows:
Follow each show live: With detailed information about the show, artists, songs and countries
Two additional languages: French and Spanish
Detailed participant profiles: Get to know the artists
Selfie filters: Give your pictures a touch of Eurovision
Microsoft is also helping the hundreds of volunteers who work on the Eurovision Song Contest by providing them with Lumia 535 smartphones and access to the Yammer business social network so they can keep in touch with each other before and during the shows.
Download the Eurovision Song Contest app from the Windows Phone Store (Free)
Download the Eurovision Song Contest app from the Windows Store (opens in new tab) (Free)
Source: Microsoft (opens in new tab)
In case you've been sleeping these last few years, Microsoft doesn't give two sh*ts about us. If Brasil was part of the EuroVision, they'd jam the Brasilian version down our throats as they do with everything else. Since they aren't, you don't even get it. Just like you don't get customer support in Portuguese, nor Operating Systems or even emails anymore.

I was just about to comment something like "DJCBS in 3, 2, 1..." but this guy must have a hate-radar. Man, I contacted customer support more than once, for both personal questions and also business questions (Microsoft partner network) and the assistance was in Portuguese (for Portugal, not Brazil). So please stop criticizing Microsoft Portugal. It's not their fault we are only 10 million people...

Don't mention the words Nokia or Portugal lol

This is Nice. For ones something Euro only.

No Non-European location can atleast listen to songs on the app?

Wen India is in Europe lol

Why can't Europe be in India? It'll be much nicer.

A lot warmer if anything :) (Yes, I'm Swedish. I know what cold winters are all about).

Hey, Australia is in it this year, and they're not in Europe, so... there's hope! LOL

That's how you do Microsoft! First WP, then iOS and Android.

One of those rare occasions when WP gets first preference!!!

Not true. NTES,IRCTC,disqus,etc all launched on WP first.

Awesome! It's a shame Microsoft pretty much have to sponsor these events and build the apps themselves to get them on Windows but whatever gets the results is fine by me. Just a shame some companies still won't play even then... :/

It is what it is and its probably not much effort since they are experts with the software

I wonder why MS doesn't do this with more companies, inasmuch they are the experts of the SDK

They do, but not everyone wants to be in the game, even when Microsoft wants to help. Like Pebble.

Finally. :) I don't want to ruin anybody's enthusiasm but official ESC apps have been available for iOS and Android for years. Only this newly designed version of it is WP first.

"Coming first on Windows Phone" wow.

Still Microsoft cannot do this for more important apps!
Skype Qik, Instagram Beta, Bank Apps in the US? MSFT goofing since WP8.0. Pfff

Umm! For one treat WP as child and not a bastard!

You do realize that neither of these apps are Microsoft's

Skype Qik is one!
Even MSFT apps are below par on this platform we have to be factual!

It's a web wrapper/native hybrid, but semi-ok one...

It runs much smoother and looks better than the usual web wrappers, so if it is they did a great job.

I'm afraid to see the reaction of people when they hear Israel's song. It's so bad.

all the songs are garbage :P

Friends with Windows Phones informed.

Heh, that is a beard. Was like, nice eyes, what's with the shadow behind the text, then zoomed in.

Yay! I can't vote but hope Australia win this year.

Except Australia cannot participate ;)

You going to be surprised my friend, because Australia ARE in Eurovision 2015 as special guests

Wouldn't be surprised if people in Europe vote for them just because it would be a fun thing if they won. :)

This article is so late, I tipped you a week ago

It looks beautiful and has really smooth navigation, with excellent media integration. Wish it didn't have hamburger menu, but that fight is lost I guess. This is a really nice little app.

Had to uninstall it. App was heating up my phone, made it unstable and also used Google Analytics...so with all those things going against it, I ditched it...

Just noticed the use of Google Analytics myself, though there is an option to turn off, which I promptly did!

I still don't trust it turned off. :-)

YAY!!!! thank you Microsoft and EBU

Excellent Europe needs more attention from MS like Nokia did back in the day if they want phones to survive. They give too much attention to US. Not acceptable

Cant wait for the contest. The 1st time this app is for Windows.

Welcome transistors under the rainbow :D
Windows Central Newsletter
Thank you for signing up to Windows Central. You will receive a verification email shortly.
There was a problem. Please refresh the page and try again.