Microsoft HoloLens can bring a Caterpillar loader from a flat catalog to a full size 3D model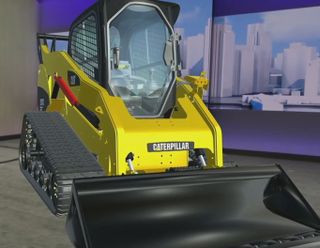 During its Build 2016 day 2 keynote address, Microsoft showed off another use of its HoloLens augmented reality headset. It was used to help make a product catalog from Caterpillar come to life.
The demo began with the flat catalog page viewed from a camera on a Surface tablet. The page showed a large Caterpillar front loader, but as viewed through the app on the Surface, the page turned into a 3D model of the front loader. Then a person came on stage with a HoloLens headset, and saw the same 3D model that was shown on the Surface.
Then, with a flick of the finger, the HoloLens user brought the 3D front loader out of the page and put into onto the Build keynote stage in a full-sized rendering, complete with sound effects and animation. Users can walk around the entire model and even change aspects of it, such as switching the shovel for a forklift. This kind of app will likely help companies sell large items like Caterpillar's products without having to see them in a physical showroom.
The demo would have been better with a 992 Wheel Loader on stage. I used to weld the lift arms for those particular beasts. Here is one for reference: http://ims.infomine.com/123560/image.jpeg BTW, John, it isn't a shovel. It's a bucket. ;)

Man, that thing is massive. O_O

When I took the lift arm out of the welding robot (which spent 2 1/2 hours welding non-stop), it weighed around 25,000 pounds. Yeah, it's kinda big. ;)

While that is neat, my wife works on designing the skid steers so they picked the right line of machines.

Wish I could highlight the link and actually visit it. Windows 10 app still needs a tiny bit of work.

One day,we will place objects in our reality before buying from amazon, furniture etc

hahaha.
Laughing in Spanish

Bet Ikea charge for 'virtual delivery' haha

Laughing in Spanish is jajaja :)

Can you not link to videos of these happenings? Several posts on this site have talked about what happened on stage, but provide no paths to view it for myself.

THis is the Build conference where it costs $1000s to attend. The talks are happening live, recorded by Microsoft and made available later to the people who paid to attend, and eventually they make the video available on a wider basis, but that video is owned by Microsoft and not sites like this one. They can't just post videos belonging to others.

I had seen other sites (CNET, IIRC) post vids that Windows Central only talked about, ie the Skype Bot demo.

Lol & their uber expensive msdn sub

Here's a link to a video of this: https://www.youtube.com/watch?v=5oaJ6qdkYRo

This will come in handy. I'm always struggling with catalogs when buying loaders and bulldozers, on a daily basis. On a more serious note, this is actually very cool.

3000$ for coolness though!! :(

The future for HoloLens appears limitless. This is a phenomenal product that has the potential to revolutionize sales, marketing and education......plus gaming as a bonus
Hololens, bigger than Ben Hur

What a fantastic idea and as its already been said this will be great for education and entertainment also in the retail industry.
Windows Central Newsletter
Get the best of Windows Central in in your inbox, every day!
Thank you for signing up to Windows Central. You will receive a verification email shortly.
There was a problem. Please refresh the page and try again.