US Army could 'waste' $22 billion if soldiers don't like HoloLens
The U.S. Army could end up 'wasting' almost $22 billion on HoloLens headsets, according to an audit by the U.S. Department of Defense.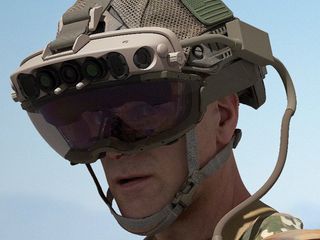 (Image credit: Microsoft)
What you need to know
An audit by the U.S. Department of Defense found that the Army may end up "wasting up to $21.88 billion in taxpayer funds" if soldiers do not want to use IVAS headsets.
IVAS is the codename for the military version of the HoloLens headset that Microsoft is developing for the military.
The audit explained that IVAS program officials did not define minimum user acceptance levels to determine if the project meets the needs of soldiers.
Microsoft announced a deal worth potentially $22 billion with the U.S. Army to produce HoloLens-like headsets for the military. Since that announcement, the deal has ran into several issues, including delays and reported disarray in Microsoft's augmented reality team. Now, it turns out that soldiers may not even want to use the Integrated Audio Visual System (IVAS).
An audit by the U.S. Department of Defense (PDF) found that "IVAS program officials did not define minimum user acceptance levels to determine whether IVAS would meet user needs" (via The Register). This happened because the Army did not require the officials to define "suitable user acceptance levels."
Potentially, the IVAS contract could result in a large loss for the U.S. Army, according to the audit.
"Procuring IVAS without attaining user acceptance could result in wasting up to $21.88 billion in taxpayer funds to field a system that Soldiers may not want to use, or use as intended, because [redacted]," said the report
While the audit is heavily redacted, the crux of its argument is that officials did not set a clear mark of what level of user acceptance is good enough. As a result, it is difficult to determine if the IVAS project will prove useful for the Army.
The meatier parts of the audit, including soldiers' overall acceptance of IVAS, are redacted. There are, however, some noteworthy portions.
"Results from the surveys show both positive and negative user acceptance. Army officials stated that it was difficult to assess Soldier feedback," stated the audit.
"Officials also stated that challenges to assessing user acceptance included asking the right questions, Soldiers not liking change, comparing prototype 'in process' systems to current capabilities, and lack of Soldier knowledge or training on new systems."
Parts of the conclusion are also left available for viewing. "Program officials stated that, if Soldiers do not love IVAS and do not find it greatly enhances accomplishing the mission, then Soldiers will not use it," said the report. The remainder of the conclusion is redacted.
A section labeled "Management Comments on the Finding and Our Response" has notes based on comments from the Assistant Secretary of the Army, Douglas R. Bush, as well as a response from the office of the Inspector General of the Department of Defense.
Bush claimed that the emphasis on the potential waste of almost $22 billion is misleading because "it is a contract ceiling over a 10‑year period and includes all possible sales to the Services and foreign military sales."
The Assistant Secretary also pointed to other types of technology that were not initially met with high acceptance, including "night vision goggles, machine guns, and automated transport replacing horses."
"While we agree there is inherent tension between user acceptance and opportunity, having an established measurement or goal enables officials to know that close combat forces accept, want to use, and can function effectively with IVAS," said the Department of Defense in response.
Windows Central Newsletter
Get the best of Windows Central in in your inbox, every day!
News Writer and apps editor
Sean Endicott brings nearly a decade of experience covering Microsoft and Windows news to Windows Central. He joined our team in 2017 as an app reviewer and now heads up our day-to-day news coverage. If you have a news tip or an app to review, hit him up at sean.endicott@futurenet.com (opens in new tab).
The helmet looks so heavy at the front.

I doubt it would add much more weight to the helmet. As long as the weight is properly distributed, they should be good. Additionally, they aren't going to be running around without the helmet properly strapped. My only issue would be field of view. It seems to have a fairly wide visor, but in practical sense, does it obstruct the peripheral view, where a soldier would not react fast enough to a situation. Granted, it's easy enough to get tunnel vision, but no need to compound that.

"The helmet looks so heavy at the front."

It's not. One of the design focuses of HoloLens 2 was balancing it and it's remarkably comfortable (compared to Gen 1). Feels like you're wearing a baseball hat. The battery pack and processor are all in the rear, which counterbalances the front sensors and lenses.

Bunch of grunts sitting on the front line of an oil rich country they've recently "liberated" watching youporn and making tik toks on their AR headsets.

Your politics is more than a few years out of date, and consumer apps on military hardware doesn't sound very realistic, especially in the field.

Clearly, they would play Candy Crush, which will come preloaded on all Microsoft hardware after the close of the Activision Blizzard deal.

Call of Duty would be funnier though.

LOL Sadly this was preloaded BEFORE the purchase. 😜

You are just a barrel of fun aren't you.

It's not that I don't want it. I do, I really do.

In Us Army, the marines are good for play with drones, it's lot of money.

In the world of the military, if the department of defense says soldiers will use them. They will use them.

As a former serviceman, the military has a ton of waste. A ton. Starting with overpaying for nearly anything.

Thank you for serving our country and our people!

Soliders use the gear they're issued.

Yeah but it makes sense to get feedback about new gear. You want things to work well when the time comes to use it.

Understood, but most tech companies assign demo units full be used in the field prior to purchase when they're trying to persuade you to purchase. And yes, MS has done this for me many times and I ran the IT department for a city for over 12 years and the military is much more important.

So let me get this straight. The DOA asked for an AR product to help with field training. Didn't set any standards, didn't say or make requirements, didn't have any sort of guidelines or spelled out what they wanted, but said "Who wants to take this project on for $22 Billion", Microsoft roger'd up as we say in the service... And I'm supppsed to be surprised that the results right now are mixed? As far as if they will be "wasted", I'd say the verdict is out on that. The F35 was supposed to be no more than $70 Billion in implementation costs... ended up being nearly $2 TRILLION. The Hololens was already something of a production concept. So trying to reverse engineer it for something it wasn't originally intended to do, AND create the software for the purpose they want (and didn't LAYOUT) was a tall order. If this fails, I put the blame on the DOA. That said I don't see why they don't just keep working on this until they end up with something they can use, like the DoD has done with just about every other piece of technology

The person did compare the situation to the military switching from horses to vehicles. I don't see many military horses, so maybe there's hope for the HoloLens.

People don't like change, fortunately and unfortunately.

The article says that the DoD didn't set a clear threshold for UA and you're inferring that they didn't set any goals or requirements at all. Oh, to have such a vivid imagination.

I would say that in my experience as a servicemember for 22 1/2 years most new ideas with regards to combat equipment are actually generated by those who were either never in uniform, or have retired from a high ranking staff position. The military structure is predicated on following directions. Ideas to improve the warfighters capabilities are always being generated, but honestly most of them are from those who have never experienced combat, or haven't experienced it in a while. Those on the front lines are typically never asked how the gear will impacts them until after they've been instructed to utilize it. This isn't a new development unfortunately, it's just the latest. There is blame to go around. When you say DOA you're encompassing all of the Army to include the soldiers on the front line, and I can assure you, they are not to blame.

As someone still serving in reserves, I 100% agree with you on the first part. Also going by your picture, we both serve/served with the Navy, kudos. However, when I say DOA. I mean the Department of the Army itself. As opposed to me just saying, this is the fault of the ARMY, which would include the soldiers. Yes the DoA, is the top most authority for the Army, But saying DoA, and is not the same as saying the Army in this context. So, no I don't include the soldiers in this. I'm referring to the Department officials who authorized this contract, and who approved it, which was the DoA.

Kudos to you as well. Thank you for your service. Thank you for explaining your point.

I can't wait to buy one of these from a military surplus shop in 10 years.

The last 3 paragraphs are all that matters. It's a WIP right now, and all technology is ill-received until it's made mandatory / goes mainstream. Everybody hated Zoom until it was forced on them and they realized all the capabilities and potential within. Now people love it, or at least see the need for it even if they don't like it.

IVAS = Integrated Visual Augmentation System, not Integrated Audio Visual System. That acronym doesn't even work.

Ye,american robocops ,with clunky tech,50 years too early. Who the flying duck will use field soldiers for heavy massive engagements in the near future ? It's all about drones now. Remote military gear. Holoblah contract was just a bribe to M$crosoft for being a good pup to the Govt.
Windows Central Newsletter
Thank you for signing up to Windows Central. You will receive a verification email shortly.
There was a problem. Please refresh the page and try again.