Microsoft HoloLens Development Edition can be bought by any developer in U.S. and Canada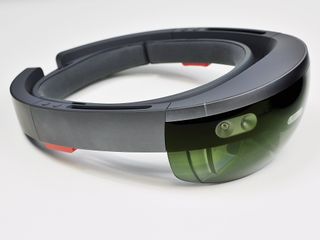 Microsoft has announced that sales of its $3,000 (opens in new tab) HoloLens Development Edition hardware are now available, without an application, to all developer and business customers in the U.S. and Canada.
In a blog post, Microsoft's HoloLens leader Alex Kipman stated:
In addition, Microsoft is also launching the Microsoft HoloLens Commercial Suite. It includes not only the regular Developer Edition, but also a number of extra features specifically for businesses, including better security additions:
Kiosk mode. With HoloLens kiosk mode, you can limit which apps to run to enable demo or showcase experiences.
Mobile Device Management (MDM) for HoloLens. Your IT department can manage multiple HoloLens devices simultaneously using solutions like Microsoft InTune. You will be able to manage settings, select apps to install and set security configurations tailored to your organization's need.
Identity. Azure Active Directory & next generation credentials with pin unlock.
Windows Update for Business. Controlled operating system updates to devices and support for long term servicing branch.
Data security. BitLocker data encryption and secure boot is enabled on HoloLens to provide the same level of security protection as any other Windows device.
Work access. Anyone in your organization can remotely connect to the corporate network through a virtual private network on a HoloLens. HoloLens can also access Wi-Fi networks that require credentials.
Windows Store for Business. Your IT department can also set up an enterprise private store, containing only your company's apps for your specific HoloLens usage. Securely distribute your enterprise software to selected group of enterprise users.
As we reported already, Microsoft is releasing a version of the Windows 10 Anniversary Update to the HoloLens Developer Edition.
See at Microsoft Store (opens in new tab)
Windows Central Newsletter
Get the best of Windows Central in in your inbox, every day!
Any word, or even rumor, on when the commercial version will be ready?

My guess would be not until end of 2017, at the earliest. Having used it for development, I can say that it still has a ways to go before the average consumer would be willing to drop more than, say, $500 for it. -Improved battery life -Improved comfort (lighter, for example) -Improved Field of View -Price (this will come down, eventually) At least, that's what I would need to see before I would consider buying one for personal use.

Price, field of view, and most importantly some apps. If I were them I would focus on tabletop gaming. It's a niche market but a market where users would understand the technology and be willing and able to use it frequently.

Honestly, HoloLens (from my perspective) along with most AR solutions, is focusing on Enterprise/Commercial use cases (e.g. Factories, R&D, design prototyping, kiosks, demonstrations, etc.). Hoenstly, I think this is a good call, as the technology isn't quite to the point where it's ready to really be enjoyable/useful for consumers.

If they can sell it in the $500 range that would be a boost for their vr development. Could mean great things going forward. Being that there's a lot of interest in this right now. The capabilities of the hololens is almost endless.

Do you mean consumer version? The one you can now buy today (and get shipped in a couple days) is the commercial version. Here are the release notes with more details: https://developer.microsoft.com/en-us/windows/holographic/release_notes

will be launched with surface.

Don't forget other OEMs can make devices using Windows 10 Holographic as well. They may build a consumer device sooner.
Windows Central Newsletter
Thank you for signing up to Windows Central. You will receive a verification email shortly.
There was a problem. Please refresh the page and try again.