Microsoft India officially launches the new affordable Windows Phone devices – Lumia 532 and Lumia 435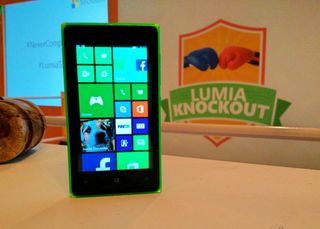 At a press event in New Delhi, Microsoft formally announced the launch of its latest affordable Windows Phone devices in India – the Lumia 532 and Lumia 435.
The two smartphones bring the prices of entry-level Windows Phone devices further down while packing in decent hardware. The phones feature a 4-inch display and are powered by Qualcomm's Snapdragon 200 CPU with 1GB RAM. The phones also do not cut corners on ancillary features like Glance and include the ambient light sensor as well as the proximity sensor.
Running Windows Phone 8.1 Lumia Denim out of the box, both phones are almost identical except for the rear camera – The 532 packs in 5MP camera while the 435 has a 2MP one – and the processor – quad core versus dual core.
Lumia 532 Specifications
Operating System: Windows Phone 8.1 with Lumia Denim
Size: 118.9 mm x 65.5 mm x 11.6 mm
Weight: 136.3 g
Display: 4" WVGA (800 x 480) LCD | Pixel density: 233 ppi
Mass memory: 8 GB; expandable up to 128 GB via microSD
RAM: 1 GB
Processor: Qualcomm Snapdragon 1.2GHz quad-core processor
Battery: 1560 mAh
Primary camera: 5.0 MP Fixed focus
Front-facing camera: VGA 0.3 MP
Lumia 435 Specifications
Operating System: Windows Phone 8.1 with Lumia Denim
Size: 118.1 mm x 64.7 mm x 11.7 mm
Weight: 134.1 g
Display: 4" WVGA (800 x 480) LCD | Pixel density: 233 ppi
Mass memory: 8 GB; expandable up to 128 GB via microSD
RAM: 1 GB
Processor: Qualcomm Snapdragon 1.2GHz dual-core processor
Battery: 1560 mAh
Primary camera: 2.0 MP Fixed focus
Front-facing camera: VGA 0.3 MP
The Lumia 532 is available at a Best Buy price of INR 6,499 ($104) while the Lumia 435 is available at a Best Buy price of INR 5,999 ($96).
Both devices pack in a bouquet of exclusive offers. You get INR 750 cash back on recharges (INR 150 off every month for 5 months), which is a pretty good deal that you can definitely benefit from. There's also INR 1,500 off on bus trips booked via Red Bus, 6 months of Truecaller Premium subscription worth INR 360 free, and 500 MB of 3G data per month for 2 months for Airtel customers.
The Lumia 532 and Lumia 435 are pretty good entry-level smartphones specially for first time smartphone users, with a consistent Windows Phone experience along with signature Microsoft services. I'll share my initial thoughts on the device in another post soon, but meanwhile tell us what you think about these devices in the comments.
Another week, another low end Lumia announcement.

India always hits the microsoft devices.

There's no reason for your complaint. They've already said they'll give us flagship Lumia with Windows 10 availability.

It was an observation, not a complaint. And a valid one.

STOP COMPLAINING!!!
LUMIA 930 IS THE FLAGSHIP DEVICE.
* 20 MP PureView camera
* video recording best in class
* fantastic high resolution screen
* super fast
* 32 gb + one drive
* dolby system
* latest WP software (denim)
* metal frame
* top quality build
* available from £200 (uk) What are you waiting? If you keep waiting for the next best phone, then .... good luck in ... waiting

I have a 1520, what's your point? It's over a year old. Obviously, I'm waiting. What's your point? Im nearly due for an upgrade and they don't even have a new high end device. It doesn't effect me, ill get whatever phone I like on whatever platform, but everyone knows Microsoft is not helping themselves by being so slow to grab some of the high end market. Read the forums, people are begging for upgrades to the 1520/Icon/930. I don't know if you are aware, but in the US, carriers are offering upgrades after as few as 6 months! A new flagship after 1.5 years is only hurting Microsoft.

I have 1020 the masterpiece left without updates.... And 930 is not at all a flagship phone its a flop model... Not a great design no usb on the go no micro SD. No phone can be Lumia flagship unless it comes as an upgrade to 1020...ie with a better camera than this

You gotta wait, after all Microsoft cant just serve some buggy update for high end Lumia I'm such a big market like India!!.... By the way I just got it for ma Lumia 525!!

There's more to flagship than just the camera buddy!!

The price of lumia 532 is right but for lumia 432 it is higher by 700-800 INR

Dude that's 98$! Do you want Microsoft to hand their phone out to you for free?

What he meant was there's hardly any difference between these two considering the price ..

Cool dude.. He's saying that $8 difference for a better processor and camera is ridiculous.. Yes it should have been $90 instead of $96.. Would you buy a 435 when u can get 532 for $8 more??

@prudhvi raj only u understood what i was trying to say btw for extra 500 INR i get a quad core processor a 5 megapixel camera and most importantly glance screen so i see no reason buying a 435 i would go for the 532

Agreed, makes little sense.

Great choices for the budget users.... :)

Damn feeling bad about my 620 after looking at the new entry level phones :D

For some reason, the 620 feels better than those newer phones, look at the led flash, autofocus camera, nfc and glance, the problem may be its ram, other than that the 620 is a good choice

Yeah 620 is better in many aspects.. The clearblack display looks classy

Bit the price difference is too much .. When 620 was launched in India it was around 13k .. And is 5k

That was nearly 2 years ago.

When galaxy s3 was launched it was around 27k.. Now you get the same config for around 12k.. If its xiaomi it's even lower.. Devices get cheaper with improving technology and growth in demand(economies of scale)

Yup.. I think Snapdragon s4 can easily outclass these processors.. 620 was a great device except for the RAM and battery..

Never have I regretted my purchase of 620 over the last 2 years.... This was by far the best phone when it came out at that price range..... Thinking of going another year before I change it serves for all needs and hence .....

I too never regretted it .. Yet using it along with my 925 .. Yet going strong .. And idk why people complain about the battery ... It works more than a day on average use .. That too on 3g .. My 925 knocks down in under 2 hours ...

I felt the same for my 520. But when I bought a 535, I know that there are major difference. 520 will always be the most solid and best entry level Lumia. Ever.

and I got my lumia 625 at $300 a year back. :-s

I'm considering 532 for my mom

Even i thought the same thing, unfortunately no camera flash.. It would have been better if 532 comes with camera flash at this price point.

I have already got it... for my father... the 532 is indeed a great devices considering that it is my father's first smartphone... the job done is pretty decent...

Is there a big difference in terms of performance between them?

One is having dual core and the other one has quad core processor. So there is going to be a difference in performance (may not be noticeable).

Properly not. My wife's dual core HTC 8S has no problems with WP8, but when there's only a 8$ difference I don't see a reason not to opt for the quad core 532

Htc 8s,It was my first windows phone god damn no Quality Exclusive Apps, Support from Htc. Switched to Lumia & way happier & btw if the screen shatters the do charge ₹7000+ which pisses off for a 4" screen.

Yes, the only brand that ever did anything for WP were Nokia

When will it be available in Ind... Oh...

When flagship?MS don`t care US users...!"LOL"

Pretty sure they said when flagships will be available...

Both are good devices in all aspects...!

Wait , these phones have glance screen?

Not 435, but the 532 has glance screen as seen in Microsoft Mobile site ;)

Lumia 532.. Whatever this name means..........

So the only difference between these two phones is camera.

And dual core vs quad core. I overlooked that myself, at first.

Oh haven't noticed that XD thanks :)

Brate, majkrosoft je uzeo L525, meto noviji cpu, prednju kameru i losiju zadnju kameru, losiji gpu, dizajn nije menjo ni najmanje, i nalepio ime L435. Kontam da ovo niko nece kupovati osim onih mentola u indiji koji za bolje ne znaju.

Telefoni nisu nimalo loši, uvek je bilo i biće onih kojima telefon prvenstveno treba za pozive i SMS poruke, a ovo su upravo oni koji se najviše prodaju u današnje vreme. Pogledaj samo Lumiu 520 kakav je skok napravila, zašto misliš da se ova dva uređaja neće prodavati tako? Ipak Indija je ogromno tržište..

Mislio sam na evropsko i americko trziste. L520 se prodavala na tim trzistima sa manje uspeha. Prodavala se u indiji dobro zbog odlicnih performansi(na wp 8), kamere koja snima cak u 720p, niske cene, i slabe konkurencije u tom rangu, a i zbog njihovog neznanja za bolje. Danas je drugacije, jer imas pun kurac android telefona u tom rangu koji imaju pristup vecem broju kvalitetnijih aplikacija i vecoj podrsci. Jedan deo razloga sto se ovi telefoni nece prodavati tako dobro je jer ljude(kojima navodno treba telefon za sms i pozive) boli kurac da kupuju WP telefone i istrazuju od njima kad od drugih neznalica cuju samo "mali broj aplikacija, losa podrska razvojnih studija" i slicna sranja, pa ce upravo izabrati te jeftinije android telefone. Drugi deo je sto za poruke i pozive nece birati ni android ni wp vec tzv glupave telefone, jer su jeftini, sigurni, i ako kupis neki kao asha 302, mozes da mu radis sta oces i radice odlicno. Ovi telefoni nece prici L520 ni po cemu. bice kao l530, potpuno nepotrebni. Vidim sta oce ms. Zele da zavladaju low end trzistem, ali to samo njima odgovara, korisnicima ne. Tako se ne dobija veci udeo u svetu mobilnih os, a i sam vidis da niko ne jebe wp ni 3 posto, vec izbacivanjem azdaja i mid ranged telefona koji trebaju ljudima. Ovom politikom izbacivanja iskljucivo low end telefona, (zajedno sa sporim i losim izbacivanjem apdejta) ms polako ali sigurno unistava wp.

Ih bre, ti kao da si došao sa Tehnopolisa/B92 kad hejtuješ toliko xD slažem se sa većim delom komentara ali ovo zadnje što se tiče apdejta nisi u pravu. Ne vidim zašto su apdejti loši. Apdejte će dobiti kad tad svi telefoni, od low end do high end uređaja što je velika prednost u odnosu na Androide. L520 stara već dve godine će dobiti Win 10 dok su Androidi stariji od godinu dana pod velikim pitanjem za neki budući apdejt. Nakon izlaska Win 10 za telefone i računare dosta će se toga promeniti, poboljšati u korist Microsofta. Broj aplikacija stalno raste i da napomenem da će veliki broj biti univerzalne aplikacije, tako da sa sigurnošću možemo očekivati napredak. Kad smo već kod low end/high end telefona napiši mi koji poseduješ?

Wow. Microsoft is going all out to win the low end segment. Considering that it is one of the few segments still unsaturated.

Which is better 535 or 532? For replacing my old 620.. Also which has better battery backup..

535 is a steal. Check the specs of all the three phones. If I'm not wrong then 535 has got around 1900mAh battery compared to around 1300mAh of 620. Again you got that 5mp front camera.

Neither is a better replacement for 620.. Go for 730.. If it's out of your budget go for 535..

Why is the Lumia 730 out of selection its a splendid device it easily out smarts 535 but speaking of 532 and 535 , 532 has glance but smaller 4" screen poor front cam whereas 535 has a better front cam with its 5" display but no GLANCE SCREEN.

535 having no glance screen is a big turn off.... I'll wait for some more tym den.. Hoping dey wud release a 640 or something like that..

Seems strange that there's such a little price difference. Why would you want to save just 8$...

Microsoft is very late in every field. Late launch of devices and late software updates makes many to move elsewhere. They are still struggling to rollout older software to the newer hardware. What do you think about it.

Microsoft is the only company with a preview program ! What do you think about it ?? You complaints are pretty lame

Honestly, the complaints seem valid to me. Phones are slow to release. Software is shipped slow and beyond that, unfinished. Android 5.0 was a fairly painless experience as far as the feature set. Every major WP update seems to be a start over and we never really get anywhere. Even Blackberry is looking for "complete" as an OS, these days. iOS can be a bit delayed getting to older handsets, but generally once it is available, its good to go. Your not waiting week or months for a patch to add features that were promised. Just look at how Denim is being handled. Phones that supposedly shipped with "Denim" are still waiting for the real update. So many devices don't have Denim, yet. And here we are, basically starting over with Windows 10. We can't get anywhere... Beyond that, people are begging for new high end Lumia's! Nothing but low end release after low end release.

Android 5.0 was a painless experience???? Not if you read the Android forums. Posted via the Windows Central App for Android

No. Which Android device from 3 years ago gets updated to 5.0? None. But my budget 620 from 2012 gets the latest updates still, unlike Android flag ships from 2012. And you can forget the Android budget devices, they never receive an update. Anything else?

I never even claimed 3 year old phones would get Android 5.0, so I'm not sure of your point. Android is just as dependent on carriers delivery the updates as Windows Phone. If you read what I wrote, in talking about devices that supposedly launched with "Denim" still all don't have the real Denim update. High end models are still high and dry. Microsoft has shown the has a cycle of starting over, again and again. We are getting nowhere. High end phones are taking way too long to come out. All these issue compound and hurt the entire platform. Android is not starting over. iOS is not starting over. They are both continually adding cutting edge features and updating their UI. Blackberry finally started over, which was greatly needed, and they have stuck with their new OS and its become quite respectable in an extremely shirt amount of time. Even if Blackberry is all but dead in the consumer industry...

Windows Phone also has terrible autocorrect! Lol. My own reply shows this. Looks like someone who doesn't speak English as a first language, wrote my reply...

Too late for everything.. They are gonna give few features in wp10 which android and Symbian already had decades ago... Still late

No, Microsoft is never late.

Why they got a glance screen and my 730 don't hv..

Because your phone has got an AMOLED screen.. And these have LCD's.. That's the reason icon and 930 don't have glance.. It's not about the price.. It's about the technology..

My 1020 with AMOLED has glance. So your theory is incorrect.

930/icon lacks display memory..

And I'm somewhat disappointed with that Oled screen of 730. No glance...ghosting (I guess) and now a new problem of flickering screen on my phone.

Why the f*** would anyone buy 435 when he can get 532 for just ₹500($8) more.. You get quad core processor and better camera for that.. I think pricing of 435 should be lower..

Why don't you leave it to the people to decide which phone they should buy with their money?? Huh?

How can an lcd screen have glance? I thought amoled screens can only do that!

Why fixed focus again??? At least in 532??

Bought it a day before yesterday lumia 435 nice phone but I am yet to find Microsoft camera app only Lumia camera I am able to find

Lumia 435 already goes on sale a week ago

Microsoft is doing it right, low end phones makes up the market share and with India at almost 20% for windows phones it's a good strategy. High end phones will come.

Moto e 1gb edition onMWC....It gonna rock the floor of low range phones...rs.6400

Moto g already comes with 1 GB

I have the Moto E and is is not as good as my 630. Android needs 1gb to run OK whilst windows runs more smoothly on just 512mb. Video I have recorded on both phones plays much smoother on the 630 than on the Moto E even though it is recorded at 720 resolution compared to the Moto E's 480. Posted via the Windows Central App for Android

Good one for the first timers.

Let's welcome some more windows phones

Apparently Microsoft slashed price of its Lumia 830 and L930 by 7000 rs

I'd buy the 830, if it had the hey cortana feature. 830+hey cortana, my perfect phone.

I still find both of them, and 830 in particular, too costly to generate decent sales in India

Where? I am still finding if without slashed price.