Microsoft Lumia 435 - First impressions of the new entry level Windows Phone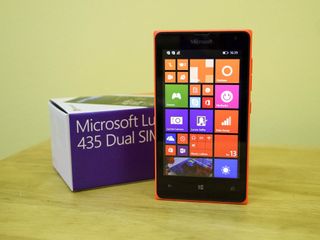 It's no secret that Microsoft has done pretty well with low-priced, budget spec Windows Phones. The Lumia 520 to this date is still one of the most popular Windows Phones of all time, and there have been several since. Joining the likes of the 530, 535 and 630/635 now is this, the Lumia 435. And with a drop down from 5 to 4, it's easy to presume that this is the new standard for the entry level device.
Announced with the 532 as only the second (and third) devices to come with the Microsoft badge over the old Nokia one, the 435 enters a crowded space. And it's crowded through Microsoft's own doing. There's such a selection at the budget end that it's hard to choose an outright winner. The Lumia 435 has to compete against several of its own siblings, and it's capable of holding its own.
Read on for our first impressions.
At this point in time we'd not feel at all bad about telling anyone looking for a low cost Windows Phone to ignore the Lumia 530 altogether. While it's cheap, surrounded by the more recent, Microsoft badged releases, the value for money isn't necessarily there. The Lumia 530 used to the be baseline, the entry level, but that title now belongs to the Lumia 435. And it's definitely worth considering. With 1GB of RAM on board, the Lumia 435 already has a leg up on anything with only 512MB. It falls short of the Lumia 530 in other areas, but since it's a 4, not a 5, we'd expect some shortcomings.
Lumia 435 specifications
Single and dual-SIM variants
Windows Phone 8.1 with Lumia Denim
4-inch WVGA LCD (800 x 480)
1.2 GHz dual-core Qualcomm Snapdragon 200 CPU
1 GB RAM
8 GB storage
MicroSD card support (Up to 128 GB)
Removable 1560 mAh battery
2MP rear camera (fixed focus)
0.3MP front-facing fixed-focus camera
Four colors: green, orange, white, black (swappable covers)
It's not the slimmest phone in the world, in actual fact it's a little chunky. But since it's so small it can get away with it, as it doesn't bring any real heft with it. It's actually a real lookalike for the Android powered Nokia X, and with the two side-by-side you'd probably be hard pushed to pick which one was which (without looking at what's on the screen or the badge on the back).
The display is a little reflective, but doesn't seem too bad when compared to some other budget devices, and even without Clearblack it's potentially approaching the Lumia 635 for quality. It's also going to be a real fingerprint magnet, but the same can't be said of the back with the matte orange finish like the Lumia 830 on our unit compared to the glossy orange of the Lumia 535.
All in all it's a nice little phone. If you just want a cheap Windows Phone that'll run all the apps you want it to, it might be worth considering. It's in a crowded and confusing area of Microsoft's product portfolio, but if it's priced right it's worth consideration for anyone in the market for this type of device. As is always the case with Windows Phone devices, it performs admirably even with low-end hardware.
We'll be putting together a full review soon, so stay tuned to Windows Central for more.
Richard Devine is an Editor at Windows Central. A former Project Manager and long-term tech addict, he joined Mobile Nations in 2011 and has been found on Android Central and iMore as well as Windows Central. Currently you'll find him covering all manner of PC hardware and gaming, and you can follow him on Twitter and Instagram.
Whiners start from here--
EDIT: OT but can we see the Alarms,,World Clock,,Outlook (mail),,Dialler and other basic things hands-on..?

OT Reply: There is no new Outlook.

Lol Richard
The one Joe showed ain't there in this release..?

Ohk..Will wait some more builds/days then

Whats the point of making a video that shows us what apps/features we can expect in the preview when you are not even bundling them in there, in the first place? Microsofts communication and PR is utter shit!
No wonder WP is stuck at 3%.

Here, watch this 30 second video about MS, 10, and the 1520. It will make you laugh. Perhaps, even feel better.
...
http://www.youtube.com/watch?v=z3nXHAQa-gQ&sns=em

The point is they will come to the preview. Do you understand that? Is it clear to you that it will undergo many changes ?

Here; a whole forum where you can discuss so you don't have to look like an idiot for posting that in this article. You're welcome. http://forums.windowscentral.com/windows-10-phones/

I needn't discuss but wanted a hands-on..!! Thanks Idiot.

Sweet and inexpensive. I like it! Edit: I proved you wrong, Aman2901!

Looks pretty......but blocky...... :|

It's so CUTE! (not in that way) Definitely looking into using this or the 532 as an international dual sim phone

Can't really tell the difference between this and 532. Is it number of cores?

And it will probably run Windows 10 which is awesome for such device.

Just realised that. That's SO awesome. Samsung Galaxies at this rate don't get much updates.

This might be next in tube to be updated to WP 10..!!

Better off getting first Gen high end wp8 like 8x or 920.

They are plentiful and cheap to buy used in USA. That is not the case in most of the world.

And it will get it before 1520 for sure.

"Its so/no secret"? I'm liking that the new base model comes with 1GB RAM. Hopefully this is the end of 512MB Windows Phones.

They knew that WP 10 might be a RAM consumer..
I may be wrong though..

The current W10 beta build runs fantastic on my Lumia 635, so I'm not sure that is an issue. Might be other things such as multitasking etc that are not really related to the OS version though. The 435 looks like a great phone and that it has 1GB RAM should mean that it will be the baseline going forward.

Exactly. Time to upgrade, everyone! 512MB is out; power is in!

And we can expect atleast 3+GB in High-end phones from MS.. If they can give 1GB RAM for L435 ..they should provide 5GB RAM for L1030/L1530 ..

Okey now that's too much... My laptop has only 3 gb ram :/

5GB of team would just be silly, not even Android needs that much. Still, I agree with you that we need 3GB of ram on new high ends.

Like it or not but guys have android always look into ram size. I mean they go by nos. If msft want others to buy our flagship, it should be good in nos. No matter what.

RAM eats battery too, in addition to adding to the cost. No reason to go overboard if the OS doesn't demand it.

People who buy Android don't look at numbers. They look at the big sign in the Verizon shop advertizing the latest deuce Samsung pinched off and hear the sales guy say "So you want that new Samsung Galaxy D7 Battlecruiser, right?" Then they wonder about why all the nerds they know have those colorful squares on their red and green phones. No, sir, the people who drive sales numbers for phones dont rven know those "nos" exist.

I'm all for it if it provides a real benefit. I dont care about adding cost to the phone just for a pointless spec on paper.

But most of the android users are into Numbers and thats the only way MS can convince them to use WP.. Just a thought.. But yeah, 3GB is more than enough for our OS anyways

I think its pretty safe to assume that is the case. None of the Microsoft branded phones are 512 MB. I still have a 635, which I'll run until it doesn't turn on anymore or it needs a new battery (whichever comes first), but I think the whole 512 MB thing is just that last generation of phones (WP 8, WP 8.1, Android 4.x, iPhone 4-5, etc.). Maybe the new iPhones are still 512 MB but if so that is probably the last you'll see of that spec.

A blu jr competitor, that has a little worse specs, but is better designed. Hmmm... So many good low end options. My recent free 635 will hold my attention with W10 till I can replace my 1020. Summer?

Yup. It is actually made there too. Comes with a Made in Vietnam sticker and everything!

My 635 doesn't have 1gb of ram. How much better is the 635 compared to the 435?

Better processor, better display, bigger display. Better camera but no ff camera soo...

This phone looks nice. maybe someday I will get cheap phones like that here for family who seem not to want to spend so much on phones but I still want them to upgrade from 7 to 8 like my dad, or get a cheap new phone for my sister who yesterday broke her samsung S3. but it looks nice! cheap phones are always usefu!

Yeah these WP phones are cheap but they actually perform like some high end devices out there. I would definitely recommend some of these phones. I have a 630 c:

Yeah, I have the Lumia 735, and it performs amazingly in all tasks. I love it c:

This seems like a great budget alternative. I wish they would consolidate their different model into one. Seems silly to make 512MB devices now...

Hey Richard, what happened you are breathing very heavily?

I have a bad cold at the moment. It gets on my chest when I do. :/

Nokia never didn't put «4» in names of models. Microsoft do it.

Nokia didn't do it cuz some cultures actually think of the number 4 as an unlucky number, and that's why Nokia never did it.

Was thinking about a secondary phone to run my other sim cards.. Well , L435 is the best choice so far.. Gonna buy it soon..

Lumia 530 v/s Lumia 435
4 Gb internal v/s 8 Gb internal
512mb ram v/s 1 Gb ram
1.2 quad core v/s 1.2 dual core
On screen buttons v/s capacitive touch buttons
5mp and no front v/s 2mp and front All and all , these both phones have cross arranged specs these both will be failures , Lumia 535 is game changer after Lumia 520

The 535 might be a game changer but it's still nearer to £100 whereas the 435 will be closer to £50.
To me this is decent for the price. If you want/need better specs then you spend more.

My issue is 1) the portfolio is a all over the place 2) the phones are just released with little to no promotion. I follow WP (lumia) news pretty closely and I have no idea of the pricing or availibility of the phones.

Microsoft's latest flagdinghy. Winning our race to the bottom now.

Flagdinghy. I love it. I previously used flagrowboat.

Haha flagrowboat is awesome.

I get that there is a place for a budget very low end phone, but 2mp for the rear camera? They could not even go with 4mp? I did not even know anyone makes 2mp components anymore, its still a smarphone not a ten year old dumb phone, 4 or 5 megapxel should be standard, even on low budget.

I appreciate that more pixels doesn't always lead to a better picture, but that 2mp does seem a bit measly (especially as I had a Nokia handset in 2005 that had more than this).

Or a 3.2 for that matter ;)

Got one on the way. Looking to post a couple of videos up on it :)

Where did you order from?

The design is from nokia X series. Remember that forked android shitty thing? :P

Yep, wonder what was Mr. Elop thinking when he said to his troops in Nokia to start the "X project". What a waist of money which could have been used for WP projects.

So glad they decided to stop making those stupid X phones. Those bricks did absolutely nothing.

Pretty impressed with fluidity of the OS in the video. Snapdragon 200 is not bad at all! It's just a two core version of Snapdragon 400 (on Lumia 635 & 830) so I guess I shouldn't be surprised. With 1GB RAM, the 435 may be even better than the 635 in some situations.

I'm sure it's a great phone, but good god, there are fifty low line phones all with different specs. It seems as though they decide what to build based on what kind of junk parts they have laying around. Almost like being in a buffet line.

Everyone loves a good buffet.

LOL And don't you hate it when you get to the end of the buffet and you realize you have filled up the plate already and then you see all this other awesome food you didn't even know they had? That might be why Microsoft never gets another flagship out... they already used all their resources on the junk.

Naw, they said they're working on a 2015 flagship which will run Windows 10 :D

Looks nice and sturdy for such a low end phone and no compromises in performance made. With 1 GB RAM and 8 GB internal storage, windows will blaze through this. Camera is the only compromise but still it should perform better than higher on-paper specification of other manufacturers most notably china based OEMs. Would gladly buy this phone as a daily driver and for chatting.

Ur surname means gambling in turkey. But Great comment! +1320!

Really? It's a very common Indian name, some of my friends are Kumar's. I learn something every day :)

Wow, the more I look at it, the more impressed I am with this little phone. If priced right, this has a chance to overthrow L520 as the best seller IMHO. It's got the whole package sans bells and whistles. Where can i buy this phone in the US?

Have you heard of the 635? It pretty much destoys this phone. If the 435 was $20 it would be priced right.

Yes, the 635 is a great phone and beats this phone in pretty much every category, but it has 512MB memory while this one has 1GB. And I'm assuming this will be priced lowered than even the 535, let alone the 635. It all depends on what your priority is, I guess.

I've been using a 635 for 6 months now. I have never noticed it being memory starved. That's me - YMMV

Some apps simply will not install on 512MB. Also, the FFC missing is an issue for many (even a crappy VGA one is better than nothing for chat).

I would take the lower spec'd phone with more ram every time.

I want interactive and mix view tiles on phones...#windows10

MS really needs to get a hold on all those devices... Feels like Samesung strategy and it can only lead to misled costumers who can't figure which Lumia suits them the most.

Samsung just floods the market with every phone they design, heck do they even reject designs? lol.

Seems like MS is doing the same or at least that's what it seems when combined with the leftovers from Nokia

That's reminiscent of the Nokia X because they are ex-Nokia X units. Do you still have the Nokia X unit you used on your review for Android Central, Richard? If so, you can try and swap the covers to see what happens.

Microsoft on the front - Nokia on the back. Why, that's quite amusing.

Yeah, I wouldn't keep that debacle in my house.

Still happy with my Lumia 520. It does all what I need.

I would have to say the 520 is a better phone than the 435. Except for the ram issue. You have to wonder what they were thinking when they only gave the 635 512MB of memory and this thing 1 GB. I will never understand what Microsoft is thinking when they come out with this mumbo jumbo of low end phones. They are right though; 512 mb of memory is a thing of the past. Remember the Iphone did not get 1 gb of memory until the 5 came out.

Be nice to get a high end phone such as my 1020 with dual sim, updated memory maybe 2gb or more, improved CPU, and at least 5" inch display with 2k or more resolution and Qi charging built in. I wouldnt want the best but at least fast enough to handle my daily activities and last long enough for 1-2 days of actual use. Yup my ideal phone.

I like how he says it's silky smooth but yet has hardly any apps pinned. That's normally when you run into the nonsmooth territory.

A good backup phone to test win10... or to use while testing win10 in your other phone :)

Micros(hit)oft makes new (Budget) phones only for India.Kissing indian investers asses.I mean c'mon.What about Europe and the rest of the world? We're waiting for flagship phone since 1520 came out.Hypocrates.And this Belfiore noob should cut his hair properly.No wonder nobody likes MS!

Whatever. The sloped front hair style could be an attempt to detract and mask his droopy and sloped left eye. We all have things we're self conscious about. If his hair style was more conventional and more to your liking, facial irregularities tend to stand out more. It looks fine.

Keep Calm and Wait For Purported Windows 10 Flagship.

before I saw the paycheck four $8789 , I did not believe that my brothers friend woz truley bringing home money in their spare time from there computar. . there friend brother started doing this 4 only about sixteen months and just paid the dept on their home and bought a great new Mazda . try this site ............ ➜➜➜➜➜ www.netjob70.com

up to I saw the paycheck ov $8211 , I didnt believe that...my... father in law woz like they say actually bringing in money in their spare time on-line. . there brothers friend haz done this for only about 19 months and resantly paid for the debts on their house and purchased themselves a Mazda MX-5 . find more information ............ ➜➜➜➜➜ www.netjob70.com

Completely unnecessary. There is absolutely no reason to make so many different phones, unless the goal is to confuse every living human being on the planet. THREE PHONES IS ALL THAT'S NECESSARY. Low range, medium range, and flagship. Microsoft needs to stop with the Nokia nonsensical numbering sequence of their phones, cut down on the unnecessary confusing lineup of phones to 3 or maybe 4 models AND get rid of Stephen Elop before he completely buries the phone division of Microsoft.

when is the 532 coming out?

Microsoft seems to be setting up to no longer sell Nokia Lumia brand Windows smart phones They are getting rid of their stock of nokia Lumia 520's Windows smart phones I bet you no more will be manufactured. I think the Microsoft branded Lumia 435 will replace it and that's not a bad thing the Microsoft lumia 435 does all the basic things people want a smart phone to do it even has a front facing camera for selfies and Skipe Video calls it's no flag ship device buy you can use it to do basic smart phone chores and then some!
Windows Central Newsletter
Thank you for signing up to Windows Central. You will receive a verification email shortly.
There was a problem. Please refresh the page and try again.