Microsoft India's mobile head quits to join Nokia's partner HMD Global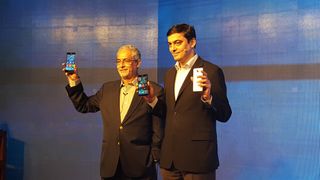 Microsoft's realignment in the smartphone segment will see the manufacturer moving away from India and Brazil, with the Redmond giant shifting focus to a few "core" markets. On the heels of last week's announcement, it is now being reported that the head of Microsoft India's mobile unit Ajey Mehta — along with 60-70 sales and marketing staff — will move to HMD Global, a newly-formed Finnish organization that will make Nokia-branded phones runnning Android.
Economic Times mentions that Mehta and his team will be responsible for taking the "Nokia brand forward in the country:"
I started to hate Nokia with passion. MS invested many millions in Nokia. And what was Nokia output mostly? Cheap plastic nonsense. This is what damaged Windows phone so badly.
Sad but true.

Eff you if you think thats what went wrong with Windows Phone...I squarely blame Microsoft for losing out with WP. Nokia literally gave everything they had for Windows Phone's cause.

If anyone moved the Windows platform forward, it was Nokia. That is also why when Nokia decided to save itself and produce Android devices, MS decided to snatch their mobile division and made sure not to allow Nokia to develope phones till end of 2016. Most of the features and even apps we got with 8.1 were thanks to Nokia. Wireless charging, Touch sensitive screen, Pureview, OIS etc were all features Nokia introduced that have just recently become a standard. The OS is what's hurting MS, not Nokia. Despite being the Windows Powerhouse when they were onboard, watch how their Android devices will sell like hotcakes compared to their Windows effort ...many who bought into MS platform bought into it due to Nokia, some stayed, many left due to lack of apps and limited featured WP OS when compared to iOS/Android. Dont forget, when Nokia was onboard, Windows Phone also had more market share and was more popular than it is now.

U are right, I think Microsoft and all android companies knows that if Nokia introduced an android mobile it we rock the market because out there, there people that waiting that and others will by the mobile cause its quality or just it's Nokia, it's a dangerous moves which can return Nokia's glory, even I'm a fan windows mobile I maybe by Nokia's android if Microsoft ecosystem failed, Nokia is game changer for all the market and that will affect much on Microsoft.

If you compare the Windows Phone's market share before and after Nokia you will see that nothing has changed. Just Nokia took all the sales and everyone else gave up. So Microsoft has spent billions of dollars for nothing, that's essentially the description of that relationship.

It was Nokia and their quality hardware that made me buy a Lumia, my first phone!

The dumbest commebt of all times. Wp destroyed Nokia, boy!!! And not vice-versa. Wp 10 is the only system worth mentioning! I can assure you that. Nokia had way better quallity phones that what ms released under their name. You have no clue what you're talking about. Aproved by me!

Microsoft was the who made those Chinese droid clones they call lumia today

this is so funny.. MS pays 7 billion for nokias mobile devision Nokia gets it back for 350million. Must be a hilarious topic at Nokia lunch tables

This 350 millions is only for feature phones think Asha. Not smartphones.

True, but Microsoft spent all of that money, and didn't even get the Nokia name or any of it's patents. All of the Lumia talent and engineers have been fired, and Nokia is taking them back in with open arms.

They got the patents FYI. Sent from my Lumia 650 via the Windows Central app ;)

MS is just one of many licensees.

No, Microsoft only got to license Nokia's patents, not own them. This has been documented in many articles directly from the mouth of Microsoft.

Another clueless blind boy:)). Ms destroyed Nokia brand. Now they help them come back, so they can push wp further. They will do androids but am pretty sure Nokia will also do windows phones. The more oem covering the market with win10. The better for ms. Minding the fact they failld in this area each and every time. Ms has now to pay for their insolence of thinking they will ever get what Nokia brad was. Now, if i see it correct, they saw the truth and will help Nokia bring back their quality, ah ja, hence the cheap sell of the future phones;). Aproved by me!

Nokia wouldn't go near Windows Mobile with a ten foot pole. How do you think they got into this mess? You're like the third person I've seen here mention that Nokia will make Windows phones, and you are all flat out wrong.

"They will do androids but am pretty sure Nokia will also do windows phones." No They Won't . Not Happening .

U might be right about that. I read somewhere rumors that Nokia will make dual boot phones.

One word,"Satya"! Ballmer would have never done this. I wonder how India feels about Satya now. I guess if he's injecting money into India they'll forgive this big transgression. Posted via Windows Central app for Windows 10!
Proudly rocking my Lumia 1520!

Yes Ballmer would have insisted on continuing to flush shareholder dollars town the toilet on their failed mobile ecosystem. There's a reason he wa booted and replaced with Nadella.

Another sign of Windows Phones departing from india. Too sad to see that our next devices will be Android or iOS devices. :\ But happy for the team.. They aren't abandoned... All the best to them for new Nokia :)

Hmmm. Not necessarily Android or iOS though, I'm considering even Sailfish OS.

Even i am ready to try anything other than Android or iOS. BUT where are such devices? Sent from my Lumia 950

Cool, so you're going to switch to another phone OS that has no apps. People are strange.

What if you think before speaking? Sailfish os is based on android, so it will have all the android apps. Its like Xiaomi, modified android Posted from Windows 10 Lumia 640 XL

Sailfish OS is NOT based on Android -- it runs on Linux kernel just like Android, there's a difference there. Why don't YOU think before speaking?

What this guy said. And adding the fact that sailfish os is acctually Meego, a system that was based on Maeomo, a system that was here way before android and nobody apreciated it. N900 (yes, NOKIA) Was told to be a computer that struggles to be a phone;). Boy is that true. Android is a kid in front of that giant. Sadly, another one bites the dust just cause the mass just isn't able to understand technology and the way it works. Hence the futuresless ios wp and android. Aproved by me!

Actually they consolidated to tizen

Lol. Its not exactly like Xiaomi. Sailfish OS does not have Google Play services support. And compatibility with all android apps is not possible with it.

SailfishOS has android compatibility, Google Play services can be installed separately, but are not officially supported. Personally, I have Google Play services installed (couldn't resist the app collection), but for those who do not want to associate with Google, there are third party Android app-stores available, as well as some Android-apps in the Jolla Store. Native app support is nearly non-existent though (, but when they do exist, they are quite beautiful thanks to the transparency).

So you're using the Jolla phone or something else?

I am using both a Jolla phone and a Lumia 925. The 925 I only use during the summer because of sunlight readability enhancements. P.S. on SailfishOS you can also completely disable (or remove) the Android compatibility layer, in case you want maximum perfomance and batterylife.

It has Android app compatibility. But not with apps that require Play services. Any way, it would still be be better than what W10M has to offer. The only gripe is that they don't have many hardware partners and the OS supports limited processors.

And Sailfish OS has a plethora of devices to choose from?

Sad MS has left India with no option.

So all Microsoft stores will be closed??

I don't think so. MS stores also sell other products such as accessories and maybe they'll start selling Surface products too. Also, consumers require them for getting their mobiles fixed/replaced while under warranty.

There are separate Service centres for repairs. No need for MS Stores for that.

You can't buy Surface and XBOX at service centres.

Leaving India? Or shifting focus? Leaving means done. I don't think they will just stop doing stuff in India. May be less but not complete stop I guess.

Not on their own phone hardware, rest of the business will continue as usual.

Satya's in India now; what has he said on the issue? Probably nothing, just wasting Microsoft money on a trip to announce the former India Microsoft mobile head is leaving along with 60-70 others... Wow is he intelligent! Posted via Windows Central app for Windows 10!
Proudly rocking my Lumia 1520!

With MS literally giving up in India, there is no more hope left about our lumia phones. Time to think beyond windows phone.

Pleased with this move...atleast the talented folks are moving back to good old Nokia. Its a win for me either way :)

I'm glad that these folks got new jobs rather than getting laid-off. Posted via my Moto X Pure Edition using the Windows Central App for Android

what i feel is, the biggest mistake i have done is bought an MS 950 two weeks back...

Even I bought two weeks ago. It wasn't a mistake. Ms will keep supporting Lumia and we will get updates. Redstone etc.

good thing is Microsoft India is not in charge of updates for Lumia... as long as your 950 is alive to get updates then it'll be supported

If I was in your place, I would've been happy with the 950 !!! Sent from my Lumia 650 via the Windows Central app ;)

I had a crack screen the other day on my 950xl and I just went and get another one. Now I waiting for the Surface phone. No mistake whatsoever.

What surface phone exactly are you talking about, the mythical one. Posted via the Windows Central App for Android

So I guess a country like South Africa won't be getting the the surface phone in the future?

Unlikely, for years to come. Posted via the Windows Central App for Android

So I have no upgrade path for my 950xl thanks MS!!!

No, nor will any other country be getting your fantasy unicorn phone.

Sadly , but yes windowsphone is departing from India and within a few months will completely exit !! No new phones , way over expensive surface brand gets here ! Nokia is coming back and this is the end of windows phone soon

Even the Surface Phone probaly won't until.at least 2018. Posted via the Windows Central App for Android

Its sad, but its 100% Microsoft fault, they went with UWP instead of supporting Astoria project. iOS bridge is coming soon, but only God knows if it will be supported bybig developers like Snapchat which is one of the fastest growing companies for mobile in 2016 Posted via the Windows Central App for Android

Dooms day started for this crappy Microsoft...

Why do I smell another Nokia- MS partnership!!!
May be i am being hopeful..

Not hopeful. You're being delusional, mate ;) Posted via the Windows Central App for Android

Could be a secret one, i smell it to. A partenership in which ms will quitt their isolence and will be proud of having nokia brand promoting windows phones. Why i think so, well i think Nokia will not be dumb again to set their goal for just one os. Android. Aproved by me!

Nokia will not be dumb enough to associate its brand with Dead OS.

Being dumb would be to build phones with an OS that consumers have rejected. They are not going to make Windows phones again, you must be smelling your armpits or something.

Seems like we are going to see original quality Nokia phones again. Pls make it as soon as possible my Lumia phone is aging..

Myerson and Satya go with him please....

No, those guys need to stay at Microsoft and leave Nokia alone. They're allergic to mobile phones anyways, obviously.

I don't really understand what HMD is hoping to do with the Nokia brand, they're just going to be another android OEM that's failing.

I agree. There r lot of OEMs, India is flooded with cheap devices like MMX, Intex, XOLO, LAVA. No one is making profit except SAMSUNG. Every android phone stops working well in months time. Nokia doesn't have magic stick that can make things better. Idk how will it help. Sent from my Lumia 950

That whole "Android phones stop working" tripe is utter BS that gets spewed here by fanboys who are jealous of Android's success. If the billion Android users out there had phones that "just stopped working," Android wouldn't be nearly as poplular as it is today.

I meant "stop working well". I have few examples like one plus one, galaxy s5, moto g.. It starts hanging and lagging. People just want to get their work done. They can stay on OS and software that came out of box w/out any updates for years. (until vendor makes it mandatory to update). I have many friends whose phones are slogging but still not changing their phones since though slowly their work get done. My dad prefers not to update to avoid mess up with apps or storage. Since android have apps and most importantly google apps, this is the only reason why it is mega hit. Moment Windows gets it Android would face a tough competition. There are lots of problems with android apart from poor performance after months heavy use. But many overlook as their work gets done. Sent from my Lumia 950

Then you should start buying Sony smartphones because after 2.5 year of use the OS has become better than when it was brand new(4.4 --> 6.0.1). Posted via my legendary Xperia z2

With S5 things went worse.
With 5.0 i lost the ability to keep apps in sd card. If at apps move to sd card, updates move it back to phone memory and doesn't bothers it to move it back. It happens with most of apps like Facebook, android central app, windows central apps. Its frustrating. Facebook saves photos on phone memory, whatsapp too despite of having sd card. My sd card is only 25 gb free out of 32 gb, just coz most of apps don't make use of it.
Latest 6.0 update made it slower than ever. It was fine with stock kitkat.. Updates ruined it. Sent from my Lumia 950

Lol I don't know about you but my OnePlus One is fluid as hell, only exception being sometimes apps force close apart from that Android is all good. Posted via the Windows Central App for Android

Same thought too. My Xperia M4 aqua is much better than the Lumia 625 I had 2 years ago, no apps no sale, I needed Firefox due to a restriction in some websites and thats why I got Android instead of Windows Mobile 10. And Im loving it so far Posted via the Windows Central App for Android

This ^ Posted via the Windows Central App for Android

So, that's the end of windows phones in India. Sad but got to accept the reality and move on. iOS and android, both are so boring. Windows is way ahead as an operating system in terms of user experience but Microsoft,I can't trust them anymore.

The user experience is so amazing that .6% of smartphone buyers chose Wp last quarter. Posted via the Windows Central App for Android

MS's smartphones strategy with its "core" markets is complete disaster

Other OEMs will fill in the gaps. Heh, I broke out laughing just writing that nonsense. Posted via the Windows Central App for Android

I thought Satya would be respected by Indians, but looks they've also lost respect for this cloud first mobile last guy Posted via the Windows Central App for Android

Looking forward for the new Nokia phones :)

This is a complete mess. Leaving a market which had huge potential for Windows Phones. Hell India even has a lot of Windows apps than the States. Banking, shopping, airlines and what not. Nokia's comeback being a hit is a thing to watch out for. Like everyone said, Indian market is flooded with Chinese OEM's and many versions of Android. Nokia has to be a differentiator to gain any market again.

Yes. Indian market has huge potential. Wish they released good phones since acquisition. Lumia 950 series was costly and buggy at release and Indians seek for budget phones, which were below the expectation and nowhere near other OEMs. This was main reason why market share fell and MS had to take such step. Posted via Windows Central App on Windows 10/Android

So it means 1520 is the last lumia phone i have. I'm 100% sure Surface phone won't be launched in India.Satya ko goli maro bheje main.

What surface phone. Posted via the Windows Central App for Android

'I'm 100% sure Surface phone won't be launched in India.' You're right, since India is a subset of Earth.

What about Lumia 830?
Lumia 830 performs better and is more stable than 950 on windows 10 mobile

What more does anyone need to know, WP is irrelevant, it's DEAD, put a fork in it, Microsoft has. Posted via the Windows Central App for Android

Wow. You're carrying around the same words from article to article. A closed minded, optimistic lagdroid fan is what you're...

End of microsoft phone in india

I don't think a Surface phone will be released any where. This whole MS move out of India is ridiculous and short sighted. Nokia made fine WP. No one can argue with that. I still say it's not that Android is a fantastic experience. Far from it. It was CHEAP. That's why it caught on. It still needs refinement and something to make it an interesting OS. It doesn't come close to ios in my opinion. Any way, it's hard to argue with success. It's not all cheap junk Android phones now. 86 percent or so market share can't be ignored. I just wish they would make some improvements, and I'm sure they will eventually. And Balmer was not an idiot and certainly Nadella is not a genius. The whole WP thing was botched from the beginning and was even handled worse the last couple of years. Oh, and don't think I don't know that for the most part Android just works. I've just never been very impressed. I liked Win 10 mobile and I like ios better. Hey and Apple from recent moves is coming to India. It shows that some companies have some foresight into good markets.

Time to leave the cave you have been living in. Posted via the Windows Central App for Android

I will buy an android from Nokia cos the build quality is superb, we all know that.

I hate ppl complaining and whining about Nokia failing Microsoft, it was Msft that failed Nokia.
Nokia had a vision, it was part of the world to say the best. Nokia created a revolution in recycling, partnered with WWF, the Finnish gov. benefitted from Nokia, gave free Education, top of the class public amenities and services to their people in return. This gov. and Nokia gave so much to make their small nation safe and sound. Nokia was an untold history in the smartphone business, until Droid destroyed Symbian.
Nokia chose Windows for a reason, they believed they have to move on to make this world better and to keep the legacy going on.
Windows Phone was not much of an OS (msft was lethargic towards their OS in order to make it compete-able to the likes of Droid and iOS) at the time Nokia tried so hard to push its Lumia portfolio of smartphones. That was the best phone for anyone, even then I saw droid users wanted to switch just for the Nokia hardware, it was that beautiful!
Nokia was lured to sell its phone business by Msft. 7 billion? That is a crap for a Legend to give up on their piece of work transformed throughout the time.
Msft did nothing to maintain the legacy of Nokia, msft was never there for the fanatics and people like how Nokia is still today. From their own price point on hardware to their lay-offs.
I'm a fan of Nokia first, msft will always be seconded. Nokia Lumia made me love the Windows platform with its HERE, MixRadio, and other set of apps ppl miss today. I really wish if Nokia have any plans to makes a Windows version of its upcoming phone, i would buy it over a Surface phone. I never really liked a droid, Symbian was way more better than the droid is today.

What Droid are you talking about, there is no such thing as Droid, that was just a marketing name for a Verizon branded phone. Posted via the Windows Central App for Android

Come on, you're not making any point here. Defending the droid and complaining msft (without valid points) over and over in all the articles is what you do for a living?

For the people here still hallucinating, Microsoft is cleansing itself of the WP OS "they have wasted billions, the bleeding had to stop sometime", Microsoft is a software company and makes their money from software, from selling it, to licensing it.
WP is irrelevant, it's DEAD, put a fork in it, people that work at Microsoft don't even use WP, this was an experiment that did not pan out, time to move on people, Microsoft has, so should you, and when I hear nonsense like Sailfish, it just goes to show the craziness that has engulfed some people. It's a smartphone for crying out loud, no one will care if you go and buy an Android or iPhone, you will live, and will finally enjoy a true smartphone experience.
Some of you sound like you have joined some kind of cult. Posted via the Windows Central App for Android

Ah, there is this "WP is irrelevant, it's DEAD, put a fork in it" statement that you mutter for yourself all day long.
If msft thought its only aim is in sw and development, it wouldn't have made the Surface line possible! That change is necessary for anyone, its bold and passionate. I'd say, acquisition of Nokia mobile business triggered the Surface line to test is own limits of hardware manufacture.

It is dead, time to leave your WP cave, less than 1% market share answer it for you. No one cares about WP, the masses have spoken, that's the other 99% of the world population. Posted via the Windows Central App for Android

IMHO, without Windows Phones, the desktop Windows will sooner or later die. Chrome OS has a potential to kill it. Microsoft's OS may not survive next decade...

Seriously what's happening? Is it a drama or something?
Windows Central Newsletter
Get the best of Windows Central in in your inbox, every day!
Thank you for signing up to Windows Central. You will receive a verification email shortly.
There was a problem. Please refresh the page and try again.