Map the world with the awe-inspiring Bing Maps 'Preview' for Windows 8.1
Microsoft's Bing Maps for Windows 8.1 is a breathtaking experience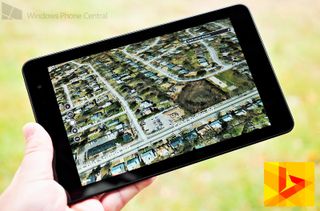 The preinstalled map app within Windows 8 is quite good, but it comes nowhere near the detail and quality of map resources supplied by Google's own mapping service. Microsoft intends to fix that idea and has just released their "Bing Maps Preview" application to the Windows Store.
Simply put from first impressions - we are impressed.
The new Bing Maps Preview app gives higher detail and clarity for satellite imagery, new Streetside view (Microsoft's equivalent of Google's Streetview) support, and interactive 3D scenery.
Microsoft's data pipeline has been "crunching petabytes of imagery" to deliver the best possible mapping experience. Due to an advancement in technology, the company has claimed that their automated pipeline can process and push pixels at an astonishing speed. In just "a matter of weeks", Microsoft states that their pipeline has already processed 121 trillion pixels to create the 3D scenery. In addition to Microsoft's pipeline data, the company has gathered a variety of "world builders" including those in the video game industry and experts within photogrammetry.
The new app also takes better advantage of both touch and mouse input; users can easily fly through the map and use their fingers to "touch it, tilt it, or turn it". Our first impression of the app shows smooth operation and simple, yet powerful, navigation controls.
Microsoft's latest implementation of Streetside view introduces a new feature known as "bubble view"; using this feature, you can see a preview of what is on the street without leaving your larger perspective view. Within Streetside view, you can use arrows and labels, which help you navigate the maze of whatever city you wish to explore.
The Bing Maps Preview also gets more personal. Easily search for your favorite stores, restaurants, and more within the app, then view a new overlaid view of your search.
If you have a common commute, you can setup new Traffic Notifications that will alert you via a pop up notification and/or live tile about your commute. The feature is similar to what we have seen in Nokia's HERE applications on Windows Phone.
Lastly, just as you have come to love Local Scout on your Windows Phone, it has now made its way to the Bing Maps Preview. You can quickly find nearby places of interest; in addition to standard points of interest, Local Scout can deliver personalized results based on "when you're signed in, based on what you've been searching for, what your Facebook friends enjoy and what's popular in the area."
In addition, just as Local Scout on Windows Phone connects you to other external applications, Bing Maps Preview can launch apps such as OpenTable if you have found a restaurant and would like to make a reservation.
We didn't feel that a map revamp was at the needed top of the list for Microsoft, but we are happy to see they are working on every aspect of the operating system. We are excited to see Bing Maps Preview leave its current phase and become the default map app for future Windows 8 users.
What mapping services do you use – Bing, HERE, Google, MapQuest?
Grab Bing Maps 'Preview' for Windows 8.1 here in the Windows Store (opens in new tab).
Source: Microsoft
Windows Central Newsletter
Get the best of Windows Central in in your inbox, every day!
Downloading it now. Seems to be slow downloading the map data but I'll put that down to it being a preview, it looks good though.

I'm sure Expression Blend was used in its creation.

http://apps.microsoft.com/webpdp/app/75ce2a6a-8a25-4916-83d0-19b8e7b60787

This is cool. Why isn't there a Bing maps on WP? Here maps is good too though

I agree, they should bring back bing for WP and enhance it, and like you said Here is good as well.

Bing Maps is on Windows Phone already, unless you have a Lumia.

Its actually still there, but its hidden. One way to bring it up is by using local scout.

except local scout doesnt display data on wp8 for some reason instead i have to open up here maps on my SGH-T899M unlike my dell vp(maybe because it wasn't actually running 7.8 yet which i thought i updated it to) which for a few months after wp8 came out didnt display anything either. but then it was working again

Well it's still there even in Nokia's, but it really sucks and it's limited, unlike Nokia Here, it dosen't include turn by turn directions, 3D, and fast transit planning also not to forget about My Commute, well anyways they should work on such feature for bing maps on WP.

We want Streetside on WP8.1!

GUYS! try this and this is real crazy!! I was working with my app and testing the reserved network protocols of phone and found something intresting(ly stew-pid). Now, if you have a url on web (or email) starting with direction://..., when you tap on it, it will open the Nokia Here maps app on Lumia phone. BUT if you try the URL starting wtih maps://.. it will open the Bing maps! which means: Bing Maps is available on all Window Phone regardless of its visibility in apps list.. See the discussion here. And for testing send youself an email with this url: maps://london. It will open Bing maps app.

Point: I think we knew that already.

Still no Streetside though.

Yes we should have the app in apps list in first place, and option to select it as default mapping app on Lumia devices..

Well, thats another issue. If you try to navigate with custom URI using IE's addressbar, it will complain "Unsupported address". App link works, when you tap on it on webpages or emails.

You can get it back by downloading"maps" from the store http://www.windowsphone.com/s?appid=763581b5-5c70-4009-99ce-39d49991039d

It's still the exact same app.

Well good news, this isn't a maps app, maps from the store is just a link to the microsoft Bing Maps. Just like you can download apps which create live tile links to settings like bluetooth and wifi.

No, all maps on Windows Phone 8 use HERE data.

There was on WP7. But with 8 they licensed nokias map app which in my opinion was a step back user interface wise. The offline map data made it a worth while upgrade overall though.

It's the default maps app, although it's hidden in Nokia Lumias. I hope they'll do something for this with the MS & Nokia merge.

3D view is cool and all, but how many cities are actually supported?

http://apps.microsoft.com/webpdp/app/75ce2a6a-8a25-4916-83d0-19b8e7b60787

http://www.bing.com/dev/en-us/maps-preview-app That's all the cities that currently have a 3D view, curiously London doesn't have one and Portsmouth, UK is labeled as Southampton, UK.

This sounds great. I almost never used the original W8 map app because it felt like the web version was better and easier to use. I'll be glad yo give this new one a shot.

When will this come to windows phone? O.o

We need something like this on Windows Phone actually. Great looking.

HERE on Nokia devices, Google Maps on the PC.

What is under the hood ? HERE ?

Yeah, Bing Maps uses the HERE Maps data from Nokia ;)

Okay, Now MS is looking serious. Goodbye google earth, hello Bing Maps App :D

some one knows if there will be a way to migrate favorite from google earth to bing map? (i have a lot, all my clients...)

was forced to use google due to Bing maps sucking so bad, but now it looks like i can limit my google use to only youtube

Haha, pretty much same here.. MS really needs to purchsse Vimeo and make it Bing Video :D

I was forced to use google(plus a 3rd party app created by a local dev) for their bus schedule data till near end of this summer when nokia got access to our municipality's data api. to bad most stops were moved temporarily during construction which is still going on unfortunately.

This app unavailable in your region. Tipical Microsoft.

Same in Sweden but I downloaded it anyway. Just change region temporary to USA while downloading. The maps are awesome!!

Microsoft expects us to buy all their products,so should we not expect,if not all,at least a majority of their FULL services? Is that too much to expect?

Search 'region' from the charms bar, select the first option, change region to United States, download the preview, change it back to your original country.

Yes i have made the same but is annoying .

No one should have to do that.

Microsoft have every right to roll out their betas in a regional fashion. If it hadn't been covered on a blog that you could read you wouldn't even know about it.

Well this is more of a late Alpha than a Beta.

Even more of a justification for a gradual rollout.

No windows phone version ?

It's a preview, I expect it will come to Windows Phone when it's complete.

Is it possible to pull GPS data over Bluetooth? Linking to a phone, then with all this map data on a tablet makes a better replacement of a real map book than a phone. Save space on the phone too.

How do you mean? How would this be different than downloading the data via Wifi?

Not impressed. Uninstalled.

Would you kindly tell us what was wrong with it?

I hope you provided feedback before uninstalling!!

Niiiice. Been looking for a good alternative to Google. HERE maps never made the cut - their data is too old and too frequently inaccurate. Bing and Google have always been much more reliable in my experience. Kudos to MS, now I just hope they bring this to WP

Bing Maps' data is HERE Maps' data.

Really?! Source? I find this hard to believe as many times I search for something in the HERE Maps app and end up switching the Bing Maps to actually find it. Does MS combine their database with HERE or do they solely use HERE's data?

It's fairly common knowledge here. HERE Maps provides most of the data, though I'm sure Microsoft augment it a little in the US.

Hmmm. From my experience it must be supplemented as Bing Maps is FAR more reliable than HERE Maps. My experience has been limited to the West Coast, NE US, and Yucatan Peninsula in Mexico. Every single time that HERE maps did not have data or sent me to a wrong location, Bing Maps pulled through with accurate info.

In terms of the birds-eye view and satellite images, Microsoft sometimes pull in their own sources (exclusively for birds-eye). They also add extra POIs, mainly in the US. But all street and navigation data comes right from HERE as far as I'm aware.

Look in the bottom corner in the app it says: ©2013 Microsoft ©2013 Nokia

Cool cool, thanks. Not trying to deny HERE's invovlement, just don't believe that this is purely HERE powered. I have to believe, based on my experience, that it is supplemented by Bing's own data. This would only make sense, experience aside. All the more reason to use Bing Maps instead of HERE to find places and use HERE Drive+ for turn by turn navigation.

If you go to japan, the Nokia copyright disapears so it's not only here data indeed.

To the author.... Another thing to mention is that the text on the map is much clearer than with the old version! This is a big deal and should be in the article, beacuse I have always believed that Bing Map text was quite blury. Not anymore! Thanks.

Not only that, but in general it's also optimized for HiDPI displays. This is the first time I've seen Bing maps this high res. It's just breathtaking on my rMBP!

This is cool. Pretty much like Here Maps 3D, but with more cities and proper touch interaction. Very slow on Surface RT, but I guess that's to be expected.

Yeah it is slow on Surface RT although to be fair it's a preview so it's far from finished, I would expect performance to be improved before it's rolled out to devices.

I bet these new map apps would look nice on a white Nokia 2520. But alas, Nokia missed the marketing potential of releasing white and cyan with that gorgeous red touch cover for the holidays! Guess I will have to buy a Samsung product instead! Everyone who handles the Nokia Supply Chain should be fired! David Bozic

Will it replace the current Maps app eventually? when it gets out of preview perhaps? its slow for me, I got an Asus vivotab RT.

Yeah it is slow on Surface RT as well but it's a preview so issues like that are to be expected.

This is my question too: when this is no longer 'preview', will it simply become the pre-installed Maps app on Windows 8.1?

Yes, it will. Eventually it will replace the Maps app that's pre installed.

But can you input multiple destinations? This is one of the primary reasons I keep having to use google maps. I'm excited about the street side view though! Movin up the world!

Why isn't this app available in the Belgian Windows Store?

Awesome. Just one of the reasons I can't wait to get my hands on my surface 2.

I wish the Bing Maps website would work/look just anywhere close to that. If Microsoft could push Bing marketshare by making the website as intuitive as their apps, by adding Bing news, weather, finance, sports, maps and Bing smart search with Bing Heroes to Bing.com in HTML5. And more usage of Bing would make the Bing search better and therefore bring it closer to Google. I know Microsoft wants to make these apps an "exclusive" feature for Windows 8 and WP, but that is just stupid. For many, Bing is more of a tumor than a feature. The only way to make Bing more appealing is to make it more innovative, because it cant beat Google in terms of results and algorythms. It simply doesnt have the daily usage for that. And so far, my Bing maps experience was horrible. No way to easily save my home location so I can search for things in my area, no integration with adresses from the outlook.com contacts, and no street view images available at all in my country. Im not even mentioning 3D buildings.

OK little update: That new app is AMAZING. I live in a small town in Germany, and MS actually HAD A 3D MODELL OF MY HOUSE INCLUDING THE TREES IN MY GARDEN!!! FOR EVERY SINGLE HOUSE IN MY WHOLE TOWN!!! (For some reason for very house in the town except one district right next to mine, whatever). Really didnt expect that. Now bring it to Windows Phone and sync favourites etc!

I'm personally just amazed it actually finds local shops and resteraunts now! It couldn't find ANYTHING before, was absolutely useless for searching anything but a street address. New app is definitely an improvement.

It still doesn't have public transportation info for Edinburgh, which means I'll have to keep using my phone's HERE Transit to get it. Unimpressed.

I'm sorry, but when the first thing I notice is a restaurant that literally closed 14 years ago, I'm not impressed. POI are horribly out of date- astonishingly bad compared to Google Maps. This is for Calgary, Canada.

Satellite view is horrible! amusement park that was built in Galveston on the pier about two years ago still not there. I swear the satellite view is about four years old (in my area at least). I'm all in with microsoft but the update cycle for satelite views of the maps is severely lagging behind google.

Impressive start! I was waiting for a Google Earth alternative and Microsoft has just delivered! Keep it up!
Windows Central Newsletter
Thank you for signing up to Windows Central. You will receive a verification email shortly.
There was a problem. Please refresh the page and try again.