Map the world with the awe-inspiring Bing Maps 'Preview' for Windows 8.1
Microsoft's Bing Maps for Windows 8.1 is a breathtaking experience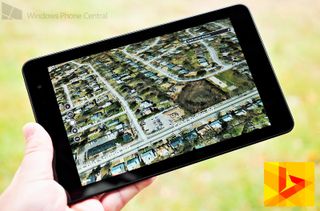 The preinstalled map app within Windows 8 is quite good, but it comes nowhere near the detail and quality of map resources supplied by Google's own mapping service. Microsoft intends to fix that idea and has just released their "Bing Maps Preview" application to the Windows Store.
Simply put from first impressions - we are impressed.
The new Bing Maps Preview app gives higher detail and clarity for satellite imagery, new Streetside view (Microsoft's equivalent of Google's Streetview) support, and interactive 3D scenery.
Microsoft's data pipeline has been "crunching petabytes of imagery" to deliver the best possible mapping experience. Due to an advancement in technology, the company has claimed that their automated pipeline can process and push pixels at an astonishing speed. In just "a matter of weeks", Microsoft states that their pipeline has already processed 121 trillion pixels to create the 3D scenery. In addition to Microsoft's pipeline data, the company has gathered a variety of "world builders" including those in the video game industry and experts within photogrammetry.
The new app also takes better advantage of both touch and mouse input; users can easily fly through the map and use their fingers to "touch it, tilt it, or turn it". Our first impression of the app shows smooth operation and simple, yet powerful, navigation controls.
Microsoft's latest implementation of Streetside view introduces a new feature known as "bubble view"; using this feature, you can see a preview of what is on the street without leaving your larger perspective view. Within Streetside view, you can use arrows and labels, which help you navigate the maze of whatever city you wish to explore.
The Bing Maps Preview also gets more personal. Easily search for your favorite stores, restaurants, and more within the app, then view a new overlaid view of your search.
If you have a common commute, you can setup new Traffic Notifications that will alert you via a pop up notification and/or live tile about your commute. The feature is similar to what we have seen in Nokia's HERE applications on Windows Phone.
Lastly, just as you have come to love Local Scout on your Windows Phone, it has now made its way to the Bing Maps Preview. You can quickly find nearby places of interest; in addition to standard points of interest, Local Scout can deliver personalized results based on "when you're signed in, based on what you've been searching for, what your Facebook friends enjoy and what's popular in the area."
In addition, just as Local Scout on Windows Phone connects you to other external applications, Bing Maps Preview can launch apps such as OpenTable if you have found a restaurant and would like to make a reservation.
We didn't feel that a map revamp was at the needed top of the list for Microsoft, but we are happy to see they are working on every aspect of the operating system. We are excited to see Bing Maps Preview leave its current phase and become the default map app for future Windows 8 users.
What mapping services do you use – Bing, HERE, Google, MapQuest?
Grab Bing Maps 'Preview' for Windows 8.1 here in the Windows Store.
Source: Microsoft
Get the Windows Central Newsletter
All the latest news, reviews, and guides for Windows and Xbox diehards.