Microsoft introduces new Skype Preview app for Android and iOS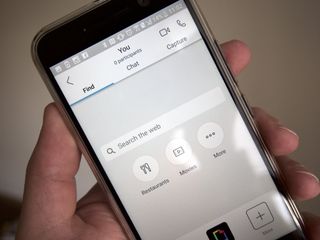 The Skype team has announced a new Skype Preview app for Android and iOS is now in testing. The app features a full revamp that packs in plenty of new features for expressing yourself and sharing with your contacts.
In its blog post (opens in new tab), the Skype team highlights 4 main features of the new Skype Preview, with a heavy emphasis on reactions. Both in-call and messaging reactions are supported, with the former allowing you to add live emoticons, live text and real-time photos while in a video call. Messaging reactions let you add a reaction on specific messages to voting, show excitement or just add some flair.
Also highlighted is the app's integrated camera, which is just a swipe away from chat and lets you, again, quickly add emoticons, stickers and annotations to your photos before sharing them. Sense a pattern here?
Perhaps most interesting is a new Find panel, which let's you quickly search and share things from the web with your contacts. Like the camera, the Find panel is just a swipe away and lets you quickly look up things like new, sports scores, weather and videos and share those links and information with others.
If you're interested in checking things out, the Skype Preview app is already available on Google Play (opens in new tab) to download and test. Meanwhile, the iOS version is only available in a fairly limited preview through Apple's TestFlight program. You'll have to sign up to be a Skype Insider (opens in new tab) for iOS and hope you get lucky.
Download Skype Preview at Google Play (opens in new tab)
Windows Central Newsletter
Get the best of Windows Central in in your inbox, every day!
Dan Thorp-Lancaster is the former Editor-in-Chief of Windows Central. He began working with Windows Central, Android Central, and iMore as a news writer in 2014 and is obsessed with tech of all sorts. You can follow Dan on Twitter @DthorpL and Instagram @heyitsdtl.
New LinkedIn for windows ?

wait until the Surface Phone is out, than LinkedIn UWP will be released :-)

"99.6% of new smartphones run iOS or Android; RIP Windows and Blackberry" -- http://preview.tinyurl.com/jyxrlyz ​The Surface Phone is a myth!

The quoted data doesn't prove or disprove your conclusion.

Just like 99.6% of all smartphones were once Blackberry and Palm? ;)

and Windows Mobile. I think Palm OS-based phones had a smaller market segment than either BB or Windows Mobile, but in the later years, many of those Windows Mobile phones were running on Palm hardware (e.g., Treo 750w, Treo 800w). Samsung actually made some great Palm OS phones before the Treos become popular. I had the SPH i300, SPH i330, and an SPH-i500 flip phone (if I'm remembering the names right).

Yes I owned them all and none exist today which was the point I was making.

@modwheel, yeah, I'm with you. I was just supporting you that even Windows Mobile was once dominant and the fashions of phone preferences can change dramatically, so the argument that Windows Phone is "dead" is meaningless.

These days, you even have to watch out for Windows Mobile related news on Windows Central: The last one is more than 2 days old btw! ;)

yes.. now all your voice calls are saved on ms servers.. great for private calls..

Does this include the texting feature from W10 Mobile??? If so, I've been waiting for this!

Thanks. Don't know why it gets downvoted but who cares.

Doesn't yet but I think they've said it is coming for Android, unsure on iOS - Depends if the APIs needed are available there. They are for Android as there are other apps out that already do SMS relay between Android and PC

Skype preview for Windows needs a button to sort contacts only by online status! I don't want to see 100 offline people. Is this really hard to make?

Its now Android iphone first. Sometimes i wanna trow my lumia 930 away.

Its now Android iphone first. Sometimes i wanna trow my lumia 930 away.

We had Skype Preview on Windows for more than a year now?

That's even more infuriating. We've had a long preview that hasn't changed much. IDroid gets a new preview that is all new and feature packed, out of the gate.

Android preview was there for a while as well, although in a private preview - now it's just a public one. Not a fan of Skype at all but the current W10 preview just works for me. Not sure what you mean here given that these are still preview forms.

OK, the public preview JUST came out for iDroid. The public preview for Windows has been out for significantly longer and does not have the refreshed UI nor any of the new features of the just publicly released iDroid version. That's what I mean.

The UI fits with the OS so that's the reason why it doesn't look like the iPhone or Android versions. That also means that the features may be there in W10M but not in the same place. W10M also has an additional feature that isn't on the iPhone and Android versions.

Android and iPhone have the same UI? The accessibility of features in the UI, is itself a feature and there are new things that aren't in Windows. What unique feature do we have? SMS relay? That hasn't even been working for me, as of late.

Even better then....If the iOS and Android version have identical UI then they are designing with one of the two in mind and recycling it on the other - W10 has a unique design that fits the OS really well

I'd take the recycled design to have updated functionality.

SMS Relay now requires you to enter a PIN on the machine you connect to so that might be the issue

It's not prompting me to do that.

I've thought all along that the Windows phone UI was holding it back from getting cool features. It seems devs can do anything they want on iOS and Android with the UI but on Windows, you'd better tone down all that creativity and conform to a common boring shell. I think that's stupid and foolish. But who cares now right?

I miss Sketching and Location pin pointing in the current UWP Skype app. Plus, it STILL doesn't show a messages counter in live tile or lock screen.

But we've had skype preview for ages

Do people really want to wade through emotions navigation? My wife was again complaining about the added complexity of simply sending a text message because her iPhone now always asks about adding emotions before sending. Sounds like a tween fad forced onto everyone else.

Android just needs Microsoft Edge then we won't need WM anymore. Can we get Ballmer back?

Yes,true..Microsoft didn't care their own users, then why we?.. I love my windows mobile (1520) three years ago. But see everything coming first in android and ios even Microsoft apps also..please care Windows Mobile please Microsoft.project Astoria also MS stopped.hopefully waiting 3-4 years..everyone saying about Surface Phone , where is Windows 10 mobile? First stable current WP.

Hands up who uses Skype, will the message app return it worked great for its brief appearance or is Skype it now

Microsoft is giving away free 5,5" Surface Phones for students under 20, in India!

Pretty soon MS will pay us to switch to IOS and Nadella will become apple's ceo.

Microsoft they showing off the new language that will come on Redstone 3 that Skype shows how Windows apps will look like with project neon.

Bet this is probably better than what's on Windows 10 Mobile

It isn't, so there's nothing to worry about.

Current android version is better than wp skype preview

Nope, it's more confusing on Android compared to the old one.

It's definitly more eye catchingly beautiful and interesting than W10M.

I'm just wondering, who still uses Skype! WhatsApp, Viber... and so on. None of my friends use Skype anymore.

So you're saying, your friends are all around the world.

I use Skype preview. Love it ..... much better than that boring WhatsApp.

I still use Skype cuz the audio quality is still better than normal call, WhatsApp, Viber or Messenger call. Ironically, the phone app is good enough, the app in desktop tends to go haywire.

Skype is useful as a service, but it's the most frustrating experience as part of the Microsoft product line. Windows 10 is awesome. Office 365, SQL, Azure, Xbox, Cortana, all great. Compared to all of those Skype is so disconnected in both feature set and design. Just look at the preview for iDroid. It looks nothing like a MS product. It's like reading a book and you're getting pulled into the story. You care about the characters and the plot. Suddenly a spelling error occurs and you are remarkably aware that you are just reading. It pulls you away from the experience.

You saying about UI . But look different between features..

Makes the Windows Mobile version look embarrassing in comparison and I bet it works well and isn't a painful ugly experience. The Windows Version you can't even move the pop up window of your own face to a more suitable place on the screen. At least on WhatsApp Video calling you can but even on there whoever I'm talking to complains about how poor my video comes through to them. Id hate to even attempt it on a lower end model than my 950xl

I like the UI on Windows 10, it's consistent with the OS mostly - Still need to fix some things like the dial pad that slides out but overall it fits quite well.

Where is the Windows Mobile version of this? LinkedIn? Yeah nowhere to be found...

The Windows 10 Mobile has been in the store for like a year now

It will work 10 times better on every other platform but their own.

Normal android skype app is better than WP app, then preview is more than older app.

Trying the Android version and it does seem to be a big improvement in launch and load times over the old build. The first pretty glaring omissions seem to be that there's no way to see your usual Skype friends list and there's no way to see a Skype user's online status. Almost makes me wonder if they're going to deprecate those functions...

Didn't Skype Preview on Windows 10 have online status missing at first too? or maybe that was just your own status, can't remember

The only thing I know is that Skype doesn't work properly on Windows Phone.

They breastfed only for neighbors kids. Their children's are crying

so windows skype never got out of preview and already outdated. yep...gl microbrain, the day i will switch i will never come back

Who cares ....? Please leave and never come back..... LOL

You communist old man, i got the right to express my opinion or to state my inconvenience as a customer. You shut up.

And I don't have that right?

I got tired of Skype BS. I switched fully to Hangouts.

Haha, not even Google employees use that anymore.

This new preview version is nice but it's NOT what I'm looking for. MS released Mingo with has texting, but it doesn't include SMS Relay like I had on my 950XL. Hopefully they can finally combine Mingo + Skype and add the sms relay in sooner than later. I remember feeling like MS paid more attention to iOS and Android when I was using the Lumia, now on the other side it feels like the opposite.

I really want the sms relay back as just switch to android from wp.. but all in all it really just is a better experience over here.. I've loved wp, and loved android and switched back and forth, but when comparing, wp will just not keep existing.. they are so far behind it's amazing they are still doing wp in the first place.. I was one of those soon fan boys, and still adore Microsofts tech, but the mobile side of things is a zombie kept alive..

Have you tried "MySMS" - A friend used to use it when he had an Android phone, he has an iPhone now. https://www.windowscentral.com/e?link=https2F%2Fclick.linksynergy.co...

How about fixing the Windows 10 version first? The tile still does nothing for me. Its just blue and static.

Try reinstalling.
After one of the recent updates, tile notifications went from just an asterisk to an actual number count.

Why bring this crappy app to actual established platforms, other than to get actual user data because we have none?

Android also has Skype Mingo in Alpha testing, which bundles all sms, skype, calling into one app. I use it and its coming along nicely, hoping they add sms relay back soon. BTW my MS services sync better to windows 10 than my Alcatel 4s and Elite x3.

Is there a way to join the Skype Mingo testing?

Looking at comments, it seems people are forgetting MS is software company first. MS is doing where business is, putting services to users. Once hardware clicks we would see native apps coming to windows first.

Allow me to make Skype my default SMS app on Android!

Company who produce mobile phones doesn't realise app for their platform. Just great.

And as usual MS apps looks better on iOS and Android...

No texting via pc through skype?
Windows Central Newsletter
Thank you for signing up to Windows Central. You will receive a verification email shortly.
There was a problem. Please refresh the page and try again.