Using an iPhone X in the Microsoft ecosystem
Is it possible to comfortably use an iPhone while living entirely in the Microsoft ecosystem?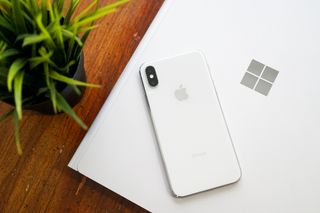 (Image credit: Al Sacco | Windows Central)
I'm all-in on the Microsoft ecosystem. I use OneDrive, Windows 10, Outlook, Office, and pretty much every other Microsoft software and service under the sun. Most people know that for the best Microsoft experience on a smartphone, you'll likely want to go with Android as apps have more control over the OS and as such can integrate themselves as if they were native experiences.
But what if you're not a fan of Android? As Microsoft is no longer focused on Windows 10 Mobile, the only other real alternative is for the best Microsoft experience in your pocket is iOS. So, what's it like using an iPhone as a user in the Microsoft ecosystem? I recently switched from an Android phone to the iPhone X to answer this very question.
iPhone X setup
For this write-up, I'm using a 64GB Space Grey iPhone X. In case you're wondering, yes, the iPhone X is a beautiful, premium bit of hardware. Sure, it's expensive, but you get what you pay for in this regard. Not one person I know has been disappointed with the iPhone X's hardware, even with the silly notch located at the top. The device feels beyond great in your hand, and also has a bit of weight to it which I also like.
Setting up the iPhone is pretty simple, but you will be required to setup an iCloud account with Apple if you plan on using the App Store to download things. You can use your Outlook account as an iCloud account, which is nice. No need to set up separate iCloud email, meaning you can retain your one email address and have that on the phone.
Once setup was complete, the first thing I did was jump into the settings to make sure iCloud wasn't backing up my photos, video and documents to its servers. I'll be using OneDrive instead for this. If you want to go total extreme, you can also turn off iMessage and FaceTime too, however that's probably not worth it if you have family or friends who use those services.
Then I made sure my Outlook email wasn't being used in the iOS Mail app, as I'd be using Microsoft's own app. I did the same for Calendar, Notes, iWork, Siri, Reminders and Health. In short, I gutted most of Apple's stock apps and services with the intention of using Microsoft's own.
The newest version of iOS allows you to remove/disable several stock apps that come installed on an iPhone. With that in mind, I went ahead and began removing apps such as Mail, Calendar, FaceTime, Notes, Maps, News, Reminders, Videos and iBooks. We will be replacing what we can with Microsoft-made apps instead.
There are still a few apps that cannot be removed, such as Phone, Messages, Camera and the likes. That's to be expected, however, and removing them probably wouldn't help anyway. But with most of Apple's other apps out of the way, I could finally begin downloading Microsoft apps. Removing several of Apple's own apps does pose for some annoying issues down the line.
Microsoft apps on iPhone
Jumping into the App Store, I went ahead and just searched for Microsoft in the search tab. This brought up a long list of apps available on iOS from Microsoft. It doesn't take long to realize that Microsoft is definitely a software company first, with such dedication to a rival platform being almost unprecedented in today's age. There are what seems like hundreds of Microsoft apps available on iOS, and they're not bad.
So, I first needed to replace the Apple apps I just removed, so I started with Outlook, which I'll be using for both my email and calendar apps. Microsoft's Outlook app for iOS is pretty feature filled, with direct access to OneDrive and my contacts for quick emailing and sharing of documents. It's a very self-contained app, and one I was happy to see on iOS.
So upon downloading the app, I was asked to sign in with my Microsoft account. In doing so, I had to type my email and password, and then enter my two-factor authentication code before I could start using the app. This is something you'll be doing a lot when setting up your iPhone with Microsoft services because iOS doesn't automatically apply your Microsoft Account to Microsoft apps, unlike Windows phone or even Android. This was the first iOS annoyance I came across.
If you use the Microsoft Authentication app, this makes logging into apps a little less tiresome if you've got two-factor authentication enabled. Microsoft has an Authentication app for iOS, which is basically identical to the one found on Windows phone. It works well, and will be handy when logging into new Windows PCs or services that you use with the Authentication service.
Up next, I went ahead and grabbed Microsoft Edge for iOS. Since I use Edge on Windows 10, I want to have all my synced favorites, passwords and browsing history on my phone too. The Microsoft Edge app on iOS offers everything you would need in this regard, along with a clean UI that features both a light or dark mode. It also has a feature that allows you to send webpages from your phone directly to Edge on your PC, pretty neat!
Then I turned my attention to Office and OneDrive. As you probably already know, Microsoft has a nice selection of Office apps on iOS, including Word, PowerPoint, OneNote and Excel. I'll be using these apps in place of iWork and the Notes app.
The Office apps seem to be on-par with the Windows phone and Android alternatives, which means you're not missing out on any functionality when switching to an iPhone. Each Office app has direct access to your OneDrive, and OneNote has a handy iOS widget that allows you to create a quick note with ease, similar to the quick-note toggle in the Action Center on Windows phone.
OneDrive is another app I installed, but only for the built-in photo and video backup. I've always backed up my photos and video to OneDrive on Windows phone, and I wasn't planning to stop now. OneDrive has camera backup support, which is likely a must have for many of you.
Next up is Skype, which I'll be using in place of FaceTime. I use it for video and sometimes text conversations. It won't be able to house SMS messages like on Android or Windows phone, so you won't be getting SMS sync between Windows 10 desktop and your phone, but that's something I can live without.
Cortana is a pretty big one for Microsoft users, and I can happily say the Cortana experience on iOS is perfectly fine. Arguably, it has a better UI than it does on Windows phone, and most of the functionality is there. It won't sync notifications to and from your Windows 10 PC, unlike on Android or Windows phone, but it will pop up reminders and can do most voice commands and web searches. Cortana also has a widget that you can pin to the widgets area that gives you an overview of your reminders. You can't replace Siri with Cortana, however.
Not having SMS and notification sync between your Windows 10 PC and phone might be a deal-breaker for many of you. Indeed, I thought it would be for me, but I don't miss it. It wasn't all that reliable to begin with, and I really dislike the Skype Preview SMS experience. I never used it on Windows phone anyway. This definitely comes down to what you want from your Microsoft ecosystem experience. Do you want synergy between devices? On an iPhone, you don't get that synergy, but you do get a great mobile experience.
Other Microsoft apps I installed include Xbox and Mixer for gaming, GroupMe for communication with some of the Windows Central team, and MSN News as my news app. All of those apps work just fine.
The last "app" I installed isn't really an app, but rather a keyboard. Microsoft makes its own iOS keyboard called SwiftKey, and to my surprise it works rather well. I recently tried to use SwiftKey on Android, and found the experience to be dog-awful. On iOS, however, SwiftKey is great. It's fast, clean, and even has an adaptable UI that will switch between light and dark modes to reflect the UI of the current app you're in. It looks sweet!
It also offers all the cool, relatively useless statistic data that you can go in and look at if that's your thing. The SwiftKey keyboard will be used in most places of the OS over the built-in one, expcept where the text field is marked as "secure" by an app. In this case, it'll default to the built-in one, which isn't so bad.
So … that wasn't too bad
With all of Microsoft's apps installed and being used in place of Apple's own apps, I was happy. However, this experience is not without some annoyances that pop up from time to time.
Apple still doesn't allow you to set default apps on iOS, so even if you remove the stock Mail or Calendar apps, when other apps call to add an event to your calendar, or open an email to compose, it'll look for the stock apps and tell you they aren't installed. One way around this is to manually copy an email or create an event, which is what I've been doing. It's not a major issue, it just means you have to take a few extra steps to get some things done.
This also means you can't set Edge as your default web browser on iOS, and you can't even hide the Safari icon. Clicking on a link in most apps will either take you to a built in browser for that app, or switch you to Safari. Some Microsoft-made apps such as Outlook do allow you to specify whether you want links to open in Safari or Edge, however.
The iPhone X does introduce a new system for navigating the UI. No longer do you hit a home button as found on Windows phone or Android, instead you swipe up from the bottom and use gestures to get things done. At first, I was skeptical that this would be hard to learn and more cumbersome than jut hitting a button, but I was wrong. In fact, the gesture-based navigation system on iPhone X is better than anything else the competition has to offer.
In short, moving to iOS with the iPhone X as a Microsoft user isn't all that difficult. Microsoft has made the transition easy with great, powerful iOS apps, and Apple also helps by allowing you to disable several of its services and apps out of box. I'd say the experience is almost perfect, apart from not really having any synergy between your phone and Windows 10 PC, and the default apps issue.
You'll also be missing out on Microsoft Wallet, but that's probably not something many of you care about considering it's only available in the US. Instead there's Apple Pay, which works well enough.
If you're a Microsoft user looking to make the jump to iPhone, I say it's doable. If you're OK with not having notifications or SMS sync between your phone and PC, and are OK with a few extra hurdles with default apps, I say go for it. If you can't live without live tiles however, don't. iOS app icons only offer a notification count rather than actual info. Apple isn't perfect, after-all.
Updated 20 February 2018: What's like like using Microsoft apps on the iPhone X? Let's explore.
Get the Windows Central Newsletter
All the latest news, reviews, and guides for Windows and Xbox diehards.
Zac Bowden is a Senior Editor at Windows Central. Bringing you exclusive coverage into the world of Windows on PCs, tablets, phones, and more. Also an avid collector of rare Microsoft prototype devices! Keep in touch on Twitter: @zacbowden.