Microsoft and Samsung join the board for Qi wireless charging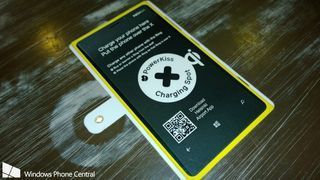 Qi wireless charging is heavily supported with Windows Phone, especially since Nokia utilises the technology in most of its premium Lumia smartphones. Today, the Wireless Power Consortium announced that both Microsoft and Samsung Electro-Mechanics (a subsidy of Samsung) have joined the board.
This board drives Qi's adoption across mobile hardware and other technologies and the move for Microsoft makes sense as the company prepares to take Nokia's hardware division.
The two parties join the likes of IKEA, ZTE and others. The main rival of Qi, PMA is also attempting to attract companies to its own board, which has seen AT&T include PMA wireless charging in the Lumia 1520. With both Microsoft and Samsung more involved with Qi, we can expect to see further development across multiple platforms and industries. WPC states that the new recruits are taking "a leading role supporting the widespread adoption."
Overall, it's a sizeable win for Qi and WPC with Microsoft looking to lead Windows Phone and Samsung already dominating the Android space.
Press Release
PISCATAWAY, N.J., March 10, 2014 – The Wireless Power Consortium (WPC) announced today that Microsoft and Samsung Electro-Mechanics have joined its board. The WPC board drives Qi's adoption across mobile devices, cars, infrastructure, accessories, and products as the leading standard for wireless charging worldwide.
"Microsoft and Samsung Electro-Mechanics are important players in furthering Qi's adoption in more devices, cars, products, and places," said John Perzow, Vice President of Market Development at WPC. "Qi leads the way in wireless charging with the fastest advances in inductive and resonance technology while ensuring compatibility with the entire 40+ million strong Qi ecosystem. That means that today and tomorrow, Qi products will continue to have the best features and will always work at any Qi charging spot, in the home, office, car and public locations."
As Microsoft and Samsung Electro-Mechanics join the WPC board, WPC's membership continues to significantly grow in the past few months, with new members including IKEA, ZTE Corporation, Aircharge and many others. This growth continues the development, advancement, and adoption of the Qi specification.
Mobile carriers around the world including Verizon Wireless, Sprint, T-Mobile, China Mobile, NTT DoCoMo, O2, and Telefonica, are contributing to the adoption of Qi by selling tens of millions of phones integrated with Qi wireless charging. Consumers can now choose from over 60 mobile phones, tablets and accessories, including the Samsung Galaxy S5, S4, and S3; LG Google Nexus 4; Google Nexus 7; Nokia Lumia 1520 and 1020; LG Optimus G Pro; and HTC Droid DNA.
Qi is the only integrated wireless charging solution available in vehicles. Qi is integrated in the 2014 Jeep Cherokee; the Toyota Avalon, Prius, and Harrier; and Ssangyong Chairman. Recently, Audi unveiled its updated Phone Box center console featuring Qi. Daimler has also announced that Mercedes-Benz will be introducing Qi compatible charging for phones and tablets in its cars in 2014. CE4A, a working group of leading automobile manufacturers, made Qi the wireless charging choice for Audi, Mercedes-Benz, BMW, Volkswagen, and Porsche.
The Qi standard ensures interoperability, regardless of manufacturer or brand, and offers simplicity, convenience and flexibility. Qi is backed by more than 200 leading companies of the WPC, and continues to grow as the global leader in wireless charging.
Windows Central Newsletter
Get the best of Windows Central in in your inbox, every day!
Rich Edmonds was formerly a Senior Editor of PC hardware at Windows Central, covering everything related to PC components and NAS. He's been involved in technology for more than a decade and knows a thing or two about the magic inside a PC chassis. You can follow him on Twitter at @RichEdmonds.
Yeah, let's see what excuse AT&T has now to try to drop this, as if we don't know that they're waiting for Apple to "invent" wireless charging to adopt that instead.

AT&T already supports a Qi competitor, PMA.
That would be their reasoning.

Yeah and ATT butchered the 1520 with their own specs...

My 920 contract will be due for renewal at end of the year. If ATT cannot release a 1520 variant with Qi, I hope someone else will and I will switch. This news is refreshing esp given the fact that Microsoft and ATT are pretty collaborative, rest time will tell.

QI mod (I know the risk) is only like $40 and I bet by the end of the year the 1520 will have a different option.

Please tell me someone's going to start making a case with Qi for the AT&T 1520...? I bought into the PMA Incipio case thinking PMA would show up in public places, but in retrospect, that was stupid; I've got several Qi plates around my house, but have only ever seen PMA plates at stores costing more than I wanted to spend.

Some deals available because of AT&T's switch to PMA. Nokia charging plate for $24.50

AT&T supported Qi when they released L920. A year later, they suddenly switch to a different standard without warning when they released L1520. There is no apology from them and no compensation of any kinds either. What a way to do business! Now I will see how they deal with MS's Qi support decision. Either AT&T will drop MS or MS to drop AT&T? :)

I hope that MS opens up or expands to mobile and opens up kiosk to sell their devices and just bypass ATT.

At first I was wondering why this was a win for Windows Phone Central, then I was like ohhhh

Lol. Yeah. I had to check back too...

Why is it a win? This plane just went right over my head! =]

It's in the first sentence of this article. :)

Oop, I thought that went without saying! Got it, though! =]

Good, hooked on qi thanks to the 920, my next phone will have it to

*920 Eagerly awaiting next models and have to be Qi.

My USB charging port in my 920 melted due to a cheap defective cable. Qi charging still works though. Holding out for a device with qi charging again

Alternative power WIN! edit: do you use the Jbl power up?

+1 to that!! MISS IS DEARLY WITH MY 1520!!!!!

Me too, I just ordered a Qi car charger to go along with the one I have at home.

What Qi car charger did you buy? I am on the fence about buying one for my Icon because I've heard some don't charge fast enough recharge with Sat Nav and BT streaming running.

Cr-200 charges icon great .. Full charge while running waze on hour drive to work. Need to mod holder not to hit cam button though

I don't remember, I haven't gotten it yet.
It was some Chinese knock off I'm sure.
I mainly chose it based off of it's cheap price and the way it holds the phone.

Yaa.. Hopefully we can now move towards a common standard..

Yeah that's all I care about. I have a few Qi chargers but otherwise im not too invested. So I don't care who wins as long as they win quickly. So far it looks like that might be Qi.

Miss Qi on 1020 :(
Used to love it on my 920.

Buy a wireless charging cover. you can use the same charging plate.

Not only are the wireless covers for the 1020 ugly, but they are also slippery. Got one for my wife's white 1020, in black (sucks there is no white). Nothing beats built in. Covers are a joke and insult to the consumer. I'll assume it was an ATT decision to screw us over.

I've been using my wireless charging cover for my 1020 since it came out and have never taken it off. I don't have a problem with mine. Half the time, I don't even realize it's there. Do you own a 1020 with a wireless cover attachment?

That's right, my wireless cover fits perfectly on my 1020. i in fact holds it much better in my hands than bare back.

Agreed, not to mention the wireless plate on the 1020 barely protects the phone .

I originally never used Qi and just opted for using a cable. I recently picked up the DT-601, which is an updated version of the DT-900. Instead of that huge block, it can use a regular USB wall adapter, as well charge via a PC/tablet, etc. I can't go back to wired charging. I need it to be built in. If the L1520 and Icon is any indication, Nokia has listened and kept it built in.

Slippery? I've never had a problem with that. This puppy has never once been dropped. Ugly is in the eye of the beholder. Of course built-in would've been better, but this will do.

I've been using the official Nokia charging shell for my 1020 since day one and really don't notice that it's there.
I personally think that Nokia made the right decision to not include QI built in but to make it an option. Having owned a 920 as well I much prefer the 1020's design over the 920's.

This is good. I think one standard really needs to win out and I hope that Qi does. I really want to see wireless charging become a standard on smartphones, and I'm disappointed it hasn't so far.

It will. Why would we go back? I love wireless charging.

I don't know why and how Samsung is trying to stop the nokia-Microsoft deal and on the other side they both work together for many reasons.

Its simple really. Nokia has the patents for how many of the major hardware components in a Cell Phone function. Based on the software agreements android phone makers have signed with Microsoft, MS has the patents that outline the major inner workings of android or a critical component of the OS. So in theory, if MS wanted, they could make it significantly more expensive to produce an android phone than a windows phone with some slight increases in patent fees. Nokia could do much the same on the hardware side. Basically they could force a greater balance between Android Devices and Windows Phone based devices from a company like Samsung in exchange for affordable patent agreements. Microsoft hasn't generally taken this approach, but Nokia has been more aggressive with their portfolio in the past.

Let's just hope AT&T gets the picture. Cost them a sale of the 1520 to me. I could deal with the size, but i wasn't using a stupid charging cover, especially when the rest of the world doesn't have to.

1520 is too big anyway, but if the next one doesn't have Qi I'm probably going to head for Verizon.

ATT = show me the exclusive money...seem to not give 2 shits about end users

WPC=Wireless Power Consortium, not windows phone central ;)

I really don't understand how the hell AT&T didn't go Qi when damn near the entire mobile sector is pushing more towards Qi. I love ATT service but they just been doing dumb shit as of late.

Because qi at the moment cannot serve up adds as pma can. More opportunity for advertising with pma at the moment

You must not have read the article. The mobile sector is all moving to Qi. Regardless of what PMA offers what mobile devices you know is running PMA and what mobile accessories can you get for it?

have you tried to ask them?

Ask them what? Why they went. I know why they went from past article. How they didn't go Qi when the entire mobile sector is moving in that route is what I don't understand. There's a difference...

It's pretty simple... ad revenue. AT&T wants it.

And has it done for them? One PMA phone and nothing to show for it

I want a true wireless charger that can stay charge phone in 10m distance :p i will make it!

Yeah, the day whole house wireless power arrives will be a glorious occasion!

I wondered why wireless charging is such a hype. Is it only because you don't have to plug in a wire or are there more benefits? I like the idea, but how I see it, I'd rather plug my phone to a wire than buying expensive charging plates.

Don't knock it until you try it.

I agree. Right now, it's simply a convenience. It can't be moved, except for hovering right over the plate. But with my old L920, I'd always pull the phone and cable from the wall when I'd wake up. I bought a new L920 and additionally a Qi plate. I can't look back.

No charging plate on my 920.

They're not that expensive, particularly if you don't buy the Nokia branded chargers.
I found a Qi charging plate for $20, and just ordered a Qi car charger for about $36.
Have you ever bought a replacement charge cord at Verizon? Yeah, that's at least $30.
Anyway, its really just a convenience factor like Bluetooth or NFC (although the Nokia Qi chargers have NFC tags in them that trigger apps like alarms, Bluetooth, driving mode, etc.)... but it also saves the port on your phone which often goes out or becomes damaged.

More benefits. Try a NFC speaker such as the jbl power up speaker

Until you use it, it's really hard to understand why you might want to. Then you use it and you get it. It becomes a thoughtless process to charge your phone. When you pull it out of your pocket, instead of just setting it on the table or desk top, you set it on the charging plate. You don't have to find and mess with a cable, so you just automatically put the phone on the charger every time you set it down. You find yourself charging your phone every time you set it down because there is absolutely no hassle to do so. And then the phone rings. Instead of having to unplug it to answer, you just pick it up. Much less hassle. I know that comes across as sounding lazy or whiny, but once you've gotten used to it it's hard to imagine going back to using a cable.

Those arguments make sense, thanks for that. Maybe one day... :)

Down with Samsung, they're in bed with Google trying to kill the Nokia acquisition. They can take their focus, focus S, focus flash, and other unsupported WP offerings and shove it!

You can get over the bullshit now.

I'm trying to get over Samsung now, you can see your way out with them as well. Go get your GS5...See ya

What a hypocrite you are. SMH. You should go throw rocks at their buildings. You constant whining about Samsung is ass baad as DCBJ or whatever whining about NOKIA sell of D&S. I'll see you in the next Samsung article rant. It'll be like clockwork.

Any places/restaurants etc with qi charging in UK

Is the technology so different that a phone can't support both?

Not sure but I don't think it impossible. I read that PMA and AWP (the other unknown alliance) had merged or work together to make their tech compatible to rally against WPC. It looks like a losing feat for them as too much mobile sector from electronics and auto makers are moving to Qi.

I would think the money would be in making a universal charging shell that supported both.

Breath of fresh air. Maybe now those a$$holes at AT&T will stick with Qi instead of pulling the move they did with the 1520.


For the better part of the last year, I've been stuck downstairs in my grandmother's house as she's been in and out of hospitals and nursing homes, watching her dog who has separation anxiety. Downstairs, I keep a standard charger on hand. But when I'm back upstairs in my own apartment, I've been relying pretty much solely on wireless charging. I've used it with both my 920 and now my 925 with its red wireless charging cover. I'd much rather use the wireless charging plate over the regular charger for my 925 because I can't stand that the USB port is on top of it instead of at the bottom.

RIP PMA, at least I hope soon...

Att needs to drop PMA for real. what phone even supports it that they sell?! Honestly, the additional wireless adapter for the 1020 could be explained by the "heft" of the overall device, but because of those damn corporate suits I will be entrenched with my launch Lumia 920 or a unlocked world phone that supports Qi.

Thank you microsoft and samsung!!! Thank you! Oh, PMA, suck it!!!!!!! Its evolution baby! Weaklings like pma should die. QI is way to go

What is the original article to this image?
If I am a reteiler, where can I find some of those?...

never liked power mat.... bought one waaay before i got a 920... really bulky.... qi is built in... i have three... work, school and home... i always have a fullish battery and never worry about accidentally tripping over cords or breaking my micro usb port

It's a hassle to use this wireless charging cases. What happens if you want to use a protective case? It's annoying to switch back and forth. AT&T released the 920 with qi wireless charging in 2012, 3 years later 3 more flagship devices were released (925,1020&1520) w/o qi wireless charging. WTF?! The next Lumia better have qi wireless charging built-in. Look at verizons Lumia 928 and icon, they didn't remove that feature....

Damn you att! Your ruining your customers happiness more than you think!

I've heard many times that apple is reported to be on PMA's side, which might be why pma doesn't die. If apple brings out built in pma in the iPhone, pma will get a HUGE surge in support. Their market share isn't huge compared to android, yet around north America, there are more iAccessories than any other. Even the last dozen hotels I have stayed at have iPhone iPod docks. Car stereos with apple docks, etc. Apple has the brand power here, and can seriously influence purchasing decisions even if they don't have a majority market share.

I wouldn't be surprised if Apple developed their own proprietary system.

In fact, I would be surprised if they don't.

So is Samsung still on the PMA board cause they were originally

Will never again buy a phone without Qi wireless charging built in. I've been spoiled by my Nokia and HTC Windows Phones that have it. Seems pointless to those that don't have it. But once you experience the simplicity of it you will never again stoop to plugging in a cord.

Won't mean much to me if AT&T doesn't get back on board with Qi un Windows Phones.

I'm guessing manufacturing furniture with built-in Qi charging.

I guess I can see the benefit in that. A bedside table with built in charging would be pretty cool.

Why would Microsoft embrace QI when the other tech is proven better and superior? PMA allows for charging at a distance and charging multiple devices of different voltage all at the same time. With PMA you could park your electric car over the charging pad in the garage and have it charge all your devices and car at the same time. QI can only handle one device at a time and they must be touching. This is like when they embraced HD DVD all over again. That said I really hope AT&T does not strip the next Nokia of wireless charging. I have kept my 920 for this very reason.

Maybe Qi is cheaper to integrate? Smaller? Faster?

Good news. Att can't ignore it now.

ATT did NOT include PMA charging in the 1520. They removed fully integrated Qi charging and replaced it with the ABILITY to later add an external back plate that can add PMA charging. They didn't ship with any actual wireless charging....

Awesome! Fuck AT&T and their PMA garbage. Hopefully Microsoft has the balls to say no to removing Qi from future Lumia's on AT&T.

I have started a petition to get AT&T to let the consumer and manufacturer decide. Please sign... http://www.change.org/petitions/at-t-allow-qi-wireless-charging
Windows Central Newsletter
Thank you for signing up to Windows Central. You will receive a verification email shortly.
There was a problem. Please refresh the page and try again.