Microsoft Launcher's biggest overhaul yet is here
All of Microsoft Launcher 6.0's new goodies are finally out of preview.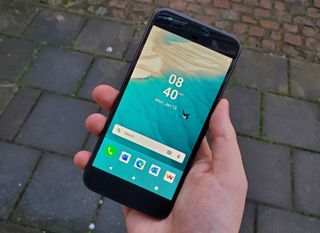 (Image credit: Windows Central)
What you need to know
Microsoft Launcher is getting its biggest overhaul since launch.
The app's 6.0 update is now rolling out for everyone with landscape mode, a fresh design, and more..
You can grab Microsoft Launcher 6.0 now from Google Play

(opens in new tab)

.
Microsoft has been cooking up a new version of Microsoft Launcher in preview for several months, and now it's finally available for everyone to check out. Version 6.0 of the app is now officially rolling out to everyone, and it comes with a refreshed design, new features, and more.
"This launcher is built on a new codebase allowing us to bring multiple new features to you – such as Personalized News, Landscape mode, Customizable App Icons, Bing-Supported Wallpaper, Dark Theme, and numerous performance improvements like speed to load, low memory utilization, battery optimization and fluent animations," Microsoft said in its blog post announcing the new update. Here's a full look at the main features of Microsoft Launcher 6.0:
Personalized news: Stay in the know. The personalized news feed updates throughout the day with top trending stories, making it easy to stay on top of whatever's relevant to you.
Landscape mode: Microsoft Launcher supports vertical and horizontal orientations to enhance your viewing preference.
Customizable icons: Give your phone a consistent look and feel with custom icon packs and adaptive icons.
Beautiful wallpapers: Enjoy a fresh new wallpaper from Bing every day or choose your own photos.
Dark theme: Reduce eye strain when using your phone at night or in low light environments. This feature is compatible with Android's default dark mode settings.
Improved performance: Microsoft Launcher now loads faster, uses less memory, is more battery efficient, and offers fluent animations.
This is a major update for the launcher that Microsoft has been working on for months. It also likely gives us a look at what the Surface Duo's out-of-box launcher experience will be like when it finally arrives.
If you're using Microsoft Launcher, you can grab the update now via Google Play. For those who were testing the Microsoft Launcher Preview, you'll start seeing a pop-up message that states the preview will be phased out by the end of July.
Windows Central Newsletter
Get the best of Windows Central in in your inbox, every day!
Dan Thorp-Lancaster is the former Editor-in-Chief of Windows Central. He began working with Windows Central, Android Central, and iMore as a news writer in 2014 and is obsessed with tech of all sorts. You can follow Dan on Twitter @DthorpL and Instagram @heyitsdtl.
I really like v6, except that the brightness control that used to be at the bottom of the dock is gone. Is there way to get it back?

I am confused. Is Microsoft shutting down MS launcher and going forward with MS launcher preview? Cus preview is still missing features like blur/blur settings in feed site and more. Also because the link in this article directs you to MS launcher not MS launcher preview. Which one is going to stick around so I can set up my phone with the future supported version?

The preview is the beta version of the app so they'll continue to test new features out before they send it to the normal launcher.

So they have a ms launcher preview app to test things...when these features is tested they then sends those features to MS Launcher Beta ( if you are on the beta program) to what? Test them again? .... theeeeen the features arrives at the Microsoft Launcher (non preview/beta version)... kinda confusing...?

The preview app was completely new code base, started from scratch. It wasn't for testing new features. Now that the new code is ready for public consumption, it looks like it's going away.

For tasks, does Launcher v6 use Microsoft To-Do or Wunderlist? The use of Wunderlist for tasks have prevented me from using the Microsoft Launcher.

Launcher already has some To-Do native integration, but it's not very good. I use a To-Do widget instead. Will see how it goes for v6.0, though.

Yeah to do widget is better IMO. But hope they improve the integrated one in the new update.

Wunderlist has shut down, so you should probably migrate at some point

Guessing it's rolling out in waves? I checked the Play store and not ready for me yet.

"It's here"? Well, until I can't get it allow me to think otherwise. Is "begins rollout" a bad headline for clicks? Because it's the truth. I'm getting tired of opening WC articles and reading that the title is not exactly true, or that the article lacks the information I need ("Everything you need to know").

Hope it's better than the previous versions. It was boring, not reliable and just blah!

I'm not seeing it yet
But why is the dark mode in the new features ? I already had it for quite some time.

Not there yet (in my Play Store region that is). It's still version 5.

Not here either. "it's here" is being a bit of a stretch.

Not live for me yet either. I like 5...but want to get ready for surface duo 😁

Recently tried MS Launcher Preview. It is miles ahead in terms of UI and overall smoothness. It is as smooth as any stock launcher. Animations are more fluid. It is just better overall.

When will they be adding Live Tiles, to keep up with the next iOS version?

This right here is comedy. :-D

Right, everyone dissed on live tiles and now apples doing it, pretty much anyway.

As much as i liked Live Tiles, it doesnt hold a candle to widgets in terms of functionality. Live Tiles looked better imo but that's about it. Disliked seeing previews on a tile that you couldn't even view. For the most part, Live Tiles is really just an aesthetic novelty.

Everyone dissed on live tiles because they were ugly, and they were not optional. Widgets are optional AND they look WAY better.

iOS 14 does not have "live tiles". Note that everything is NOT surrounded by a big, stupid blue square. BTW, are you related to Jeremy Reimer?

I am also not a fan of this version I prefer the older one. Surely Microsoft had feedback from Beta Testers saying the changes are not as good?

yes, the subreddit is filled with feedback about how bad this update is. it forced everyones icons to shrink, changed the font from a beloved segoe UI to an especially bold roboto, broke aspects of the app drawer, and the news feed is still much, much worse than google news because theres no real source or topic filtering other than hugely broad categories like "entertainment."

There built in calendar widget should have toggle to show all day events.

Waited a day then checked for new version -- nope. Chicagoland if that matters. Maybe a phased roll-out which the article's author should have researched. Found this in the blog post: This is a gradual rollout to general public so you may not be able to download immediately.

Actually there's version 6.2 available, at least for Android 10.

Not at the link, posted in the article (that, in my region, points to 5.11.5.56362). Would you care to post the link and mention, what region you are from?

Update doesn't show up for me

I still don't see the update. I would love to check it out.

Not seeing it in Europe. Article seems to be making an empty promise.

I'm in Montana US, not for me either, I have Android 10

For whatever reason Play Store still services me version 5.11

I like it but you now cannot see your hidden apps. I've had to add a two finger swipe up to see them. No way to see them in settings now.

Still does not support Android 10's gestures properly. But honestly, no 3rd party launcher does.

those features are only implemented for 3rd party launchers on pixel.

What is the special sauce to get this?
Im still on 5.11 and play store shows its the latest version.

The Google Play store is still linking to MS Launcher v5. I don't know why the article doesn't make that clear although the "in preview" hyperlink just below that takes you to another article with a link to get Launcher v6 preview (which presumably will start appearing in the normal Google Play Store for beta testers when it's feature-complete and out of preview. I have Launcher v6 on my S8+ and Tab S5e (had to go to the APK Mirror site to get it on the tablet). It's definitely more polished, but not feature-complete yet.

Personalized news is a welcome addition. I generally avoid the feed because I get a bunch of celebrity nonsense.

Still not available to me

Still not in the Canadian Store, but I'm sticking with Launcher 10 anyways...Live Tiles are the future (ask 🍎 Apple)

It's still missing live tiles. They should go the way of Launcher 10 in my view.

Anyone else having the problem with the Google App Store not having version 6 available?

Still only offers me 5.11, although the discription and images are of 6

Goin' on 2 weeks since the "release" of v6. So far in Chicagoland at least, its MIA.

August 1st. Still no sign of v6 in Chicagoland.

Hummm.... goin' on 3 weeks now since the launch(er) and still MIA to me in Chicagoland. Wonder if others in the USA have received the v6 update? I see reviews from others at the Play Store, so its "out there" but not in the States yet? Dunno.

Playstore says updated 7 Augusti but it is still on version 5.11.5
At least in Sweden maybe it is different in US.

Brainwave Music YouTube video mod dynamic wallpaper/screen saver with or without music enabled on mobile and pc/laptops enabled to prevent screen burn in and static sound speaker decay on both.

Just got the update. This is *not* good compared to what it was. It's more like someone made a cheap knockoff of Launcher. Sooo much went the wrong way:
* Quick set widgets not available anymore from the Dock.
* No transparency setting for the Dock
* No transparency setting at all for the Feed page. Now just varying degrees of opaque shading, starting at what looks to be about 20%
* Calendar page gone. Gets relegated to the *bottom* of the Home page stack, with no way to reorder except to delete any intermediate pages to let the Calendar come up, and then recreate what you previously had.
* The horrid heavy weighted fonts everywhere.
* The Search bar at the top of Feed page autohides with no control to turn on or off.
* Notification Badges broken in the Feed page Frequently Used Apps, while working on the Home Page Dock. Just a flippin' bizarre update. I can understand some of the change being in prep for the Duo (trimming to a 2 page only layout) but that has totally screwed with the experience on a "regular" device.

I agree especially regarding the font changes. I actually rolled myself back to v5 and just ignore updates. There was another v6 update in late September that mentioned some font changes but it's still visually a downgrade IMO. I actually started playing with Nova again as a backup plan...
Windows Central Newsletter
Thank you for signing up to Windows Central. You will receive a verification email shortly.
There was a problem. Please refresh the page and try again.