Microsoft launches Lumia 535 in India; available starting November 28 for INR 9,199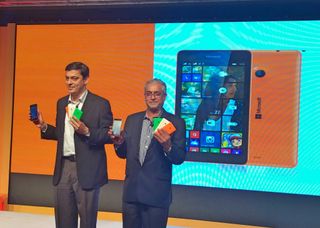 Lumia 535, the first Windows Phone from Microsoft, was announced earlier this month adding another affordable Windows Phone device to the budget Lumia range.
At a press event in New Delhi today, Microsoft launched the Lumia 535 in India. While the Lumia 535 sounds like an upgrade to the Lumia 530, thanks to 1GB RAM, front camera, and rear camera flash, it is a considerable upgrade over the Lumia 630 as well. The Lumia 535 that will be available in India is a dual-SIM version.
At the event, Microsoft also announced the transition of Nokia Lumia to Microsoft Lumia.
Lumia 535 Specifications
5-inch qHD IPS LCD (960 x 540)
1.2 GHz quad-core Qualcomm Snapdragon 200 processor
1 GB RAM
8 GB storage + 15GB free OneDrive storage
MicroSD card support (Up to 128 GB)
1905 mAh battery
Rear Camera: 5 MP AF with LED flash
Front Camera: 5 MP wide-angle fix focus
Windows Phone 8.1 with Lumia Denim
Smart Dual SIM
Lumia 535 goes on sale with five exclusive offers from local partners - Vodafone, BoxTV, Flipkart, Jabong, and Paytm.
All Lumia 535 owners on Vodafone subscriptions will get to enjoy 500 MB data internet pack per month, free of cost for 2 months. The offer is applicable for subscribers currently not active on internet packs.
Online shoppers can use the Windows Phone Jabong app on their Lumia 535 and get a total of ₹6,000 off on their purchase over a period of 3 months.
Paytm will offer ₹600 worth of extra charge on any recharge (@ ₹150 per month over 4 months)
eBooks worth ₹,500 free on Flipkart eBooks
2 months of BoxTV subscription worth ₹720 absolutely free
The Lumia 535 goes on sale later this week – November 28 – and is priced at ₹9,199 ($150). The Lumia 535 looks like a great, affordable Windows Phone device. We'll share more details as we spend some time with the device. What are your thoughts on the pricing, and would you like to pick one?
Wow...waiting for..535 only 2 days

Hoping there's a way to import. That's about $150USD through a rough conversion.

Try, maybe you get it on amazon.com

OMFG, I have been waiting so long for another welfare device. Thank the gods its come. My ravens are so tired of delivering messages. Now, when for India?

That's hilarious. I'm not sure if you meant it to be funny, but it is.

It is so cheap! I bought a 635 a week ago for about 190USD. I should've waited a bit more for the 535.

off topic but guyz if u love ur windows phone plz read this forum thread and post ur stories... thank u http://forums.windowscentral.com/general-microsoft-news-discussion/297475-so-what-made-you-pick-windows-phone-first-place.html

Wow time to upgrade from l520 to this phone

I suggest to Go for 730 for camera upgrade.

Camera is good and I have to pay 6k for for a 6.7 mp camera and amoled screen

and better CPU, 720HD screen, clearblack, 4G, larger battery capacity, SensorCore, and more...

For that extra 6k u get 720hd resolution,more powerful processor,bigger battery,clear black OLED display

And also processor changes for 535 and 730

LOL. I read it as 1520 :)

so did i and was shocked for a moment.. then realized he meant L520

L for .... (Only Indians would know about it)

Dolph LUNDgren is a famous actor..!!

Oh yeah, you were pretty fast with that!
...And you're right :P

TheFFK786 thought of it first not me..!! BTW even ye were fast enough to get it..!!

Brain works faster in subjects of interest, no wonder why we were fast! :P :P

I would rather be interested in the opposite *thing* of *L*..!!

I wouldn't make that switch

dont waste ur money on windows

No one gonna believe you, trust me ;)

Don't waste your precious knowledge!!! Lol

Not so precious I think. :D

I would like to here WHY you feel this way?

You better break all ur windows.

dont waste our time on your comment

Don't waste you use less life chatting here.. LOL

Don't waste tour time on this website if you hate Windows.

that's y im not upgrading until windows 10 for phones comes out.

There is always the next OS and phone. You will be waiting forever!

"dont waste ur money on windows". OK, then don't waste your time in accessing this website and commenting here.

Go away and have a SourApple or a FlavourlessLollipop..!!

go for android labenchus.... (only indian can understand lol)

Go away you troll this is a windows site if you don't like windows go buy a crapdroid or become a isheep maybe try a crackberry but stop trolling and telling everyone that what they like is wrong cuz you don't like it. I dont like android or iPhone but I don't go on apple dedicated or android dedicated sites and troll and talk shit.

it's better to waste it on walls

I think your house is packed, no?

Makes sense. Why should you waste your money on Windows when you can have your screws fixed with it? :P

Windows phone is a nice OS and solid device, once u try it then u will never let go, especially when u notice how MS grown every season.

Really? Your are so genius. I think I've heard you before. Got it! you earn a living selling Android devices in local store and mislead your customers.lol.
Very brave to come here. Check out few reviews and learn something about windows.

Windows is better n faster OS in world. U hv thing is very poor. U should go "flavorless LOLIPOP" :P LOLZZZ

I don't know how much is that but I really hope its cheap, Microsoft needs this cellphone to become the new budget phone that everyone can afford. Not trying to make too much revenue instead.

Ya it's cheap price more cheaper than my 520 which I bought a year ago

Here in India people like Nokia phones but most of them go for Moto g or micromax , when the need one.

People who buy micromax smartphones understand nothing about smart-phone.

Booking one for sure... :) But i'll miss buying Lumia 630 for $39 from MS US.. :(

Wow, ₹9000
No one will buy 630 then

All it matters that they buy Lumia.

Now, 630,s official price is 9400, and many online shopping site are selling it at 7k. Both are good phn at their price but its depends on customer what they want.

Hmm 630 has a better cpu,gpu, clear black display,720P video recording, slightly larger battery and ppi.

Nice one.. But they should focus more on the mid range... We have only 730 in the mid tier.. 830 is still a bit pricey!

Don't u need flagship products? I need them for eve teasing...lol

They need flagship, waiting to upgrade my 920 by 1530 or 1030

Same here. But still my 920 works great. Only drawback is it weighs more.

Exactly. 920 needs an upgrade like 1530 or 1030.

Advertise it hard!!! It's India.

Oh my god, at last This is the best Windows phone under 10000rs from my point of view, its time to upgrade from my L520

RIP Lumia 630,625,620,525,520,720

dont quite agree with inculding 720 in there. The 720 cam is the same as that of730. I have it for 18 months now and I dont even think I need to ugrade it to 730. It still works like a charm....

Miracast is big for me 720's draw back

Rip also Lumia 820 worst Lumia.A disgrace to Lumia nd MS.

New purchasers. Make maximum use of the limited time vouchers for MixRadio unlimited downloads!

im really disappointed after that mix radio news. ppl love it. we need some of the other thing from Microsoft

Requesting Microsoft at least give me one month to download songs before shutting down that facility.

Apparently they aren't working at all. I tried downloading songs from MixRadio from my mother's 530, bought 2 months ago, it just says error, login again.

Fair price..
Its time to upgrade

Oh come on, at least read the title...

U r really special!!!!
At least read the article's headline.

He deserves a spanking!!!

u killed mix radio how u will win customer. ppl will love the device but ehat aviut mix radio. or give us xbox music or ability to download songs from IE

You can download using IE right??

nope u can but doesn't save into xbox music. if i have to play i have to go to file manager to play it.

You can download from song.pk application or directly from uc browser.

I use MUSIC+ for downloading songs and later play them via MixRadio. It just works perfect for me!

Not really, you can easily download mp3 songs and they do show up in Xbox Music. (Just tested)

Yep they do. It's a really nice app. Music+

If you save it to the music folder it should see it in Xbox music

MixRadio has songs which have very low size, only in kbs or max 2 mb as compared to other sites or apps which have more than 5 mb, saves a lot of memory and data

hey dont cry i know u r not subscriber... lol im joking i also did not... sky media player is my unlimited songs downloader apps @320 kbps songs for free of cost... use mix radio just for offline mixes..

Use UC, songs are directly saved to Xbox music.

The stretched photo at the back makes it look like a tablet.

I know what you did there! ;-)

Haha...cheer up wp lovers.....

I haven't heard of any Lumia adverts since Nokia was bought, Nokia was a good advertiser when it came to their Lumia and Asha lines.

There have been a few in the UK but not many.

When can I have the Hands-On video Baxi?

Why are people saying that 730 will be dead? 730 has more features than 535.

My next lumia will be with windows 10... :)

500MB?
That's it?
Used to be 1GB per Month if I remember right.

I used 23 GB per month ... I think

AU $175.00 a tad expensive, but still reasonable. I hope when it comes down under it will be under two hundred bucks!?

1905 mAh seriously!...that thing won't last even for say 8hours

Lumia 630 battery last more than one day

So what its not android it a windows phone this is a windows site f*ck android you do no all android is is Linux with makeup on. So ask yourself this? Do you use Linux on you PC. If you do well then you know what a app gap feels like. But most likely you use the far superior windows OS and get a ton of apps and software. And a better overall experience then on Linux. And while android is beating us in apps o still believe that windows phone is the superior to android. For a number of reasons. 1. Security
2.stability
3.usability
4.fluidity
And that's not even to mention the windows phones other benefits like
Cortana,OneDrive,ect
So I'm glad it ain't android and I get the pure goodness that is windows phone.

@jdholland79 : dude you went crazy or something ? did you even understand what i was telling him ? look clearly at @spartegus's comment. He said "1905 mAh seriously!...that thing won't last even for say 8hours". and for that i said "its not android", meaning ..android only lasts few hours. You took it in the opposite way. oh god !!! Please remember *I'm a windows fan* and i never praised that android garbage shit.

A deluded Android fanboy named @Sudharshan Titan has come here to the Windows Central website and not the Android Central website and has the audacity to tell that the phone is not an Android. Well, buddy, for your kind information, yes the phone is not an Android device. It's a Windows Phone device and Windows Phone is n times a better mobile OS than your beloved Android. Better in security, performance (it never lags unlike Android), reliability, aesthetics and usability. Android has only apps, but more than half of those apps are malware, useless, sex, flashlight and fart apps. Windows Phone store may have lesser apps, but at least unlike Google, Microsoft does stringent checks before allowing apps in its store.

@adkrish22290 : idiot. do you even understand english ? look at my comment and talk again. I was criticizing android and you are telling me, i'm a android fanboy ? fool. READ before COMMENTING.

hahahaah bro when i first read ur comments i understood ur criticizing android but then i read the reply from jdholland then i lol .... some time it happens dude just like friendly fire.... hahahahaah plz guyz atleast think and understand ones comment before attack him... feeling pritty sorry for u as a senior member..

@ chataddicted : nowadays our people (Windows phone fans) are going beyond friendly fire zone. Its like, they are ordered to fire at the enemy immediately after seeing the name tag "android". phew !! ppl like them make me wonder if i have a bad english. Can't they even read a comment before commenting ? Ppl don't even have common sense nowadays. anyway, thanks man ;)

Dude, my L521 with a 1450 Mah battery and it can last me all day and then some. Like Titan said, these aren't crappy android devices we're talking here. :P

@Legoboyii, yes man :) My lumia 525 lasts 18 hours with moderate usage. that is awesome for a 1450mah battery :D

My Lumia 630 battery lasts for more than 20 hours. What an Amazing Backup! My S Fuckin Duos lasted for maybe 7-8 max hours that too without much usability.

Lumia 635 lasts a day and a half with 1830 mAh. These quad cores are probably better optimized for battery saving.

How much USD does that translate to?

Oh gosh it was February this year that I got my Lumia 525 and now this! I wish there are exchange offers :P

U bought a 525 ? I thought you are working !

Apparantly I'm not working...Am I missing something here? :P <Quizzical>

Poor people who don't work get phones like the 525.

Or people who understand their usage habits and needs :P.

This will directly compete with redmi note

This can't compete with redmi note because redmi has 2gb ram nd it has got miui that is android but it is very old jelly bean but still got apps because it is android. Posted via the Windows Phone Central App for Android

Ppl talking it's time to upgrade. But you also need to consider it's battery is just 1905mAh and the screen size is 5'. I think it's the black mark.

My 620 has just a 1300mAh battery and lasts a day. This costs almost half the price and has a bigger display and MUCH BETTER battery life. It can easily last 2 days. Only thing my 620 has over this is 720p video recording, Dolby digital audio, glance and camera button.

It'll be available in Viet Nam at November 28th , too

Well I could say I am holding onto the last legacy of Nokia phones.... Happy to own a Lumia 525 +++ !

Time to downgrade from l620 to l535

Actually it is an upgrade in specification wise...

It will be great if they launch exchange offer. Mine is 525. Priced 9000 :(

F***..my 525 will die hearing this news... I had given 10200 for my mob and 535 now only 9000..: Crying:

Please stop calling it a 'mobile'. ! Its a cellphone or a gsm transreceiver in tech parlance...

We call it a mobile in the UK, as in mobile phone.

Spent ₹12,000 on L630 and now it's only 7,500 :P :D

Great! People, its time to upgrade.

Does it have sensor core n a clear black display? Can anybody confirm it?...i was thinking of buying it..

No SensorCore, no ClearBlack.

Awesome phone! All basic min required features are there...
Storage /display/memory/camera...

I presume you're from India...

Launched in Poland day ago.

Market the hell outta this thing. Show that this the best thing money can buy. Show off stuff that only WP can boast of (although that is dwindling by the day).

why cant i find black colour in none of their hands ?

when will it arrive in the philippines? :(

I bet it wont arrive this December due to port congestion there in manila. Damn!!! And it's not yet even available here in Saudi!

Actually it is available in Saudi Arabia ... I saw it on multiple stores in Jeddah earlier this week.

Hahaha. I was expecting the price ₹9199/- and it comes true.
My 6th sense working good..
Lolzz

Moto G's days at the top as the best-selling budget smartphone will soon be over, thanks to the L535!!!!

It was newer there. Don't buy this google PR.

Who is this Moto? Is she a celeb!?

LOL @sanjeet_deshwal. Seriously though, even though I hate Google and Android, and don't care much about the Moto G (I feel its an overhyped piece of crap), you got to admit, the phone is indeed among the top-selling phones in the budget category, especially in India (don't know about other countries). Now that Lumia 535 is there though, with really amazing specs for Rs. 9000/- odd, if properly marketed, it should displace the Moto G and also other overhyped smartphones like Xiaomi Redmi from the top of the best-selling budget smartphone. It's not Google PR @Viktar H, I reiterate my hatred for Google and Android. What I have said is the truth.

nooooooooooooooo i thought it would be priced between ₹8000 to ₹9000 hope flipkart help me or gosf either way iam buying.................

Bring mix radio vouchers back please......

Meanwhile, the Office suite apps in Android and iOS get updated. They're now integrated with dropbox. And, not even an official app here. :/

Time to sell my L520. Mixradio will be a deal breaker for music lovers in India :(

Then are u going to get mix radio in android or iOS. Posted via the Windows Phone Central App for Android

Hopefully we can get it for about $130 from tmo or at&t

No clear black mentioned, IPS LCD, sensor present tho

Trading my trusty 520 in for one of these bad boys once launched in UK

I don't think it will be available in near my retail stores because they don't usually keep good phones..Ms please open the store in India,Chennai at least so we can access it

Flipkart, snapdeal , Amazon india Posted via the Windows Phone Central App for Android

Yes its correct ..but i said it should be available via Ms store

You could try in Sangeetha. They are taking pre-booking orders for the Lumia 535.

Thanks a lot..my sis wants it

Try the store in Phoenix marketcity next.

Thanks guys ..but will Ms open a store in India..will it happen

I thought it would be cheaper, honestly I think $150 is a bit too much, hopefully its price will drop, eventually

Huh another selfie phone.Not worth an upgrade for my Lumia 520.

5 inch screen and flash makes it worth it.

time to upgrade from my Lumia 620..

Lol is it just me or does that lumia 530 in the first photo look kinda like a square if you compare it with the third photo?

The 1st pic is stretched out for the large screen that's why it's looking like a square

625 and 630 are now selling online in India for about 120. This 535 would be an awsome buy at 120 in about a months time !

Microsoft launches another McDonald's phone.

?? What the heck does that mean?

I think they want a high end device.

Oh ok, never heard of an item being expressed that way.

I think he needs a cocaine device

People running 'McDonalds phones' will increase the user base and ultimately give more app support.

These so-called "McDonald's phones" like the L535 are the ones which will drive the growth of WP in emerging economies like India, not flagships like the HTC One M8 or the L1520. People in such countries don't care much for flagships, they just want a fully functional smartphone with the best features for an affordable price.

Nice to see the first Microsoft phone launching in India. There are really nice exclusive offers wit the purchase of this handset.

#Awesomeness, surely on my to get list

Best Buy.. With Good Price..
Truly the Successor of Lumia 520

I should have waited before purchasing my 520.

If it ever comes to US it will probably cost around $99, and six months later it will be $49.

Great news but flipkart showing a dual sim gsm+wcdma what the mean wcdma

W-CDMA is the protocol used for 3G networks. So one SIM will support 3G connectivity.

So if you have 2 SIM cards can you have like 2 whatsapps?!? or just one?

Whaat?? It's not even possible with Android bro..

Shall i upgrade to 535 current device 525

Of course if you can afford it, go for it!

Just curious... Why is India so important to Microsoft? I know there are a lot of people, but is that it?

India is a market place for any one.

In Thailand, next Monday. And yes, I'll be there!

I ve bought 525 in jan this year for 10k, thought of 720 but was around 16k n had 512 MB ram. After then more Lumia phones are entering the market with more specs and lesser price than 720 and 525. moment of silence for all those including me who bought 520,525,720,630,530 a few months ago.. :(

India is the only place in this world where even a beggar can also afford a phone. So every industry wants India

535 have compass sensor?????

Nope its a phone under 200 USD

Means here maps,here drive not shows direction?????

The maps work fine. You don't need a compass sensor. Maps have always worked fine on the 520/521 and they don't have a compass sensor.

every windows phone must have compass sensor alse Microsoft does not provide license.

Don't worry guyzzz....it'll be available for around rupees 8000 within 1-2 months as this is the MRP....even I had bought my Lumia 520 for 8.5k when its MRP was around 10k.

wats the price of single sim ?????

WP L1320 is proposed here

Well that settles it for "When do we get it in India?"

Flipkart has put it on pre-order

Bought 2 Lumia 520s on the flipkarts big billion day:(

So L730 is the last Nokia Phone?

Yes......L730 and L830 also........

Only thing I would complain about this phone lacks is Snapdragon 400 SoC plus some extra battery juice. Would have been ultimate must buy Microsoft's first phone for everyone in the world!

Where does this launch event happens and how can i be part of it

Cool.. Gona upgrade to this from 520!!

What about service centre in India ??Micr India??

i think you are joking or else you are dumb all nokia service centers comes under microsoft

can any one elaborate this point Online shoppers can use the Windows Phone Jabong app on their Lumia 535 and get a total of ₹6,000 off on their purchase over a period of 3 months.

They did that with the Lumia 730 with Myntra and Lumia 830 with snapdeal. The thing is if you download the Myntra app in L730, and shop via the app in your phone you get some percentages of discount and even some exclusive discounts in some cases if you go to 730 deals that only Lumia 730 myntra app displays but as usual there are some conditions with minimum total amount to avail the discount same in Lumia 830 but you have to download Snapdeal app and shop via the phone in home appliances category to avail the discount.

My next windows phone after 520

Mine L525 too is costlier than this.... Alas! Wish it was released 10 months ago..

When is it coming to U.S, Is BLU HD going to be in trouble at their price of $179 compared to Lumia 535 at $150

i am eager for the market reviews about this phone after actual usage. my main expectations from this smart phone is fast working, good app support, good call sound quality and future updation support at reasonable price My predictions about the price were 8k to 8.5k but now it is crossing 9k so littlebit not happy with it otherwise i found everything sound and cool just report your reviews as soon as possible after usage

Now available on flipkart - fkrt.it/j!nvPNNN

Does Microsoft Lumia 535 single/dual sim has notification LED light??
and Anybody could say about the pros and cons of Microsoft Lumia 535 phone (particularly about battery, heating of the phone, display, clock speed and multi tasking and a little gaming )
Windows Central Newsletter
Get the best of Windows Central in in your inbox, every day!
Thank you for signing up to Windows Central. You will receive a verification email shortly.
There was a problem. Please refresh the page and try again.