Microsoft launches the Lumia 640 and 640 XL in India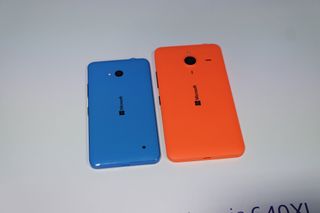 The Lumia 640 and Lumia 640 XL are mid-range Windows Phone devices announced by Microsoft last month at the Mobile World Congress. The company has brought the latest in Lumia action to India.
The Lumia 640 features a 5-inch 1280 x 720 HD display while the 640 XL features a 5.7-inch HD display. Another difference between the two are the cameras. The Lumia 640 sports an 8 MP AF rear camera with LED flash and a 1MP wide-angle front camera, the Lumia 640 XL packs in a 13 MP AF rear camera with LED flash and a 5MP front camera.
Both phones are powered by Qualcomm Snapdragon 400 1.2 GHz quad-core processor and pack in 1GB of RAM. There's 8GB of internal storage expandable up to 128 GB via a micro SD card. Incidentally, Microsoft has only launched the 3G variants of the two devices in India.
Lumia 640 Specifications
Windows Phone 8.1 with Lumia Denim
Windows 10 Ready
Qualcomm Snapdragon 400 (MSM8926), 1.2 GHz quad-core processor
5" HD (1280x720) IPS LCD | 294 PPI | Corning Gorilla Glass 3
1GB RAM
8 GB internal mass memory + up to 128 GB Micro SD
Rear camera: 8 MP AF (3280x2464), f/2.2, 28 mm, 1080p @ 30 fps video (continuous autofocus), Flash: LED, Lumia Camera 5.0 (with Dynamic Flash, HDR)
Front camera: HD 1 MP wide angle, f/2.4, 720p video
Sensors: Accelerometer, Magnetometer, Proximity, Ambient Light Sensor
Battery: 2500 mAh (BV-T5C) removable battery
Weight: 145 g
Size: 141.3 x 72.2 x 8.85 mm
Lumia 640 XL Specifications
Windows Phone 8.1 with Lumia Denim
Windows 10 Ready
Qualcomm Snapdragon 400 (MSM8226), 1.2 GHz quad-core processor
5.7" HD (1280x720) IPS LCD | 259 PPI | Corning Gorilla Glass 3
1GB RAM
8 GB internal mass memory + up to 128 GB Micro SD
Rear camera: 13 MP AF, 1080p @ 30 fps video (continuous autofocus), Flash: LED, Lumia Camera 5.0 (with Dynamic Flash, HDR)
Front camera: HD 5 MP wide angle, 1080p video
Sensors: Accelerometer, Magnetometer, Proximity, Ambient Light Sensor, SensorCore
Battery: 3000 mAh (BV-T4B) removable battery
Weight: 171 g
Size: 157.9 x 81.5 x 9.0 mm
The Lumia 640 is available for ₹11,999 while the Lumia 640 XL is available for ₹15,799 and go on sale immediately. In a surprising move by Microsoft, the Lumia 640 will be available only on Flipkart, India's leading online retailer. The 640 XL though will be available broadly through regular online and offline channels.
For both the devices, Microsoft is including a one-year subscription to Office 365 Personal, which can be used on a PC, Mac, or tablet worth ₹3,299. This offer is in addition to the Office suite included on the Lumia 640.
The Lumia 640 XL also bundles in a couple of exclusive offers from MobiKwik and Ola Cabs. For MobiKwik, customers will get recharge cashback worth ₹1000 redeemable with a minimum recharge of ₹200 per month for five months while Ola Cabs will offer a cashback of ₹800 on Ola money with ₹200 cashback per recharge for the first four recharges of ₹500 or higher.
How do you like the two devices, and would you be looking to buy one? Tell us in the comments!
535,435 eventually were released, so will the 640.

Pakistan me bhi log rehte hain yaar.

When in the U.S.? And Greenland?

Soon as u post your location on mars XD

One month after Mars One touches down on Mars.

High price.i thought 640xl would be priced at 13000₹

I will wait for somedays!!! Though its my birthday today, I want it today!!! :( 640xl

Happy birthday bro :) I'll gift u a Lumia. :D

Happy birthday bro!!! Have a great one :D

Don't worry you will always get a good one anyways i wish u many many returns of this day......

Searching for u to say Happy Birthday....!!!

Happy Birthday, hope you get the Lumia you desire.

Happy b'day. Birthday boy

Many many happy returns of the day bro :) hope you the Lumia you've wanted.

Happy birthday Vaibhav :)

Searching even before the article, can't find it man.

I couldn't find it in flipkart :O

yes.. i was hopping it to be under 15k

Are you that poor? That's a fair price

Yes man! I'm very poor so i can't afford $270 on 640xl

Try Xiomi and the likes leave Lumias for the rich like me

I'm just a thief so i can't afford that too.

Hey guys! I've a question that is it a good deal to exchange my lumia 625 with blackberry z10?? Please tell me....

its a new OS and is very good indeed. You will definitely feel it is an upgrade from lumia 625. but remember never buy stl 100-1 z10. buyy stl 100-2,3 variants.

What is that 100-1 stl and 100-2 stl

There are achha 4 models for z10 called as stl100-1,2,3,4.
In india they sell mostly stl100-1 version which has lots of battery issues and motherboard problem. So check the model because buying. And stl100-1 doesn't have qualcomm chip rather Texas one and it doesn't support 4g networks.

You can wait for leap too. It has same specs with bigger battery which will last a whole day. It depends on user whether you like phablet or a mobile.

I'm not buying a new one.exchanging my L625 with it.

Z10 any day. Why is it even a question?

At $250+, in India, one would get a octacore CPU + 2GB RAM android phone. Lol..... :P and yeah.... 16GB onboard memory.

Actually they need more internal as stupid android... Doesn't use sd card at all.. Even though it has.. WhatsApp photos ... Internet photos etc all go in phone memory n secondly on moves 1/4th of app in sd card... At least I happens with 4.4

You are right buddy.... Android sucks....when I see all the apps are installed on my sd card but they have eaten up 90% of my tabs internal memory.... It really sucks.... Its worse in the case of 4gb devices.

Oh my. Pricing is sexy for the XL

I'm heartbroken and dissappointed

Don't worry bro, gals go and come. You'll find a more sexier one.

Me too. been looking for the final price reveal since morning :(

Oooh fuck!!!! It's in India!!!!! :P lol!!!

Dont tell me u thought its 15799 dollars lolz

Stupid pricing by Microsoft. It should be below 10k for Lumia 640 and below 14k for Lumia 640xl. Once again poor pricing by Microsoft.

Yep pricing is good keeping in mind specs and all .!! But Chinese phone makers (lenovo also launched a very powerful device with gizmos loaded and Dolby surround ...... At 9000) :/ and ppl many of em watch phone for their specs and price instead of brand and quality

Stupid Indian gov. with high taxes, duties & corruption.

Not keeping up to date info about India I suppose.

Corruption is not a word for the government anymore. At least at the center.

Haha... You believe all that is said... Posted via the Windows Phone Central App for QWBASIC :|

Its perfect pricing. Below 10k you want so much of stuffs? Lol. U gotta be kidding me. It's exactly the same price I had imagined them to be.

See the freebies you're getting dude!!

It has many points for choosing such mobile and even i agree the cost i higher than what i guessed but upto me its worth of that cost and you were also getting one office 365 subscription and recharges and many and if you deduct them it is worth for that cost......

Ditched my Lumia 520 and galaxy y for 3310

No, it's perfectly reasonable pricing. Below 16k is good for XL.

Sell the Office 365 code for $40 on Ebay and quit it with the whining!

Anyone that owns a Windows Phone has access to Ebay.
& there is a VERY healthy market out there for reselling Office 365 codes. I bought four of them myself from Ebay!

Rather buy it from amazon for 26$

Wasted wasted ... Again wasted ... When will these guys learn to price ... And the obvious reasons majority tends to android ... Ok if to say crapdroid ... Cauz who will pay that hefty for just the camera in upper hand ... Gosh when will they learn to love people ...

See the thing is, for some people even Rs. 500 matters. I suppose Microsoft is pricing phones at such rates because they want everyone to have a smartphone in their hadn which actually is a smartphone and does not lag. And with every phone that they launch being windows-10 ready, which is the greatest upcoming thing from Microsoft, every-one will have a piece of it. See the thing is, for some people even Rs. 500 matters. I suppose Microsoft is pricing phones at such rates because they want everyone to have a smartphone in their hadn which actually is a smartphone and does not lag. And with every phone that they launch being windows-10 ready, which is the greatest upcoming thing from Microsoft, every-one will have a piece of it.

MSFT should follow agressive pricing strategy in India- atleast for Online Only Model- They definately have overpriced both the phones!

Perfect price, good job Microsoft

+830
And hopefully +640XL.

Haha you joke well...2k each on a jst released budget...they'll earn peanuts with that kind of pricing...

He is right, it will definitely down 2k within one/two months.

Price of 640 XL will drop in about 2 months. But the same cannot be said for the 640 because generally online only models carry a fixed price. Check out Flipkart's exclusive models, they don't get a price cut before a year.

They will because there's a huge competition for online traders ...so they will..

TODAY! For one of them at least!

the 640 is out today in UK not the 640 XL

640 is Available now in UK.

When will 4G variants going to launch ?

Why never.... i think they will be launched.... as they are mentioned in microsoft website...

We don't have 4g carriers.. This is why they have launched 3g variants.. 4g packs are very costly and most of the people in India wont use 4g.. Most of us are still using 2g.. This is why they are launching 3g variant lumia's in india

I agree with your point @AnkitGondalia but they have introduced in microsoft website so they will be launched and it will be an option for people.

Pehli baat agar logg 4G afford kar sakten hain to isse mehnga phone bhi kar sakten hain.
4G bahut mehenga hai. Paise saab ko bachane hain lekin best services bhi chahiyen hain, 4G lene ki bhai aagle saal tak hamari aukaat nahi hai.
Bura maanne ki baat nahi hai, lekin gooro ko batane ki bhi nahi hain.

Hahahahahahahah.. Kya reply h.. :D

Uss chiz ke liye roo rahen hain jisko lene ke aukaat nahi hain. Aur agar mill bhi jaye uske baad bolenge 4G ke aurr networks do hame, agar vo mill bhi gaya 2017 se pehle, toh phir rooenge ki 4G mehnga hai. Demands never die.

This truth. And even carriers can't be blamed. Unn ko bhi costs puri karni hai.

Yes I know they have launched 638 bt how many people use it? How many people use 4g? There are Android phones with 4g feature. Bt still people are not using it.. It will take a lot of time for 4g to come and people using it will still be minimum..

Are you going to use it ....?? Bec its better to use 4G phone than 3G

You are not the commonwealth then, I guess.

No im not goin to.. 4g internet costs will be way to high for most of us.. most of the people cant afford it..

What are you gonna do with 4G+ in just 5 cities, and no further cities are gonna have it because of Airtel's licensing issues.

Reliance is working on providing 4G services & its on full go

And the project's stopped/cancelled. Due to low or more of the rural folks using Reliance. Plus they have some security issues with Symantec and the costs are too high.

Project is still going on....buddy

My company is working on it.....

In which city..?
And if you have to shift to another house then..? Futures' highly uncertain.

Reliance have launched its 4g in full north india specially Punjab .Chandigarh and work is in progress in all over india don't know about eastern state ...

Full north India..? Shit up stupid. Only Chandīgarh, Kolkata and Pune has the setup. And work has been stopped due to licensing issues.

I bet, people who bought the 638 would've bought it cus of the low price, not 4g. Aur haan 4g nahi hai hamare liye. Shaayad 2-3 saal Mein jab gooren 5g Mein honge. BC

Sai mein bc. Sab last mein milta hai. Vo bhi uss country ko, jo world ki 1/6 population hai.

Guess kroon ! Tere paas 520 ya 1320 paayega
*1/6 population , Microsoft ne kaha h Puri raat chudam chudai karo !

16 Dude (:P)
Vo mujhese pooch raha hai.

Lol. Making up mine was easy.
Though 2901 men can beat down 16 dudes easily.

Now there is a problem, sir. Ain't just '16dudes'. 16 'Electro'dude :P

Bass bhai, itna ek din mein hazam nahi hoga. :P:P

Ni bhai 820 hai, 1520 tisaare mahine mein tut gaya tha, toh....520 liya.
Microsoft ne nahi kha tha, lekin ab jitni ho chuki hai uska toh kuch karo.

There is a high probability that the chipset is 4G/LTE enabled like how the 92x series was. Nokia at that time said that 4G would be enabled in a firmware update as and when network penetration increases in India. Also, if you are in PfD one of the updates prior to the official Denim update enabled 4G option in network settings. So yeah, it only takes a firmware update to turn it on.

Lol how can you say overpriced? It's perfect pricing! You can't expect so much good things in a phone at stich a low price. Is just awesome.

Similar spec'd android devices are way expensive. So i think its fair pricing.

Well if you think of all the added extras like Office 365 (usually around Rs. 3,299.00) your getiing a great price. Still unsure if these are the LTE versions tho?

These are only 3G variants....

Do you really use office365 in mobile? you're simply great.

No. I don't use on mobile. But with the subscription you can use it on any smartphone and pc. And in Windows 10 you can use it in mobile also as per the demo at MWC.

Just sell the 365 code on Ebay!!
Come on, think outside the box. You will basically make a $30 saving minimum right there.

Dude you nuts? :P They arent freakin Xiaomi to run on razor thin margins...This is former Nokia Phone divison now turned Microsoft...these prices are awesome coming from players like them... The pricing is perfect.

And build qualities of Nokia/Microsoft!!! Awesome.(Except for 535 touch issues for some).

Nope.. Its completely fair and expected price.

If these two are overpriced, what will you say about iPhones hehe

It was shipped for something of 5-6k and what about 10k... We are paying for what???
Overall a bit highly priced... Will go for 640xl... As soon as its available

Ask the government. Taxes, bruh!

ya that's a good opion bro even i am planning to go for it.

Modi needs a new mansion.

It's not Modi. Sadiyon se chal tahi hai yeh pratha. Corruption kha chukha hai desh ko.

*government ko.
Modi stays in 7 RCR only, he gave all his wealth to some association some days back.

Microsoft gotta make money. Imagine if they wanted Apples margins...

but when they ll be availavle.. i cant find them on any site including amazon or flipkart Even microsoft's india site still shows "coming soon"

Dude they have launched it today.. Not selling it today.. Wait for some days to reach the devices in markets

But article does says that they'll go to sell immediately..

Immediately does not mean today.. It will take some time..

In normal world, immediately means today. But may be in MS's world immediately means something else.. \s

@AnkitGondalia dude please read the article..

It will take some days for the phones to come to markets and online sites

Does your mother cooks the meal in just one minute or two..?

She doesn't take half day atleast.
Mr. Abuser, if you have noticed, shipment has arrived a long ago..

Hey boy, I didn't abuse. It was an example. Though not sorry if ye felt bad.

Abusing is not defined to be word specific. You dragged my mother into it.
Now you thoroughly declining it.
That indicates you are an AAPtard. If that is true, boy, i feel sorry for you.

Wow idiot, giving an example on someone's mother is a bad thing, even though there is no word or mention of something negative.
What's wrong is your niche thinking. And I may tell you that even my mother cooks meals, same as every 4 moms outta 5.
And if you think that I dragged your mom into it, that's your problem. I don't believe in dragging. And keep your silly AAPtard jokes to yourself.

lol i must have strike the right node. Well, it was not a joke. It is as serious as your remark towards my mother.

Read again blind, I didn't say anything to your mother.

640 Will be exclusive for flipkart.
640XL will be available everywhere.

Its already available on flipkart for purchase, go and buy now.

Don't misguide... Only 640 is available not 640XL. I am also waiting for the XL.

Hmm... Lumia 640 XL is too costly for indian people and it will be difficult to get a good market in india and i am planning to get 640 XL in Barcelona rather than in india as it approx cost less in barcelona with 219 EURO. So, i will buy here and take with me to india thats the best option.