Microsoft launches the Lumia 640 and 640 XL in India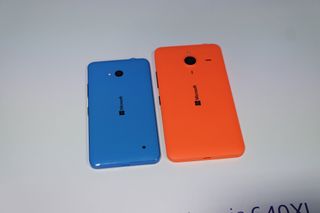 The Lumia 640 and Lumia 640 XL are mid-range Windows Phone devices announced by Microsoft last month at the Mobile World Congress. The company has brought the latest in Lumia action to India.
The Lumia 640 features a 5-inch 1280 x 720 HD display while the 640 XL features a 5.7-inch HD display. Another difference between the two are the cameras. The Lumia 640 sports an 8 MP AF rear camera with LED flash and a 1MP wide-angle front camera, the Lumia 640 XL packs in a 13 MP AF rear camera with LED flash and a 5MP front camera.
Both phones are powered by Qualcomm Snapdragon 400 1.2 GHz quad-core processor and pack in 1GB of RAM. There's 8GB of internal storage expandable up to 128 GB via a micro SD card. Incidentally, Microsoft has only launched the 3G variants of the two devices in India.
Lumia 640 Specifications
Windows Phone 8.1 with Lumia Denim
Windows 10 Ready
Qualcomm Snapdragon 400 (MSM8926), 1.2 GHz quad-core processor
5" HD (1280x720) IPS LCD | 294 PPI | Corning Gorilla Glass 3
1GB RAM
8 GB internal mass memory + up to 128 GB Micro SD
Rear camera: 8 MP AF (3280x2464), f/2.2, 28 mm, 1080p @ 30 fps video (continuous autofocus), Flash: LED, Lumia Camera 5.0 (with Dynamic Flash, HDR)
Front camera: HD 1 MP wide angle, f/2.4, 720p video
Sensors: Accelerometer, Magnetometer, Proximity, Ambient Light Sensor
Battery: 2500 mAh (BV-T5C) removable battery
Weight: 145 g
Size: 141.3 x 72.2 x 8.85 mm
Lumia 640 XL Specifications
Windows Phone 8.1 with Lumia Denim
Windows 10 Ready
Qualcomm Snapdragon 400 (MSM8226), 1.2 GHz quad-core processor
5.7" HD (1280x720) IPS LCD | 259 PPI | Corning Gorilla Glass 3
1GB RAM
8 GB internal mass memory + up to 128 GB Micro SD
Rear camera: 13 MP AF, 1080p @ 30 fps video (continuous autofocus), Flash: LED, Lumia Camera 5.0 (with Dynamic Flash, HDR)
Front camera: HD 5 MP wide angle, 1080p video
Sensors: Accelerometer, Magnetometer, Proximity, Ambient Light Sensor, SensorCore
Battery: 3000 mAh (BV-T4B) removable battery
Weight: 171 g
Size: 157.9 x 81.5 x 9.0 mm
The Lumia 640 is available for ₹11,999 while the Lumia 640 XL is available for ₹15,799 and go on sale immediately. In a surprising move by Microsoft, the Lumia 640 will be available only on Flipkart, India's leading online retailer. The 640 XL though will be available broadly through regular online and offline channels.
For both the devices, Microsoft is including a one-year subscription to Office 365 Personal, which can be used on a PC, Mac, or tablet worth ₹3,299. This offer is in addition to the Office suite included on the Lumia 640.
The Lumia 640 XL also bundles in a couple of exclusive offers from MobiKwik and Ola Cabs. For MobiKwik, customers will get recharge cashback worth ₹1000 redeemable with a minimum recharge of ₹200 per month for five months while Ola Cabs will offer a cashback of ₹800 on Ola money with ₹200 cashback per recharge for the first four recharges of ₹500 or higher.
How do you like the two devices, and would you be looking to buy one? Tell us in the comments!
535,435 eventually were released, so will the 640.

Pakistan me bhi log rehte hain yaar.

When in the U.S.? And Greenland?

Soon as u post your location on mars XD

One month after Mars One touches down on Mars.

High price.i thought 640xl would be priced at 13000₹

I will wait for somedays!!! Though its my birthday today, I want it today!!! :( 640xl

Happy birthday bro :) I'll gift u a Lumia. :D

Happy birthday bro!!! Have a great one :D

Don't worry you will always get a good one anyways i wish u many many returns of this day......

Searching for u to say Happy Birthday....!!!

Happy Birthday, hope you get the Lumia you desire.

Happy b'day. Birthday boy

Many many happy returns of the day bro :) hope you the Lumia you've wanted.

Happy birthday Vaibhav :)

Searching even before the article, can't find it man.

I couldn't find it in flipkart :O

yes.. i was hopping it to be under 15k

Are you that poor? That's a fair price

Yes man! I'm very poor so i can't afford $270 on 640xl

Try Xiomi and the likes leave Lumias for the rich like me

I'm just a thief so i can't afford that too.

Hey guys! I've a question that is it a good deal to exchange my lumia 625 with blackberry z10?? Please tell me....

its a new OS and is very good indeed. You will definitely feel it is an upgrade from lumia 625. but remember never buy stl 100-1 z10. buyy stl 100-2,3 variants.

What is that 100-1 stl and 100-2 stl

There are achha 4 models for z10 called as stl100-1,2,3,4.
In india they sell mostly stl100-1 version which has lots of battery issues and motherboard problem. So check the model because buying. And stl100-1 doesn't have qualcomm chip rather Texas one and it doesn't support 4g networks.

You can wait for leap too. It has same specs with bigger battery which will last a whole day. It depends on user whether you like phablet or a mobile.

I'm not buying a new one.exchanging my L625 with it.

Z10 any day. Why is it even a question?

At $250+, in India, one would get a octacore CPU + 2GB RAM android phone. Lol..... :P and yeah.... 16GB onboard memory.

Actually they need more internal as stupid android... Doesn't use sd card at all.. Even though it has.. WhatsApp photos ... Internet photos etc all go in phone memory n secondly on moves 1/4th of app in sd card... At least I happens with 4.4

You are right buddy.... Android sucks....when I see all the apps are installed on my sd card but they have eaten up 90% of my tabs internal memory.... It really sucks.... Its worse in the case of 4gb devices.

Oh my. Pricing is sexy for the XL

I'm heartbroken and dissappointed

Don't worry bro, gals go and come. You'll find a more sexier one.

Me too. been looking for the final price reveal since morning :(

Oooh fuck!!!! It's in India!!!!! :P lol!!!

Dont tell me u thought its 15799 dollars lolz

Stupid pricing by Microsoft. It should be below 10k for Lumia 640 and below 14k for Lumia 640xl. Once again poor pricing by Microsoft.

Yep pricing is good keeping in mind specs and all .!! But Chinese phone makers (lenovo also launched a very powerful device with gizmos loaded and Dolby surround ...... At 9000) :/ and ppl many of em watch phone for their specs and price instead of brand and quality

Stupid Indian gov. with high taxes, duties & corruption.

Not keeping up to date info about India I suppose.

Corruption is not a word for the government anymore. At least at the center.

Haha... You believe all that is said... Posted via the Windows Phone Central App for QWBASIC :|

Its perfect pricing. Below 10k you want so much of stuffs? Lol. U gotta be kidding me. It's exactly the same price I had imagined them to be.

See the freebies you're getting dude!!

It has many points for choosing such mobile and even i agree the cost i higher than what i guessed but upto me its worth of that cost and you were also getting one office 365 subscription and recharges and many and if you deduct them it is worth for that cost......

Ditched my Lumia 520 and galaxy y for 3310

No, it's perfectly reasonable pricing. Below 16k is good for XL.

Sell the Office 365 code for $40 on Ebay and quit it with the whining!

Anyone that owns a Windows Phone has access to Ebay.
& there is a VERY healthy market out there for reselling Office 365 codes. I bought four of them myself from Ebay!

Rather buy it from amazon for 26$

Wasted wasted ... Again wasted ... When will these guys learn to price ... And the obvious reasons majority tends to android ... Ok if to say crapdroid ... Cauz who will pay that hefty for just the camera in upper hand ... Gosh when will they learn to love people ...

See the thing is, for some people even Rs. 500 matters. I suppose Microsoft is pricing phones at such rates because they want everyone to have a smartphone in their hadn which actually is a smartphone and does not lag. And with every phone that they launch being windows-10 ready, which is the greatest upcoming thing from Microsoft, every-one will have a piece of it. See the thing is, for some people even Rs. 500 matters. I suppose Microsoft is pricing phones at such rates because they want everyone to have a smartphone in their hadn which actually is a smartphone and does not lag. And with every phone that they launch being windows-10 ready, which is the greatest upcoming thing from Microsoft, every-one will have a piece of it.

MSFT should follow agressive pricing strategy in India- atleast for Online Only Model- They definately have overpriced both the phones!

Perfect price, good job Microsoft

+830
And hopefully +640XL.

Haha you joke well...2k each on a jst released budget...they'll earn peanuts with that kind of pricing...

He is right, it will definitely down 2k within one/two months.

Price of 640 XL will drop in about 2 months. But the same cannot be said for the 640 because generally online only models carry a fixed price. Check out Flipkart's exclusive models, they don't get a price cut before a year.

They will because there's a huge competition for online traders ...so they will..

TODAY! For one of them at least!

the 640 is out today in UK not the 640 XL

640 is Available now in UK.

When will 4G variants going to launch ?

Why never.... i think they will be launched.... as they are mentioned in microsoft website...

We don't have 4g carriers.. This is why they have launched 3g variants.. 4g packs are very costly and most of the people in India wont use 4g.. Most of us are still using 2g.. This is why they are launching 3g variant lumia's in india

I agree with your point @AnkitGondalia but they have introduced in microsoft website so they will be launched and it will be an option for people.

Pehli baat agar logg 4G afford kar sakten hain to isse mehnga phone bhi kar sakten hain.
4G bahut mehenga hai. Paise saab ko bachane hain lekin best services bhi chahiyen hain, 4G lene ki bhai aagle saal tak hamari aukaat nahi hai.
Bura maanne ki baat nahi hai, lekin gooro ko batane ki bhi nahi hain.

Hahahahahahahah.. Kya reply h.. :D

Uss chiz ke liye roo rahen hain jisko lene ke aukaat nahi hain. Aur agar mill bhi jaye uske baad bolenge 4G ke aurr networks do hame, agar vo mill bhi gaya 2017 se pehle, toh phir rooenge ki 4G mehnga hai. Demands never die.

This truth. And even carriers can't be blamed. Unn ko bhi costs puri karni hai.

Yes I know they have launched 638 bt how many people use it? How many people use 4g? There are Android phones with 4g feature. Bt still people are not using it.. It will take a lot of time for 4g to come and people using it will still be minimum..

Are you going to use it ....?? Bec its better to use 4G phone than 3G

You are not the commonwealth then, I guess.

No im not goin to.. 4g internet costs will be way to high for most of us.. most of the people cant afford it..

What are you gonna do with 4G+ in just 5 cities, and no further cities are gonna have it because of Airtel's licensing issues.

Reliance is working on providing 4G services & its on full go

And the project's stopped/cancelled. Due to low or more of the rural folks using Reliance. Plus they have some security issues with Symantec and the costs are too high.

Project is still going on....buddy

My company is working on it.....

In which city..?
And if you have to shift to another house then..? Futures' highly uncertain.

Reliance have launched its 4g in full north india specially Punjab .Chandigarh and work is in progress in all over india don't know about eastern state ...

Full north India..? Shit up stupid. Only Chandīgarh, Kolkata and Pune has the setup. And work has been stopped due to licensing issues.

I bet, people who bought the 638 would've bought it cus of the low price, not 4g. Aur haan 4g nahi hai hamare liye. Shaayad 2-3 saal Mein jab gooren 5g Mein honge. BC

Sai mein bc. Sab last mein milta hai. Vo bhi uss country ko, jo world ki 1/6 population hai.

Guess kroon ! Tere paas 520 ya 1320 paayega
*1/6 population , Microsoft ne kaha h Puri raat chudam chudai karo !

16 Dude (:P)
Vo mujhese pooch raha hai.

Lol. Making up mine was easy.
Though 2901 men can beat down 16 dudes easily.

Now there is a problem, sir. Ain't just '16dudes'. 16 'Electro'dude :P

Bass bhai, itna ek din mein hazam nahi hoga. :P:P

Ni bhai 820 hai, 1520 tisaare mahine mein tut gaya tha, toh....520 liya.
Microsoft ne nahi kha tha, lekin ab jitni ho chuki hai uska toh kuch karo.

There is a high probability that the chipset is 4G/LTE enabled like how the 92x series was. Nokia at that time said that 4G would be enabled in a firmware update as and when network penetration increases in India. Also, if you are in PfD one of the updates prior to the official Denim update enabled 4G option in network settings. So yeah, it only takes a firmware update to turn it on.

Lol how can you say overpriced? It's perfect pricing! You can't expect so much good things in a phone at stich a low price. Is just awesome.

Similar spec'd android devices are way expensive. So i think its fair pricing.

Well if you think of all the added extras like Office 365 (usually around Rs. 3,299.00) your getiing a great price. Still unsure if these are the LTE versions tho?

These are only 3G variants....

Do you really use office365 in mobile? you're simply great.

No. I don't use on mobile. But with the subscription you can use it on any smartphone and pc. And in Windows 10 you can use it in mobile also as per the demo at MWC.

Just sell the 365 code on Ebay!!
Come on, think outside the box. You will basically make a $30 saving minimum right there.

Dude you nuts? :P They arent freakin Xiaomi to run on razor thin margins...This is former Nokia Phone divison now turned Microsoft...these prices are awesome coming from players like them... The pricing is perfect.

And build qualities of Nokia/Microsoft!!! Awesome.(Except for 535 touch issues for some).

Nope.. Its completely fair and expected price.

If these two are overpriced, what will you say about iPhones hehe

It was shipped for something of 5-6k and what about 10k... We are paying for what???
Overall a bit highly priced... Will go for 640xl... As soon as its available

Ask the government. Taxes, bruh!

ya that's a good opion bro even i am planning to go for it.

Modi needs a new mansion.

It's not Modi. Sadiyon se chal tahi hai yeh pratha. Corruption kha chukha hai desh ko.

*government ko.
Modi stays in 7 RCR only, he gave all his wealth to some association some days back.

Microsoft gotta make money. Imagine if they wanted Apples margins...

but when they ll be availavle.. i cant find them on any site including amazon or flipkart Even microsoft's india site still shows "coming soon"

Dude they have launched it today.. Not selling it today.. Wait for some days to reach the devices in markets

But article does says that they'll go to sell immediately..

Immediately does not mean today.. It will take some time..

In normal world, immediately means today. But may be in MS's world immediately means something else.. \s

@AnkitGondalia dude please read the article..

It will take some days for the phones to come to markets and online sites

Does your mother cooks the meal in just one minute or two..?

She doesn't take half day atleast.
Mr. Abuser, if you have noticed, shipment has arrived a long ago..

Hey boy, I didn't abuse. It was an example. Though not sorry if ye felt bad.

Abusing is not defined to be word specific. You dragged my mother into it.
Now you thoroughly declining it.
That indicates you are an AAPtard. If that is true, boy, i feel sorry for you.

Wow idiot, giving an example on someone's mother is a bad thing, even though there is no word or mention of something negative.
What's wrong is your niche thinking. And I may tell you that even my mother cooks meals, same as every 4 moms outta 5.
And if you think that I dragged your mom into it, that's your problem. I don't believe in dragging. And keep your silly AAPtard jokes to yourself.

lol i must have strike the right node. Well, it was not a joke. It is as serious as your remark towards my mother.

Read again blind, I didn't say anything to your mother.

640 Will be exclusive for flipkart.
640XL will be available everywhere.

Its already available on flipkart for purchase, go and buy now.

Don't misguide... Only 640 is available not 640XL. I am also waiting for the XL.

Hmm... Lumia 640 XL is too costly for indian people and it will be difficult to get a good market in india and i am planning to get 640 XL in Barcelona rather than in india as it approx cost less in barcelona with 219 EURO. So, i will buy here and take with me to india thats the best option.

It's not that costly.. Lumia 730 was launched for 15299 and it sold well.

Ya ya i agree with you surely this will sold well

In the 730 you get a pure Nokia design, superb front camera and 6.7 mp f 1.9 rear camera for less than XL's price

There's just ₹600 difference in their mrp's when they launched, in their respective times. On paper, 640 XL offers almost everything more and better than 730.

Same Nokia designed team has designed this phone also.. The front camera module is same.. 640XL has 13MP camera against the 6.7MP of 730. I don't think there will be much difference in camera performance of 640XL except may be in low light photography. So basically you are getting 730 with bigger screen, more battery and arguably better main camera for almost same price. And if you see for the marketing purpose, Most people go by the difference in Megapixels and not the camera module...

Crrent street price of 730 is below 13K. So this is nearly 3K higher in terms of price. In fact, I feel this might push up the sales of 730 a bit.

Now that's the correct pricing for 640xl. But 640, maybe higher by 1k.

Nope, given the specs and the build quality, I'd say just 1k. 640xl is perfectly priced, though.

Yes 830 is way better.. Its camera can compete with the iPhone 6's.

this lie. 830 has a mediocre camera (for the price).

Look I saw the comparisons.. You should check them out too.

640xl for better cam, big screen, front cam & price.. 830 just for those metal frames and dedicated cam button.. 640xl is more value for money than 830.

640xl doesn't have pureview, so do not expect it to have a better camera than 830 despite the higher MP count.

830 has a better camera with OIS and Pureview. Build is good too. Performance may be slightly better in 830 due to smaller screen, same processor.

Whinge and whine. You whinge earlier about wanting it to be released in India and when it is, you whine about the price. Business is business. 1k too high? Really? Bunch of jokers.

You may call it whinning but Indian market is probably the most price sensitive markets in the world. Unless you are apple, you cannot remain in-elastic to price. Just to give a comparison 640 is launched at the same price as that of 730. 730 is hardly selling in decent numbers. So after the initial enthusiasm dies out, only way for 640 to sell will be if its price comes down to about 10K or less

There are some good phones with 2GB ram below 10k :( how will one tackle this question while recommending this phone

2gb ram under 10k? Like which phone? WP runs smooth with 1gb ram.. They don't need 2-3gbs like lagdroids to run OS smooth

Specs differ from performance!! WP 512 >= Android 1Gb

Ram isn't everything, bro. Just tell that iPhone has 1 gb ram. And many 512mb ram Lumia devices can outrun many droids out there.

Just tell the people you are recommending that CHEAP IS EXPENSIVE

I want 640 xl with snapdragon 410

The SD410 is a new chip where these would have started their design a year ago when that did not exist. I have the 830 and the SD400 is great for daily use. Battery life is excellent. I see nothing wrong with the SD400.

Stupid taxes & duties... Was hoping they'd be priced at 10k & 14.5k, but this ain't too bad either

CAN YOU START GIVING PRICES IN $ - @Abhishek Baxi

My bad. The rush of publishing it while at the presser. I'll take care.

No no no this wont give a big sale in India price is too high

Look at what you are getting. Anything launched in India is termed "priced high."
Some people might have actually said that the new Moto E is priced high.

Here in Kenya, Indians are the one who buy the most expensive things without being bothered by the high taxes, I am surprised in India people are complaining that 640xl is overpriced @15799 ohh my that's too cheap. You should be thanking Microsoft for doing you this big favour

Thats y microsoft can never compete with others. Poor pricing. Dont know when they'll learn.

So what do you want they price is around 5k or 8k ....then they will compete.....its bec of taxes the price got higher.

[From the Import data leaked days ago] Even after the customs duty and CST, the price 'd be around ₹6500. MS is getting a huge margin from this price tag 12K. I agree with the poor pricing..

Care to enlighten....custom charges & related taxes.....??

Sure.. Custom's duty for any product is minimum 28%. We take it as 30% [For clearance and domestic freight]. CST for mobile phones is 5% that makes the price as ₹6500 approx. The 5% value tend to increase a bit depends on the final pricing to buyers. Either way the margin is huge, heard that Flipkart will sell L640 exclusively so I guess 3K profit for each [Flipkart and MS]..

They want one lecture on how to tag price to compete with others? From Motorola and xiaomi

Lenovo A7000 also launched today for only 8999....now thats called attractive pricing

Lumia 640xl will be a LTE version

I think the 640 XL might be prone to pixilation a bit. 5.7" at half HD.

I think the moon is made of cheese.

Well should I buy Lumia 730 or 640xl ? Or wait for Lumia 740 ? Abhishek baxi, do review between between Lumia 730 and 640xl.

640xl is better no need of a review

L730 is better.. Its a beautiful device.

Disappointed with the price

640XL has carl zeiss lens or not?

It has only ziess optics not pureview.

That's the problem atleast xl should have pure view. Pureview are only in phones above 20k.

Pureview is just a marketing term.
I would sooner take an optically good 13MP sensor over the 20MP sensor in the 930 (with its pretty atrocious jelly OIS effect!)

made my friend wait till today when shez about to buy lumia 730 yesterday. :) will buy the 640 probably today or tommorow as soon it is available.

Lumia 730 is better. Buy it from Snapdeal and you'll get it at a good price.

Honestly I think the whole thing with the 640 and the 640 XL is just like the iPhone 6 and 6 plus. Not that it's bad, but it seems like Microsoft copied this idea and then used it on their most popular phone. I have an icon as my primary phone but I got a 635 to test Windows phone 10 and I see the appeal to that phone. Cheap but not too shabby.

If 635 had a better camera with flash it would be a great phone. As it is its excellent value for money.

640 doesn't have sensor core ?

It does, check the official page on microsoft

Means it supports hey! Cortana?

No, because that needs snapdragon 80x along with sensorcore

No. Passive listening for "Hey Cortana" is a feature of the chipset (the new Snapdragon 8xx series). It has nothing to do with sensor core.

I hear in Mars you guys are using 6G, these are just 3G models

Cant imagine an 8 mp cam without carl Zeiss and pure view lens. As lumia 720 user these wont be my next phones even though they are good mid range. Have to buy 830 or else see what Microsoft will do with their flagship.

http://www.flipkart.com/microsoft-lumia-640-dual-sim/p/itme68y5bnhsrmq5?pid=MOBE5GJ7FWNHKPXY&srno=b_13&ref=009de16a-560b-419e-be9f-ffc1e9098619 Listed as coming soon on Flipkart

What's the price for 640xl LTE Dual SIM?
Edit: 640 is still listed as 'coming soon' on Flipkart

What's the meaning of dynamic flash?

May be there is no change in the effect of lighting they used that word because to attract. I think so!?!!!

You can alter the flash levels after the photo has been taken (it's a feature of Lumia Camera 5 - it blends a non flash shot with a flash one....allowing you to blend the two for the nicest effect. Works v.well apparently)

First of all, prices for all mobiles launched by Nokia/Microsoft has always been higher initially. This is how companies make profit by taking advantage of early adopters. Then gradually they decrease the prices. I bought lumia 730 for 15K in Oct 2014. See the prices now I can get it now for 12.5 K after 6 months. And I believe 730 is slotted nicely in between 640 and 640 xl.

That may be a strategy but to compete against the big guns pricing need to be attractive as well. It should be competetive rather than expensive. MS shouldnt think of higher profits for sometime until the market share rises..

Should've been 10k and 13k respectively!!

You can purchase Lumia 640 from the below link http://www.flipkart.com/microsoft-lumia-640-dual-sim/p/itme68y5bnhsrmq5?...

So slow to reach Malaysia!!

I hate this led flash light.
Which type of flash light that Samsung uses their galaxy s duos series? Samsung is far better in using good flash lights.

Huh? The duos has a standard LED flash. That phone also looks horribly cheap!

Almost all Samsung looks same and cheap for me.

Prices should have been 10k and 13k for Lumia 640 and 640 xl respectively.

12500 for lumia 735 and 11900 for lumia 640.. Mmm :-/

I think they should take back their Office 365 offer and sell both for 3K less...Atleast they will stand a chance against competitive offerings from other android counterparts....Poor pricing for phones without 4G...No game changer

Even they are not qualified for the game. Lol

Just sell the 365 code! You can get a minimum of $30 for it on Ebay

You are naive if you think that removing the code would save that much. You simply have no idea how this works. MS doesn't pay retail price to itself :rolling-my-eyes:

So xl is gonna crush 830...

update 535 screen problem ! first

They are independent, but I doubt you'll ever understand that.

Prices suddenly dropped for Lumia 640 in flipkart, now listed for 10900, earlier it was 11900

May be they're watching comments in WC.

It shows only 11999. Whet u find

Flipkart now showing cost of ₹10,927 for the 640, well, that deescalated quickly

People who are blaming the taxes, please! Lenovo A7000 has been launched in India for ₹9000 today. It's specs are closer to 640XL than 640. If we want to compete with Android in India at least 640 should have been priced at sub ₹10k.
And most other arguments here are true. Most of the ppl buying phones in this range will be least bothered about Office 365. They should have shaved that off 640, and 7-8k for it would have been a steal on market ala 520

Haha.. Thats funny.. You want MS to cancel office 365 and sell Lumia 640 for 3K less?... Its like there is an offer - buy one get one free ... And you are saying you only need the free one... Not the one that costs you money.. Come on... Office 365 is complimentary offer... Dont be a fool

Nothing foolish here. Stop being arrogant and calling names. Unlike you I am going to explain it you without calling names.
1. I am from India. Most of the people here buying phones in that price range aren't even aware of Office 365, forget using it.
2. It's called pricing strategy. What do you mean complimentary? Microsoft is incurring cost for Office 365 right? It's mentioned in the article as worth ₹3299
3. So by including a service that most people wouldn't bother about, you're driving your costs up.
4. So if you can bring your cost down by excluding something that doesn't affect your product and not needed by target, and in the process arrive at a better price to compete in market, then you should do it.
So yes, 640 could have been better priced without the Office 365, and there is nothing foolish about it with the market targeted here!

What the hell... I'm also from India... Do you think MS is incurring the cost of office 365?.. Come on... Its complementary bro.. They are just giving it as an offer.. Not forcing you to use it.. They know about the market and most of us dont even care of office 365 .. But they can only offer what they have.. They cant reduce the price..so To make the price worth , they are giving offers like office 365 and all.. Your view is completely wrong about this office 365 and incurring the cost..

And your analogy of BOGO makes no sense here. You do that if you want to dump off unsold stock, or would certainly want to jack up the cost of first device that you are paying for to get the second device for free. Nobody's here for charity, or have deals for losses

I wish i had time to explain it.. May be later... Till then, i hope someone's gonna give you an explanation for what i said... Or i will do myself... Later..

You are one of those people that simply don't get it. If they took it away, they would still sell you the phone at the same price. It doesn't take a genius to understand that MS is not charging itself for office. Lighten up!!!

Exactly what i was trying to say..

First of all Happy birthday VAIBHAV VIBHU, So you got Special gift from MICROSOFT (launching of 640 & 640XL). Can now anyone tell me, IS IT BETTER THAN LUMIA 730????? or i Should still go for Lumia 730? (Price no bar). THANKS

XL is really good.. But with in 3 months the price will drop.. You can wait for it or you can by L730..i have one.. I'm convinced

Lumia 730 better than 640 by design, screen clarity, camera and form factor.640 has bigger screen than 730 and also has glance screen. Between 730 and 640 xl,I think 640 xl is better with much bigger screen, bigger battery, better camera and glance screen.

The XL will suffer from some nasty pixellation !!

How is the 640 or 640xl better than the 730 ? The 730 has better design, OLED screen, better camera (maybe not as good as the xl) and the same SoC. In fact the 730's camera slots in between the iPhone 5 and 5s (with LC5). As of now the only thing the 640 and 640 xl has got,is Lumia Camera 5. I still don't see why should ppl regret buying a 730, much less a 830.

Can anyone give me link of Lumia 640 xl in flipkart.

Lumia 730 still rocks :) It has a Carl Zeiss lens.. Oled display, 316 pix density ( more than both 640 & 640XL) incredible build quality.. & Most of all "Nokia" tag at front & back. :)

I second your thoughts!!! Love the lumia 730 :) my last lovely Nokia phone!!!

Prices for Lumia 640 again backed to 11900 from 10900, bad decision by Microsoft.

I think its because of flipkart

Just wondering if the 640XL will support LTE speeds for use with TMobile in the US

Still not comparable with motog .. With low price n better front facing camera.. Moto g gen 2 wins again :( .. Hope price tag was low or at least had wide availability

I would buy the XL as a larger phone for the 920 I have if it ever lanches anytime soon in the US, I will not buy it locked to any carrier or on contract.

High pricing, switching back to Android

Practical minded people also do

People that don't care about quality switch.

two questions: 1. does the black cover sport matte finish or gloss? 2. whats the use of magnetometer? any app or hardware that uses it which IDK . .?

Available only on flipkart.its a good move by Microsoft. Flipkart will do their own marketing of 640 too... :)

How many times do I have to tell wp please also mention the gpu because it matters a lot today.1 gb ram isn't enough without a strong gpu.

You definitely don't know what you are talking about. This is Windows Phone, not Android.

Release it in US asap! Posted via the Windows Central App for Android

Microsoft did a big mistake. Price of both models are 2K expensive than wat we expected. Microsoft is doing wat Nokia did. Price is important matter in India. If Microsoft do like this means then they cant survive.

Your own post kills your complain. Nokia did better in India than in most places. Microsoft is just d going the same.

I was thinking of buying another windows phone after my 520, but switching to android coz of poor pricing and app gap. More apps r getting pulled and developers not taking windows seriously even after 4 years. Microsoft will always b playing catch up. Bye bye lumia

Feels like overpriced about 2000 rupees for each device

Lumia 640 is HIGHLY OVERPRICED ... and people who think that we're getting free Office 360 and cloud storage ..bullshit that is. MS thinks people will be buying MS 365 after it expires in one year, no bro you're wrong, This is India, and cloud storage .. haha.. who the hell will be using so much of cloud storage that too in India where Internet Infrastructure is so badly aged-sick-pathetic. And see.. MS can Price lumia 638 around 8K (Now cheaper) with same processor and sensor core but what happened here ?? You misjudged Indian market MS. Better buy Lumia 730 @12999 or less that will be bang for your Rupees.

MS il suffer alot for this pricing

These prices will drop sharply anyway within a few months so Microsoft have their pricing spot on

Ooh yeah. Finally a worthy successor to my Lumia 620

Frankly speaking, I was so excited that I wanted to buy one as soon as it was launched. However, the prices kept are the ones I thought would be for LTE models. The speculation was around 10K for 640 and 14K for the XL. So I guess, I will just wait for a month or two for the prices to cool down a bit. Also, If 1520 is officially discontinued from Microsoft store itself, should I wait for the Flagship. I think that will be too much waiting though.

When will Lumia 640xl Dual SIM go on sale in India as it's already announced and flipkart has already started selling Lumia 640? Kindly let me know whether Lumia 640xl Dual SIM LTE varient will be launched in India or not as Microsoft India has listed it as 'Coming Soon' in it's website?

I am eagerly waiting for Lumia 640 XL. When it's going to be available on Online stores in India?.

Microsoft please keep some offers to upgrade from old Lumia phones especially 520!!!!!

Lumia 640 XL Now available at online store in India. microsoft link : http://www.microsoft.com/en-in/mobile/phone/lumia640-xl-dual-sim/ The price they are showing is Rs. 15,499

Well, as said they have launched the phones but I can see only Lumia 640 on online store and they have no information about Lumia 640 XL when this is gonna be releasing in India ... I'm just eagerly waiting for it .. could you please provide me the date ?

why doesn't it have a touch senstivity feature ? :O
Windows Central Newsletter
Get the best of Windows Central in in your inbox, every day!
Thank you for signing up to Windows Central. You will receive a verification email shortly.
There was a problem. Please refresh the page and try again.