Microsoft launches new Office Online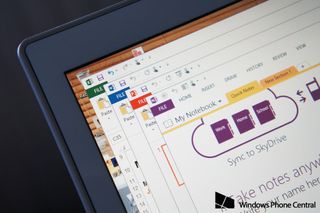 Microsoft has today launched the newly rebranded Office Online (www.office.com (opens in new tab)) suite of apps, succeeding the popular Web Apps. Today's launch also paves the way for more usability improvements to make it easier for consumers to take advantage of available features, including easier collaboration and sharing with others.
The original Microsoft suite of online Office apps were confusing with regards to the branding and how everything was set up. There was no fluid navigation to go between the online Office apps and other Microsoft services, including OneDrive and Outlook. Now everything will change with all the online services coming together.
The same suite of apps are available. You've got Excel Online, Word Online, PowerPoint Online and OneNote Online. Everything is synchronised with Microsoft's newly rebranded OneDrive cloud storage. Fear not if you already have the desktop counterparts as it's really simple to go from the online suite to offline mode with a click of a button.
Head on over to Office.com to try out the new service today.
Source: Office.com (opens in new tab), via: Office Blog (opens in new tab); thanks to everyone who tipped us!
Windows Central Newsletter
Get the best of Windows Central in in your inbox, every day!
Rich Edmonds was formerly a Senior Editor of PC hardware at Windows Central, covering everything related to PC components and NAS. He's been involved in technology for more than a decade and knows a thing or two about the magic inside a PC chassis. You can follow him on Twitter at @RichEdmonds.
The Office Web Apps still dont show up in the outlook.com header. Outlook.com shows up in the Office Online header though.

Thankyou I sent them feedback on that yesterday...

Made a concept for this: http://1drv.ms/1ctC4Mx

Thanks Felix B, but you've spelt some names wrong. Contact is with a C not a K ;)

not in Germany my friend ;) I was too lazy changing the other names :D

Good news freshfelicio. They took your feedback. They added web apps to the header. http://i.imgur.com/I4O2t49.png

Goodbye Google Docs, you piece of s***. I've had the most frustrating experiences using you.

I use Google Docs for work (I haven't been able to get them to switch to 365 yet). It is such a PITA, looks ugly, and is missing so many nice features and nice touches that Office Online has.

Also Skydrive still shows up on Outlook.com header.

they should add Office to bing site...

Hey , you said Google?!? , office apps are Microsoft products, not Google ones!! .

and the default homepage msn.com

like this: http://1drv.ms/1ctC4Mx http://1drv.ms/1mdxRQg http://1drv.ms/1mdxR2y ?

Is this Office available to purchase for windows 7 users??

You can't purchase it, it's free.

If you're referring to the Office in the headline photo, it's Office 2013. Yes, you can buy it. If you're talking about Office Online, you could buy additional storage for it.

Office 13 is it possible to get on windows 7 I doubt

Office 13 and the web apps are both available on Windows 7.

For how much any idea? Office 13?

You could try Office 365 - http://office.microsoft.com/

You need to check microsoft store for that. Rates and values differ.

http://office.microsoft.com/de-de/buy/ 0€ Office Online:
Word, Powerpoint, Excel, OneNote, Outlook.com 139€ Office Home & Student 2013:
Word, Powerpoint, Excel, OneNote for 1 PC (only private use) 269€ Home & Business:
Word, Powerpoint, Excel, OneNote, Outlook for 1 PC(commercial use allowed) 539€ Office Professional 2013:
Word, Powerpoint, Excel, OneNote, Outlook, Publisher, Access for 1 PC(commercial etc) 99€ per year Office 365:
Word, Powerpoint, Excel, OneNote, Outlook, Publisher, Access for 5 PCs + 20GB OneDrive storage + 60min Skype per month for 5 PCs. I hope that helps.

Check with your company first and see if the do the HUP program. If they do its $9.95 for Office Pro 2013, installable on 2 machines. Just fyi... Got mine like that. jejeje

Looking very much forward to simultaneous editing of Excel documents in the desktop app.

Can you use this office online for comercial purposes even when my company has 400 emplyes?

Yes. I'd recommend setting up Office 365 as well, to get a better experience.

Want more on office features on WP too like opening another document by swiping up from down. Making few excel sheets and having an option of making graphical data of excel data.

It is really painful to use such complicated actions on small phone screen. I usually only add a cell or edit some words on phone.

What has that to do with his comment o.O

You can use multiple sheets and create graphs on Windows Phone.

Wow, Microsoft really integrating and updating lots recently. Al in the right direction :-)

There go my days of using google docs for online sheets.

why don't they just wrap them up as apps...? if they are making different versions all (nearly) from scratch that sounds like a lot of meaningless extra effort to me. i read somewhere you can make an metro app in html5 right?

Its not as easy as you think. Office Online is also quite limited in functionality, while the Metro versions should be fully functional and propably part of Office 365 so you have to pay for it.

Office for my iPad at last :-)

Office web apps have been available for years.

I hope wp office gets a nice feature update in 8.1 because right now it's too limited

Bingo....donno why these *uckers keep missing it....

Wow, how many different versions and incarnations of "Office" can MS come up with?? I know it's their cash cow, but jeesh, at some point the matrix of available Office products becomes a bit bewildering and probably confusing to customers. Maybe they could get a little (or a ton) more creative with product names so it would be easier to immediately know which Office is being discussed.

SkyDrive here One drive there... 4 here 8 there... pic.twitter.com/1gQxr5Xr93 MS... Please fix this. Add Skype too (Lynk, IM) Add Azure WM (Second Screen via Azure Virtual Machine) Windows Phone . com Add office365 ...Create a UI Metro Starter in the clouds

Its shocking to me to see here how many people had no idea this already existed. It was linked through outlook.com and the old SkyDrive.com as office web app suite... This isn't really new, just reworked of the same stuff. But everyone is acting like they have never heard of it. This goes to show that Microsoft needs to do work on their services awareness.

They just did, and the fact that people are reacting this way means their change is working in a big way compared to the old branding.

Am I missing something, or isn't Office.com just pointing us back to the outlook.com site again?

I guess you are. Cuz office.com completes the url to this: https://www.office.com/start/default.aspx and lets you go straight to this:

When is office mobile getting updated
Windows Central Newsletter
Thank you for signing up to Windows Central. You will receive a verification email shortly.
There was a problem. Please refresh the page and try again.