Microsoft launches Xbox Music web client; enjoy millions of tunes through your web browser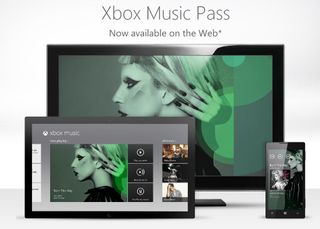 Microsoft has today unveiled and launched a new client for Xbox Music. Subscribers to the service can now enjoy music through the web interface. The new client (found at music.xbox.com) shares a similar look and feel to the Windows 8.1 Xbox Music app we recently looked at, which isn't a negative. Keeping it all familiar is a bonus for those who utilise multiple platforms.
Functionality featured by the web client includes the ability to manipulate and configure collections and playlists already stored on a Microsoft account. As noted above, this is open to subscribers with the Xbox Music Pass. Unfortunately there's no support for free streaming, but there's the option of a 30-day free trial. To see what's playing right this very second, a now playing area is situated at the bottom of the screen, sporting the array of playback controls.
It's clear how Microsoft is starting to look at opening up the service to other platforms and reach out to as many consumers as possible. We've got to remember that Microsoft is in the midst of restructuring to a device and services company. Being a service, it makes sense for Redmond to release similar apps on competitor platforms. The only question is how would the company go about it?
You can try out the new web interface over on the Microsoft website.
Rich Edmonds is Senior Editor of PC hardware at Windows Central, covering everything related to PC components and NAS. He's been involved in technology for more than a decade and knows a thing or two about the magic inside a PC chassis. You can follow him over on Twitter at @RichEdmonds.
Ha, I JUST sent in a tip about this.
This is awesome! Xbox Music FTW!

Think this will come in very handy for listening to music at school. GAGA OOH LA LA.

Was poking around with this today. Most of my home music library matched so it's available via their web site. I just wish there was a way for Xbox music just to recognize the artist and track without the album. That way my custom compilations would show up.

Wasn't sure if you have the acutal pass, but what I did was search & download the compilations so that it shows up in my library now. Again, need the pass, but it works well for me.

Finally, I can listen at work!!!

MS had pushed out the web streaming service when Zune was around...

Zune is dead... Don't kick a dead horse, it won't get up!

That reminds me of my life. It doesn't matter if I get up again or not, the horse is dead, I'm not going anywhere.

Sounds like someone with one (or more) ex wives! Haha

Glad to have this feature back.

Give me a music client that actually works

Guess which countries where the music pass is available & i bet India isn't among them. Enable Xbox music in India,please,Microsoft. I ,plead,go down on my knees with my begging bowl,entreat,prostate,request you to do so. I rest my case,my lord.

Gee... You really created a scene there. Lol

Under these circumstances one has to.;-)

Thank God .. We still have Nokia !;

worst thing, I have my phone imported from another region (UAE), so I can't even use Nokia Music (Mix Radio and Music Store). Further, we don't have Bing rewards, local scout, and many such things here in India. I don't understand what Microsoft and Nokia are doing in this regard.

And we are the loyal supporters & early adopters. All the phones that i had,have,or will have been based on Microsoft OS. My laptop & desktop both had Windows 7 Home premium,which i updated to 8 & now to 8.1 although both are non-touch

I emailed Nokia Music about this thing. Many people buy their phone from other regions. Further, what if you move to some other region for any reason (job, study), that means you have to buy another phone? That's stupid. The Nokia Music support people called me and told me whatever I already knew, "You can't use Nokia Music in other regions..blah blah."

Signed in and all my music appeared.
I feel the soul of Zune here, man. It's a scene.

JAY, the images don't show up in the wpcentral app. Why is that? O.o

Normally I probably wouldn't have spotted this comment, but you're lucky. Fix is submitted and should be here by Wednesday. It would have been here today but I pulled the update when I spotted another problem with YouTube video discovery which needed fixing asap.

Cool! That's great :D I'd have tipped you through the app if you didn't respond. Thanks anyway ;)

Looks nice, just like the 8.1 preview app, but I am disappointed to see that there is no free streaming option. I'm also surprised to see that I can't even access my own purchased music locker from Xbox Music.
The web player is pretty much useless to those without an Xbox Music Pass.

Meanwhile W8 and WP8 xbox music apps still sucks.

Yep, fix the syncing and DRM issues please. This is all dev work focussed on the wrong stuff IMO.

This is pretty useless unless it can work across all platforms - PC, XBOX, and Windows Phone 8.


You can stream music on windows phone 8?

Through the Music + Videos app, unless I'm mistaken?

Yes. I stream Smart DJ mixes several times a week while I am out running with my Lumia 810. Works perfectly.

I forgot about the Smart DJ option.

Not really news? They shouldn't have let a web client lapse in the first place. This was in place with the Zune service, and they should have had this months ago when they relaunched as Xbox Music...?

How is this not news? Such a feature wasn't available yesterday and it is today? Is said availability not new information?

You have to be nice, Zune users are still pining and mourning instead of moving forward! Lol

Or moving backward as is the case with Xbox Music especially when compared to the Zune software.

Things have to sometimes get worse before they get better... I get exhausted by WP7 users and Zune users... Oh wait they are basically the same. Upgrade, move on, no point whining, they are working on it.

instead of working on it and pissing people off, they cudda just rebranded zune to xbox music...just saying.

Too bad it's under the Xbox.com domain. Most workplaces have this filed under games and therefore blocked. Will use it at home for sure and welcome this functionality back!

I thought I was in luck for a bit, my workplace doesn't block xbox.com so I was able to see the site and click around the service, but streams kept failing. I buried into the network requests taking place and it looks like the music streams themselves come from xboxlive.com, which IS blocked! Nooooooooooo! ;)

Got a free pass to try it out. I like the design of the site, but there are some serious features missing and some odd UX holes. No shuffle? Proper managing of the "now playing" is a bit odd. And quickly adding songs to a playlist doesn't work too well. Also was sad to see that discovery was so bad in the app.
Still, I am glad to see MS adding more to this. I too am still sad to have seen Zune (as a service/app) die as it did, rather than evolving. They did A LOT right with Zune... hope they pull more from it than they currently are.

my music isn't loading. just get the spinning wheel. but hey, at least it's here and they're trying. i'm sure it'll work for me eventually. using Win7, btw.

The introductory video essentially claims all music all playlists synced on all devices! Well, I better listen again and again, the video couldn't have said that. Maybe it's the goal. It's a good goal.
It doesn't work on my Lumia 822 Internet Explorer.
Doesn't work on unblocked IE8.

Blocked at work due to Xbox games

O please take of that shit face from the pic...lady gargoyle is anything but music

She's more musically talented than you and tons of other artists. Stay pressed.

Am I missing the button to shuffle my playlist? I tried on 2 different browsers and only see the turn repeat on/off. Not having a shuffle feature is a huge hole.

I'm not seeing it either. If it is not added soon, I won't be using this service very much.

I tried to be sneaky and accessed the site with my WP 7.5 IE browser, but a funky incompatibility screen came up. It could have been a alternate access to all the goodies my old phone can't get from Xbox Music Pass.

Xbox music is a bit expensive @120$ a year not even Xbox live is that expensive I've seen 12month cards for 40$ why is xbox music so pricey maybe because there's more people on Xbox live well they can fix that by bring prices down ..... I would buy it but for now Pandora,metro radio do just fine for free

I don't find it expensive at all. For me is the perfect music service: I listen to whatever I want, whenever I want and wherever I want... I don't think Xb Live and Xb Music are comparable. Most gaming activities in XB Live require you to actually purchase the game, not so in Xb Music. Royalties need to be paid for streaming instead, this increases the price.

It all depends on how you use your music, really. I mean, with Xbox Music you can download unlimited songs of your choosing and play them offline (currently you can do this from any Windows PC, a Windows Phone, or if you purchase an old school Zune. It will probably work on any device that reads WMA files, actually, since they'll have been equipped to read the license. In the future, it will extend to Android and iOS devices). The DRM resets itself around every 45 days or so, and if your subscription doesn't lapse, your licenses on those songs gets extended another 45 days. And of course, you can listen to absolutely any song you want at any time with no ads or restrictions on skipping songs. Search for an artist, album, or song and listen to anything. Of course, again, if that's not how you use or listen to your music then that's fine, but that's basically what you're paying for and to some it's not expensive at all to be able to do all of that

Wow. I read it as 1200 a year and got nervous! Then looked again. Only $ 120 retail, and I buy it at a discount.

Wish I could access the musics that I've already bought on Xbox Music service without having an Xbox Music Pass. At least in Brazil I can't use it. Actually I think I was expecting a LOT more, but I'm happy for those who can use it

The introductory video essentially claims all music all playlists synced on all devices! Well, I better listen again and again, the video couldn't have said that. Maybe it's the goal. It's a good goal.
It doesn't work on my Lumia 822 Internet Explorer.
Doesn't work on unblocked IE8.
Update: works on IE 10 on Win 7 OS. A song I purchased yesterday on my WP8 (Lumia 822) shows up and I can add it to a playlist (yea) ( all my playlists don't show up?) but the song won't play in the play list. It says it isn't part of the collection. First impression: okay, glad to have it, but is missing Zune features.

Boo requires flash. If Spotify can do it without, Xbox can.....

w00t! This is awesome, I love how it mimics the new UI from Windows 8.1. I logged in and all my music was there, streaming has been great so far. Its super fast too, wish it was this fast on my Surface RT.

How does this compare with Rhapsody? I'm generally happy with Rhapsody and have subscribed for years (originally Yahoo Music). I'm disappointed that they don't have a Windows 8 app, but having a WindowsPhone8 app was one of my deciding factors for the L920.
What's the collection like? Does it offer artists that are pretty much absent on Rhapsody, ie Beatles, Led Zeppelin, Bob Seger, AC/DC. How's the soundtrack selection? Looks like Rhapsody finally added Eagles, Red Hot Chili Peppers, and Nine Inch Nails.
Guess I'll try out the trial, now that they have the web client.

They need to focus on the Windows 8 & Windows Phone 8 Xbox music apps and make it like Zune or iTunes so downloading music will be a lot easier and less restricted. I'm tired of my albums disappearing from albums/artists and losing their cover art

That's strange, they say the service is not available in Canada.
What's wrong with Canada, eh ?

Are you able to add tracks to an existing playlist and create new playlists with the WP8 app yet? If no, Xbox music unfortunately remains useless for me... :/

Not working on my Surface Pro...says my web browser isn't compatible...

Website not available on my Nokia 920 home wifi connection.

I HAVE GREAT NEWS!!! This new web interface is literally where all of your cloud music is stored. I know a bunch of you have been having tons of headaches with unwanted cloud music downloading to your computers and such. Well here, you can delete music so it will no longer show up in your cloud music. Also, you can delete tons of random playlists that are attached to your cloud.

Not available in my country. :|

still not loading my music...just a wheel that keeps spinning and spinning and spinning and spinning and......
Windows Central Newsletter
Thank you for signing up to Windows Central. You will receive a verification email shortly.
There was a problem. Please refresh the page and try again.