Microsoft launching Xbox One X in India on January 23
The Xbox One X is coming to India, but you're not going to like the price.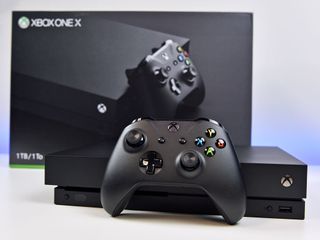 (Image credit: Windows Central)
Microsoft has sent out invites to the media for an event on January 23 where the company is expected to launch the Xbox One X in India. The high-end console made its debut back in November featuring a 2.3 GHz octa-core CPU and a Radeon GPU with 40 compute units that can hit six teraflops. The end result is native 4K gaming on a console that's touted to be the most powerful in the world.
All of that performance comes at a price, with the Xbox One X estimated to retail for ₹44,990 in the country, which comes out to $700. That's a $200 markup from what the console retails for in the U.S. (opens in new tab).
On top of that, you're going to need a decent 4K TV to fully utilize the potential of the Xbox One X, which when combined with the cost of the console can lead to a pretty sizeable investment. In fact, you can build a decent gaming PC for the equivalent of ₹44,990, but if you don't want to go through the hassle of assembling your own machine or are looking for a console that can handle 4K gaming and HDR, there isn't a better option available today.
I'll share more details on availability next week. In the meantime, who's interested in picking one up?
What's the price of XOS? Maybe it is taxes/duty.

Lies/misinformation from Windows Central??? You cannot build a gaming PC with a 4k blue ray player for $700..

LOL who is talking about a gaming PC with 4K blu ray player? How many PC games need a 4K blu ray player?

I bought mine for $650 (165000 HUF) here in Hungary... because it's its official retail price here. In the heart of Central Europe... So this price is not that high :D

Lol, this is NOTHING compared to the price here in Brazil: R$4000, which is U$1200 by the current currency. Yes, ONE THOUSAND AND TWO HUNDRED dollars. I would be really happy if it was even closer to the indian price. But still, no way you could possibly come up with a 4k machine with the same value. Lucky is that in Paraguay, a small country two hours away by flight, the taxes are real low, a one x over there is around $550.

Forget that it's coming late, the worse part is that even though it's way more expensive, it's probably getting a lot less content,feature and support than in the US.

why the $200 difference between us and India anybody can explain? i already have Xbox one can i exchange it with Xbox one x? please help me

i think nobody come to buy this hell thing!!!!!!

You cannot build a decent gaming PC in India for 45K! The price of an equivalent GPU ie. gtx 1060 alone comes to about 24K. Glad I bought my Project Scorpio for 35K from UAE.
Windows Central Newsletter
Thank you for signing up to Windows Central. You will receive a verification email shortly.
There was a problem. Please refresh the page and try again.