Microsoft to make Precision Touchpads a requirement on new hardware with future versions of Windows 10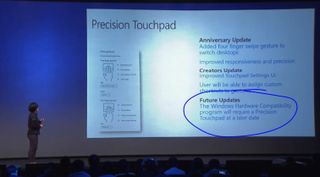 For a long while, before precision touchpads came into play, Windows laptops were known for being terrible when it came to trackpads, and that was because each hardware maker had their own way of building and fine-tuning the tech used to control the trackpad. This made it so every laptop running Windows had a slightly different, and very bad trackpad that was a pain to use.
That was the case for almost a decade, until Microsoft unveiled a standardized technology called "Precision Touchpads" which give hardware makers everything they need to build the best trackpad on Windows. Microsoft use it in their Surface Pro 4 type cover and Surface Book, and 3rd parties like Dell use it in their XPS line. It truly is the best kind of trackpad you can buy on a Windows machine, and it's noticeable when compared to other, order trackpad tech.
As it currently stands, that technology from Microsoft is optional for hardware makers, meaning they still have the option of using whatever trackpad tech they like in their machines. What this means is the likes of HP, who are now building amazing, premium devices, are still using trackpads powered by Synaptics, which arguably aren't as good. HP claim that Synaptics allow for more control over the different options their trackpads offers, but at the end of the day, Precision is just better.
Microsoft knows this, and have announced at WinHEC that they are looking at making the use of Precision Touchpads a requirement for devices part of the Hardware Compatibility Program, for future versions of Windows 10 after the Creators Update. This, in theory, would mean hardware makers would have no choice but to implement Precision Touchpads rather than touchpads from Synaptics or some other 3rd party trackpad maker if they wish to preload Windows 10 on their devices.
Update: Point of clarification as Synaptics actually makes the hardware for Precision Touchpads (PTPs), but manufacturers have the option to enable either Microsoft's Precision tuning software or use Synaptics instead. As a standard, Precision is mostly about software tuning with some basic hardware guidelines. That means that companies like Synaptics and Elan won't necessarily be hurt by this decision, but rather their software optimizations may not be utilized as frequently.
This wouldn't mean devices without Precision Touchpads would stop working, it simply means hardware makers that want to ship new devices with, say, RS3 or RS4, would have to ship with a Precision Touchpad. This is great news for everyone, as it means Microsoft will finally be standardizing the technology used on all Windows trackpads. Excellent.
Now, keep in mind that hardware makers don't necessarily have to follow the Windows Hardware Compatibility program, but if they wish to have a "Built for Windows 10" certification, which most of the big hardware makers do, then they will indeed have to follow this requirement if Microsoft put it into effect.
Thanks for the tip, win10fan!
Zac Bowden is a Senior Editor at Windows Central. Bringing you exclusive coverage into the world of Windows 10 on PCs, tablets, phones, and more. Also an avid collector of rare Microsoft prototype devices! Keep in touch on Twitter: @zacbowden.
Since the most precision touchpad available for the PC by a huge margin, the Logitech T650, is STILL not properly recognised by W10 with the swipes not working anywhere near correctly (a bug that has been around since W10's release) when it works perfectly in W8/W8.1, I remain unimpressed. I mean, It's not even like there is an alternative that we can buy that works with W10 (certainly nothing that comes close to the T650). Fix it first MS, before you make it a requirement. Just an idea.

Does T650 even support Precision Touchpad or are you simply terribly confused by the nomenclature?

It's not up to Microsoft to fix Logitechs broken devices.

Maybe ask Logitech to update their drivers? no?

Wonder why you are having issues? My T650 works fine in Windows 10 and has since day 1.

Do you even know what they mean by "Precision Touchpad" ?? we are not talking about the most "Precise" touchpad here, but a set of hardware/software that give the best touchpad experience you can find on a Windows 10 laptop...

This is all great news, but if I'm honest the Surface Book touchpad et al while its superb it isn't as good as the Lenovo Yoga 13 touchpad with the old school drivers from Synaptics - the new version of the drivers for the Anniversary build onwards suuuuuuck! This is why I'm still on build 1511 and love the Yoga 13 for so many reasons, but I'm held back from enjoying a better Windows 10 experience because of what shouldn't be an issue in this day.

I had 2 generations of Yoga and they have awful touchpad. Please get some perspective and try more devices. The whole article says that Synaptics touchpads are awful and Microsoft's Precision Touchpad is much better tech that we should be happy they are making a requirement for their program.

I wouldn't have commented if I hadn't tried other devices dur. I setup client and user devices for a living, and live with these days for days at a time while configuring them for the user's specific needs. I am happy about what the program is about hence my opening line "This is all great news...".

No, your opening line was "This is all great news but...". Everything before "but" is a lie.

Sure why not. My comment clearly gives kudos to the Precision touchpads and then my own experience of a specific machine which I am sure you have not experienced personally. Granted not all touchpad are great, the Yoga 13 (with custom settings) is better experience than the Precision touchpads. Like it or not that's my opinion.

Like it or not but your opinion sucks.

Everyone is entitled to their own opinion. Claiming other's suck is just plain rude, sir.

If everybody is entitled to their own opinion then having an opinion that somebody's else opinion sucks should be an option too, right?

Today on Windows Central we present you 'how to become a troll'

Telling he's lying because he had a different experience is ridiculous.

I haven't used the Yoga 13, but I have to tell you, even on my brand new Surface Book with Performance Base, palm rejection still isn't good enough to make me happy. I like the gestures and all, but I want better palm rejection.

So this is just for laptops?

Touchpads for desktops is such a seldom case that it's not worth bothering probably.

If you have a Bluetooth keyboard with built in touchpad, then it will most likely already have Microsoft Precision tech.

I have the All In One Media Keyboard from *microsoft*, and it don't have precision touchpad lol. What is worse? It don't even have gestures, just the basic ones (scroll and zoom).

I have that keyboard too. You're right it doesn't have gestures or most of the precision touchpad features but the scrolling gesture is fantastic - as smooth as a proper precision trackpad.

I hope not, I would love to have a stand alone touchpad like I had on my older Mac.

So get one. It works with Windows.

I have the one from my Mac and it doesn't work. I've even used the TrackpadMagic.com software which did get scrolling and such "working" but things like precision pointing and gestures still do not work and scrolling does not allow for "flicking".

Haven't needed a touchpad since the advent of the touchscreen and the stylus.

Trackpads' suck so much that I buy a mouse for every laptop or tablet i own.

Good. The Synaptics trackpad on the new HP Spectre x360 can be very frustrating at times.

Cool to see the nod to Windows Central in their presentation

Finally.
it was just discussed in the WC Podcast.

That would be great! I can't believe some computers are still coming without them.

My Dell Inspiron 5578 comes with great touchpad, but I still prefer to use a mouse and an external keyboard and have my laptop connected to a large monitor. I wouldn't pay more for a laptop having a touch precision touchpad so I think this is a bad idea since it will just make laptops more expensive.

It won't, because this won't increase the price. This is all software related.

Not really. If that was the case, a lot of computers that don't have the precision track pad would have had a driver update. It is all in the hardware.

Nice! I still remember my upgrade from a cheap Toshiba laptop to my Surface Pro 3. I'm not even sure if the SP3 usses Precision, but damn, it's so good in comparison with my old laptop. Even though the trackpad is a bit small, it just works perfect for me and gestures like scrolling feel good. No switching back for me!

I can't imagine Synaptics will be happy about this...

Synaptics made Precision Touchpad together with MSFT.

"I can't imagine Synaptics will be happy about this..."

Who do you think makes Precision hardware, the actual touchpads? It's Synaptics.

Non-precision Synaptics touchpads with the drivers configured properly (including registry edits where needed) are miles better than any precision touchpad I've seen on any laptop. The configuration options for precision touchpads are close to non-existent in Windows 10 and most of the actions Microsoft chose as defaults make no sense. They don't even offer the option to set the task switcher (WIN+TAB) for any of the supported gestures.

I don't know what you're talking about... three finger swipe up brings up task switcher. Or you can swipe with three fingers to the side to change tasks.

"Non-precision Synaptics touchpads with the drivers configured properly (including registry edits where needed) are miles better than any precision touchpad I've seen on any laptop. "

100% disagree and I use pretty much every modern laptop Re: your complaints about gestures you're obviously not using RS2 as there are a ton of new custom gesture options

If the next spectre x360 gets a precision trackpad, this will seal the deal for my next laptop

Inevitably it will. You'll just have to wait until HP puts out a model following the release of RS3.

If that's the case, then they better make Precision touchpads a lot more customizable as Synaptics offered. While the Synaptics trackpads I've used weren't smooth in performing gestures like I have on my Surface Pro, at least they offered a more advanced functions like holding shift keeps cursor in straight line, various shortcuts triggered by tapping certain section of the trackpad, etc.

"If that's the case, then they better make Precision touchpads a lot more customizable "

You should then check out the RS2 builds, because it's already in there with new features that will probably increase.

I've had Surfaces since day 1 (yep, including RT) and last year's Surface book. Honestly the best trackpad experience I've had was with HP spectre's x360 that used Synaptics. Now I don't know if it was due to the actual width of the trackpad (almost as long/big as my S6 Edge Plus), but its just as responsive as the Precision ones found on my surfaces. Not only that but the configuration you could do with it is insane, for instance you can define how long the section is for bottom right click, you could customize gestures i.e. define what actions are for swipe up, pinch, 2 finger swipe left, etc. Frankly why MS doesn't offer this is beyond me, I have to rely on an app could Mouse Gesture. I use my surface pro and book almost exclusively as a tablet and I hate the lack of gesture support. So if anything I hope Synaptics makes its way in the Surface devices. Ofcourse there are horrible trackpads like the ones found in MSI's gaming laptops.

Great! Next step: Ban Pentile displays on new hardware. Numerous laptop displays these days are using a dot pattern called RG/BW Pentile to cheat the ability to advertise high resolutions like QHD+(3200x1800) and 4K(3840x2160), without actually providing the full detail of the resolutions. It's screwing up the laptop market because it's impossible to tell just by looking at the specs page whether a high-res screen is real or fake, and because manufacturers are choosing these fake-high res screens despite that they look *worse* than "lower-resolution" ones. Laptops where the manufacturer wants to use high res but does not want to budget in a true 4K(3840x2160) screen should use 3K(2880x1620) screens -- but we're seeing fake-4K screens instead which have fewer actual pixels and are literally worse in just about every imaginable way. Similarly with QHD+(3200x1800)... QHD(2560x1440) screens are way better than fake QHD+ screens, but again we're not seeing them, because manufacturers are being allowed to RUN WILD with these fake-resolution screens. We need Microsoft to step up. The FTC won't, the manufacturers won't, we need Microsoft to. ------ Laptops known to use fake high-resolution displays: - Dell Inspiron 15.6" 4K(3840x2160)
- ASUS Zenbook UX303UB, UX305CA, UX305UA, etc. series 13.3" QHD+(3200x1800)
- ASUS Zenbook Pro UX501JW, UX501VW, UX510UW, Q534UX 15.6" 4K(3840x2160)
- Most Samsung Notebook QHD(2560x1440), QHD+(3200x1800), 4K(3840x2160)
- HP Spectre 13t 13.3" QHD+(3200x1800)
- HP Pavilion, Omen, Envy, Spectre 15.6" 4K(3840x2160)
- Clevo models w/ the G-Sync Samsung 15.6" 4K(3840x2160)
- [New] MSI G-Series 15.6" 4K(3840x2160)
- [Old] Lenovo IdeaPad Yoga 2 Pro, Yoga 3 Pro, Yoga 900 13.3" QHD+(3200x1800)
- [Old] Lenovo IdeaPad Y50 15.6" 4K(3840x2160)
- Toshiba Radius 15.6" 4K(3840x2160) ------ Laptops known to use real high-resolution displays: - Dell XPS 13 13.3" QHD+(3200x1800)
- Dell XPS 15 15.6" 4K(3840x2160)
- [New] Lenovo IdeaPad Yoga 910 14" 4K(3840x2160)
- [New] Lenovo IdeaPad Yoga 710 15.6" 4K(3840x2160) Best Buy model
- [New] Lenovo IdeaPad Y700 15.6" 4K (3840x2160)
- HP Spectre x360 13.3" QHD(2560x1440) and most other 13.3"/14" 2560x1440 too
- [Old] MSI G-Series 15.6" 3K(2880x1620) - literally a better screen than the false-4K they use now
- Toshiba Radius 12.5" 4K(3840x2160)
- Clevo models w/ the Sharp IGZO 15.6" 4K(3840x2160)
- All Alienware and Razer Blade models advertising high resolutions
- All Gigabyte/Aorus models advertising high resolutions
- All business-class Lenovo, Dell, HP models advertising high resolutions
- All 17.3" QHD(2560x1440) and 4K(3840x2160) (incl. HP, Dell Inspirons, ASUS, Clevo)
- Detachables: Lenovo Miix, All Microsoft SurfaceBooks, most if not all non-Samsung-branded models, and certain specific Samsung models.
- Macbooks w/ Retina

Good news. I don't know if they will achieve this even with lower end laptops but at least this will increase the adaptation speed. When a new laptop comes out one of the first things I look is whether it has a precision touchpad and unfortunately a lot of high and laptops do not have it.
Windows Central Newsletter
Thank you for signing up to Windows Central. You will receive a verification email shortly.
There was a problem. Please refresh the page and try again.