Microsoft makes it easier for you to upgrade your Lumia, if you're in India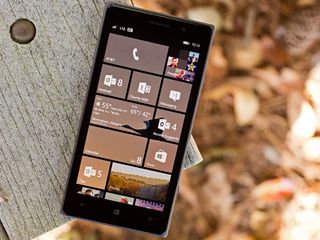 Microsoft has launched a lucrative buyback scheme in India that makes it easier for you to upgrade to a higher-end Lumia. Aimed at increasing sales of Lumia handsets in the country, the move enables customers to receive as much as 65 percent of their current device value.
Here are the details of Microsoft's buyback scheme:
Talking to Economic Times, Microsoft India's managing director for mobile devices Ajey Mehta said that the brand was targeting the Rs. 6,000 ($100) to Rs. 15,000 ($250) price segment.
Devices that have been purchased in the last six months are eligible for this offer, and Microsoft will give a minimum of 10 percent for the handset, even if it has a broken screen or isn't in a working condition. The deal is valid on all purchases made at branded retail outlets.
Microsoft is also looking to boost sales of high-end models like the Lumia 830 and Lumia 930 by teaming up with Capital First in offering zero-interest financing schemes.
Finally, the Redmond giant is offering extended warranties that will cover damages for an additional twelve months, effectively doubling the warranty to two years. Mehta also touched on online sales, saying that while Microsoft is not averse to selling its products online, "the company wouldn't take any steps that could potentially jeopardise the business interests of its countrywide re-seller network."
What do you guys think of Microsoft's buyback scheme and other efforts to incentivize Lumia purchases in the country?
Source: Economic Times
Lol, lets see how this helps market share

I have L920. 1.5 yr old. Anyone interested call on 9654646696. Its white in colour. With 2-3 good cases. Expecting 16000.

Bahaha... Really!!!! New L1020 is available only for ₹20k- 10% cash back = ₹18k

dear if you have bought at 48k then also at 10% you will be getting just 4800 rs not 18000, just calculate dear .. that means if you buy at 20k you will be getting 2k only

I mean new Lumia 1020 is available only for 22k in india.
All leading banks are giving 10-15% cashback(discount) if you use their debit/credit card for payment So, in this way new 1020 costs only 19-20k

Lookin forward to a 730..!!!

I asked how much is the rate of my 16 month old Lumia 820( perfect condition) in exchange of 730 they told 6000INR... common that's not fair

That's absolutely fair in my opinion...i sold my 16 month old 820 for 7000...dude its phones...once ur warratnty is gone, the price effectively reduces to half unless its a very high end phone and best seller

Where did u get this exchange info from? I have a 1year old 925. I need to know the exchange value

Hey, I just sold my phone (720) a year old for ₹9000 and bought 730.

How much does the new 820 cost? Ohh its discontinued! :P If you were to buy a 16 months old device...that has been discontinued...how much would you pay ?

I'm having it :P bought it on my B'day and wont upgrade lol

Thought of buying 830 from amazon but now it says 25k so not buying it.. Sticking with 730

You should wait a day. There should be some good deals on Lumias tomorrow.

Harish ..i bought a Lumia 930 on Oct ..will I be getting this 1 year extended warranty??

Inside information eh Harish??

I have a Lumia 12 months old with broken screen. Will this be eligible ? Would buy Lumia 730

You don't buy a new phone every 3 months in India..!!
( a guy with Lumia 620 since 2 years)

Haha the truth has been spoken!!

Exactly! They should have such schemes for older phones, 1-2 years old. Not many people buy used phones now, since there are an infinite (low end, local brand) models available new for the same price. Selling used phones is difficult now.

Yes, but the value decreases by a large margin once the official warranty runs out.

L520 for 2 years. What's good in it for us?

Some people don't but many like me do...i use a phone maximum for 4-5 months...then go for a used high end phone...if I can get a good deal on the 830 or 930 then why not..i might as well give up my 730...but only if Microsoft released the phones more faster..

Nope, i replace mine when the last screw falls out.

At least you are better than me. I'm using a Lumia 710 from last three years. Ab to mera phone bhi bol raha hai BECH DE aur koi na kharide to PHEK DE. Looking forward to get Xolo Win Q900s.

it should be 1 yr 9 months to be precise.. ;) lumia620 owner here too.. bought it in the first week of release here in march..

+720. And I still have a Nokia 1100. Like a boss :D

+Nokia1100(paper weight)
That's why you are ElectroDude :P

That's true for most people, not only India. This scheme is kinda useless for most people. I for one wouldn't give my 3 month old phone for full price, let alone just part of the full price. Why would I?! I just bought the damn thing to use it, not to keep swapping it around with other phones.

My Lumia 525 is one year old..

One year not passed since l525 launch.it launched 9 jan and I purchased this 16 jan. Was very excited to replace my asha 300. Ah! That day...

I feel Lumia 525 was the best low-end Lumia before the launch of Lumia 535.

Ahh but my 520 is a year old, and i hate the fact i cant use Cortana because when i switch it on, my phone runs sloooower,UC doesn't even open and crashes

Dude, just use the developer preview version... I also have the 520... But Cortana and everything else works just fine in DP.

I guess its the only option until denim is released on.....when? Hard to see firmware updates are both late and unstable than preview. Cyan wasn't available when denim preview launched

Yup dev preview version of lumia 520 running pretty smooth here, cortana and all.

Try to reset your phone. It might fix all problems.

My 520 is almost 2 yr old, I use Cortana and phone is not affected in any way....

What's that weather app in the pic?

I had brought Nokia Lumia 720 in July 2013. Had to exchange for Nokia Lumia 730 :( I am not eligible for this offer :'(

Yes you can...just take the bill and edit it in photoshop...:)

Hahaha great suggestion ! ;)

Imei is a crap in your opinion I think

But they ask for IMEI number when you take your phone there.

Last month my 920's screen stopped working suddenly... It was 2 year although but I asked them to change it and they said it will cost around ₹3000...i did the Photoshop... And asked them to do it...they had to do it for free... But go to some small priority dealers not the fancy ones in malls..:)

You went to Nokia priority dealer showroom or Nokia Care service centre?

So in other words, you forged a document, lied to them, and basically ripped them off? What a wonderful human being.

In here, there's hardly few people who change their phones within a year, especially people who go for cheaper phones....

That is the reason why Microsoft started this.

Microsoft should open some of their own stores in India.

Nokia stores means Microsoft store

Yeah but the stores and Nokia Care is still not re-branded. I think they should now be Microsoft Care.

I bought Lumia 625 on 15oct 2014.. Will it be available for me??

Well it is still with-in three months is it not?.... :P.

So wat will I hav to do to avail the scheme? O.o

Take it to your nearest retailer along with the bill. That's what the retailer I talked to suggested.

my lumia 920 worth it i am seeing for 930

My 920 is around 18 months old! But not satisfied with 930.

Extend this on emerging markets worlwide .

Lol.. What a stupid and senseless offer
I got 9k for my 2 year old 920, purchasing price was 36k

A) it is 24 months old and B) way beyond the terms. Most smartphones don't have the slow depreciation in value enjoyed by iPhones or the Galaxy Series.

But the question is, as an incentive, would it be better for Microsoft to subsidize the upgrade by overvaluing the trade-ins?

Lumias generally have a high depreciation value unlike the Galaxy n iPhone...so stop expecting 15k for ur phone

it would be great if they have provided such offers for the older lumias

The name of the whether app?

I really wish they'd also do something about the hardware flaws on the 1520 (the 'bright white spot') in my case. People in the US could simply get a replacement, but it's never easy in India. Left a really bad taste and probably the last Windows phone I'll buy.

Why not...Nokia care didn't help you??

*sighs* That's a really long story. But in short no, not really.

The time must have been 1 year instead of 6 months if Microsoft really need to increase market share. And sales of its Lumia handsets.

Totally agree with you people. As much as I lwould love to upgrade my lumia 520, I'm not in a position to do so. Had my phone for one and a half years now.

This doesn't help MS, I'm sure...

Actually why the hell people will upgrade to an other handset within 6months. I dont think any of em would do it unless they happen to be an android user ;)

Question: How much does the Lumia 930 cost in India?

Availability is still hit and miss. I had to wait a month before I could get the 930 in Hyderabad. The store I went to had to order the device for me.

Then said 10,000 for 4 months old Lumia 1320

Where I am exchange my phone?

I have a lumia 520 which was bought last year august 10, it does not have any damage. How much discount will i get to upgrade to 535?

1 and half years old 520 :'(

Will Extended warranty to two years is it come?

Where did u get the exchange price info from?

I have a Lumia 720 which was 14 months old I want to upgrade to Lumia 730 how much it will cost please suggest me I hope this was the right time

Win 10update wil be next year

They should keep price according to their condition, without time limit

Is it just me, or does "scheme" make it sound like something nefarious is involved?

Completely crappy scheme... How about 65% within 15 days and 80 % within same day.... Obviously a joke... I asked for Lumia 920 they said 6000, even if I do the swap and get 930 at 32k, and if (a big IF) any new phone will be launched at 40k after 6 months then iam eligible for another swap for my 930 priced at 10k, yes Microsoft we know you thought us stu..id...

I have a Lumia 12 months old with broken screen. Will this be eligible ? Would buy Lumia 730

This may actually work for those who have there phones completely screwed...lol

Yahoooooo.....
Sorry
BingSSSSSSSSSSS...

I've bought my 1320 in April.. It's been more than 6 months.. Is it possible for me to upgrade to 830 with 65% discount..??

well well what is the use of buying lumia because i have all apps on android even msn from today...after few months cortana will be available then what makes lumia different ? nothing android is way better because it has app way better and quality compare to windows. i love microsoft bought lumia 535 to test before shifting to flasgship but really depressed today when i saw all msn apps on my rooted S3(3rd yr still working).

Why don't you post that rant in the forums, instead of going OT in this article?

I believe these are for those who bought a new device only to find a new better model released a free months later.

I have a lumia 525(1gb ram) 11 months old fully updated PFD. I wanna buy Lumia 535 in exchange. How much extra shud i pay.

Nice concept, but time limit for buy back in 3 months. Not cool.

What about them which having 12 month old phone,....
L720...

At least they have to give 15 months minimum

Only retail shop buys are considered, flipkart bills are not entertained.... So much for my big billion day bought 1020

What?? I got a Lumia 520 from the big billion day sale :/

Anyone has that background image...send me the link plz... ankitdwivedi@mail.com

I made you a Grindr account. Check your inbox in a few minutes.

Harish please reply
I have a 4month old 625. Can i exchange it for 535?

15 month old Lumia 620 :)

Was thinking of this a while ago, just wish such deals would be made available in my country(Nigeria), cause I can't think of replacing my Lumia 925 that is just 4 months old

I want upgrade from Lumia 625 to Lumia 735, but in Kuwait resell value is not good. So i can't upgrade.

I have a 5-month old Lumia 630. Want to exchange it with a 535. Anyone knows how much they will want more from me?

OMG i am buying new phone and have 2 old phones... but older than 6 months so i cant have this offer :(

I don't understand how this helps at all. It is targeting people who already have bought into Microsoft. This will do nothing to increase its user base.

off topic:- Mx Player released for WP

I bought a Lumia 930 on Oct will I get the extended warranty benefit??

My Lumia 925 is in perfect condition 1 year old tried in every branded shops in not getting more than 5k for my device just because Lumia 925 is been discontinued:(

I have Lumia 1320. 8months used. what is the expected value for my phone

Just got a Lumia 730, don't know if it shall work well for me, going for the 930

I think ms is more excited about the olx and quikr success!

So this doesn't apply for my almost two years old Lumia 720 :(

My L720 phone is 1.5 years old. Good condition. I want to upgrade to L830. For how much will I get

Someone help me with this,
I'd like to exchange my 1020 with 930 in this scheme, I have two doubts, (1). Whether Flipkart bills are accepted, & (2). How much extra I need to pay for 930?
Thanks in advance :)

1.)Flikpart buyers are not eligible for this.
2.) Complete MRP of L930

Hey im using nokia lumia 900 can i exchange it for a lumia 535???
Windows Central Newsletter
Get the best of Windows Central in in your inbox, every day!
Thank you for signing up to Windows Central. You will receive a verification email shortly.
There was a problem. Please refresh the page and try again.