Microsoft makes top four best global brands in 2018 Interbrand report
Microsoft follows Apple, Google, and Amazon to take the number four spot.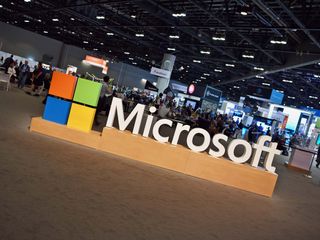 (Image credit: Windows Central)
Interbrand this week revealed the results of its survey of the top brands for 2018, and Microsoft managed to score the number four spot. According to Interbrand, that's largely due to a 16 percent surge in Microsoft's brand value, leaving the company behind only Amazon, Google, and Apple.
Interbrand measures several factors for brand strength, ranging from differentiation and authenticity to engagement and consistency. For Microsoft, Interbrand identified the company's clarity, relevance, and responsiveness as its top performing factors in 2018.
In a sitdown with Interbrand, Chris Capossela, Chief Marketing Officer at Microsoft, credited the company's success in recent years with its focus on empowerment and making its customer's stories the focal point going forward.
Dan Thorp-Lancaster is the former Editor-in-Chief of Windows Central. He began working with Windows Central, Android Central, and iMore as a news writer in 2014 and is obsessed with tech of all sorts. You can follow Dan on Twitter @DthorpL and Instagram @heyitsdtl.
I think Microsoft is a better brand than all. It terms of what they have accomplished as a business and what they have done to make the world better and mor connected

Microsoft have done a lot more for the world than all 3 of them but you can't knock Google for expanding them selfs from just a search engine and Amazon from just being an online shop. Apple came back from the dead and became the cool company unfortunately. For me though Microsoft are on the up in what they do but I just don't think they will ever be the cool company

Yes. MS's impact is huge, but with slowing consumer presence it's a wonder they are right behind their peers... I mean, Siemens is a huge company, that provides the world with loads, and loads, of technology, and services, that makes our modern world go round, but they have little consumer presence. But, I get it's not just about selling software, and devices, to consumers. The work MS contributs to accessibility alone are huge. I'm pretty sure all variables of "impact" are considered.
But, it's still interesting to see MS talked about with Apple, and Google, by a source other than it's convention center room of fans it still has left. Lol

Ugh. Marketing waffle.
One word E m p o w e r i n g =
No USB C ports
No clue on what application development model devs should use
(One Microsoft clearly isn't working / there yet)
Internal politics / Divisional issues persist
No mobile
Years taken to move Control Panel into the Settings App So many good products ruined by a lack of clarity, the polar opposite of what this bloke drones on about in his generic exec speak (zero content, like that bloke from Nokia)
Probably paid a 6 figure salary with a massive bonus for talking waffle all day. Nice work if you can get it.

Most consumers aren't on USBC yet, and people aren't trading up their devices as frequently anymore... Basically, the port most people have on their smartphone is the port most important devices will have until the market shifts considerably. Do I want USBC on everything? Yes, but I'm not the average consumer.
....
😐😐😐😐

This... so.. much... this

I'm sure people with iPhones want their port everywhere too. Lol. But, it's not happening.

iPhone will be USB-C eventually. Probably next year with the updated design.

Let's be honest here, Windows 10 S failed, it was a cool experiment but even giants like Adobe with their Reader software haven't still put their application on the Microsoft Store, the Adobe reader app on the store is from Windows 8.0 (about 4 years old) yet the destkop app just got updated few days ago.
This is just an example, but what it shows is that Microsoft partners don't trust the Microsoft Store, they are still using legacy exe installations and that is not a good sign.
But what can Microsoft do, if giants like Adobe don't follow the developer standards.

Adobe has had a reader app in the store since Windows 8, hasn't it? I realize it wasn't the same full version.

yes I know, but since Microsoft now allows x64 software to be packaged inside the appstore, there should be 2 versions of the Reader, the touch app and the full desktop app which gets updated every couple of months for security patches, etc.
As an example, CrystalDiskMark is an app that runs the same both if you download it from the Microsoft Store or the exe from the website.

Maybe if Microsoft keeps using buzzwords such as "empowerment" and other marketing bullshit more often, they'll grab the third spot.

Wow, Nadella and the board must be proud, they're number 4! Guess why? They are in the process of dumping consumer IT after trashing their supporters multiple times. Actually a little surprising that the brand is ahead of IBM.
Windows Central Newsletter
Thank you for signing up to Windows Central. You will receive a verification email shortly.
There was a problem. Please refresh the page and try again.