Microsoft merging modern features into OneNote 2016 (Updated)
By Dan Thorp-Lancaster last updated
After breathing new life into OneNote 2016, Microsoft is preparing to merge modern code and features into the aging desktop app.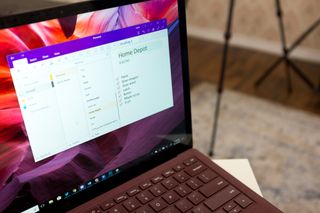 (Image credit: Windows Central)
What you need to know
Microsoft is preparing to merge modern features and code with its OneNote 2016 desktop app.
Features like @mentions, To Do integration, and Microsoft Search are in the pipeline.
The news comes after Microsoft revealed this week that OneNote 2016 will get extended support, along with a dark mode.
Microsoft gave OneNote 2016 a stay of execution earlier this week, revealing that it is extending support for the app to October of 2023. As it turns out, Microsoft has bigger plans for the OneNote desktop app, however. In an Ignite 2019 session (opens in new tab) today, Microsoft laid out plans for merging modern code and features back into the OneNote 2016 desktop app, which is a pivot in focus to begin operating under one codebase.
When it announced extended support for OneNote 2016, Microsoft said that a dark mode is also coming to the app. Beyond that, however, Microsoft plans to bring more modern features like @mentions and integration with Microsoft Search to the desktop app. There are also plans to integrate Microsoft To Do, which has already come to apps and services like Outlook and Microsoft Launcher on Android.
Notably, Microsoft previously continued to push the OneNote Universal Windows Platform (UWP) app over its traditional desktop counterpart as part of the Office suite. As part of this pivot, Microsoft is also shifting back to OneNote 2016 as the default version of the app that will be deployed and installed with Microsoft 365 subscriptions.
"We also want to make deployment and installation easier for organizations and individuals, so for Windows users, starting in March 2020, when you deploy or install Office 365 subscriptions that include the Office desktop apps or Office 2019, the OneNote desktop app will be installed by default alongside Word, Excel, and PowerPoint," Microsoft said in a blog post (opens in new tab) this week.
Where that leaves the UWP app is unclear, but we'll presumably see Microsoft flesh out its vision for OneNote in the coming months.
Updated November 7, 2019: A Microsoft engineer clarified the team's path in a Reddit post, stating the following:
Dan Thorp-Lancaster is the Editor in Chief for Windows Central. He began working with Windows Central as a news writer in 2014 and is obsessed with tech of all sorts. You can follow Dan on Twitter @DthorpL and Instagram @heyitsdtl. Got a hot tip? Send it to daniel.thorp-lancaster@futurenet.com.
It seems like Microsoft is going the right direction now. No one wanted a gimped UWP version.

bleached, is that you???
wrong.
MS was SOO close with UWP, but just couldn't get the critical mass it took to keep the ball rolling.
I have to think Apple's "our way or the highway" approach at times is the right way to go.

They don't need UWP as much anymore. The biggest driving force was Mobile. They'll probably keep using because of Xbox and HoloLens, but who knows...

So how is W10X going to work? They're clearly selling it as the beginning of a future without Win32... If course it's not just UWP but that's a part of it.

The Neo comes with an Intel processor. It starts with it. They can easily retract.
I don't think they'll diverge totally from UWP, but it's not a priority anymore. Maybe for specific apps.
I honestly think they should just allow Win32 apps on the store without the UWP layer.

Right, but Neo runs Windows 10X with with Win32 abstracted away from the OS. The most efficient apps on Neo will be UWP, not Win32.

Going forward (WCOS) will be UWP. "Legacy" win32 is heavy and insecure for the future. Like, why do we need a legacy win32 application in a car, coffee machine, smart city, robot in the assembly line?
We are on the transformation point.

The "gimped" version works really well for me. I use it across 3 devices daily for work. Please don't make blanket statements. In the beginning it was rough, but it has become good enough for me to solely use for a long time now. Not saying it's perfect or anything, of course there are more things to improve.

> I use it across 3 devices daily for work. Just out of curiosity: how many of the 3 are actually Windows?

Power users and productivity aficionados rejoice! UWP app is a toy compared to the desktop version, for those who use the features that is. Onetastic addon is also amazing. UWP fails in the very basics of dragging and dropping between different notebooks and subsection, sections.

This is a rare situation where I actually enjoyed having two versions of the same app. I find it a lot easier to jump right in writing notes, adding photos from Office Lens or the camera while I'm in a meeting with my Surface on the UWP app. I'd then get back to my desk with a monitor and keyboard and mouse and expand upon those notes and use OneNote connectors to maximize those notes and make them more effective. A concern I have is feature parity with the desktop, online and iPad. I started using OneNote Class Notebook with my students this year and it has been great, but it's hard to keep track of the things I can do using the desktop that I ask them to do and they can't because they're on IPads.

So after forcing me to the UWP app now they're going to route me back to the old one? I want so badly to love Microsoft but I just always feel like they're jerking me around. From Windows Phone to Windows 8 to Microsoft Band to UWP, etc. I get that some of those needed to go, but sometimes I just want them to pick a strategy and stick to it.

I agree. I'd have preferred if Microsoft had taken a page from Apple's book and just drew a line in the sand and said "all new Microsoft apps will be UWP only starting at X-date." It probably would have forced them to flesh out new features for UWP in the process.

But MS is a victim of their own success. They can't abandon all the people who depend on their older, Win32 apps. Now it's their fault for not building up UWP OneNote to feature parity, but I don't think it's as simple as that. (That being said: I'm absolutely not a software developer.)

I can see that, but they should have just left their older programs in extended maintenance mode. Similar to how Windows 7 is in maintenance mode and dying off in mass now as businesses move to Windows 10 in their new device upgrade cycles.

I can see where you're coming from, definitely.

> But MS is a victim of their own success. I am not sure of the "success" part. Maybe I am an exception, but... UWP version of Skype closes in the middle of the call if I switch to the different virtual desktop (reported to the Feedback Hub, switched to the "desktop" version of Skype, nary a problem since), UWP version of Hulu freezes on the regular basis (browser works just fine), UWP version of Duolingo is missing a lot of the important features. I do not remember why I had to switch to OneNote 2016 after using UWP version for a few weeks, but it did miss some functionality, I use as well.

By success, I meant massive Win32 adoption. I get what you're saying about UWP though. It's got big problems, no doubt.

You just have a choice now, UWP or Win32. The codebase is merging allowing feature parity between the two.

I hope that's what they mean. But their Reddit clarification is anything but clear. I guess I shouldn't complain. I'm more or less happy with the UWP version of OneNote now (I guess I'm a heavy user if not a power user, and a lot of bugs have been squashed) and I gather that's not going away.

Ugh... let it go people. This will just slow down feature changes to both of them and legacy ON will become more and more out of sync with O365.
Windows Central Newsletter
Get the best of Windows Central in in your inbox, every day!
Thank you for signing up to Windows Central. You will receive a verification email shortly.
There was a problem. Please refresh the page and try again.