Microsoft is offering more 4K films but there's still (much) work to be done
The 4K movie selection is growing steadily in the Microsoft Store and its Movies & TV app, but there are still some holes to be plugged.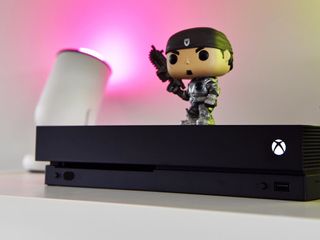 (Image credit: Windows Central)
Last October, I took Microsoft to task over its 4K, Ultra-high Definition (UHD) movie selection, options, and availability in its Store and Movies & TV app for Windows 10 and Xbox.
Since then, I'm happy to see that Microsoft's 4K offerings have not only grown, but there are some things available on Movies & TV that are not available on competing services like Amazon Prime. But that may be the only good news, as regional restrictions, an inability to upgrade, and the lack of support for the Movies Anywhere service is still a significant hindrance.
Below, I rate some related, and important, aspects of Movies & TV and the Store.
4K UHD selection in the U.S.: A-
In October 2017, Microsoft had just under 30 titles that were 4K UHD in the U.S. Store. That number was low, but to be fair, 4K UHD digital content was still relatively new, and many of the major studios had not released much material.
Fast forward to June 2018, and there are now just over 200 movies in 4K UHD available for streaming, buying, renting and downloading. As far as I can tell, every new movie that a studio releases that also has a 4K option is being made available via Microsoft. That is awesome and the way it should be for consumers.
Offering the latest digital movies in 4K may seem like an obvious move, but take Marvel's Black Panther (2018) (opens in new tab), which is available in 4K for $24.99 from Microsoft. Amazon is only offering the digital version in SD or HD, not 4K UHD. The same goes for Apple who have no new Marvel movies in 4K period. That's odd, but it at least highlights how inconsistent this content can be across services.
There are many older flims, too, like The Great Gatsby (2013), E.T. (1982), or even the The Matrix (1999) available in 4K through Microsoft. Again, many of these are not available in 4K UHD on Amazon even in the U.S.
The real competitor, however, is not so much Amazon as VUDU. VUDU has an app for Windows 10 and Xbox, and its store often runs outstanding sales. They too have a massive collection of content in 4K UHD.
4K UHD selection outside the U.S.: C
Outside of the U.S., I'm told that Movies & TV's 4K UHD content is still non-existent, even in the U.K, where many of our writers are located. That's still a problem for Microsoft.
I was surprised to learn that in the U.K., Amazon does not have any digital movies for rent or purchase in 4K UHD either.
I thought VUDU might be a good option, as it's what I tend to use more often these days, but VUDU is a U.S.-only service too.
My tentative conclusion here is while Microsoft can do much better in other countries regarding 4K UHD digital film offerings, it is not exactly the exception to the rule. In an unscientific poll on Twitter nearly 50 percent of respondents said they do not have any options for buying digital 4K UHD content outside of the U.S. whether it is Apple iTunes, Google Play, or Amazon suggesting this isn't a Microsoft-only problem.
Movies Anywhere everywhere rating: F
In November, I wrote an article criticizing Microsoft for not being a part of the initial wave of the Movies Anywhere DRM system pushed by Disney.
For those unfamiliar, Movies Anywhere is an interoperable digital movie locker service. It;s available via Amazon, VUDU, Apple iTunes and Google Play. Since its initial launch in late 2017, FandangoNow (opens in new tab) – a service I did not even know existed – also joined the consortium.
The Movies Anywhere service works by letting you buy a movie on a service like Apple iTunes, but then stream that same film through Amazon Prime or Google Play. Your films effectively replicate on other platforms that are part of the Movies Anywhere ecosystem. For those who have large movie collections, the service is like a bank vault for your digital investment.
Internal reports from our sources suggest Microsoft wanted to join the initial wave, but it was Disney's call who joins the waves, and Microsoft was left out. A report in March quoted Microsoft PR as "in discussions with Movies Anywhere about bringing their service onboard."
Since then, there has been no new information.
The good news is that bringing Movies Anywhere to Microsoft Movies & TV might still happen – Microsoft was, after all, part of the original "Disney Movies Anywhere": before that service was rebooted for a rebrand in late 2017.
But until that ink dries, it is still to say you should buy movies through Movies & TV. Renting, however, is still highly recommended.
Odds and ends
Regarding discoverability, for 4K content, Microsoft is getting a bit better. The Microsoft Store has a separate category called "Movies in 4K UHD" where you can browse for just those films in that format.
Users can also search for "4K UHD" in the Store and get an even more extensive collection with some older titles, such as Scorsese's 1990 mob hit Goodfellas (opens in new tab) in glorious UHD.
While the menu selection still defaults to HD format, at least in the description the very first line is "This title is available in Ultra High Definition and HDR capable" to let users know that a 4K option is available. I'd still prefer to set my Store to default 4K, but at least this is a start.
Pricing is still expensive with most movies in 4K starting at $24.99 and going up to $29.99 – a substantial bump in cost over full HD. Often, those 4K versions also don't get drops in sales even when the HD and SD formats do. However, pricing is often set by the studios, not Microsoft, and competing streaming services aren't any different.
There is still no way to upgrade a previously purchased movie to 4K. I own quite a few, including The Matrix and Bladerunner in full HD, but there is no option for me to re-buy those films in 4K – even at full price – let alone an "upgrade" cost, which is a shame. I'm now stuck forever with full HD films even when a UHD option is right there.
At least for those in the U.S., Microsoft Movies & TV for renting, streaming, and even buying films in 4K UHD is quite good and improving. That's the good news. The bad news is missing services like Movies Anywhere, no 4K upgrade path, and regional restrictions still hamper the service.
Windows Central Newsletter
Get the best of Windows Central in in your inbox, every day!
Daniel Rubino is the Editor-in-chief of Windows Central, head reviewer, podcast co-host, and analyst. He has been covering Microsoft since 2007 when this site was called WMExperts (and later Windows Phone Central). His interests include Windows, laptops, next-gen computing, and for some reason, watches. Before all this tech stuff, he worked on a Ph.D. in linguistics, watched people sleep (for medical purposes!), and ran the projectors at movie theaters because it was fun.
I realize this article is going to cause a swarm of "they're going to abandon Movies & TV too, because Nadella hates consumers" nonsense, so I'll address that here. The fact is, people, DO rent movies a lot on their Xbox through Movies & TV. It's simple, convenient, tied to their Microsoft Account (so no login) and payment systems. It's also something people do on their TVs: rent and watch movies. Groove, as much as I love(d) it, is not something many were doing on their PCs, laptops, or Xbox. I wrote an article last year (see here) noting how once phone was dead for Microsoft there was no viable avenue for revenue for Groove (or a way to increase adoption). Movies & TV is a very different economic model. Simply noticing they are both "media" is not enough of an analysis. There is no subscription service that needs to cover licenses for everything in the video store. You rent a movie, you get it for 24 hrs, everyone gets a cut. When you buy a movie, the same thing. It's a quick, one-time payment. Subscription music services, on the other hand, have very, very slim margins and need to constantly expand in order to keep revenue coming in (see Spotify and its history). Now, if Xbox and LIVE go away altogether then that could change. But, again, gaming is one of the three pillars of growth for Microsoft right now (A.I. and cloud are the others). They're putting a lot of money into Xbox as they are aiming for cloud gaming next (see the recent team formed under Spencer). Of course, I get the hesitation, which is why for buying I say here and other places VUDU (in the US) is your best option for now. If (and when) Microsoft joins Movies Anywhere that content will show up in your Xbox library anyway. I do this, but even still, on occasion, I still buy TV content through Microsoft. It's your money, figure where it makes the most sense.

Too hopeful with Microsoft huh?

Can you make an argument or you're just going to shitpost? I'm looking for people with something smart to say, you up to the task?

Microsoft has a pretty big problem, and unfortunately much bigger than just Movies & TV. For Microsoft most of South America doesn't exist, most of the countries aren't supported. So anybody that has an Xbox or a PC and wants to access a store needs to setup their system with US as the region. The problem with Movies & TV is that they do not offer any additional languages and or subtitles.. heck many of their movies do not even include English subtitles. So for those of us living in a 3rd world country, or foreign speakers living in the US, Movies & TV is not an option. On the other hand, competitors seem to have globalized a lot better, offering media is a variety of languages

Interesting bit about the languages, I was not aware of that limitation.

With regards to Movies & TV, here in Sweden everything I've looked at have swedish subtitles. So lack of languages and subtitles isn't a general problem outside of the US.

No comment is smart for you if it's against Microsoft's stupid decisions.....and to me thats just a foolish editorial. You are just a disciple Dan who thinks Microsoft is right in every stupid way. Be realistic and smart...not a blind puppet.

What Dan's asking for is a compelling argument against his article. You made a lot of accusations here: stupid decisions, foolish editorial, disciple, blind puppet... but provided zero solid argument to back them up. You clearly disagree with this article, and that's perfectly fine. It would be more interesting though if you also explained why.

if your XBOX one is your main media device there's nothing wrong with buying from movies & TV
There also web support /even Renting is a great option on PC.

Kenzibit, like a few others around here, I think it's time for you to find another site to read/comment on. Basically, I'm asking you to leave. Thanks, your cooperation is appreciated.

Well Dan, it's been part of my dream for a very long time now, I actually have lots of sites to read and comment...in fact, I actually left here for months since WinCentral isn't the WinCentral we all loved from the beginning, but my favorite writers like Zac, Jason, Ashan and a few NEUTRAL guys brought me back. It just happens that a few times I see THESE Microsoft-epi-decision-centric articles by Daniel Rubino (a man we all used to respect) that makes me tick but don't worry, you won't see my comments on YOUR articles EVER AGAIN...and you welcome 👍🏾

He just admited there is a language limitation.

So you're blind hate puppet it opens up your eyes.

Slightly off topic: Would MSFT ever acquire an entertainment/mass media company? Apple considered buying Time Warner but now AT&T is merging with it which leaves me to this question.🤔

Daniel, I've bought hundreds, yes HUNDREDS, of movies through Movies & TV - several are 4k UHD. I won't be buying anymore, for a single reason not addressed in the article. I recently moved and my internet speeds are just barely too slow to make streaming 4k movies watchable and apparently buffering only does about 30 seconds. I got the great idea that I'd download the 4k movies on my Surface and then blast it to my TV. Turns out that you can't download 4k movies, Microsoft support confirmed this. So basically I wasted at least a couple hundred dollars AND I STILL HAVEN'T SEEN THE LAST JEDI!

Interesting. Definitely a niche scenario, but yeah, you can't DL 4K content (my guess is the bandwidth for such a movie would be high, but clearly the Store can handle 50GB games, so not impossible). Are other services better in this regard? I haven't check yet myself.

I will believe that movies and tv is here to stay when they develop an app for android. The lack of that app is evidence that they are ambivalent about it and it can go at any time.

Hey Dan,
I would like to know why Microsoft can not have Music store like movie and tv without the subscription service are there hidden cost ???

I have to tell you, the sound and video quality on Movies and TV content is *often* far higher quality than equivalent titles on Hulu, Vudu, Prime Movies and esp. Netflix on the same Internet connection. (FiOS Gigabit) It's very telling when we find movies on Prime, I start playing it in 1080(i/p) HD, and the first thing the kids tell me is "Dad, check Movies and TV for a better copy." That's happening more-and-more lately. I have a huge collection of purchases from Movies and TV, almost all 1080HD, but it bothers me that I cannot update to 4k. I can't help but wonder if that option is coming, or if you're just doomed to stay at <4k? I don't have a 4k TV in the house yet, planning on one in the next 6-18 months, but I'm buying all my new M&TV content in UHD, just to future proof. FWIW, if you only have a 1080p TV, you can purchase and stream 4k licensed content from M&TV. It will deliver you a 1080p rendition just fine, but it takes about an extra 3-5 seconds for the content to start, as it warns you it cannot deliver 4k without a 4k end device. M&TV really does offer the highest movie sound and video quality, in my subjective opinion.

If they join Movies Anywhere I'm in. We have various devices in my household. My wife is an Apple user, I use Android and Windows PCs. It's great to have the movie across all devices. For now I will stick with Google, iTunes and Vudu and only buy those movies from studios that participate.

I think at some point MS needs to recognize that yes a product like Groove may have little adoption, but abandoning it cuts into your bottom line in other ways. Those "few" users of Groove are their "base". You don't piss off your base! Abandoning products like Groove, only causes people to question their loyalty to other MS products that currently are profitable. Why throw away Groove on iOS and Android??? I mean how much could it possibly cost them to keep it as an MP3 only, OneDrive streaming, player on those platforms. $99 bucks a year for the Apple developer registration? The Android store is a one-time fee so no huge loss there. Open-source it for lands sake, and maybe a 3rd party dev will take it on themselves. The only thing they accomplish by killing it off is adding insult to injury. Windows phone fans... and yes I'm okay with the term "fans"... because again "fans" are another term for your "base"... your "supporters"... had nowhere else to turn but to iPhones and Android phones when MS let the air out of the Windows mobile tires. But at least when they arrived in Apple land, and Google Play land, they had some familiar apps waiting for them that softened the blow. Dan, if you have any pull with Belfiore, or any others Softies over there, call them up personally and pass on that killing Groove on iOS and Android is a mistake. Unless of course... they can officially come out and guarantee that Andromeda will be here by December 1, 2018. In which case folks can switch back to a Windows "phone-like" device and use Groove UWP.

Yeah, I kinda don't disagree. My only guess is that usage/adoption of (1) Groove was low on those platforms and (2) Since they were "OneDrive only" essentially that is not a feature many people were using (even if I was one of them). I'm hoping as a way around this is they (1) introduce a player in OneDrive directly, which would be cross-platform (2) They still do something with Spotify.

> "OneDrive only" essentially that is not a feature many people were using (even if I was one of them). I know it goes even further away from the article topic, but... can you share what do you use to stream music from OneDrive now?

Right now, I'm still using Groove, but we'll do a roundup of alternatives.

So I don't understand. You expect MS to keep a running a program that doesn't make money? Spending money on people and infrastructure and licensing to appease only a few. It doesn't make sense. In fact, look at MS's quarterly statements. This is only a footnote and doesn't show any negative financial impact. The same could be said of Windows Phone. The user base of Groove had to be very minor when compared to other services like Apple Music, Google Music and others. Otherwise they wouldn't have shut it down. If it was a big cash cow, would they have shut it down? Everyone needs to step back and realize that these are cut and shutdown, not because MS hates the consumer, but because only a few used it. If it's not profitable and taking resources away from other initiatives that are better for the company then it's going to get shutdown without question. Killing Groove wasn't a mistake. It was a business decision that we will all forget about in a year.

I respect your right to have an opinion, but yeah I do think killing Groove (as an MP3 player and OneDrive streaming player) on iOS and Android is a mistake. To repeat the point... there are direct sales, and indirect sales. Have you ever heard of "leader" items? They are a form of indirect sales. There are also such things as one-time customers and repeat-customers. Your "base" are your repeat customers. ******* them off is never a good marketing strategy. And besides... keeping Groove alive on iOS and Android (as an MP3 player and OneDrive streaming player) costs them virtually nothing. It can be a part-time... filler work... job for one of their Edge developers. What it does "cost" them by killing it off is ill will, and customer loyalty in other profitable products and services.

I understand direct and indirect sales. But with no mobile platform where is Groove going to get it's users? People use apps and services because that's what came on their phone, what integrates with there phone and is easy to access. People use a streaming service because they have a phone that runs it. They will use Apple Music because they have an iPhone and it's already there. They will use Google Play or whatever they call it because it's already there. The majority of people do not use many apps. Studies have shown that even people that have downloaded lots of apps only really use 7 or 8 of them. These people and others would never find Groove Music. As for the people that they burned, again does MS care that of the people they burned 10%, 20% or maybe even 30% of Groove users? Even if those users don't come back? The user base was small so thirty percent of small is still small. And I will argue, how is closing Groove music burning the customer? It's a subscription service correct? You pay to use it for a period of time. When it no longer exists you no longer pay for it so it's not hurting you in a meaningful way. You go out and find an alternative and pay for it. Some time from now you won't even think about Groove. How is this any different from the restaurant down the street closing it's doors because it can't make a profit? You may have went there, purchased a meal, ate and had a drink. You paid for that service. When they closed you didn't loss the value of what you got when you ate there before. When the Wendy's in my home town closed I didn't say, "Well they lost my business." I'm not sure how MS is any different from any other service that closed it's doors because it just didn't make financial sense. Just because MS can swallow those losses doesn't mean they should. This isn't a cheap service to run no matter what anyone thinks. Even with them running this on their own cloud platforms you pay for infrastructure, power, real estate, building maintenance, hardware, people, benefits for those people, licenses for the artist and the studio. Is this even a business MS wanted to be in? Probably not.

Again... if you read the post carefully I'm not suggesting restarting up Groove streaming service. Let Spotify fill that. But there is absolutely LITTLE to NO cost associated with keeping Groove as an MP3/OneDrive syncing/streaming player available on iOS and Android. I know I'm a developer! It's not a case of building a new player from the ground up. That costs money. It's a case of just keeping the lights on, on an app that is pretty much so finished already. Rename it to Microsoft Music Player if you want. But yeah appeal to your fans. I'd say the same thing to a sports team if they made some piss ass decision that angered the only 20K people who were season ticket holders. Sure that number is small... but those 20K squeaky wheels are your biggest supporters. On the Android Play store it says that MS Groove has 1,000,000+ downloads. That's one million people! The Apple Store doesn't offer the same level of detail. But it's a case of needlessly ******* perhaps a million people off. Obviously you are not one of them. But don't be so quick to dismiss as inconsequential those who are.

I buy all my movies on iTunes. My entire movie library is in iTunes, I have over 380 total and climbing. I originally went all digital cause a family member used their 5 finger discount on my movies to pawn them. But I'll be sticking with iTunes perma, however I do use Movies Anywhere so it would be nice to have Microsoft included in that.

Problem with iTunes - for me at least - is go and try to buy anything new from Marvel in 4K from them. Good luck, because they don't have it. That's kind of the point of this article - talking about 4K UHD options. While that's not for everyone it is what I was looking at.

Microsoft just offered its first 4K movie here in Australia, and It's the Black Panther too! A great start to 4k :D

Yeah, heard NZ got it too. Seems as if there is some expansion, finally.

I rarely buy movies and TV show episodes, but occasionally do. Until Microsoft Movies & TV offers Movies Anywhere support, I won't buy anything using Movies & TV. Currently, on the off occasion that I want to buy a movie, I buy it using Vudu because of its historically-broad platform support and historical emphasis on picture quality, and now it supports both Movies Anywhere and the other movie locker service, whose name escapes me. I've also bought a few TV show episodes using Amazon. Dan, also noteworthy is whether each service supports Dolby Atmos (or similar systems, such as DTS:X), and the selection that each service offers of movies and TV shows with Dolby Atmos and/or DTS:X audio tracks. You didn't mention this in your article. Don't forget that even people who don't own Dolby Atmos- and/or DTS:X-capable sound systems can still use Windows Sonic for headphones and/or Dolby Atmos for Headphones if they use a Windows 10 PC or an Xbox One and a pair of headphones. The last time that I tried it, it had some issues, but it is still an option. Last, be advised that just because a movie or TV show episode is listed as being in 4k or Ultra HD, doesn't mean that its source was 4k or Ultra HD. A/V enthusiast sites can probably provide more information on this, and I'll try to find the article that I read in the past, but some 4K/UHD content is actually 1080p content that has been upscaled to 4k/UHD instead of being shot digitally in UHD or scanned from film in UHD. Why? Because scanning film is expensive for studios, and so they may, especially in the early days of UHD, get away with upscaling their content. Their professional-grade upscalers might be quite good, however, so consumers might not even care.

Microsoft does need to be more clear about Dolby Atmos in their selection, if it even exists. Since the Groove scare, I've only purchased movies through VUDU, which is very clear about what audio codecs are supported, and have no idea how much 4K content actually uses Atmos. Given how great the Xbox One X is with its Atmos support (we watch plenty of supported 4K content through VUDU and Netflix), you would think Microsoft would be screaming from the rooftops about this distinguishing feature over the PS4 and other streaming options. Another missed consumer opportunity.

How does 4K UHD work on older movies like that (e.g. decades-old movies like Blade Runner)? I didn't think that 4K UHD technology existed back then, so how are they retroactively making these movies UHD? I'm a huge fan of Movies & TV and have a sizable library there, but I have two major concerns: 1. there is no easy way to share your library with your family. I don't understand why I can have five sign-in accounts for movie and television apps like Netflix but Microsoft Movies & TV only lets you have one--and, even worse, doesn't let you sign in with that one account to multiple devices, which means that if I have two Xbox consoles in my house, my family members can't watch on one of them while I'm on the other, since you have to be signed into access Movies & TV content but you can't be signed into more than one console at a time. They should allow multiple sign-ins (at the very least, on the same home network) or allow you to share your library with family members by linking their accounts. 2. The DRM is way too restrictive. When Groove shut-down I was able to transfer my library to other devices (including a USB stick that plugs into my car and plays my songs without issue), but with Movies & TV anything you download is tied to both that account and that device. This means you cannot back up your library. Heck, you cannot even save on bandwidth costs by only downloading once and moving the file to another device (again, even if you're signed into that device, the file that was downloaded on a different device won't play on the device it wasn't downloaded on). This seems ridiculously restrictive. Given the reality of delistings (or worse, a service shutting down completely), we absolutely should be able to back up our entire library and move those files around our own devices without restriction.

"How does 4K UHD work on older movies like that (e.g. decades-old movies like Blade Runner)? I didn't think that 4K UHD technology existed back then, so how are they retroactively making these movies UHD?"

Very complicated answer as some movies are shot in 35mm, others 65mm, others still in 70mm, some are mixed. Then there's the film grain issue, lens type (softness) to digital lines, etc. Short answer: 35MM has enough information to convert to a 4K digital picture, but there are variations to that. This is why many of us still shoot "full frame" on digital because you can really blow 'em up. 70mm is even crazier. It has a TON of information in it. In fact, 2001: A Space Odyssey was just re-released in original 70mm in select cities.

As I understand it some movies are mastered in 2k. To rerelease it as 4k many times they more or less just upscale to 4k. Not sure how reliable it is but this site lists what movies are "real" or "fake" 4k.
http://realorfake4k.com

In addition, try https://shotonwhat.com/

My biggest issue with movies and tv's 4k content right now is the lack of a proper audio description. Everything says "Dolby Audio" - but doesn't discern between 5.1, 7.1, atmos, etc. Take the Marvel movies for instance. The 4k Blu-ray has black panther, thor ragnarock, etc in Atmos whereas the Movies and TV UHD is in standard surround. Unfortunately, you don't know this til you buy it - which is ridiculous.

It's a good point. As mentioned above, VUDU is very good with providing all those details.

I started buying back in the Xbox 360 days
Still satisfied on Xbox one/pc/web/yes even w10m .

It's also my understanding that 4k UHD titles are ONLY available through the Xbox Movies & TV app, not the PC version. Is that correct? Makes those of us with an HTPC left out in the cold.

I'm not 100 percent sure about that. I know 4K video playback is or can be processor dependent starting with 7th Gen Intels that do the video decoding on the chip instead of GPU.

Yes, it's really hard to find the answer to this. I've scoured the internet looking for a definitive answer and it there just isn't one. I suspect it's because Movies & TV is not super popular on PC, so no one really talks about it or dives into it. On the Netflix app on PC, you can hit ctrl-alt-shift-D and it will tell you bitrate, codec, and whether or not it's HDR. No such feature exists for the Movies & TV app. BTW I have an Intel NUC with a 7th generation processor and HDCP 2.2, etc.

UK based reader here with a 4k tv. I should flag your bit about Amazon is not entirely accurate as 4k uhd movies are definitely available to rent and buy via the tv's Amazon app. It may be that Amazon hide choices available for non compatible devices.

Correction:
4K UHD selection outside the U.S.: F That being said...I will never EVER pay for a digital version of a film the price that it costs me to buy the UHD disc which will ALWAYS offer me more quality, no need to worry about storage space AND no need to worry about the service I bought it from shutting down. Buying digital entertainment - be it films, music or games - is always a terrible business no matter how you try to spin it.

''Shame on them'' as some offer monthly payments, almost everything can run today on monthly subscription.
Same with Groove, they just couldn't release smart speakers(Surface speakers) with Cortana to get it popular. Just fresh news - they are getting more popular than wearables. They may have shut it down, so they did W10 mobile, but I can guess they can bring it back in some form, like that rumored andromeda device.
Its about time they update their ways how they treat customers, shutting down is simple, but what about finding ways to bring it up instead...

Language selection. Usually I can't find a animated movie in both original and Norwegian language. And if I do, I have to buy them separately.

hove to say buy move and tv show, an ebook from Microsoft Store. it is Awesome. So I have to recommend Everybody Buy stuff from Microsoft Store. so do not Listen to Daniel Rubino.
Windows Central Newsletter
Thank you for signing up to Windows Central. You will receive a verification email shortly.
There was a problem. Please refresh the page and try again.