Microsoft 'in discussions' about joining Movies Anywhere
Movies & TV isn't currently a part of Movies Anywhere, but Microsoft says it is in discussions to change that.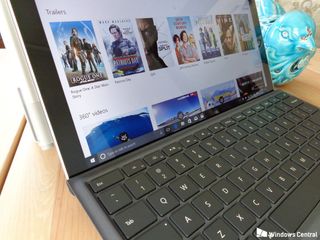 Late in 2017, not long after Disney Movies Anywhere cut its ties with Microsoft, Disney announced that it was launching an expanded version of the digital locker with support from more content providers, this time dubbed simply "Movies Anywhere." While Movies Anywhere was integrated with nearly every major service at launch, allowing you to access your purchases across everything from iTunes and Amazon to Google Play Movies and Vudu, Microsoft's Movies & TV was notably missing from the launch lineup. But that could be about to change.
In a statement to Thurrott, a Microsoft spokesperson said that the company is currently in discussions to join Movies Anywhere. "Microsoft is committed to delivering rich entertainment experiences to our customers," the spokesperson said. "And we're in discussions with Movies Anywhere about bringing their service onboard."
Though Movies & TV's absence at launch was a blow for heavy users of Microsoft's service – Windows Central executive editor Daniel Rubino argued it would be dead if it didn't embrace Movies Anywhere – Matt Faraca, a member of Microsoft's Movies & TV publishing team, Tweeted at the time that new providers were being added in waves, hinting at the possibility that Microsoft's service could be included in the future.
Microsoft's latest statement isn't a guarantee that it will hop on the Movies Anywhere bandwagon, but it's a good sign for consumers that the company is at least in talks to join. With the ability to migrate purchases between services, buying movies through Microsoft would no longer feel like a gamble. Plus, joining Movies Anywhere would give customers a way to view their Movies & TV purchases on Android and iOS, addressing another current pain point for the service.
If Microsoft doesn't embrace 'Movies Anywhere' its Movies & TV service is dead
Windows Central Newsletter
Get the best of Windows Central in in your inbox, every day!
Dan Thorp-Lancaster is the former Editor-in-Chief of Windows Central. He began working with Windows Central, Android Central, and iMore as a news writer in 2014 and is obsessed with tech of all sorts. You can follow Dan on Twitter @DthorpL and Instagram @heyitsdtl.
Having 4k and hdr movies in the store would be good. I ain't buying 1080p titles to play on my 4k devices. So the store is useless to me at present Microsoft needs to wake up. Im in UK so no idea if the store offers this in the USA. Joining Movies Anywhere has got to be a positive move.

Yes, 4k movies are available in the USA.

Weird. Yeah, we have 4K UHD in the Store including new Star Wars and some older titles.

you get 4k and Atmos on some movies in US. I just wish they would tell you what audio is supported other than "Dolby Audio." For example, both Justice League and Thor Ragnarok say "Dolby Audio" but Justice League is Atmos and Ranarok is not. Just stupid - and there is no way to find out before purchasing.

The current state of the store leaves alot to be desired. I have several descriptive words about it and none are as polite as "chaotic idiocy". The fact Microsoft Teams PWA is being tested outside of Microsoft should ring alarm bells. That Microsoft over fired people in order to increase short term profits. Because any other reasons falls into realms of "moronic" or "incompetency" or the scary fact - both at the highest level - who ever thought it was a decision to hamstring themselves just to grow their short term profits. I do not include Phil Spencer in my assessment of the SLT as he recently was promoted to the SLT. As result I am more hopeful that Microsoft won't fall off the cliff. As individuals I have nothing against Microsoft but their actions, double speak, regional lock down of features and products speaks volumes. That only happens when a company is completely unsure and unfocused on direction. The direction they should be focusing on is consumers and enterprise users. Not just enterprise users, as enterprise users are consumers first.

@bbennett40, just fired up a vpn and yes I can see the UHD movies. Great.

"Microsoft is committed to delivering rich entertainment experiences to our customers"................................................................................................................................................................................................................................................................................................................................HA!

They need to do this to stay relevant to consumers. If they want people to use their store, people need to know it's there.

This needs to happen. Or they may as well shutter Movies & TV. MA is the future of digital content. I've actually bought more digital content than before simply due to the fact that I now have less limits on where said content is viewed. I also refuse to buy movies from Lionsgate, Paramount, and MGM until they get their $#!+ together.

I usually stick to buying TV show episodes from the store but this would be great.

My kid got Spider-Man homecoming for his birthday.
Movies anywhere restricts me to some crappy vudu app or iTunes. No thanks. I look forward to this happening.

While I would much prefer Movies & TV, I do like Vudu and its cross platform capabilities.

hopefully they can make it happen

OK, maybe I missed something. Why is it that MS can't simply create a Movies & TV app for Android and Apple? Would this deal allow MS to create said app or MS content would have to be logged in to through a different app?

My guess is that is has something to do with the licensing agreement they have in terms of what devices the content is playable on. Just like how some NFL games are playable through an app on a computer, but not on the same app on a phone.

Hopefully because our has a mix of devices with different OS.

They need a Movies & TV app for Roku players. I use my Roku more all the time. It uses less power than the Xbox and plus takes a lot of wear off of it. At least put a Movies & TV app out for mobile devices.

Considering the store and iTunes are the only services I know of that allow you to actually download the movies this would be huge. I have no idea if Amazon plans on ever allowing you to do this as you can on phones but not on PC.

hopefully they will also have a microsoft movies and tv app for android and ios since no tv shows are in movies anywhere as well as lots of other movie studios

Hopefully it's not "double speak" as that statement neither confirms or denies Microsoft will join Movies Anywhere. Microsoft missed another boat with this one, they could have leveraged "Play Anywhere" as a brand USP so "Movies and TV" would have become "Movies and TV Anywhere", sure - it's a mouth full but it gets the point across. "Buy within our ecosystem and have your content everywhere". Jeez, do we prosumers and enterprise users have to spell everything out?

Yes this would be great.
I have a movies everywhere acct already and would love to see my movies show up in the movies & TV or vis versa.
I'm one of those sitting on pins and needles, after getting burnt from Zune, buying movies, to find out u were only allowed to download a movie 5 times after that u could only Stream it That was BS.
I lost a lot of Money from that, so because of hat I can't trust MSFT when it comes to buying Movies very skeptical now, until they make the jump with movies everywhere. I have a lot of movies o my VUDU acct, I converted all my DVD's that it would find and Convert them to Digital, but some it couldn't find like my almost complete series of the Dukes Of Hazzard DVD's or a lot of my western's, or my complete Are You Being Served DVD collection. I Hope this play's out in a good way? 🙏🤞👍👌🤝
Windows Central Newsletter
Thank you for signing up to Windows Central. You will receive a verification email shortly.
There was a problem. Please refresh the page and try again.