Microsoft News Bar beta now available, puts a news ticker on your desktop
Get the headlines right on your desktop.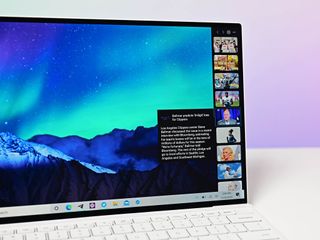 (Image credit: Daniel Rubino/Windows Central)
What you need to know
Microsoft News Bar is a new app available from the Microsoft Store.
The app adds a news ticker directly to your desktop with links to the latest headlines.
Microsoft News Bar is available in beta now for anyone to test.
Microsoft launched a new app for newshounds on the Microsoft Store today, dubbed Microsoft News Bar (opens in new tab). The app is essentially a persistent news ticker for your desktop, serving up the latest headlines as they happen. There's also a fair bit of customization to get the right fit for your desktop setup.
On launch, News Bar takes up a portion of the right side of your screen with a list of images for each news story. Hovering over each image will give you a preview of the story's headline and a bit of text. If you see something you want to read further, you can click through to open the full story in your browser.
Microsoft's News Bar (beta) is an interesting idea. Could also be an anxiety bar for some 😂

Seems like a throwback to the Vista widgets days. Doesn't make sense for laptops really (though it works), but desktops and multi-monitor setups? Sure. pic.twitter.com/d3MdoZR4uqMicrosoft's News Bar (beta) is an interesting idea. Could also be an anxiety bar for some 😂

Seems like a throwback to the Vista widgets days. Doesn't make sense for laptops really (though it works), but desktops and multi-monitor setups? Sure. pic.twitter.com/d3MdoZR4uq— Daniel Rubino (@Daniel_Rubino) March 30, 2020March 30, 2020
However, if the default setup isn't for you, you can customize things a bit further. If you'd rathe see the headlines at a glance, there's an option to have them overlaid on top of the images. You can also reposition the bar on to be on the left side, top, or bottom of your screen.
When placed at the top of bottom of your desktop, News Bar switching to a scrolling bar of headlines without images. If you still want images, however, you can turn them back on through the app's settings. Finally, the whole thing can be minimized when you want a break from the constant stream of stories.
It's an intriguing concept for an app, and it will be interesting to see how Microsoft expands on the idea throughout the beta. If you want to give the app a shot, you can download the News Bar beta now from the Microsoft Store.
Dan Thorp-Lancaster is the former Editor-in-Chief of Windows Central. He began working with Windows Central, Android Central, and iMore as a news writer in 2014 and is obsessed with tech of all sorts. You can follow Dan on Twitter @DthorpL and Instagram @heyitsdtl.
It's bad enough 8 can't stay away from the Android app, Windows app, nor the website right now. Just keep feeding my addiction...

Neat, so Vista has returned. Damn, Daniel beat me to it.

Daniel never used Vista. He read about Vista widgets on his site commentary

I started on Windows 3.1 and even VAX, but thanks for being my fake biographer.

183.64MB for something so simple? It doesn't even open the news articles in the default browser. It opens in the old crappy Edge. Yet it uses over 600MB in RAM. Better off using a RSS reader like QuiteRSS.

If you have (new) Edge production installed it absolutely opens that directly.

Where did you get this info from? Absolute rubbish.. People like this spread fake news without even trying..

Just tried it out. Not really a fan. I'll stick to the regular Microsoft News app and its alerts..don't need something this intrusive to my workflow. Another thing, why can't Microsoft release an ARM version of this? Are they that lazy to just say "screw it, let the ARM folks emulate the x86 version"?

It's currently in BETA so not really public release yet

Yes, but ARM users shouldn't be left out in the cold. There needs to be a call to ARMs lol.

I agree, in principle, otoh, this seems like a really bad app for a laptop...any laptop. It'll consume CPU cycles and definitely memory, all on a small display. This is definitely more ideal for a desktop PC, and even one with multiple displays (it supports that directly already).

I accidentally write a comment incorrectly and delete the content.

I'm running it on my HP Envy X2, so far without issues.

I only have a "problem" with this application and it is the position related to the windows, you can not set a setting that allows you to use it with this below

One of the great little features in Vista. Bing back the widgets damn it !

Anxiety bar perfectly describes this! May be technically a good product, but I'm not overloading myself with any more (bad) news than I have to!

Not in the Canadian store yet

Unfortunately with it being in BETA (not public release) and the fact that Microsoft usually releases to USA first, the Microsoft Store for other regions will likely get it many months later. Also are you using the Fast Ring/Slow Ring or just the production release of Windows 10?

Not available in Polish one either :(

If you change your region to US in the Settings app, you can use it even if you are not a US user. I am a Korean user, but I changed the region to the United States and searched for the News Bar in the Microsoft Store and installed the app. News articles are also displayed in Korean. If you go to News in the settings of the News Bar, you can select the news language. You can receive news in English (Canada) or Polish by simply switching the Windows region to the United States and installing the app. Go to the News section in the News Bar's settings (gear icon) and set the language to English (Canada) or Polish. Usually selected by default in your native language. Hope it's good information!

Let me guess, US only? It's not available in the UK store

Scrolling text or nothing.

Great, another weak version of livetiles

This is so exhausting. Does everyone get the SCAM of these news apps and feeds? It isn't to give you news. It's so that MS can sell ads disguised as news. Or share with you political stories that are persuasive in subtle ways. This has nothing to do with the users needs. Zero.

Unlike the MSN news page this only shows real news stories, not listicles, etc. There are no ads/pseudo articles in it (I suggest trying it before commenting). Yes, there are ads when you

open the story and it goes to an MSN page

, but that's the entire internet already. One benefit of MSN that you seem to skirt is the app/site lets users read certain newspaper articles that are typically behind paywalls for free.

"This has nothing to do with the users needs. Zero."

If people like it/use it, I'd disagree. Regardless, Microsoft News doesn't even come preinstalled in Windows 10 anymore and this is an optional add-on, so to raise a fuss about it seems like a waste of time, imo.

To me it looks like the Bing News bar on steroids

I love it.
I'm a bit of a news junkie, so this is just perfect for me. Would be nice to be able to always show the stocks you follow on the top (or left if at bottom or top), but otherwise, this app is super useful.

Can't edit out leftist propaganda. I'll stick with Newsflow.

Not available to download now

hi if you are in the UK you can install this app (even when it says not available)
1. on USA store download page save it to cart and purchase $0.00
2. open Microsoft store UK
3. go to my library all owned apps
4. then install normal way
It works fine in UK … hope this helps
Windows Central Newsletter
Thank you for signing up to Windows Central. You will receive a verification email shortly.
There was a problem. Please refresh the page and try again.