Microsoft offers updates on iOS, web and Win32 app bridge tools to Windows 10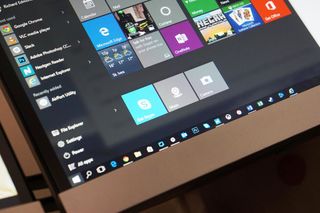 While Microsoft may have put the brakes on its Android-to-Windows 10 app bridge tools known as "Project Astoria", it continues to develop those same kinds of tools for iOS, web-based and Win32 apps. The company posted a brief status update on all three of those bridge tools.
Microsoft stated:
The Web Bridge (Hosted Web Apps) helps bring HTML and JavaScript web-based apps to the Windows Store and takes advantage of the rich capabilities of the Windows platform, such as Live Tiles, Cortana integration, in-app purchase capabilities and more. This shipped as part of the standard Windows 10 SDK in July and we've already seen adoption from companies such as Shazam and Yahoo.
Project "Centennial" helps bring existing Win32 and .NET-based apps to the Windows Store and is in testing with a set of developers now. We'll have an early iteration of the tools soon, and then we'll expand the program and support a broader range of developers.
The Windows Bridge for iOS (project "Islandwood"), enables developers to bring Objective-C iOS apps to the Windows Store, was released to GitHub as an open source project in August and we've been releasing updates to it frequently. Just last week, we released an update which included the first ARM32 preview compiler drop.
Microsoft added that they are adding more APIs to these bridges:
Source: Microsoft
Windows Central Newsletter
Get the best of Windows Central in in your inbox, every day!
Wait for it..... Cancelled accepted!

Bla bla... Same old, same old

No measurable progress on any of these tools yet, the pace is odd.

Islandwood and Centenial are in full force and are the better options anyway. Great move!

News Flash Win 32 apps coming to you via Surface Phone in 2016 !!!

Not in their natural state. Developer would have to port a Win32 app to a Store app first, in which case it will be available on Windows 10 desktop by default. If it's then converted to a UWP app (assuming the developer has not lost all enthusiasm in the possibly arduous porting process and is still interested), then it might come to your Surface phone. Posted from the Windows Central app Built for Windows 10

I'm guessing it's more related to Continuum. i.e. on mobile formfactors you get the UWP app, and when plugged into a monitor you get the Win32 app.

Well it's really just for Continuum, there is no way we can run Win32 apps in a phone screen. These apps aren't designed for very small screens which it will only end up as a useless cramped workspace, not to mention that their underlying code would be still inefficient for mobile use and UX aren't meant for touch at all (so do but still poor).
But yeah, we need this Project Centennial at least for Continuum enabled devices. It's quite elegant solution since it will be available to Windows Store and easier to manage. Only catch is it still needs developers effort to port those, optimize and maintain it on Windows Store. This means most Win32 apps would not be still available, not bad though since it will make W10M Continuum finally useful. Now we just need a desktop-like environment such as floating windows, all Windows snap functionality (with Snap Assist), full drag-and-drop between apps and better File Explorer. It still a question though if Project Centennial can recompile Win32 apps to ARM architecture (which can be a messy process of optimization) or it just essentially a Win32/.NET apps inside an UWP container.

That is a waste of time and resources. ARMs is a low end chip.

Not really, ARM is just happen to have entirely different architecture. So in some sense its really not as powerful in computation as CISC CPU (because ARM is a RISC), but that doesn't mean its literally "low-end chip". Also why do you think it's a waste time and resources to improve Continuum? It will be a waste effort if it stays like this for long. Not to mention full Windows Explorer shell is actually possible in ARM with Windows RT, thus having a full desktop-like environment is entirely possible on ARM. We don't wish to have full Windows Explorer shell on W10M Continuum, we just need Continuum to catch-up to have true desktop environment it deserves, since that what seems their aiming for is to have "desktop-like" experience from a phone.

Two words: Windows feedback!

win32 with continuum support could be really cool on my 950XL

Win32 bridge gets the application in the app store, it doesn't mean you can run it on a different processor architecture.

Really. I always thought it meant you can run it on your phone. I guess it makes sense. Posted from Windows Central for Windows 10

try searching for rise of the tomb raider on your phone, store app... yes... on your phone... no

This is incorrect. If the developer ports the app to UWP, they can make it available on Desktop, Phone, IoT, etc. Win32 apps can only run on desktop, but if they are ported using the tools described in this article, then they will not be Win32, they will be UWP.

To port to UWP, it would require a rewrite. For this, you get a functionally constrained app, in most instances. We have investigated bringing a LOB app to UWP; no network folders, no deal (it's utterly ridiculous that W10M still cannot access SMB shares). Welcome to reality.

MS on a roll today in streamlining the bridges and making it easier for devs to adopt Windows platform. Day started with firmware update news for some WP8.1 to pave the way for W10M update. Hope it'll come soon.

Start with the Garage apps, and then we'll know you're serious and the bridges work..

You're absolutely right. The garage team can also port and show ppl how apps can be ported.

should be mandatory for then

Suddenly the Garage apps make sense to me! :) Posted from the Windows Central app Built for Windows 10

Behind you. I said, look behind you ;P
(Guess which cancelled game is this line from) Posted from the Windows Central app Built for Windows 10

The Garage apps are kinda lame IMO... but it's a good way to test it. I wouldn't be surprised if they already did that behind the scenes.

Not lame, they're just experimental. Although the intended experiment is coming to light with Project Islandwood. Posted from the Windows Central app Built for Windows 10

There is no Garage team, I don't think, as the "Garage" apps are programmed by people in their spare time, it's not a Microsoft team assigned to create this stuff. So they can't just tell those developers that they have to convert their apps.

Looking forward to Windows Bridge to iOS supporting Swift. I have a couple of projects that I've rewritten in Swift from objective-c, and in the process of doing so I added some functionality, so I'd rather not go back to my objective-c project to test the bridge tools.

Why not to use C# to convert it? It is 100% times easier than even Swift!

Does anyone know which one is more prevalent in the App Store now - Swift or Objective C? Posted from the Windows Central app Built for Windows 10

I believe Object C is, but only because Swift recently came out, but developers are moving to Swift because it's easier to use and less complicated than Object C. But hopefully MSFTs bridge tool will support Swift soon.

Indeed! Since more and more developers are switching swiftly to Swift, the bridge tools should catch-up with that quickly as they can. Good thing at the moment is that Swift is still new and not most developers are using it, but that will change soon.

We'll done MS. Keep doing yo' thing Posted from Windows Central for Windows 10

Can you take just a iOS app and install it, or do you need source code ?

It's not an emulator. It's a translator. This means you have to recompile the source code. This isn't like Astoria but has more potential since the translated app runs natively.

The dev takes their existing iOS, recompiles it, and the tool will tell you what changes you need to make (if any) to make it work with Windows. It's very minimal code changes compared to starting from scratch... but the best thing is it allows the app to run natively and allows them to add W10 features such as live tiles, etc.

Hey Thaman04, sounds like you know how to get around some things! I'm dying to know more

Hey Daniel, wasn't there supposed ti be some Xbox windows 10 press event today? I haven't seen an hint of info since it was announced. I guess they just quietly dropped it?

i saw on one reddit post that no news is supposed to coming out today, but rather next tue.

............Full steam ahead.

When will project islandwood support Swift? That's all I want to know.

Yea, would be nice to know. Also when in India.

Yeah. Also, when in Japan.

NuaNs, Vaio Biz, etc... :p

Complete project islandwood as soon as possible.

Can anyone tell me as to why are some people highlighting the cancellation of project Astoria as a huge loss? Aren't all the need apps present on both iOS and Android? So having just islandwood would suffice right? Posted from Windows Central for Windows 10

Not completely. But yes, Islandwood is a huge step forward and Astoria is not a huge loss. Heck, with Xamarin in the house now, no one's gonna miss Astoria that much! Posted from the Windows Central app Built for Windows 10
Windows Central Newsletter
Thank you for signing up to Windows Central. You will receive a verification email shortly.
There was a problem. Please refresh the page and try again.