Microsoft officially cancels 'Project Astoria' plans for porting Android apps to Windows 10 Mobile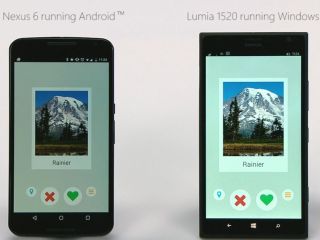 After months of silence, Microsoft has now officially revealed it has canceled plans to offer developers bridge tools to port Android apps to Windows 10 Mobile, also known as "Project Astoria". Those plans were first revealed at the 2015 Build developer conference.
Microsoft announced Project Astoria alongside "Project Islandwood", which offered iOS app developers a way to port their creations to Windows 10 Mobile. Today, Microsoft stated:
We previously reported that Project Astoria was not proceeding as planned and had been put on hold indefinitely before today's announcement.
Earlier this week, Microsoft announced its plans to acquire Xamarin, a company that has created tools for making mobile apps for iOS, Android and Windows that can share common code and thus be quickly released for all three platforms.
Source: Microsoft
Windows Central Newsletter
Get the best of Windows Central in in your inbox, every day!
At least I find iOS apps better than android counterparts

I know right.
But anyway it's a very smart decision.

Man.. We need damn apps! And we Ned them yesterday. SMDH Posted from Windows Central for Windows10
Posted with still the best phone running Windows10 (1520)

We do. I assume you have seen the latest HP device Rod? Looks like the right size for you.

It's still not 6" so probably a no go for Rod ;)

Well, damn. It's close enough.. At that size even I wouldn't know the difference.... Nevertheless, 6.1"-6.2" would be a nice upgrade.
.....
I basically want a 1520 body with a 6.2" updated screen, updated 41mp camera, and the specs of the HP phone.... Do you know how many people would kill that? Especially if they made a 5.2" version as well.. That's what WM fans want. That's exactly what they want.. Posted from Windows Central for Windows10
Posted with still the best phone running Windows10 (1520)

Well I for one miss my 920 and are actually looking for something in the 4.x" range. After years I'm on the 950 right now but I'm not too happy about the size.

I'm happy with the 5.7" of the 950 XL, and I came from a 1520. I love that it's a bit smaller phone, with a still larger screen size.

I have, and it's just about perfect.. Nice quality design, but still not that playful, cool, classic Lumia look.. I know it's supposed to have a more business appeal, but it's worlds better than the 950XL... Nice specs, 6" screen. Just about perfect.. I expect more to come.. That's the first phone to get me excited since the 1520/930. Posted from Windows Central for Windows10
Posted with still the best phone running Windows10 (1520)

I hear that a lot, however, no one every say what apps?????? I personally have all the apps i need, so not sure what everyone is BooHoooing about. There are 700,000+ apps, i guess that's not enough. So if any of you can list the apps you saying you want, that would be great, and at least i would know. And PLEASE don;t say Snap Childish garbage Chat. That's one crap app i careless if EVER gets on Windows. EVER.

I don't know you but I'm waiting for Islandwood to be able to run home automation and other Internet of things capabilities like Philips Hue (to control your lights) Parrot drone controller (to control your drone) iSmartGate (to open your door) Right now Windows Mobile is not attractive to developers, but with Islandwood, all of these great apps for Internet of things will come for this platform. I want Islandwood to be a serious effort from Satya Nadella to fix the mobile strategy disaster of 2015.

and IFTTT apps Posted via Universal Windows App on Windows 10

A 3rd party W10 universal app called Huetro for Philips Hue was featured in an article earlier (today?).

Insteon is sold in Windows Store and still no app for it in W10M. The Insteon for hub app is only good for the latest gen of Insteon devices. Mine, two years old hub, is not supported. - Posted via W10M device

Many banking apps and countless games. Also xfinity app is useless, works one time and quits.

Hundreds of thousands of useful apps that people need, and want... Anyone who needs an explanation of what they are must live under a rock. I mean, get real. Go to the store, pick up a magazine, watch TV.. Appealing app offers are everywhere (except windows)... This must change. Posted from Windows Central for Windows10
Posted with still the best phone running Windows10 (1520)

1. Snapchat is a joke.. If Windows has all the apps you need then you might need to start living a little. Read my comment below. Posted from Windows Central for Windows10
Posted with still the best phone running Windows10 (1520)

Yes there are apps that I do need. Like Google+, Bank of America, and maybe hangouts. Posted from Windows Central for Windows 10

Snapchat
Better Instagram (though I love 6tag)
Multiple banking apps in the US
Official SiriusXM app
Apple Music app (I'd love to cancel Spotify and move my family to that since it's cheaper, but two have Windows Phones, I'm on Windows and iOS, and another is on Android. Only iOS and Android have Apple Music apps at this time)
Better Telegram
Support for my Pebble Smartwatch
1Password that works like on iOS
Official TV Guide App
Trulia Rentals
Harkins App
NASA App Probably many more for other people but these are some apps I use a lot that I just looked through my iPhone to see. Pretty sure most if not all of those I listed are not in Windows store or if I put better in front of the app name, it's worse on Windows.

We need twitter, Facebook,

EA games in fact so many games

Clash of Clans, the REAL Bejewelled game, Flick Homerun, Madden Mobile, Path and WhatsApp (can't remember if they're on WM, WhatsApp used to be), Playstation app AND Playstation messaging app (don't care if they're competitors, get over it), Yahoo Sports (been asking for this one forever. Used to have it and MS snubbed them and they never came back), my bank app, a working MLB At Bat app, and a real YouTube app. There's more my kids would like to see, but I'm only mentioning my own wants. Posted via the Windows Central App for Android on my Ell Gee Gee Four

Bank of America
Chase
Scottrade
Splitwise (third party WP apps just don't cut it)
Linkedin (current app sux)
Grubhub
Mint
Geico
Xoom
Ticketmaster
Lyft
Lumosity
8 Ball Pool (Miniclip version) In short, apps that keep me connected to the things I love and make my life easier. All these are there on my secondary Galaxy S5 Mini, by the way. Posted from the Windows Central app Built for Windows 10

Sorry mate but LinkedIn support on iOS is a joke. Belive me, I've just switched. Remember those beautiful contact photos taken from LinkedIn profiles? Boom, gone. There is absolutly no wat of managing LinkedIn network on iOS outside their app - totaly useless!

For me it's pretty much every bank app and credit card app For my daughter it's snapchat, a couple other social apps, and current trendy games.

Tinder, facebook, instagram, ctOS mobile, all banking Apps, Official Youtube, Google Apps, Grofers, Big Basket, paytm(horrible in store), Android Central. The list is endless.

Mytube is a good YouTube app and google stuff.....meh Posted from Windows Central for Windows 10

- Umm like decent gapless audio player? like PowerAmp on android - Better handling of notification center for apps to push to (i.e. pingodm notifications - both apps in windows store plainly suck compared to android/ios version). - IF app - Repeating Notifications for SMS and other messengers (keeps beeping until you read it) - AdBlocker - Decent photo viewer - the default one is just crap. Can't even chose which folders/albums you want to include. - HungryHouse competitor to JustEat - Amazon Music - Hangouts - Decent Flicker integration - CityMapper - AirBnB That's just from the top of my head, don't get me wrong its all based on user preferences/lifestyle.
I love my Lumia 950XL but i do feel it could have been much, much more useful if there has been more apps to chosde from and also more motivation for new developers to build apps for windows. I've backed couple of kickstarter ideas and simply none of the new developers are even thinking of building their apps for windows phones. Its just too much effore for too little gain. The beauty of android massive amount of apps is that if you don't like the layout of one type of app you can find 10 more that will do similar thing and have a better/more to your liking UI/layout. But still all fingers*toes corssed for Islandwood, that's basically the last hope that this platform will attract more audience and not fade away into the sunset liek the likes of IBM OS/2

The problem is if you really and honestly have all your app needs meant by a windows phone then you are in the minority of an already small group. Also even if an app is available in the windows store it's usually missing features or doesn't work as well as the same app running on ios or Droid. Perfect example my uncle who I convinced to get a WP. Was with his family who were all videos calling themselves with the FB messenger app. (on droid and ios) He asked me if his phone can do that as well. Feeling embarrassed I said you have to wait for the fb messenger update (which we all know is not coming any time soon) then I told him just use skype but all his contacts and friends use fb video calling.

The Cisco/WebEx chat app, the Chase bank app, a few LOB apps these come to mind immediately, but my personal list is much longer than that even without Snapchat which I want so people can stop listing it as the only thing missing or using that as a defense like it IS the ONLY thing missing and it sucks anyway so what would any reasonable person want it for.

Although I agree that the whole apps for the sake of it is pointless there are a lot of supporting apps for devices and services we are missing. A silly but key example for me in London is the "Thames Clipper" a ferry service. On Android and IOS you can obtain an electronic ticket, not so on Windows phone. Means I lose out on convenience there, little things like that do jar.

True that. Your signature I mean. Still the best thing Windows 10.

But there are some apps only available on Android (very, very few, but still).

i really dont know what apps are you tallking about, can you please tell me one that really matters? Im not trying to be rude, sorry if it sounds like.

Windows central isn't available on iOS, only the forums app is. On Android, all of the mobile nations are available Posted via the Windows Central App for Android

In addition to the Windows Central app, there are numerous fart apps whose exact counterpart isn't available on iOS.

Bunch of malware apps that aren't available on iOS and Windows phone :)

I doubt people who have apple are on Windows central, that's why they have iMore. Posted from Windows Central for Windows 10

Not true, I use a iPhone 6/Nexus/Lumia of the day, as my daily drivers, it would be nice to have a WC app on the iPhone like I have on the others.

But you already have a Windows Central app in Windows Store! Why port an iOS app that is already here?

Um... You don't need an IOS WC app. Duh.

Are you asking what apps really matter that Windows doesn't have?.... THOUSANDS! Thousands that people need, and want.. Thousands of consumer product accompanying apps. Thousands of entertainment, and network apps. Thousands of promotional apps, thousands of education foundation, and institution apps. Thousands of necessary workplace apps, banking apps. Apps that people need to get things done, and enjoy the products they buy.. Relatively, almost NOTHING is available for Windows, when you compair apps side by side.. Popular apps almost don't even matter because they are such a small percentage of all the apps that each INDIVIDUAL needs. Do you know how many consumer products have a companion app? It's overwhelming, and Windows would be lucky to have even 2% of just those apps...
.....
I've used these three apps for examples many times, and they are just 3 that I personally really need, and will cause me to have to get a second device.
1. The Vance&Hines air/fuel tuner app for my Harley.
2. My credit unions app
3. The Mercedes automated app for my car.. SMDH. I am but 1 person out of billions, literally billions who have their own personal set of apps they need, and they are not on Windows.. Basically none of them... When you understand how critical the situation is you will take is seriously.. Screw Facebook, SnapChat, and candy crush.. Those are just the tip of the iceberg. They matter, but don't really make that big of an impact.. Windows could have every popular app at the time, and still would be in huge trouble in the app department... Never think of our situation as in popular apps, rather the apps that aren't popular... The lack of practical applications is what makes Windows have an "app gap". Posted from Windows Central for Windows10
Posted with still the best phone running Windows10 (1520)

rodneyej, I hear you. However, do you realize there are over 700,000+ apps in Windows store? Also, Did you know, majority of banks or even some of the apps, not needed and you can access their websites more securely and more conveniently? Knowing that, I have Pin those sites on to my Start Screen, and anytime i need to go to my bank, I just 1 click it, and takes me there and Bam i got my banking done FAST and EASY, and have all the options i need do get things done FAST. In addition, any person on ANY cell phn can ONLY install so many apps just so you know. For Exp: I have 300+ apps on My Lumia 950XL, and i use about 3 to 4 of them in a day(some days more, and some days none). So as you said "Thousands of Apps", who do you know, have "Thousands of apps", on their phns, and use it EVERYDAY(also, who has time)????????? I was just wondering. Thanks.

Stop trolling. He already explained what the problem is.
Let me help you out.
I need a banking app. A medscape app. A lab values app and im good to go. That's three practical apps on iOS and Android. Now there are a plethora of other medical apps that are available on those platforms. None of my colleagues use Windows Phone because of the fact that there are no medical apps worth a mention in the store.
The thousands of apps you see seem to all be useless weather apps which I have no use for.
Next time you're in the store curate the categories of apps there. Its a shiit show. Posted from my Lumia 950XL

Windows has about 700k apps, and barely any fill the app gap...
....
Android has 1.7 million apps, and just about every app that is of significance is available to consumers.....
....
Case closed. Posted from Windows Central for Windows10
Posted with still the best phone running Windows10 (1520)

It's amazing what passes for a "need" these days. How do you do your job without them now?

Lol.. Are you asking me what I realize?... I've been with a windows smartphone since 2006.... Lol. I know what they have to offer...
......
No offense, but the rest of your comment is a joke. I'm serious. Just stop. Nobody needs thousands of apps, rather billions of people need thousands of apps, and the apps they need... It takes a lot of apps to be diverse enough for billions of people.. Asking people to use the web is not reality... Why wouldn't they just go with iDroid?... Please. Your comment is the sound of a thousand windows fans in denial.. Like I said, no offense, and I'm not trying to be rude, but you're trying to BS the wrong dude.. Lol thanks☺ Posted from Windows Central for Windows10
Posted with still the best phone running Windows10 (1520)

"..windows fans in denial." Ha ha ha. I remembered Dr. House's sentence regarding stages of death. Denial -> Anger -> Negotiation -> Acceptance.
Apparantly I see it with WP. No matter how and what you try to explain about the situation, they dont want to see it that way.
I used WP hoping that MS will start where Nokia left and take it way beyond. Instead they scrapped Nokia, started from a scratch and ruined everything. I believe most Nokia fans feel the same. I never had that very "NOKIA" feel and experience with WP. For now I already switched to android and having frustration free life. Those whatever few apps I need work flawlessly here.
And I come here just to see if WP is going any further. Alas.

It's also the little things that matter ie the decent remote controls for my televisions and the absolute deal breaker for me a functional BBC radio iplayer app I really want to return to WP at the some stage I am not keen on the Android os, but 3 or 4 apps are going to be the deal breaker Posted via the Windows Central App for Android

I'm not going to bother reading your long post Rodney but I can agree with you Posted via Universal Windows App on Windows 10

Lol. Just read the damn post. Posted from Windows Central for Windows10
Posted with still the best phone running Windows10 (1520)

Hope you got that all out of your system...

Its funny, I just asked the same exact thing. Everyone is booohoooing on Apps, but yet I have all the apps i need on my Lumia 950XL. So it would be great if we could find out what these apps are, that people can't live without.

apparently some people cannot live without Netscape Navigator and AOL Posted via Universal Windows App on Windows 10

Now I do want Netscape Navigator for my Windows Phone

Let me help you out then:
1) Nedbank
2) Local Savings Society app
3) Medscape
4) local music subscription (groove pass not available in my region - thanks obama) Thank you for your time. Posted from my Lumia 950XL

Local music subscription? Why don't you use Deezer? I use it on my 535 almost every day, and it works flawlessly ;) Posted from Windows Central for Windows 10

Local music subscription? Why don't you use Deezer? I use it on my 535 almost every day, and it works flawlessly ;) Posted from Windows Central for Windows 10

"insert gratuitous, unrelated screed about POTUS here" automatically makes any post a "rant."

That's great for you but the majority disagree hence the low market share of Windows phone.

It took 8 years, and a total lack of innovation, to preserve the legacy ability og iOS and Android to be able to amass all those apps. Many are coded for long dead veraions of those OSes and contain artifact, bugs, and malware backdoors. You guys whine about the head start, First Mover's Advantage, that they have, but MS has given you something else, a third choice. Like any choice, it's up to you to stay or go. But all of you hand -wringing, and wildly gesticulating ranting, cannot move time any faster than it will go. It takes time, trial, and error, and effort, to create new, and better things. If you are so wound up over apps, the choice is simple. Stay, or go. All this ******** and kvetching, is more annoying that the ommision of ANY app. I have loved all the versions of WM/WP, that I have used, in the last 10-11 years. I have not enjoyed iOS, or Android nearly as much. All the piling on by supposed fans of the platform, thinly veiled as "constructive" criticism, is very light on the construction, and heavy on the criticism. Save it for the forums, or better yet, the feedback app. I rarely vent on here, because I use the feedback app for that, and come here to here any good, informative news about my platform of choice. Must of the complaining in comments is bs. Nobody cares what apps you don't have. Go get them on iOS/android. It's why I carry an iPad mini (which I almost NEVER use). Because apps are edge usage cases. Most are gimmicky, and for those that abandon my os of choice. I abandon their custom, in reciprocation, ogle find workarounds. Because if a company has an app, and not a website it arrives from, they are full of isht anyway, and can go fly a kite. No ADT app? O switched to AT&T Digital Life. Simple. If a business doesn't respect your custom, then why chase them? They don't want your money? Why Chase(pun intended) them? I use Chase. The only thing I can't do is deposit checks. Which I use the iPad for, and I rarely use the iPad for much else, which is to say, I rarely use the iPad. I think I charged it for the first time in at least a month. Butits there, if I need an app. I rarely do. "insert OS name here," has a billion apps! Who the Frick has a hundred apps on their phone? I do. Many more, actually. How many do I use? Maybe 10, heavily. The rest sparingly, or not at all. Apps have just encouraged me to be a hoarder, basically. So, stop whining, and enjoy the better OS UI/UX, of WP/W10M. Anything else is just childish.

Also the quality of the apps varies SO much. I have a book app that I use everyday. It hasn't been updated in 3 years, and it crashes all the time. On Android, it's only been a few months since it was updated. No crashes to be found. Also MLB At Bat is still gone on 8.1, so the app situation is varied. Makes no sense to go back to using a flakly app, just to show support for an OS. I need the At Bat app, to be honest, that was what made me start looking around in the first place.

I like InstaSave on my Nexus but I dont thinks its availble on my iPhone.

And the same goes for iOS, probably more so. Most apps are iOS and Android, making both of them portable redundant. Plus, lots of developers seem to aim for iOS first, rather than Android. This makes iOS the obvious platform to aim for

I don't know a single relevant app that's exclusive to Android... Posted via the Windows Central App for Android

Twilight Posted from Windows Central for Windows 10

I wouldn't classify twilight as that relevant. Posted via the Windows Central App for Android

Well, it is if you do reading in bed and want to prevent sleep disruption. Ios will launch a similar feature in the os eventually but it won't be an app

Blue light exposure doesn't effect everyone the same way, so it's importance as a feature is only relevant on a case by case basis. Also, I think I'd rather have such a feature baked into the device v. A 3rd party app Posted via the Windows Central App for Android

I am not sure if affects everyone differently but, seems to be pretty popular though (I see it on alot of reviewer phones). It is of the clear distinguishing features from ios in my opinion. As for it being baked in, I prefer it as an standalone third party app. More flexibility and not being platform specific though currently only available on android. Actually it can also work on a blackberry as it can run android apps also. The app integrates very well in android and allows really alot of flexibility. You shiuld try it off you haven't yet Posted from Windows Central for Windows 10

Relevant or not, I JUST found out about Twilight from you guys and immediately went and downloaded it on my LG G4. Just checked my wife's L1520, um, not available. I'm using the app as we speak. Posted via the Windows Central App for Android

I thought the same until I noticed that there's no Windows Central app on iOS, just the one for the forums. Android however, has all of the mobile nations apps. I don't know about yourself, but Windows Central is one of my TOP apps that I am opening daily on my 5x, that I may or may not keep.

Are you dreaming? Are you kidding yourself? NO right? There is a new Windows Central app coming to Windows 10 Mobile being tested as a beta and it's similar in functionality to the Android version so we don't need it ported other than the other Mobile Nations apps.

I'm not saying that there's any issues with the beta or that it wouldn't happen. The Windows Central app was just an example of a great app that was only available on Android and not iOS.

I never used wc on Android, but right now I'm commenting from the new wc app for win 10 on my Lumia 535, on my way home, and it works really flawlessly :D Posted from Windows Central for Windows 10

Yeah, there are potentially few but exclusive apps in Android that isn't available on iOS. Especially that Android development tools are free and cross-platform, while Xcode is only for OS X (except for cross platform tools like Xamarin). Not to mention the apps on Android have now pretty close UX to W10M than iOS. Which is also in theory less time to even redesign the UX of those apps. Though in terms of focus in development, iOS bridge would be still a first priority since most developers are active on making iOS apps. Still Android bridge is still needed in some cases.

Yep & sure their are alternatives but weak alternatives at that on eyeohs

It's not smart at all, in fact, it's kind of stupid TBH. There is no ******* reason for them not to keep this bridge but limit it to GAMES ONLY. I've ported multiple titles including Clash of Clans with literally the press of a button, and they ran flawlessly! No lag, no stutter, butter smooth. Games that are available on Android do not differ from the iOS ones. This would have flooded the Store with a big catalog of games in a few days. Shame on you Microsoft. I am so angry I swear I would kick Nadella in the nuts if I saw him!

Sure it's smart. See, Apple and Microsoft are secretly conspiring quietly in the background, and by making a way to create both iOS and Windows 10 Universal Apps, with Windows 10 reaching higher numbers, and iOS being, well, iOS, developers will be able to target a very large market with one code base. Now, those same developers will have to do a re-write to make the Android counterpart. That means apps will start appearing on iOS first (like they do now), then Windows 10, and Android 3rd. This is going to cause a future conception issue for Android, which will finally bring down the juggernaut and make Google irrelevant in mobile. /s ;)

that make very good logical sense, and a smart move by MS and CrApple. lets see if that happens though. I know MS and CrApple have cross licensing agreement together, and as EVIL CrApple is with monopoly the market with their overrated, 4 years behind technology,.........devices/iJUNK, this will help them achieve that, and beat Google. We'll see.

Its M$* and CrApple.
You dropped your Scr00gle too /s Posted from my Lumia 950XL

Sure it will. When apple ports osx to arm

Lets get one thing clear. You did not "PORT" the apps. You downloaded the apk and illegally installed it on your phone without the developers permission. While that's ok for you allowing this to happen might have led to a class action lawsuit against Microsoft. And i think you're forgetting the part where the android sub-system required to make these apps work was causing huge performance loss overtime. And i for one was not looking forward to hard-resseting the phone evey 6 months just to make it work properly.

Its no different then all the rooted Android devices on the market

Me too. Aesthetically pleasing and faster, fluid performance.

Same thoughts, apps on iPhones are optimized better than on Android... just look at iPhone and Win phones, they can do very good with 1-2 GB ram while on Android they are already at 4GB ... Better to leave the android apps there and not bloat Windows with them.

Android also uses that RAM for keeping apps in the background longer, downloading content (music, etc) in the background, and apps can sync in the background as well. That all requires resources.

On Galaxy S6 it seems it doesn`t keep those apps too much in the background, and since the OS and apps eat more memory by default, the ram will never be enough, vicious circle. Android users praise their phones with huge memory but at the same time the apps use more memory ...

Samsung does it a little differently. Apps drop faster than on a Nexus device, but they do that to prioritize opening apps faster and smoother scolling compared to Nexus devices. And yeah, what's the point of having RAM if the OS and apps aren't going to use it?

True that, what`s the point of ram if you don`t use it, but thing is 1 GB android devices run like crap

I've used a number of low end Android phones (Blu, Moto E, etc) and they perform just fine. the myth that Android can't function on 1GB of RAM has been false for a couple years now.

Not sure why I got downvoted when I was just sharing my experiences

It's Windows Central. Android and Google are the devil's incarnations to some people around here Posted via the Windows Central Beta App for my Lumia 950 XL

Downvoted for perpetuating false stereotypes.
In particular the one about lag in 2016 Android phones. Posted from my Lumia 950XL

Maybe you should re read his comment... Posted from Windows Central for Windows10
Posted with still the best phone running Windows10 (1520)

This community... Lol. I guess all the old, true, cool, windows fans switched to iDroid.... That's why you got down voted.. Posted from Windows Central for Windows10
Posted with still the best phone running Windows10 (1520)

Except they don't. My friends Moto G on one gigabyte of ram runs fine. Android today isn't Android of 5 years ago or so. Windows on one gig isn't bad either but it's not a high end experience mind you. My Lumia 640 isn't the fastest and still lags Posted via the Windows Central Beta App for my Lumia 950 XL

I picked the 640 up last week while it was on sale and I'm impressed with it. The $30 (normally $60) 640 with Windows 8.1 outperforms the $700 Lumia 950 XL with Windows 10. And that's not good for the ecosystem.

I have both phones. 950 XL is clearly faster for me.

I'll admit I used the XL when it first came out, so there were plenty of bugs. But opening apps was faster on the 640, and I could actually download my music in the background

That's so much of a lie it even gets funny. :D Posted from Windows Central for XL

You're deluded. It does not. I have FOUR 640's, and TWO 950 XL's in my house. 950 XL is world's better than the 640... At everything...

And Windows phone can't dl appd/music in background?

lol you're talking about 8.1 and older right?

No, he's obviously talking about W10m. Apps written for the universal platform are miles ahead of the WP8 runtime. Sent from my Windows 10 PC.

Yeah, but at the same time, the apps on my Windows Phone just seem to pause, wait, and stop doing stuff when I switch away from it. For example, in order to keep my phone running as an FTP server, I have to make sure the app stays active and the screen doesn't lock, otherwise it gets disconnected from my PC. Another example: I have an app called PDF Maps that stops processing maps when you switch and use another app. Both of these problems don't happen on my Android.

App switching seems to be fairly inconsistent in that regard. One time you can switch just fine, the next time it needs to load. It also seems to differ from app to app

I don't know, apps written for 10 resume pretty fast. Posted from Windows Central for Windows 10

I wonder if maybe those apps weren't set up to truly be background apps.

Nah, those things just weren't possible earlier. W10M should allow preserving the socket connections for running uploads, but the server wouldn't serve any new connections, so it would only be a bit better. Android on the other hand could basically replace a PC.

Also native apps are far more superior that emulations

I can't tell the difference with candy crush which is ported. Hopefully if they release the Islandwood reverse bridge, more native apps will come.

What saras112 is trying to say is that an app ported with Project Islandwood becomes a "native app" because it is compiled directly for Windows 10. It's not emulated. That's why you can't tell the difference between one written from the ground up for Windows 10 Mobile and one that was ported using Islandwood.

MS could start by porting their OWN apps from iOS to their OWN platform, that would be a nice start.

Sucks that not even MS cares to bring their apps to Win10, hell their ios apps run better on iPhone than on WP. I'm really growing weary of the way they ignore Win10M. No exclusives no competition. Posted from Windows Central for Windows 10

Are you talking about the Garage projects which are projects that employees are doing on their spare time? They are not "Microsoft" apps but rather test apps by single employees. Sent from my Windows 10 PC.

But Microsoft should port the garage apps over as an example to everyone else, no? Posted from Windows Central for Windows 10 L950XL

I didn't know that, now I'm not upset Posted from Windows Central for Windows 10

But those apps themselves are great representation of how the limitations of WP API has (/is) driven developers to other platforms. If even MS employees would rather develop for other platforms, MS has a problem.


Bing Search would be a perfect example

Yeah this is true I am not upset with this decision at all

Why waste time and resources for such things, instead of that improving the plaform can make much more difference. Developers are already coming and building uwp from scratch.

For apps, maybe, but games don't differ. I AM STILL saying that they should have kept the bridge but limited it to GAMES ONLY. I've ran Clash of Clans with literally just a press of a button. This is madness, and this will only make users more frustrated. A very, very bad decision! The game ran flawlessly! No lag, no stutters, nothing! I mean come on MS!

Too bad about the performance hit W10m took by running the emulator then. I'm glad they're staying as far as possible from anything Google-related. Sent from my Windows 10 PC.

Xamarin will still be used to port Android though?

Xamarin isn't about porting, it is about developing a shared code base for all platforms. So unless you've developed with it from the start, your app won't suddenly start working on other platforms.

besides, historically OS or companies that offer ported android app all ended up deceased. so i assume MS don't want to follow that curse.

Soon they will cancel the ios plan too !!

Islandwood is in active development, with an update released only a few days ago. Astoria was dead only a few weeks after being announced, I'm surprused it took them so long to officially cancel it tbh.

I read once that Islandwood targets an older vesion of Objective-C and doesn't handle Swift at all. Is this the case? If so, it's a limitation that bleeding edge app devs may not be able to overlook

I'm not an iOS developer so I might be wrong, but AFAIK Swift is pretty much just a syntax layer "on top" of Objective-C. So if MS can get it to work with O-C, then it's just a matter of writing a precompiler for Swift.

It's lucky you are not Microsoft's CEO Sent from the Windows Central app for Windows 10

Not likely. Astoria was an emulator, Islandwood is a bridge in a truer sense. Part of the Astoria story (from what has been reported) is that pirating was easy when it was enabled. There was a lot of issues with how it worked, not that it necessarily didn't work.

More like, I doubt developers will use it.

I'm having mixed reaction about it. I'm happy because i don't like android but I'm sad because many developers will avoid windows phone and the platform just because they have to work more for many an already complete app for the platform. :( Posted from Windows Central for Windows 10 on a Nokia Lumia 730

Eh? The iOS bridge is still there, and from what I've seen or read on here, the iOS apps are better than Android.

Of course they are better than android but still porting android app were easier than porting iOS app even though I know it would have made windows phone laggy. But still I hope that I see more app coming to the platform. Posted from Windows Central for Windows 10 on a
Nokia Lumia 730

Candy Crush was ported from iOS not Android ...that said, I think it takes the same effort to port from iOS as Android but with the tools MS is providing, it should definitely make porting relatively the same and just as easy.

Yeah hope for the best and prepare for the worst. Posted from Windows Central for Windows 10 on a
Nokia Lumia 730

The only reason I'm not 100% sure on this is that when I was playing Candy Crush Soda after it was first released for Windows 10, the app asked if I wanted to rate it - and then took me to the Google Play Store website. I think they've since fixed that, but I found it odd - makes me think it was the Android port.

I think it's because of edge. When I use mobile websites it'll always ask me to download the app from Google Play.

Most of the well known apps usually have both ios and android versions so it might not be so bad cancelling one.

My thoughts exactly. I thought that if I had apps for both platforms as most developers do, what would be the value in me having 2 bridges? While some people might think that it's a bad move, I think having 2 would not have provided a significant advantage over having one. If a developer was going to use any of these bridges, they are still going to do so with the one that is available; and if they had no plans of porting to Windows, a second bridge wasn't going to sway them.

And a bridge for Android is much more complicated, what with it's 9 versions currently in the wild. http://developer.android.com/about/dashboards/index.html

I suspect the majority of apps available on Android are also on ios. It is good news.

The real good news will be when devs start using Islandwood in significant numbers. AND when we have a 1020 successor!!!

I don't know about a 1020 successor but I hope to see it coming. But it very far.

I see you have lumia 730. Is w10m laggy on it?

It's not laggy but few apps works like trash like olx , messenger and all. There is a screen flickering issue and battery performance is downgraded. But it's smooth and has a better multitasking than 8.1 only with windows 10 apps. I love the new ui and functionality. I think you should try it but do a hard reset after installing the windows 10 mobile.

It's understandable but disappointing. Having the Android core made it nice to sideload apps but the performance hit was bad. Usually the iOS version of apps is more polished anyway.

That's the problem with Microsoft and their mobile platform. They make something, attract attention only to kill it months later. Not a perfect way to attract developers.

I hope they don't kill the update to x20 series

As all the apps are available on android are also there in IOS, Its a perfect decision!

Finally someone who understands!

Good luck getting iOS developers to use it.

Actually it's well known that iOS developers are more receptive to porting their apps across to Windows 10 Mobile simply because of Islandwood. For Android apps there's always Xamarin.

Xamarin is actually a worse fit for Android than it is for iOS, since the performance hit on Android is larger (especially for app start up).


Why? With the Universal app the economics highly favors them porting considering they are reaching phone,tablet, laptop/desktop/hybrids on Windows.

Exept the ones that need to act as a server of any kind, or ones that require a constant connection, even in the background, or ones that utilize NFC.

Oddly, it may seem to some, I am very pleased. The Astoria emulation idea would always be less desirable than an Islandwood option. This should improve things, as they only need focus on one now.

Especially considering that both Islandwood and Xamarin compile to native code rather than going through the damn Dalvik Virtual Machine.

Well **** Posted from Windows Central for Windows 10

Well, i guess that's great for anyone who was expecting more apps on the store... Jesus, why have I bought my lumia? I really regret my decision. Posted from Windows Central for Windows 10

They are going to focus on the iOS bridge, which should mean significantly higher quality apps (iOS apps are usually much better quality than their Android counterparts).

Thabk you!! Posted via Samsung Galaxy S6 but still love for Windows.

It's a good move. iOS apps are more functional and look much nicer and allows for NATIVE apps. Android would have required emulation which would have slowedd down your phone signifanctly (like the earlier Insider builds)

Buyer's remorse? Well, you have two options: not buying another one or joining the clown brigade here that cheers everytime Microsoft strangles a kitten. What a joke of a platform this turned out to be.

Wrong choice. But, at least now that Android application compatibility is dead, maybe MS can try to rescue their OS by doing away with all the Androidisms they introduced, like god-for-fing-saken hamburger menus,.

Best choice. Astoria would just have been mobile apps, very shortsighted choice for a company thats championing 'universal" apps. Problem obviously is the typical Microsoft half baked approach, they should have made the decision from the start to have just one bridge, stick with it and get it working as fast as possible but as usual they wasted people's time before announcing they were abandoning it. Morons.

If everybody got things right first time, it'd be a pretty boring world. MS tried an approach and it didn't work. They are now fixing it by instead focusing on what does. That's not moronic, that's making a sensible decision.

Sensibility has no place in an internet rant. Rabble, rabble, rabble!

True. Not to mention the horrible circular UI changes they've made. Microsoft has totally lost the identity of their own platform.

Most platforms including their own apps (such as Skype) have been using Circle icons to represent PEOPLE from the start. It was a design choice that is preferred to be consistent for users joining the platform, and since their services are on other platforms too. It's a great distiction between people vs things, and it's part of the evolution of MDL.

Dude, hamburger menus are everywhere, not just Android. They're found on websites, mobile sites, apps, and most design aspects of UI/UX. It's a well-featured way of showing menus in one simple button...so don't think it'll go away anytime soon. That design aspect is here to stay. Posted via the Windows Central App for Android

Most of the apps I ran ran pretty slow so full steam ahead on iOS bridge.

What's the point of this when Windows phones are dead. Nobody uses "apps" on PCs.

Dead?? No one uses apps on PC's?? Any chance of a teenth of what you are on?

He's talking about "Universal" aka "Modern" aka "Metro" apps. No one gives a crap about those on PC. Most people despise them in fact. Oh sure the few of you here in Windows hugboxes like Win central and Neowin will claim they are great, but in the grand scheme of the hundreds of millions of Windows users out there they remain irrelevant.

I much rather use Mytube on my computer than the Youtube site. Mytube is so much more feature-complete, doesn't nag me about creating another Google account and is A LOT more fluid than the site. I'm actually using apps rather than sites more frequently every day.

I agree, I love mytube and movies app. Posted from Windows Central for Windows 10

They don't, you know. On PCs we have a browser to do everything apps do. And then there's full on 'applications' for the stuff browsers won't do. I can't think of a single "app" (as in, bought from the Windows Store) that I would miss if it were gone.


Have you tried the Windows Central app? Groove Music? Heck, even VLC looks better from the screenshots. Sent from my Windows 10 PC.

I canceled my Groove subscription after putting up with it for a year, only to see the same annoyances on desktop Windows (failure to find my songs despite constant updating of my library). Spotify isn't buggy, and it has a real desktop Windows program, not a half baked app. Posted via my Nexus 7 2013 using the Windows Central App for Android

I haven't had a single problem and have used it to make my pc music available on my other devices long before Spotify had this. But being a Swede of course gives Spotify a place in my heart too. :) I don't think their desktop app is better than having groove on my pc, phone, xbox, tablet and a very VERY good web client available everywhere no matter what OS though. Posted from Windows Central for XL

Where I'd disagree with you is on tablets. The Surface tablets, and their competitors, take advantage of store apps much more than a classic desktop (mouse and keyboard). I use maybe 1 or 2 apps on my desktop (usually games like Candy Crush), but I use quite a few apps on my Surface 3, Surface Pro 3, and Yoga Tablet 2.

Yes, the surface tablets. All two of them.

I use apps on my pc daily. I use windows central, yahoo mail app, Netflix, History channel. Not many, but still use them anyhow.

The only Store app I use on my PC is Netflix. Posted via my Nexus 7 2013 using the Windows Central App for Android

Almost forgot... Plex, a must have! Posted from Windows Central for XL

It's called reality. You should try it some time, bud.

I use apps on my PC daily. That's every day.

I too use apps on my SP3 daily and even friends who are gamers have moved to W10 and use apps.

I'm on the Windows Central app right now! :)

I know I'm a bit late to this conversation but I felt I'd like to leave some input. I use a Lumia 1520 & my wife uses a Lumia 640. I'm a hard core Windows guy but... Anyone who pretends every app most people would ever need is available on Windows is lying one way or another. Either they are trolling or have lied to themselves so much they actually believe it. Here are just SOME examples of apps that do not exist on WM but do virtually everywhere else: Xfinity TV, Bank of America, Check in Apps everywhere and the ones that give discounts for things like AM/PM or 7-11. not ONE of my 10 different credit cards have an app for Windows 10. My kids school apps like IXL or Accelerated reader, most Drone Remote Apps, 99% of all decent games. The list is seriously endless. Yes there are a lot of Apps, 700k is a LOT of apps. The problem is 99% of them suck. They're either info apps mostly trying to teach you how to do things without the real apps or cheap apps that barely work (if at all) trying to make up for WM lack of large commercial apps. Ever been Unemployed? Even EDD don't support Windows Mobile! Use Steam for Gaming? Hope you don't want to trade because you can't get the authenticator for WM. Heck even Microsoft Office Mobile STINKS on WM compared to the new releases on iOS and Android! Have you ever googled an address then clicked the "Directions" button on WM? Your browser lets you run Google Maps just enough to get to the point where you get hope until you realize it won't work with your GPS and you can't actually get driving directions! Everything I do in life that comes across a chance to improve with a mobile app I'm out of luck. I have to use an Android tablet just to deposit checks because my phone can't. I couldn't even get my browser to let me reply on this forum! Had to log in and do it on my PC.

And I prefer using the apps on my pc if they work well. So much easier just clicking on my app, than pulling browers, going to favorites, etc. Not that that is hard to do by any means, just easier using the app.

And the live tiles! Posted from Windows Central for XL

having a favorites bar on browser help with that you know... and you have access to all of them within one window that stretches across entire screen. The app window in windows ... sorry, looks and feels like crap. As for Surface, i own and use surface 4 Pro daily and never ever felt need to use app there as it runs full windows that well. My windows app days ended with getting rid of Windows RT

I think over time, the store app usage on PCs will grow. People need to get used to the idea and that takes time. If they find one or two apps they really like, they're more likely to go to the store looking for more.

Rise of Islandwood Project

I think this has more to do with not going to court with google and the android stuff is far more open than MS wants.

No, I think it has to do with the fact that the Android bridge is extremely complicated and not worth their effort and resources when the iOS bridge is comparatively simple.

All these bridges and the recent Windows app virtualization were not necessary had Microsoft been serious about Windows mobile. Looking forward to iOS bridge and Windows virtualization being cancelled too.

I'm looking forward to more serious comments here.

Google had to remove the java subsystem from Android. I'm pretty sure MS had to rewrite it in w10m so it would have been a hassle Posted from Windows Central for Windows 10

Windows Safe Space Central. Serious comments. LOLROLFLMAO. Comment of the year right there.

Don't hold your breath. Or do =)

Don't be such a negative Nancy.

Maybe some are going to be dissapointed, but true to be told, the iOS Bridge is a better choice compared to the Android Bridge, in compativility and performance (the iOS Converted Apps where to run natively and on all Windows 10 platforms, compared to the Android Converted Apps, working on a emulator and only on Windows 10 Mobile). On the other hand, it's a sad thing that some developers where working and investing in the Astoria Bridge just to have all their work and time wasted.

Smart decision, when you are bringing apps from other platform to Windows it really doesn't matter if you are coming from iOS or Android. Unnecessary wastage of time and resources of creating and mainting two bridges giving exactly the same result.

The next thing they're gonna cancel is Windows Mobile. Probably the best they can do.

Whining? Lol. Been using WP for over 5 years now. Had several devices, currently a 950XL. Market share is still decreasing. And that's bit gonna change. Sooner or later MS will kill it off.

Insulting instead of providing valid arguments makes you appear truly mature though.

Well here's an argument. Windows 10 mobile is based on windows 10 as well. Canceling that would make UWP useless.
Obviously, there are some people who use Windows phone so not supporting that is stupid, and Windows mobile has been around for more than a decade. Posted from Windows Central for Windows 10

Mate, try going to some Apple fan site and telling them that their USB chargers are not in fact "magical". This is essentially what you are doing here by not accepting the fact that we are all stuck on the ultimate loser ecosystem.

I have an L950. It is horrible. Never mind the bugginess, terrible hardware, and atrocious battery life, W10M has systematically killed everything that made WP worthwhile. Gone are such innovative hallmarks as pivots, hubs and gestures, and in their place are hamburger menus, nothing and nothing. What a POS W10M is. MS is dead in mobile. Believe me. By 2017, there will be no more "Windows Phone" of any name. And without a presence in mobile, so too goes any reason for universal apps.

First off... If you sit down and think about it for a while... Do you really think your device is functioning like it should? If it worked like yours for everybody, don't you think there would be a big recall on the basis that it is a faulty device range? No, I didn't think so. You honestly should get your phone exchange because it is VERY bad and in general the 950 is well liked. Since pivots, hubs and gestures did nothing for the OS when it comes to attracting customers Microsoft HAD to do something that made people feel familiar and therefore added things that are appreciated on other platforms. It still has its personality though. Windows Phone should be gone a lot sooner than that since the rebranding is going to happen this year. Besides, your last comment is something that has been echoed by everybody since 2010, sorry... It's starting to get old. Sent from my Windows 10 PC.

Aren't you being just a little bit of a drama queen here. While the design of the L950 may not win any beauty contests, the internals are very solid. And you may want to take your phone in to a MS store because battery life and performance are just dandy on my aging Lumia Icon. There may be a bug or 2 in the preview build of the OS still, but IMO nothing deal breaking or worse than the other phone OS's. Lastly, you do realize that the Windows Central app I'm commenting from (and probably you too) utilizes both pivots and gestures to navigate the app right?

Depending on your choice of device (ATT branded or Unlocked), you may have a different experience. ATT branded just recently received the 107 update, where unlcoked received it a few weeks ago. In any event, I highly encourage you to do a Hard Reset on your phone, and do not restore the backup - set the phone up from scratch. My batterly life increased dramatically after doing that, and most of my other little issues went away as well. Phone runs much better now.

Yeah, that is what Android fanboys have been hoping for 7 years. Sent from my Windows 10 PC.

I doubt they even really care. They're focused on Apple users. And I've said it before, I've been using WP since its release and WM 6 before that. I've never even owned an Android device. Yet I'm here, not as delusional as some of you who deny that it's only a matter of time until MS stops wasting money on something which didn't make it for 5.5 years and is most likely never gonna make it. I love Windows 10, but WM 10 is lacking a lot. Damn, it's even missing features from WP 8.1.

Uh, no they aren't... They have A LOT more developers working on Windows-related apps/updates than Ios. W10m also has features that WP8.1 doesn't have which _you people_ seem to deny. Sent from my Windows 10 PC.

I don't deny that, but nothing too obvious. And more devs working on apps/updates than iOS? Uhm.. Lol? If you're really serious about that, you need help.

Yes, I read your comment wrong and thought you were one of those people who are in complete denial about how huge the W10m update is over previous updates and keeps whining about MS not doing anything for Windows users . I read it as They = MS in your initial two sentences. :) Sent from my Windows 10 PC.

Microsoft shoots itself in the foot constantly supposedly reinventing themselves ever single year or so. It can't get nothing right and that's a shame Posted via the Windows Central Beta App for my Lumia 950 XL

Windows 10 is not a reinvention... WP7 was MS trying to reinvent the mobile landscape, Windows 8 is another such reinvention. Windows 10 is more about merging the landscapes together and building on what works. That means taking things from other platforms that we might not have gotten used to, but that the majority of the market enjoy and then add a little Microsoft magic on top of that (Continuum and Buy once, run everywhere). Sent from my Windows 10 PC.

Giddora has hit the nail on the head. Windows 10 Mobile is MS's attempt to unify the platforms. Prior, Windows Phone was a seperate code base, branched from the desktop OS. You couldn't write one app for Windows 8 and have it run on Windows Phone 8. The goal now is you write one app for Windows 10, and compile the same app (as long as you included the correct interface modules) for publishing on the 10 Mobile store. That app can then also run on Xbox, and ultimately Hololens as well. It's going to make games, the bread and butter of much of the mobile app stores, more accessible. I can get the game on my Surface tablet, and install the same on my Xbox, and also run it on my 10 PC (perhaps with an Xbox controller).

Android and Apple fanboys give as much of a **** as you give about Free BSD on desktop. That is, if they even remember that this system exists. By all means though, continue with the kool aid.

Been using WP for over 5 years now. Had several devices, currently a 950XL. and loving it better than ever. UWA's will make Windows phone forget your whining and accept the fact Windows mobile is here to stay. Windows phone is decreasing in the USA so what, although if you are like many others and think if it doesn't succeed in the US it's dead your wrong. In the UK Windows mobile is increasing and in other countries is selling more than the over priced iPhone maybe there are people in these countries saying IOS is dead. Get real man.

Agreed. I actually hope they forget about the american market all together. Let Apple and Google battle for that part of the pond and keep making awesome things for Europe. :P Sent from my Windows 10 PC.

Except that American market is way more profitable Posted via the Windows Central Beta App for my Lumia 950 XL

Is it? Sent from my Windows 10 PC.

It's funny, all that fanboys seem to do here is to give you thumbs down when you speak the truth.

So is it me or is Apple and Microsoft gonna merge to take out google. I'm not opposed to that

It's just you. First of all, such a merger would never be allowed, nor would it ever be a good idea. Secondly, both parties would not agree to it, as they have fundamentally different business strategies.

Well I get all my android apps with microsoft services on cyanogen os anyways.... No need to switch to windows 10 if I can stick with my platform and access their services.

Wise, very clever move for business

Frikin' awesome decision, appreciate the team of people that decided to cancel Windows Bridge for Android. Thank you, MS!

finally they took this smart decision.

Noooooooo, now we aren't going to get Windows Central's awesome Android app. What are we going to do now? We're screwed...

I never saw the need for Islandwood and Astoria. Any major company is likely to consider a 'mobile offering' as having both iOS and Android apps so being able to port from one platform should suffice. The last hurdle would be incorporating Swift.

As a user I really don't care, I just want some apps as seen on other platforms. Almost 5 months from the reveal of the Bridges....and still waiting for the apps. MS is very good puting these kind of things on paper and in presentations....but releasing in a good time span it is always a issue.

We keep saying windows phone is dead but we have to change our mind set and understand that windows 10 mobile is an extension of windows 10 desktop so it will only be dead if MS killed the OS entirely and I do believe that apps on a desktop is the future in terms of getting things done quickly on the topic of " project Astoria" I believe MS is pleasing its Windows App developers who hates project Astoria from the get go because it make Android developers work easy and they don't need to learn Windows coding

Yes, if we put on our magical goggles and change our mindset, the house isn't actually on fire! It just looks more dramatic than other houses. While we're at it, think of the heating and lighting costs we're saving on this very instant.

While it would be a great opportunity for even more development options, I can't say that I could find anything else wrong with their decision. It would be much easier to focus in on one mobile bridge rather than two since 99% of apps that are available for one are available for the other. Quality over quantity. It's one thing many companies have failed at in the past. I mean, look at a good portion of the "official" apps that were released for Windows Phone but were total garbage, got bad reviews and then the company pulled out because nobody used their apps. Focusing in on one bridge will allow them to make better apps.

I've heard that Project Islandwood creates a product that is by-in-large a one time edit. In other words it is not the basis for continued development on Windows Mobile and is a short cut of a port. If that is in fact the case, it cannot be terribly appealing to developers. Xamarin may be a better long term solution. The bridges as extant, don't appear so functional.

Yeah good...dont need android bugs..ios apps way better...hope developers port soon... Posted from Windows Central for Windows 10 mobile limited edition Lumia 950 red leather with gold rim

Lol... Gone windows, Microsoft is in doom... They couldn't pull off bl*ody fuc*ing Microsoft

Smart move, waste of resources/investment having two bridges. Also, given iOS is much more closed environment than Andriod, its probably less complicated to port iOS to WM than Android. Additionally, I think quality of apps on iOS is better than that of Android.

I'm not a developer, but from what I understand islandwood will port apps as universal apps, Astoria was only for mobile apps

No destroy Posted via the Windows Central Beta App for my Lumia 950 XL

Cancelling a bridge to no man's land. No big loss. Posted via the Windows Central App for Android

Ok, good second step Microsoft. The first being the purchase of Xamarin. The hope is that Microsoft will not take 2 years to get Xamarin into shape to be a true write once compile and deploy on Android, iOS and Windows. Oh and Microsoft please make Xamarin free!

They really need swift not objective c only everybody is using swift now in most cases well that why Astoria was solid no worrying about other languages and Microsoft supporting them....yeah ok

Good, the Android apps tend to be poorly coded and overheat the phones...And I don't want a "force Close" option on my Windows phone

So wasn't Astoria android emulation while the others were code porting? I always wondered why that was the case? Doesn't take a genius to know that emulation brings its own set of issues.

Why are we so content with IOS ports. Why cant MS do everything possible to win the same devs? As a WP fan, I would much rather see native WP apps. Yeah, I know its just a dream. Posted via the Windows Central App for Android

Praise be! This is an amazing move. Very few developers are avoiding Windows and Apple just to target Android. Same as vice versa for Apple. I'll miss some of the underground apk porting though

This makes sense to me since iOS has the most profitable app store and therefore the best selection of apps. There are very few noteworthy apps exclusive to Android, so I don;t see this as a loss.

Yes focus on one bridge and make it great. All app are on IOS anyways so we shouldn't miss anything remarkable. If this works out there really shouldn't be any reasons apps shouldn't start comming in. Fingers crossed.

I get that they are having technical problems with the Android emulator subsystem, but it's still a bad idea to kill it off completely. They could have just gotten rid of that part and made it look like the iOS bridge. There are markets in the world where iOS has a negligible market share, and this makes it less likely that those people will see Win 10 Mobile apps from local companies.

both my Galaxy S Duos(running unofficial Cyanogenmod 11) and Xperia E4 can run most of the apps perfect and they dont have more than 1gb

Just update all Microsoft apps on Android to be on Paris with windows 10 and iOS so I can just retire my Lumia phones and stick to Android because I'm not going to apple Posted via the Windows Central App for Android

Wow, the news just keep getting better

Why did we need two projects anyway? I mean android and ios have roundabout the same amount of apps, right?

I commented on this below, but the reason why Astoria was important is because it ran the ACTUAL Android app (no work needed by the developer). If the developer didn't make a Windows Phone App, the Android app could be side-loaded. In my opinion that was the only hope for apps on W10 mobile.

Just let a high end phone run bluestacks LOL

Ok, that is fine...now open the bridge so the apps start floating to users.

Great move! Now they can put all efforts into the iOS bridge and Win32 bridge. With their recent acquistion, we may see Android apps later... but iOS and Win32 are way more important and the better choice at this point.

Xamarin will probably be the base for the next evolution in universal apps. Code on a Microsoft base and run on everything (Ios, Linux, OSX, BSD etc.) Sent from my Windows 10 PC.

Win32 bridge IMO doesn't cover the mobile side. iOS will not run on desktop. How is that helpful? Until MSFT gets its act together, Google will support RemixOS and kill Windows as a consumer OS.

Well that's good. Project Islandwood is better and was from the beginning. While I love Android you can not deny the superiority of iOS applications. Posted via the Windows Central Beta App for my Lumia 950 XL

Whatever happens, we need apps, we needed them 2 years ago, we need them now. This platform will fail if we don't get them. One reason we don't get apps is because business think we should just use the web to access their content. Well edge sucks and it's not the same experience as a good app. Perfect example is banking apps. Chase shut theirs down and said W8 users should just use the website via phone browser. Well the browser can't scan a check. They said "well just drive to the branch".
Hand on face... Seriously. Fortunately my wife has a Droid...... with a Chase app.

This is essentially what you get for choosing an unpopular OS. I used Linux exclusively for years and it was the same nonsense you see here, the same idiotic optimism about the next year and the same stagnation. I felt a little better about Linux though, since it was open source, free and all of that. With Windows phone, I gained absolutely nothing but hipster points for using something most people don't know even exists.

Well as long as they get the iOS ones going it won't matter. They are pretty much on par with each other anyway. When the apps, the good ones, the coveted ones, start flooding in so will the consumers. And probably I'll be back in the mix as well. One picture at a time -- LG V10

Microsoft is a big company. Why not keep astoria for the short term so apps can be quick ported straight across from Android and apple port for more native porting to universal apps. Choice is good surely? Posted via the Windows Central App for Android

Nice move, iOS apps are way more premium and unique, in fact, many Android apps are ported from their iOS counterparts. I'd love to see iOS apps running on Windows 10 Mobile. Posted from Windows Central for Windows 10

Well, this doesn't really hit as a surprise. Only thing we see from Microsoft lately is disappointment. People, my suggestion is to change the platform and just sit back and see if it gets any better with Windows. Do not spend a fortune for the Windows 10 flagships cause they are crap at the moment, unless u wanna rock them as a side phone. Although,honestly I don't think Microsoft can do better than Nokia and they had a really hard time with the OS.

People here talk like Astoria and Islandwood are basically the same thing. They are not. Islandwood is a TOOL that allows converting iOS apps to Windows apps with some/alot of work still required. Astoria was basically an emulator or a piece of Android built into Windows Phone to run Android Apps. In other words, Astoria required no work fromt he developer and more importantly, allowed for the possibility of sideloading or using other app stores (like Amazon). This news while expected is still terrible and it certainly means that Windows Phone will never have the niche apps like banking, libraries etc. available. Those developers will not care about Windows enough to go through the trouble of porting an iOS app. The PC already has their websites and there are basically no users on windows Phone. After losing WebOS, I believe WIndows Phone is done for mere consumers like me. Carriers don't even sell Windows Phones in Canada anymore.

THANK YOU!! I know this might not be popular to say, but I blame a certain developer (who is cast in a good light over here) who is making a living off of hacking the API for some popular social app (or something with a backend), creating a very nice app around that hacked API, and then selling to Win 10 Mobile folks (additionally I suppose he also goes out and tries to sell his work to the third party). Behind the scenes (in MS MVP lists, etc) I have heard that he was not happy with Project Astoria because the real version of an app could come to Windows 10 Mobile.. essentially cutting off his ability to continue to make money. From what I heard he was extremely critical of this technology citing that we would get crappy apps which have a poor UI in light of the other apps on the platform. From my perspective, I want the banking apps back (getting stupid stuff like Snapchat would be good too, even though I could care less about that). I would have loved if MS would have allowed Astoria to continue, BUT that they would be very selective who they let publish apps this way.. In other words.. kill the Astoria Bridge for the general population of programmers, but keep it around (for sideloading possibly and) to be able to offer to allow certain critical apps in (again I look at things like bank apps). It appeared to be heading down the path of zero work for the end developer that is for sure (and for sure it was way less work than the IOS bridge).

Well, too bad they hyped it up and showed it off then. I do understand. I just REALLY ******* HOPE Islandwood works out then.

I don't understand who are these confusing people. They made us loose the onedrive placeholders and now this. Maybe Microsoft should get feedback from more intelligent people.

Let's hope they don't get it from this forum then, shall we?

They will do better if they take feedback from anywhere that they are getting today.

Maybe MS realized how unsupportive Google is, and that iOS actually kind of welcome WP.

Not a big deal actually, the problem is that so far i don't see any IOS exclusive app arriving on Windows Phone at the moment, i hope IOS developers will start using this tool rather sooner than later

This makes total sense. You really only need one for the platform that most devs build apps for first. Posted via the Windows Central App for Android

Wait where did they get the feedback that most don't want Android bridge because it's unnecessary? Is this an excuse or something?

The excuse is BS, no question. But it gets them where they need to be so I'll bet no one will really scrutinize it too closely.

Good, I don't need buggy apps which are Android's. With iOS only porting option, we are guaranteed better quality ported apps.

Hahaha, they should be actually able to port the apps!

This will kill a bit of momentum. Instead of devs being able to just upload an APK, they're going to have to actually convert and test code. This means actual work that companies will have to schedule for, regardless of the fact that it only takes 5 minutes using the iOS bridge.

Took these damn idiots all that time to figure it out after so long, Microsoft is packed with old dumb retards who don't know their a s s from there head!

I think it's good move! Now I need a real replacement for Lumia 925, just put better processer 2gb ram bigger battery with same resolution amoled 5inch screen

Great, that means they are going to focus on the ios bridge and bring the apps faster... Not.

Well here is where Microsoft finally shot windows phone in the head after years of slowly cutting it's limbs off.

I think I posted this yesterday on the Xamarin article, but I would love for them to make it so that you could use Islandwood to port an app, then use Xamarin to turn the ported app into a truly Universal app (UWP, Android, and iOS). This would probably grab quite a bit of attention from developers, as you would be able to create a single code base, without having to start from scratch (which is what you currently have to do with solutions like Xamarin). If they end up doing this, than tossing out Astoria definitely isn't an issue, because an emulation based "bridge" (quotes because it wasn't really a bridge, in my opinion) would be fairly useless. All in all, I'm not surprised by this move, as I wasn't a fan of Astoria to begin with. It just seemed like a rather lazy way of handling porting Android apps. I almost feel like they wanted to test the waters with two approaches: emulation and code conversion/porting, then determine which one the masses preferred. Regardless though, Astoria is best off in the recycling bin, as it would have discouraged native development (personal opinion).

The masses were not asked. If they asked, most people would choose the almost instant app support by Astoria. UWP are nothing at the moment, and a host of business crap will not change anything.

My guess is that security, google, legal, and negative feedback was the real reason behind this cancelation

So still no chance that the adequately functional Android OneNote could be ported to W10M to replace the miserable stump of an app there, dang.

Microsoft just doesn't get it. No developer wants to learn c-sharp just so that the handful of people that still have a Windows Phone can have an app. They are going to stick with what they already know. What a waste of money.

No apps no games... Decades and decades of delay.. Goanna shift to iphone next week... The latest one...he heeee

Almost all apps of Android are on iOS. So there was no need of another bridge.

You'll soon come to know about this.

I should've known... Yeahhh I guessed it in the early days that MS would finally announce it's cancellation

And again, denial will see some hidden strategic advantage to it. Noticeably he showed similar positives when the program was announced.

Thank goodness they cancelled this idea or Microsoft would have ended up like BlackBerry.

iOS is far more better than any Mobile platform because its well developed and it had time to do it!! But I still love windows phone!! Only thing I love about iPhone is its app stability

sorry. dumb decision. the Astoria potential far out weighed anything with ios.

I'm not sure why people are cheering on that this project is dead. There is now one less choice for developers which equals less apps for users.
iOS ports may be of higher quality, but as some have stated, there are apps that are only found on Android.
The main good thing that could come out of the situation is an increased development focus on Islandwood and Windows 10 mobile due to workforce reassignments.
Also, I think this move may turn some devs off. Wasn't there a developer mentioned on a WC article who were porting a fitness app with Astoria? If I remember correctly, they were nearly done and mainly waiting for the official release with Astoria support.

Exactly... Why ppl cant understand ..??
If we have both what's the problem ?? And moreover we need apps.. Some apps are not there in iOS also..however it is .. Apps are required.. As a statement "SOMETHING IS BETTER THAN NOTHING " we need Android apps also.. I'm not happy about this..

In a few weeks. Inslandwood... Then centennial.. And finally.. As the verge says, farewell windows phone

Then c# and c++ will become at the top because it can run to all platforms.

Bt how can we port IOS apps to windows 10?????

Exactly what I wanted. Now MS should just work hard on its other tools.

Great... The App I was looking forward the most getting ported over to WP isn't available to iOS either - Now what? xD

Microsoft needs to make the UWP run on Android and iOs too (and eventually Unix based systems, like OS X and Linux). We would then have the dream of any developper come true: One code base for every major platform (including windows, hehe). Actually, I'm guessing that's why they bought Xamarin.

I personally prefer iOS apps over Android apps, and most apps are released on iOS first before launching on Android anyways.

This decision is not as innocent as it appears. This abolishment is actually one of the prerequisites set by Google in order to support OFFICIALLY Windows Mobile. Expect announcements about official Google apps in the coming days.

The only thing I'm missing from my 1520 is snap chat and hangouts. Posted via the Windows Central App for Android

This is a good move. Make the iOS bridge work and the Android bridge becomes redundant anyway.

Personally I don't understand why people are so insistent on banking apps. Is it really that hard to type in a web address? Really having an app only removes the need to do that, and nothing really else

This is unfortunate. Astoria was one of the things I was most excited about with Windows 10. It would only be confusing to stupid people to have both iOS and Android available. And do we really want stupid people using computers more than they already do? It is after all what has made the iPhone so popular. Flashing, overpriced, catering to the needs of dumbed-down consumers

The Android "bridge" is NOT redundant. It worked more or less out of the box, bringing apps to Windows more or less instantly, while Islandwood will require a lot of action on the dev side. I know 6 different iOS shops, no one has a single instance of Windows running. None of them has plans to support Windows. This is nothing short of a rock-solid disaster, and MSFT is getting notorious for making the wrong choices.

"We received a lot of feedback that having two Bridge technologies to bring code from mobile operating systems to Windows was unnecessary, and the choice between them could be confusing." LOL. Sure, MS, sure.

Big ******* mistake. The dev part - fine, but let us run APK's at least.

WP is irrelevant, time to move on people. Posted via the Windows Central App for Android

I used to have windows phones. I lobe the OS. I love the direction they are headed. But there is seriously not enough apps. I have a GS6 and could not go back until they have all my bank apps, better ig, amtrack, waze, official youtube that can broadcast to my smart tv, and there is just so much more. Posted via the Windows Central App for Android

Keep it up Microsoft, you can do alot worse..I believe in you..:D

I would forgive all of WP's shortcomings if there would just be a CityMapper app. I'm on a 930 running latest W10 insider preview, and I'm on the fence about sticking with this OS mainly because it really lets me down when I need travel info. Here Transit is no substitute, it's awful. Apart from that, store has all the apps I actually need, though perhaps not the ones I want.

I would say its a good move to focus on only one platform. Regards, Chris | https://www.clouddesktoponline.com/
Windows Central Newsletter
Thank you for signing up to Windows Central. You will receive a verification email shortly.
There was a problem. Please refresh the page and try again.