Microsoft to acquire Xamarin and its mobile app development tools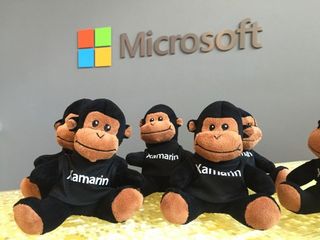 Microsoft is making another move to expand its software and service to more platforms. The company has revealed it plans to acquire Xamarin, San Francisco-based company that creates software tools for making apps for iOS, Android and Windows platforms that can share common code.
Scott Guthrie of Microsoft stated:
Xamarin was founded in 2011 and since then over 1.3 million unique developers have used its tools to make mobile apps with C#. Microsoft did not disclose the specific financial details of their Xamarin acquisition.
This acquisition may be related to our article yesterday detailing how Microsoft may use virtualization to bring universal Windows apps to competing platforms.
Update: Xamarin co-founder Nat Friedman has now issued a statement on the acquisition, thanking the company's customers and looking forward to the company's work with Microsoft.
Source: Microsoft (opens in new tab)
Windows Central Newsletter
Get the best of Windows Central in your inbox, every day!
Wow, that's pretty exciting! I never really tried Xamarin much, but I know it's power and it's high respect, so this should be good! Zachary Bowling - ZAD Apps

Best news in awhile Posted from Windows Central for Windows 10

Microsoft is spending $$$ these days acquiring any useful company it can. Posted via Universal Windows App on HP Elitebook / Lumia 950

Well, It sure took them a while to decide on this acquisition!

Actually I bet MS decided a while ago. It was the other folks that dragged it out.

Now if they would just buy slack......... :)

ha ha , yeah that would be really good. Would piss a lot of people off, but damn that would be a good buy for them

That's assuming Gabe would sell...


They are playing it cool, so not much will go on that they won't know about, very shrewd that's how it probably has to be.

Yep, good news for android/ios.

Stepping stone for becoming full native ios developer. Makes the transition easier.

Good move by Microsoft, but hope the tools are used to make more WP/Windows 10 apps

Now MS needs to show this to the Garage Team, and them they will launch their apps to all platforms.

The garage team are doing funky stuff to Android's keyboard and launch screen, windows mobile has never exposed those APIs to developers for consumption.

No, the Xamarin toolset is to take C# apps and compile them for iOS and Android.

No they will be used to build more apps for iOS and android.

Microsoft can now pump out apps to iOS and Android twice as fast. Just joking :)

Wow. I was expecting it for a long time to happen.

Me 3 Posted from Windows Central for Windows 10

Me 3 Posted from Windows Central for Windows 10

I thought it did happen. :) I guess I can keep thinking that now.

Yes! Now roll it natively into VS, cost was too high for it before.

With 1.3 million unique developers, I guess it wasn't :) (although quite a many of those are likely trials)

If that's the true number

Seems to make sense in light of the article from Daniel on 2 way bridges.

2 way bridges leading to a one way street. You know other developers won't bring their apps to WP, hasn't happened yet, doubt it will happen because of this. But MS will continue to put theirs everywhere they can.

That's where the universal element comes into play.

I see what they did there.

Just saw the tweet from Mary Jo a few minutes ago. Awesome news!!

A good step forward for mobile division...but slow too......

They should have done this in 2014. Posted from Windows Central for Windows 10

YAAAAAS! Posted from Windows Central for Windows 10

I don't see why they would need this hope it's or and they make it more free or something...smh

Megaton. That coincides with what Daniel said yesterday with Windows everywhere.

Darn, you beat me to this comment. But yes those doubters need to really listen to Daniel. He makes those articles only after validating his sources.

Yea, I don't know why people think Daniel be lying. smh.

True. Dan is the go to guy at this point. Others do alot of speculating and writing what end up being opinion pieces. Dan does alot of...knowing. He then does a good job of insinuating something and allowing us to read between the lines when he is not able to just come out and say it.

Yup. Dan doesn't just talk out of his head. He has sources.

Cool now they will be more efficient in making ios and android apps!

???? Really???? Nothing positive?

No because,they have another porting app right now, but any WP app compare to another platform.. We can see basic app in WP .... And featured apps on other platform. Then how?

Oh my god! What are the doom mongers going to say about this good news!! Lol. The whole windows thing seems to be gathering pace....I guess it was about the long game

You assume this will be used to create Windows apps. Posted via the Windows Central App for Android

My fear is MS suddenly deciding that Xamarin wasn't a good purchase after all, and then ditching it.

Sweet! www.sparwcreations.com

Is Microsoft going to fire everyone so they will stop making iOS and Android apps.....ahem Nokia..

I am quite sure Nokia fired Microsoft and sold them their old factories. Posted via the Windows Central App for Android

The other day I made a (long) comment on the Virtualization editorial, where I posited my "dream" of .NET Core allowing for Universal apps to break free of Windows, and be truly Universal, where you can develop 1 app, with a single code base, and have it run everywhere. To me, this news really makes it feel like all the pieces are finally falling into place. It's like the calm before the storm (for the developer world), where you know something big is about to happen. Here's hoping //Build will "bring the thunder". I also suspect that Xamarin held out all these years (despite their strong partnership with Microsoft, where they practically seemed like one company), because they were concerned that Microsoft would essentially halt their progress, and put them to work on "Windows only" type projects. I think they were won over by the confidence the New Microsoft has built, in regards to cross-platform development.

Yay. Another positive post! Well done themoonbeam. Let's hope this is the start of something good. I said in another post that the way the OS's were going, the apps etc would end up being a one for all set up. Hopefully, this means that that potential can be attained. Good news for all I think

Isn't .NET core going to be cross platform ? My memories a little blur, but the version they are building on GitHub now going to be cross platform ? O.o

Yes. It's an open source version of .NET, which is planned to support Linux and OS X sometime in the future ("Comming Soon", right?). But I haven't heard of any official plans to bring it to Android & iOS, too. THat's where I think Xamarin comes in.

Yes, but current .NET Core 5 is mainly the server stack. Client stuff has always been Xamarin.

Actually I believe, feel free to check me on this, that UWP apps are based on .NET core as well (which is at v 1.0 btw, not 5). .NET proper will be developed on separately

It's exciting times for sure :)

What would happen with project Islandwood and Astoria? Are they going to scrap them and do yet another reboot with Xamarin?

Doubt they would scrap the bridges, they are an important part of the equation in regards to existing apps. Xamarin is currently best used when creating an app from scratch. My guess is that the two will work in tandem: The bridges let you port the apps, and then (if Microsoft adds this type of functionality) Xamarin would let you turn the ported app into a Universal app (in the sense of cross-platform). Though, later on, they could also merge everything into one, in that you port and "universalize" an app all at once.

Astoria was scrapped in November.

Not scrapped, just shelved. My guess is that they are going back to the drawing board, and rebuilding Astoria to be more like Islandwood, rather than using emulation.

This. Is. BIG!. ​Right now, Xamarin is about £500 ($999) per year, per developer. If history repeats itself, they would just add the tools to visual studio and could even make it free for developers which by far beats developing for individual platforms seperatley with 3 different programming languages. As a developer who uses xamarin, I can testify its an amazing software solution. I wouldnt develop apps without it unless its a game in which case, I just use unity.

They started building in similar tools with VIsual Studio 2015, but hopefully now they'll pull the trigger and go "all in". They could also start by making Xamarin free, until the integration is complete. I think this would really help build interest for small developer groups to start using/taking advantage of corss-platform development tools.

but the unique of Xamarin is basically most the codes can be reused for same app on multiple platform, so you only need to write the core code once for all platform instead have to do double/triple the work

Well I hope your commenting here because you've made out currently make apps for WP in addition to anything you might have on competing platforms! If not, I must say, I hope Microsoft doesn't roll the tools into visual studio and make it cheaper! I hope they double or triple free for those developers who either refuse to develops apps for WP in addition to iOS and Android as well as the ones who made a WP app and didn't maintain them ; )

I would love to see a year subscription rolled into the Windows Dev Essentials program at the very least, we already get Azure credits and other nifty perks

That is cool, but for those developers who chose not to make an app for windows phone with upkeep doesn't deserve the perks.

Those developers aren't using it anyways. They're using native tools. I wouldn't waste my time on Windows Phone. It's a burning platform at this point.

I'm keen to see how Miguel and his team will integrate with the VS teams internally. Wow, this is big.

This may help "Bridge" the gap with their "Bridges" application. Ok bad puns aside. This is exciting. If it becomes an integrated product of VS Community (free editions), this should help a lot with assisting developers to push more apps towards iOS, Android, and WP (especially Windows Phone).

After this news we all can agree it's raining apps. Posted from Windows Central for Windows 10

I'm pumped about this. I develop asp.net websites and UWP apps. This will be great! can't wait to see what they do with this acquisition!

Okay, good first step Microsoft. I'm sorry now that me and my team where not able to get into the BUILD conference this year. Although it might have been too soon to make any improvements to Xamarin by then. This is the first step in Microsoft trying to Win back the developer and finally address the real gap, "The Developer Gap". Hey Microsoft, I would also snap up Unity while you're at it.

If you think this is step 1 then you must have been in a coma. This is like step 10 of a well thought out plan. Still more steps to come.

what i like about Xamarin is shared code for all platform, make it much easier to publish same apps on multiple devices. BTW, I got tons of those Xamarin monkeys (maybe those are apes).

True to what @Daniel Rubino stated in the article yesterday. Good going WaaS....

Good. Makes it easier for MSFT to port their cool iOS apps to Android.

MS has to be on ALL platforms. It is not about the OS. It is about the cloud. So tired of folks missing the forest for trees.

LOL! At $1900 a head, per year and per platform, it was probably cheaper for Microsoft to buy the company than buy all the licenses required for their C# developers to continue working on iOS and Android software. :)

Great Microsoft good move.

Great step, now bring the new treats in windows store ASAP please

With Xamarin, what I think that MS will do will be to slowly port their UWP framework to it. Because Xamarin is already cross platform, it's only a matter of letting the UWP framework run on it. Once that happens, devs can build for Windows (all devices), Android and iOS, making this a true cross platform tool because it covers almost everything, and also helping MS to increase their App Store at the same time

about time..a great addition to the visual studio suit

Wow! what is more impresive is reading so many positive comments in a WC article. The last time I remember this happened was with the Lumia 1020 or when McLaren was alive.

Hahaha! Windows Central. I remember that lecture from elementary school.

I was hoping they would do this! Great news! Woo hoo!

Finally Microsoft
I'm waiting that move at least 2 years.
Now please make it free. $800 per technology (ios or android) per developer is too expensive. Posted from Windows Central for Windows 10

They have to make their money back and profit so likely wont be free but they'll likely make it cheaper.

OK, I am an experienced Microsoft dev (WPF/UWP) and Xamarin dev (Certified). I think this is great news, but it needs to be treated with a little caution. 1) Android and iOS devs wont flock to the platform - period! The tools are too flaky and clunky - we need some big injection of love into the tooling by Microsoft before they are as reliable as XCode or Android Studio. Also, existing mobile devs arent going to write for Windows without there being good market share. 2) If your building iOS apps (which is kinda the point of havin Xamarin), then your on a Mac. If your on a Mac then there is no Visual Studio integration without running Windows in a VM - which SUCKS BADLY. Therefore you need to use Xamarin Studio (Mac) for iOS and Android development, which means you cant build UWP Windows apps - which begs the question as to why Microsoft are interested in Xamarin 3) Xamarin MUST be made free (or even better - open source) for Microsoft to take this to the next level.Then with a lot of technical input from Microsoft to massively improve the Xamarin offering, theres is a 'chance' good things could come out of this for the Windows echo-system.

Your second point is not entirely true. You can write your code in VS on a windows machine and just use a mac as your build machine. I have been doing this since I started using Xamarin. It has only gotten better. I am currently writing my code on an HP laptop and doing my builds through a MAC Mini. Also if you use Xamarin.Forms you could write once and compile your code for different platforms including Universal Apps on Windows 10. Again for iOS you will need to have a mac available as a build machine. That is due to Apple.

Very few people are going to bother with this 2-machine scenario - Xamarin have supported it for years but very very few devs do it. The build machine also needs to be the place that you run emulators and deploy to devices, so it needs to be on your desk and next to your windows box. In order to run the iphone emulators our gonna need either an extra montor, mouse and keyboard so you can work on your build machine, or a RDP like client to view that machines screen. Although this is a robust solution, its hardly very practical - and for what ? so you can develop on a Windows PC when you most likely already have a Mac, and why ? so you can build Windows mobile apps that no-one is gonna use ?

Also your first point about market share misses the fact that they get Win 10 as part of this. At last check that was something around 275 million devices which is a pretty significant share of the market. The coll thing about Win 10 is that you get multiple form factors. We must think beyond the phone.

I don't know why people keep throwing around "275 million Win10 devices" as if that means there's a significant WinRT10/Universal app marketplace. The 275 million Win10 devices are almost all Win32 devices (desktops, laptops) and those devices are already covered by Win32 programs, which are far more powerful than WinRT10 apps. And, guess what, a Win32 program also runs on the 1.5 BILLION existing Windows machines out there.

I once thought the same way until I got my Surface Pro. Now I find myself using apps when they're available (ie Groove, Movies & TV, Netflix etc.) If it's not available, I install the program. Best of both worlds if you ask me.

I have apps in the Windows Store, let me tell you, its grim in there. These 275 million windows user clearly dont want an app store

There's a lack of logic in your thinking 1) No-one is buying Windows Phones, so the Windows Mobile (phone) isnt an app market worth considering. 2) No-one wants desktop apps - look at the Mac app store - theres very little in it. Why ? Because if your gonna build a desktop app then the best thing to do is build a web-application. Whilst web apps are a sub-optimal experience on mobile devices, on the desktop they are very good indeed - so why build a desktop app that can only run on Windows, when you can build a web app that runs on any device. I see no scenario where a Windows Store is going to be successful in any meaningful way. If Microsoft/Xamarin come out with a fully featured Visual Studio (Xamarin) cross platform IDE (Mac & Windows), then I can see dev's using the power of the C# and XAML languages on a Mac to create cross-platform iOS and Android apps

Microsoft could, in theory, introduce cloud compilation solution (the app is compiled on a mac on a server) and then pushed back to the Windows device...

whats the point of haviong it pushed back to a windows device - you still need a mac to deploy it to an i-device or submit it to an app store

Microsoft can handle the publishing aspect, and offer an iOS simulator for VS.

I think Microsoft should make Xamarin free only to Windows Developers. Otherwise, people will ignore Windows and continue to develop for iOS and Android for free.

Or way cheaper for Windows developers I doubt it'll be free for anybody.

now please include Xamarin in VS Professional.

Brilliant! With Azure, Visual Studios, Xaramin, Havok, Unreal + unity + cocos2d game engine partnerships..... microsoft has all the tools every developer on the planet needs reguardless of platform inhouse. Microsoft could potentially fork Android, and have universal apps run acrosss Windows devices & Cyongen Mod versions of android.

Great news! Now make it free/part of VS.

About time. As a Visual Studio C# developer, this is exactly what I have been going for. Posted from Windows Central for Windows 10

This is a wonderful move by Microsoft! I thought they should have done this years ago. I feel that Microsoft's best hope is to make universal apps truely universal and this is just another step in that direction. Developers will target Windows if they don't have to do any special coding for it.

AWSOME!!!! This will result in more c# and xaml for the people which will lead to a brighter future! :D

I have no idea how coding works but if MS could somehow create an incredible suite of app development software which translated iOS code into windows code on the fly and made it compulsory to submit a Windows Store version of said app as part of the license... maybe they could snag some apps

So do I! The monkeys are so cute. Posted via my Nexus 7 2013 using the Windows Central App for Android

This could be very good news for mobile development but it all depends upon their integration of Xamarin into Visual Studio. If MSFT bogs it down with a ton of corporate initiatives (bulky, rarely used libraries) then it will fail because apps will be too big and too slow to load. If they focus on performance and abstract away as much of the underlying platforms as possible then it will have a chance to turn things around for MSFT in mobile (not Windows Phone but mobile in general). Visual Studio is far superior to XCode and XCode is far superior to the awful Android Studio. What's funny is that MSFT is trying to pull a Netscape on iOS and Android. Way back in 1996 or so Netscape was going to be *the* platform for the internet and reduce Windows to "a bunch of buggy device drivers".

Android Studio is IntelliJ Idea. Anyone who calls it awful is not an Informed developer. or a developer at all.

Next target should be Slack... please get it before anyone else does.....

Might be a tough sell internally, due to Skype for Business. But it would definitely be nice to see the two integrated into a single productivity beast.

No they should get snapchat and integrate it into Yammer. :p

It should be LinkedIn if Microsoft wants it for productivity. Guess your LinkedIn account if wanted can be linked with Skype.

Now they need to bug cyanogen

yes. This should be the next acquisition.

Now Windows 10 universal apps can truly be universal across windows, ios, and android.

This is very interesting news. I am using Xamarin in my iOS dev class right now. I like what Xamarin is doing for mobile development, so I hope this acquisition will improve things more.

Microsoft business is SOFTWARE not hardware. it Enterprise and cload services are it's strenths . Windows 10 mobile smart phones and Surface tables and the Surface Book are sideshows that is not where microsoft gets it's 'MAIN INCOME'. This Xamarin deal will help Microsoft software wise in the Mobile world. In the Mobile world Microsoft has become a leader in Tablet Hybrid devices. it's old Surface Pro 3 Tablet and the New Surface Po 4 Tablets have won rewards , got the respect of those who bought them and got Microsoft a Billlion dollar plus SALES business. not bad for a Compnay who had no strenth in any mobile devices a few years ago. The sad thing is Microsoft mobile smart phones have not gotton much sales volume. Microsoft will and should continue to make them because folks they are the best smart phones to work with Full Windows Computers of various types and IOT devices and the Xbox which number over 200 million and growing in number everyday. Android and Apple smart phones dispite their greater use and popularity have operating system that are incompatible with full Windows 10 devices Which domninates the Personal and business Computer world. poeple luagh at MS continuum Smart phones but in the end more peole will desire them.

Amazing glad to see Microsoft pushing with these acquisitions

I think Microsoft should hire developers instead of buying their softwares because the minds behind it can create even better than that software. Plus I've been seeing a lot of awesome softwares and apps from Chinese and Japanese developers.

Hiring devs still won't give Microsoft a win over other platforms. These tools convince a lot of developers to make universal apps. I was at build 2015 in my city and a lot of devs and even some fans came there bcoz of universal app stratergy for Windows 10 devices. Talking about IOT etc.

There are so many comments here that I don't know who to respond to just in case someone else already posted this, but here's a comment from me anyway. Now that Microsoft owns Xamarin, that means they pretty much have a "real" Visual Studio on Linux and Mac in the form of Xamarin Studio (I know it's just the Mono IDE rebranded, but whatever.)

Finally It's happened...:)

Great move people around the world learn first it in c# windows uwp than learning objective c.

I'm I the only one imagining creating apps in Visual Studio which you can save as for ios and Android? :) Posted via the Windows Central App for Android

Doesn't matter..... Developers won't adopt Microsoft's boxed ugly squared design language. I don't think a lot many people wants to be round pig for Microsoft's square hole....