Microsoft to open new retail stores in Burlington, Oklahoma, and Jacksonville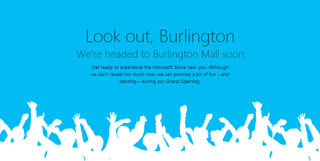 What's better than a new Microsoft Store opening up? Nothing in our minds!
Microsoft just posted a bulletin on their site noting that a new retail store would be opening up at some point in the near future at the Burlington Mall in Massachusetts. Our friends over at Neowin claim the store will be opening September 19th, but we cannot find a source to confirm or deny that fact.
The company has also made a quick Facebook announcement that it plans on bringing retail stores to Oklahoma City, Oklahoma and Jacksonville, Florida.
As of now, we have nothing more to report as Microsoft's message is as simple as follows:
We will make sure to keep you up to date on the latest information.
Anyone in the Burlington, Massachusetts area excited?
Source: Neowin
Windows Central Newsletter
Get the best of Windows Central in your inbox, every day!
Was in Burlington Mall last weekend and saw their usual walls around their future store and its about the same size as all other Microsoft Stores.

It would be nice if Montreal can get a Microsoft store. It would serve as my new hangout!

Psyched! Was just thinking yesterday how we are missing a Microsoft store in my area. I don't have time to go into Boston that often, so this is ideal.

Well, there is a Microsoft store at the Natick Collection too.

Need one here on cape cod also. Braintree is closest to me.

Damn im about 6 hours from Jacksonville I'll take a road trip up there went to a jaguars game about 5 years ago its sweet up there

Why not visit the store in Orlando if you're coming from further south in Florida?

Hey buddy, he was actually making a nice comment about my beloved town! Something we rarely get! Jags, represent!

Hey buddy, he was actually making a nice comment about my beloved town! Something we rarely get! Jags, represent!

I agree with that, but it does make sense he could go to the one in Orlando. I've considered making the drive myself.

When in Europe? at least Portugal. :(

There isn't a big enough space available in Woodland Hills Mall for one that is empty. There is in Penn Square. Is the PS one does well I. Can see Simon kicking out another tenant to make room in WH.

well is the one in okc across from apple store cause that seems to be what ms is more interested in.

It's on the same hallway of the mall, but almost to the center of the mall. They cleared out a business just behind the pop-up store. Personally, I'd say it's a better location than the Apple store, which is some ways down that hallway of the mall, while you should be able to see the Microsoft store from the center, regardless of which hallway you're on.

Actually Tulsa is coming.

That's what I'm waiting on since I don't think they'll come to Joplin lol

Wouldn't Oak Park Mall in Overland Park be closer for you?

I just came home from Burlington Mall. The sign on store says grand opening September 19.

What about The new Microsoft Store\Center in Berlin https://www.windowscentral.com/e?link=https2F%2Fclick.linksynergy.co...

They need a store in NYC asap

Yay for Oklahoma City!!!!!

NOO! I saw "Burlington Mall" and thought it was the one in Pennsilvania. RAAIG (lol)

Jacksonville rarely gets anything good. Finally this city has something besides apple stores and Abercrombie and Fitch....woohoo!

w00t for Jacksonville!!
I hope they open it in Town Center.. Right across from the Apple store...

Jacksonville store is rumored to be next to the Urban Outfitters in the Town Center... http://www.bizjournals.com/jacksonville/blog/morning-edition/2013/05/mic...

You're kidding! Thats blocks from me! :)

Yay, Jacksonville! Woofwoofwoof

Little Rock please!!! The Apple store was a hit and I know a Microsoft Store would be as well...

Wasn't that movie Paul Blart: Mall Cop filmed at the Burlington Mall? I've only been there once or twice, very nice location with lots of exposure to retail stores. I think it can succeed.

I'm 1 mile from the Burlington mall. Bought my +920 there. I hope it goes in directly across from the apple store. The MS store employees can use +1020s to record the flock of sheep's antics across the way. The customers at Build-a-Bear even know better than to make transactions at APL.

This is nice and all but when are Microsoft Stores coming to the UK!!!?!

A Microsoft Store inside a Burlington Coat Factory? Interesting.

Why Jacksonville? Why not Tampa? Interesting choice of location.

OKC and Jacksonville, but still no Nashville. :'(

When's Louisiana getting one? Texas has two... Louisiana needs at least one.

Jacksonville? New York? Boston? Chicago? Why do these cities always come up!...reference anyone?

Falling Skies last week! Nice!!! :)

When are they going to open a store in San Francisco?!?! Gaaah!

They have one in Orlando... Tampa would be too close.

The Netherlands pleasssssse.

Europe next? ;-) The Netherlands specific, we need a shop where we get the Windows experience since there is no employer in any store around here that can say something positive about MSFT. Only Apple/ Google; I hate those people...

Great to see more stores opening and nice that Jacksonville is getting one. Might have to make the 2 hour drive over from thuggahassee!

I'm so happy to have a store in Jacksonville!