Microsoft partners with GoDaddy to deliver Office 365 to small businesses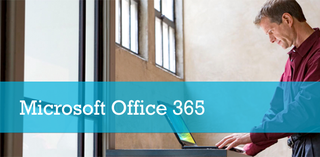 When it comes to running a small business, any help is good help. Spending time on trivial matters like getting your email up and running or making sure you can access the documents you need whenever and from wherever you need them, are time wasters.
To help out small business owners on their track to success, Microsoft has partnered with one of the web's top platforms, GoDaddy. The partnership promises to integrate the easy to use and reliable Office 365 service without making web owners get down and dirty with technical details.
Microsoft's Office 365 platform allows users to perform a variety of functions including the ability to sync email, calendar, and contracts across all devices, receive secure cloud storage via Microsoft SkyDrive Pro, host online meetings with screen sharing capabilities, and more.
There are three plans to choose from that incorporate Office 365. The first plan costs $3.99 per user/month and gives you 5 GB of email storage, email, calendar, contacts, and 2 GB of SkyDrive Pro space. The second costs $8.99 a month and allows the user 50 GB of email storage, 25 GB of SkyDrive Pro Space, online conference meetings, and access to Office Web apps. The last plan costs $12.49 and adds on desktop versions of Microsoft's Office suite of applications along with Office Mobile access for iPhone, Android, and Windows Phone devices.
GoDaddy currently serves 12 million customers worldwide and the recent partnership with Microsoft simply aims to make getting your business up and running even easier. As of now, the program is available in the United States and Canada, but "will expand globally within the next three months".
I personally used Office 365 in the past and it was a please, but I wish I didn't have to go through all the steps of setting everything up. GoDaddy with Office 365 will definitely please a new generation of online small business entrepreneurs.
What do you think about Microsoft teaming up with GoDaddy to spread the use of Office 365?
Source: Microsoft (opens in new tab)
Windows Central Newsletter
Get the best of Windows Central in your inbox, every day!
Ok, I don't understand this...
$3.99 gives you no Office.
$8.99 gives you the already free Office web apps.
$12.49 gives you full office.
That's $150/year when Office 365 is only $99/year.
Where is the value?

You get hosted E-mail, which is pretty much what you need if you've got a small business (although we use Outlook for domains for our company, which is a free service from Microsoft). But I would never trust GoDaddy after they publicly stated that they supported SOPA...

Office 365 (small) business is hosted exchange and hosted lync...
The webapps included here saves to a hosted SharePoint server
Office 365 home and business only gives you only word, excel, outlook...(no email)

I have office 365 small business and have email, SharePoint, word, excel, skydive pro. Ms basically hosts everything. . 5.99 a month.

A huge score for Godaddy to get that "exclusive" and "long-term strategic" partnership. This should make them even more popular among small businesses that want a simple one-stop solution to their domain, email and Office. I've had my domain and email hosted by godaddy and they've been rock solid over the years.

My only complaint with godaddy is the limited support they provide. As well I don't agree with the owners philanthropic activities...

I have worked with a company called Appriver, to deliver office 365 since it was first launched.

I work for AppRiver and we've been offering it for a while. Not sure what kind of integration GoDaddy will have but they should get quite a few signups just being able to order it with a domain registration.

YUCK! I am really suprised Microsoft wants to be associated with that company and its owner.

Bob Parsons is not a bad person, he is risky yes, but he has a truly good heart http://www.huffingtonpost.com/2013/12/11/bob-parsons-godaddy_n_4427967.html . The elephant he killed fed tribes and was destroying crops... So do your research before you blindly announce ignorant comments.

And the new CEO @blakei is former Microsoft exec... It just makes sense. It is a win win

OK, not to go way off topic... I like this, think it's a cool partnership, but I would love it better if Microsoft had a blogger platform. Then I'd really be interested.

Microsoft did had one called Live Spaces but it got shut down and diverted to WordPress

Yeah, I know, way back in the day. They also used to have the Live websites thingy for small businesses for a while, too. I just wish that they would build one now, because it would have to be amazing. I'm thinking, SkyDrive and Bing teams need to build a blogger platform that utilizes SkyDrive as a CMS and so on. It would be amazing... you know it would be. I'm just dreaming... don't mind me...

Wish Microsoft threw more of their support toward WordPress. OTOH, maybe they did. WordPress has built-in support for SkyDrive and Office Web apps for blogs hosted on their servers. I haven't tried the applicable shortcodes yet, but glad to see the support.

Its a good match for small businesses.