Microsoft pulls Windows RT 8.1 update due to startup issues while upgrading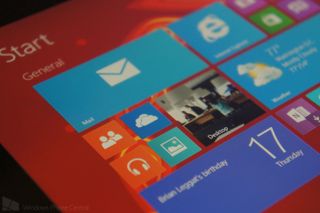 Those of you running Windows RT (on a Surface RT or similar tablet) will notice that the RT 8.1 update has been pulled from the Windows Store and is no longer available. The reason behind Microsoft pulling the update? There's an issue that's affecting some consumers who are upgrading their tablets. lf you've already started to upgrade your tablet and have encountered issues, read on as there's a solution while Microsoft investigates.
Consumers have taken to Microsoft bulletin boards (opens in new tab) to question why the company has pulled the update. Here's a response, published by forum moderator Reagan L:
The nature of the problem lies with start-up during the Windows RT 8.1 upgrade process. When rebooting to kick off the install, you'll be greeted by a blue screen, detailing that the "Boot Configuration File is missing some required information." If you've been hit by this problem and can't seem to get the process started, fear not as there's a solution. While it involves a USB recovery drive, it's confirmed the process works and the device won't lose any data.
We'll reach out to Microsoft and see if there's any progress, or if there's another issue with the upgrade process for RT hardware. If you're going to give the solution a try, be sure to let us know how you got on, as well as Scott Williams on that helpful tutorial post. Unfortunately, for the time being the Windows RT 8.1 update remains unavailable.
Thanks, Hazza, for the heads up!
Rich Edmonds is Senior Editor of PC hardware at Windows Central, covering everything related to PC components and NAS. He's been involved in technology for more than a decade and knows a thing or two about the magic inside a PC chassis. You can follow him over on Twitter at @RichEdmonds.
It will never be in Windows Update, end of story.

I had couple of issues. One was with my keyboard stopped working at first and i had to refresh then another with IE messing up on some websites like Google. (Surface RT) try it out on my laptop and it was working fine so i refreshed again. Microsoft should sort this out its their flipping product that's having issues with this update.

I had the same keyboard issue on my surface pro. I have a touch cover and it stopped working and still isn't working. Tried updating the driver and checking the OS to see if there are new updates pushed out to fix this issue. Nothing so far has rectified the issue. I guess I'm not just waiting for microsoft to fix the issue so I can use my surface pro again....right now I'm using my surface pro as a super expensive, heavy ipad. Come on Microsoft...this is almost as bad as the obomacare websites not working!

Come on! Microsoft give me one year when you get EVERYTHING right! Such a buzz kill :-/
Here we go with bad press for a week!

Everything went right over here with upgrading my Surface Pros and RT systems.
I'm not sure what "limited number" means in this case.

I've also updated my Surface RT and Pro with no issues.

Yup updated my Pros and RT 100% perfectly.

My update for my Surface Pro was straightforward however my living room pc failed to upgrade with Pro with Media Centre (hung) and my mum's Surface RT rolled back to Win 8 halfway through. My living room pc rolled back to 8 when I rebooted.
8.1 music is fantastic, I was really looking forward to playing it thro my living room set up. I'm sure MS will sort it out.

I also ran into this exact same probem on my Win 8 PC. After searching Microsoft's support page, I did come across one member who ran into this problem and the answer is to do a refresh of the PC. Will try it later to see if it works or not.

An update: Did the refresh and the installation works, but you'll have to reinstall any installed software that was deleted. Only pictures, videos, apps from the Win Store and your settings will be preserved during the process.

3 pros, 1 rt, no problem apart from download and upgrade taking ages.

I was able to update all of our systems to Windows 8.1 including 2x SurfaceRT's and not a single issue. I was able to update all the dev environments, test, compile and deploy our latest update with no issues. With all that i would suggest this is more to do with little kinks in the road.

Same here, updated 3 devices ( Surface RT, Lenovo Twist, Lenovo SL400) without a single problem.


My vivobook now has a watermark on the screen saying secure boot failed to configure... Any help with that?

I have this issue with a Surface RT. It seems bitlocker was automatically enabled after the installation and now its asking for a key that was never provided in the first place.
Refreshing the PC did not help and i am still looking to find what the solution to this issue is.

Went great for my RT system.

My co-worker bricked his. We created a recovery drive off another unit and restored his back no problem. I updated my rt as did my friend with no issues. We have 610 more to do. We bought a mass of them for a special program. It will be nice if MS fixes any issues if there is any.

My update for Surface RT was flawless!

This was also my experience

My Surface RT was upgraded to 8.1 on Thursday without any problems. My Win 8 PC, on the other hand, ran into some problems when I tried installing 8.1. Will have to do a refresh and hope it works.

Updated first day with no problems. Surface RT in the UK. Yeah.

While it took a long time to download and install I've had no problems with my Surface RT. In fact, this upgrade makes everything so much faster I feel like I have a different tablet. Tremendous upgrade

I know right. Only IE11 metro is a little bit unstable but it feels like ai have a whole new tablet!

Yep. Went great here. Such a great tablet.

Unstable is a slight understatement.. It suddenly decides to close whether or not I was even doing anything!!
However apart from that it feels quicker.

Yeah that's wat I meant haha! Didn't know other people had that problem too. But besides that it is an awesome OS!

This a annoying bug, and makes you have to relaunch ie. Weird oversight.

Could not have agreed more, its like an upgrade from Kia to Audi....lol....my surface just feels to have become far more productive

Dude, I like my Kia optima lol

Agreed. No update problems with my surface rt, and 8.1 is amazingly better in so many ways from Outlook to a better metro mail app to Facebook app availability to better overall navigation. Love it.

Actually I was hoping that Outlook was usable as an email client instead of the built-in Metro mail but it sucks in a number of ways, starting with not being able to connect to our company mail server (neither Exchange nor IMAP) to starting really slow to locking up randomly and last but not least being unusable using only the touch screen due to the miniscule buttons in the ribbon interface. Pity...

Its is a separate email client different to the Mail app called Outlook 2013. Swipe up on Start Screen to find it or it may be already pinned to your task bar on your desktop.

Already have 8.1 on my surface rt from day one. Took me 2 times but now works as a charm. Haply that I already have the update installed haha!

I was on 8.1 but my SkyDrive wasn't syncing so I did the recovery back to 8.0 and now I am stuck. Was enjoying 8.1 but maybe this is a sign for me to out the Surface RT up on eBay and upgrade to something else

Why didn't you just wait for a SkyDrive update?

There was an update yesterday, in fact. I saw SkyDrive pop up with a tool tip saying it was updating.

I upgraded fine on RT, my pro machine had issues...

I also had issues with Pro. Borked the pen and type keyboard drivers. Took a few hours to fix.

Well, I had no issues whatsoever. 1st attempt, installed as normal. My Surface feels brand new again.

Dude get rid of rt and put wp on it

Because massive full-screen phone apps are much better than bespoke tablet apps ... /sarcasm

Lolz at least it will have apps and a nice experience

Sorry, I didn't realise you were a troll. Continue on while I ignore you.

What would be perfect is some combination of the two. The iPad is sorely lacking in some areas because it's just a blown up iPhone. Don't turn Windows RT into the same thing.

No problems on our Surface RT. Download took for-freakin-ever. But worked.

8.1 installed on my Surface RT just fine. The only issue I had was the download was taking forever. It seemed that whenever the screen shut off the download paused, so I just set the timer to 'never' and it was smooth sailing from then on.

Yep, sane here with the rt sleeping. Upgrade two other laptops to 8.1. Wonderful updates!! All went smooth and feel like new products!

I updated on launch day as soon as the update hit the store and it all went butter smooth.
However, it's still concerning that Microsoft had this update in public tests for 2 months and when they finally release the update for RT devices (which, themselves, already have a bad time thanks to Microsoft) there's a problem.
Even worse when there's a blue screen involved...specially now that we were making fun of Apple for having brought the Blue Screen of Death to iOS7...

At least they aren't having a recall on laptops like Apple is. :P

I upgraded my RT very quickly and easily.

Mine upgraded without issue. Not bad either

I've seen on Tumblr some people are having trouble with updating Win8 (not RT) as well.

Mine updated fine, snappier better

I had issues. File:/bcd was missing. Recovery drive took care of it but had Microsoft store do repair free

Had no problems with my surface rt, it's awesome how much better it runs now, :D

Install went fine on my Surface RT.

Had no problems upgrading the Dell XPS 10, but I did have to use a usb boot disk to recover it when the preview launched. Hoping this isn't the same case in the final release since it was not easy to recover.

No issues here in the uk, also pleased with the Office Outlook on the Surface RT :-)

Mine had to run twice from the 8.1 preview, but all is well. Wife's was a clean install. FWIW...

Worked perfectly here. Some really nice touches in 8.1. A couple of iPad users in the business are looking at Surface for business now. Integration to desktop software is stunning.

Everything went extremely well with me, and I'm using an, RT.

I had no problem updating both my surface rt and my desktop to windows 8.1

Do you mean "cock-up" as in a screw-up, or "cock up" as in this news makes you hard? Weirdo. :-P

+1. Punctuation saves lives.

Seemed to install fine on my Surface RT in the UK :/

I had to upgrade 10 RT's, 1 pro and 5 desktop machines, all without a single hickup, downloads where slow but the whole world was downloading so that's understandable. NO complaints from me and LOVE 8.1

Mine went smoothly, no issues. Really feels like a new tablet.

Like others said 8.1 made RT extremely solid. IE sucks though

You can say 'IE sucks' and be ignored, or say 'IE sucks because ...' and have people actually pay attention to you.

BAM! People still think they get cool points for bashing IE... We are way past those days... I hate to use other browsers unless I am testing websites.

I know, right. So out of date in this day and age. I develop websites day in and day out; since the new F12 tools I barely use any other browsers except for testing. And I *never* have to do workarounds for IE9+, but I'm always finding annoying Webkit and Firefox bugs, especially when it comes to mobile.

Took forever. Then a reboot, accept the license, .... I was not able to press the "I agree"!!!
Long press OFF button, and it restored to 8.
Then retry, took forever again. This time all went well.
Love the update! It feels faster.

It's a nice update but it sucks that Microsoft is somewhat silently forcing people in their crappy cloud including automatically changing local user accounts to live.com online accounts, signing up for cloud storage, enabling sending all kinds of data to Microsoft servers, enabling location services, enabling ads... All of that can be turned off but you have to read all of the screens really careful, understand what they mean and hit a miniscule and oddly colored text instead of the big fat buttons to deny those changes.

For most people, it will really make a better experience. I understand what you are saying though. I have fully embraced the Microsoft way. I used to really be in googles corner, but all them all I trust Microsoft most. Apple is just too locked down and I still use many google services. With Microsoft I pretty much use google and apple services, but on the other platforms you are limited to theirs.

Only 1 out of 3 machines tried so far has actually managed to update so im rather disapointed.
both running 8 pro, one fails in the store itself with error 0xc0000005 and the other rebots then hangs at starting devices

What was the point of delaying RTM? To find bugs such as these. Either this is so rare or they were just lazy. Baffling. I doubt its rare because they took down the download.

reboot Issue With my pc.. Pro! And graphics card problem With my asus vivo tab smart win 8 x32 after 8.1...

Just wondering if this problem effects all users or just those who downloaded preview 8.1


I downloaded the preview and had no problems. I think the issue is related more to people being impatient and not waiting for the installer to do it stuff !!

Looks like I was one of the lucky ones then, the update to RT 8.1 went flawlessly on my Surface RT ;-)

You are the lucky majority.

Successfully updated our two Surface RTs on Thursday when the update came out.

Why can't everything released by Microsoft be a one hit?? I hate these taking stuff back and looking at them....main reason why I'm not ordering Xbox One, will wait for a while cuz with Microsoft, I know there gonna be frustrating issues when it launches.

When you have than many copies of your software, its hard not to have problems.

No problems with my RT either.

I had no issues updating RT.

does any know if once you've upgraded to 8.1 can you get rid of window.old on the HD to make more room or does it have to remain there to work properly?

You can remove it. The best way to do that is: right click on drive->property->disk cleanup->clean up system files->select "previous windows install"

Ah! Thanks for the tip. I used to try deleting it manually but I always get permissions issues.

Thankfully I didn't have a problem with my surface RT

FWIW, my Pro upgrade on my desktop went ok but then I tried to add in Hyper V. After the reboot it locked my drive and would not start (black screen - no mouse). I think it is something to do with my video driver. Anyway, I used the DVD to revert back to an earlier restore point and was able to get in.
A word of caution: I run Delphi 2006 (it's quite productive for most thing I need to write) and the Win 8.1 upgrade takes away .net 1.1 and will not let you install so the pretty much makes it (Delphi 2006) useless. So now I have to decide if I want to go back to 8 or use a different box for my Delphi

You could always run Delphi in a virtual machine using VMWare

I understand that their will be some issues in Windows 8 because there is a lot of different hardware from different OEM.
But isn´t the RT in very few hardware to take care of? I Think is not hardware problem but third party apps that is making the issue or maybe not.

My rt is fine and the final release is so much better than the preview. I can't believe they moved the sync button in email. Death to them all.

It took almost all day for mine to upload but it finally did with no problems

My rt is upgraded and so is my pro desktop. Both with not one issue. Long live Microsoft!

My son's surface has been crippled trying to upgrade. Desktop is black, boots start to desktop with no way of getting back to it if you close it. No store access all from trying to upgrade

Two dell xps10 upgraded with no issues.

I had issues on both PC and Surface RT. It failed somewhere during reboot, tried to roll back to Windows 8 but failed. I had a system image to backup from on the PC, but the Surface... was stuck on the "Your previous version of Windows is being restored..." bootup screen. Sat there for 3hours before it was finally able to get back into RT 8.1 Preview. Long restore process is long. Suffice it to say, it was worth the headaches to finally get it installed on the PC.

Updated my RT without a hitch. Works like a charm and loving my Surface more than ever! Great job, Microsoft!

Successful Surface Pro and RT upgrades here, no issues...

Have they found a solution for laptops yet?? Updated mine and it will not boot up, just get the blue screen

2 RT's went smooth from 8.1 Preview to 8.1. Went to do our 3rd RT today and it's not available. Oh well. Our server with 8 Media Center went flawlessly as well as did the work bench desktop, preview to 8.1. 2 Envy 14 laptops with switchable graphics are running 8.1 now as well but I need to get the graphics drivers sorted as HP never released an 8 driver for these.

Updated my Surface RT on Thursday. Slow to download, then my touch screen became unresponsive after installation. However, two reboots later and it's been smooth as silk.

No problems on my Surface RT. Took about an hour and half to complete, but my Surface is running great.

No problems updating me & my dad's Asus Vivo Tab RT tablets. Having Outlook now is especially awesome.

Can you help me with some instructions to update my vivotab rt to 8.1? I always run into some errors.

Thanks. Been wondering why I can't find this in the store.

Once I figured out what was going on, I finally got my Surface RT upgraded to Windows RT 8.1. 2.5hrs!!! Should've taken ~40+ minutes.

Updated my home pc and my wife's Surface yesterday with out any problems.

upgraded mine perfectly. only issue has been getting all of my music from the cloud. cpu at 100% for a while now.....

the first time I updated it installed then sayed it couldn't update, but the second time I did it, it worked fine. Because this is Microsoft were going to hear all the negative press about it.. for instance Engadget.com's title was "Dont even bother trying to upgrade to Windows RT 8.1 today". Seriously if it was an IOS issue or an Android issue it would state "Developers are working hard on fixing bugs with new OS download, be paitent all will be fixed soon."

My update on my Asus Vivo Tab Rt was flawless but after 48 hours of having 8.1 my tablets keeps asking for my bit locker key every time it wakes up from sleeping...getting tired of inputting a highway of numbers....anyones help is greatful!!

No update prompt came up for me for me to even try! Anyway, hope Microsoft fix it sooner rather than later!

I had the preview 8.1 installed. Maps update error. 8.1 rtm wouldn't show. Found URL on here it finally showed. Errored on download eventually installed. Seams to work now. Minor reboot update thing showed up on last reboot.

So what's the fix, just use a recovery USB drive?

My surface rt updated to 8.1 no bother. My Laptop with win8 Pro however has not been so successful and was just hanging. I've done a full refresh including bios update and now my wifi doesn't work and my win8 key is refusing as it says my key is for an update to win 8 not a full install. Buggeration

reboot problem sometimes laptop(pro) and pc(pro) after 8.1..

Microsoft need to limit their developers and testers internet access and get them more focused on the job, this is a massive pooch screw!

RT 8.1 installed as smooth as I'd dreamed. Feel bad for guys having issues though.

You are welcome guys! That was my first tip for WPC! XD

Mine updated without any issues. Once again luck favors me.

For me, that update was quite seamless on my 8.0 RT. I found though the process a little bit too tailored for the stupid masses. Messages like: "...doing some more thing..." , "preparing for some more things", "..nearly there...", "we are just about to finish.." and all kind of these idiot phrases make me always feel like a stupid, who doesnt need to know why things are happening and what things are happening on my own device, I just have to be a good consumer, and just DONT EVER DARE TO THINK!
Slightly on-topic issue: I had the "home-button does not wake up the device reliably" issue appear again (it has been 90% fixed in April or May firmware update). Also I had an issue, when on sunday I couldnt wake up the device even with pressing the power button multiple times. I had to press the power button for 5-10 seconds, and then press it gently again, to turn it on. This has never happened before.

fortunately had no problems updating my Surface RT.

Windows Central Newsletter
Thank you for signing up to Windows Central. You will receive a verification email shortly.
There was a problem. Please refresh the page and try again.