Microsoft pushes updates for all its MSN and Office Mobile apps for Fast Ring Insiders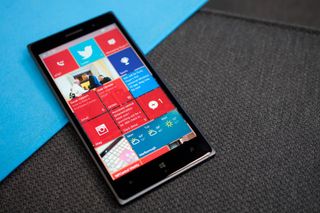 Microsoft recently released a Windows 10 Mobile Insider preview update, version 14322 (see our hands-on video), and now a number of app updates are available as well. The updates are likely related to refactoring changes in the operating system as Microsoft works towards getting the Anniversary Update ready. It is possible that Hero notifications and other features may soon begin to make their way to these apps.
A list of updated apps include:
Windows Maps
PowerPoint
Excel
Word
MSN Weather
MSN News
MSN Sports
MSN Money
Groove Music
Windows Camera
OneNote
Mail and Calendar
You can check your phone now for updates. Head into the Store, then hit the menu key, Downloads and updates and finally check for updates. Remember, you will need to be on the latest Fast Ring Insider build to see the updates.
No updates for PC users on Fast Ring appear to be live making these mobile-only for the moment. If you spot anything new let us know in comments!
Thanks for the tip, Stefano!
Windows Central Newsletter
Get the best of Windows Central in in your inbox, every day!
Jared started off writing about mobile phones back when BlackBerry ruled the market, and Windows Mobile was kinda cool. Now, with a family, mortgage and other responsibilities he has no choice but to look for the best deals, and he's here to share them with you.
My camera isn't working on L535 but updated the rest this morning :)

Any changes? Or bug fixes only.

Never noticed it before but now I can single finger zoom in the camera app.

So you just need to give it a finger?

So you just need to give it a finger?

Yeah me too, but the update didn't fix that problem. Posted from Windows Central for Windows 10 Mobile on my Lumia 535

Wasn't working on my L535 too,and many bugs (ex. app crash) so I rolled back to 8.1 to get official builds(10586.212).

Just did the same. But oppening "Skype Video App" makes camera useless on any app. ¿Do you have the same issue?

I had it. Than I did a hard reset on .218, and now it's working :D
And this story is true for me as well on my 535.
Posted with the Windows Central app for Windows 10 on HP 250 G1 notebook. It is a scary old monster, I think :D

i'm worried about another hard reset to solve this problem. i had this issue since... .164? and updates simply dont solve it.

I have that issue. It happens when you sign into Skype messaging for Skype integration. If you log out of Skype SMS integration and reboot your phone, the issue will go away permanently, not requiring any hard reset. I tried hard reset (Lumia 1020) and signing into Skype SMS integration in Messaging. The problem pops up just like before. So, hard reset will not solve the problem.

And by then, i could be able to sign in to Skype integration? it's really usefull for me, at least for texting.

I rolled back to 8.1 because of this.

Can't download update because of latest Build :( Posted on Lumia 930 with
Windows 10 Mobile

What do you men you can't. I've 930 too and can download. (Fast ring)

Maurer downloading apps when they installing its says Error 0x800xxx something. I also can't open Feedback Hub and Microsoft Edge, they crashes immediately. Posted on Lumia 930 with
Windows 10 Mobile

Updates for apps on a build where the store is half broken and some apps will not directly open, makes sense. They should push a patch out to fast ring insiders to fix bugs cus i swear.

I can't say I am having any of those problems, so to assume that everyone is or that it's not just your phone/experience is premature. The screenshot in this article is from my 950 XL and everything downloaded and installed fine. Regardless, you don't like bugs/issues, then don't volunteer to be a Insider.

Yep Dan, been the best build yet for me. Finally some new features too!! #Windows10Mobile L735

Must you reply in that kinda manner?? Makay Chapulets | MTN CCR
Posted from my Lumia 640XL running Windows 10.

This is Dan's ********* way. Then he wonders why his colleagues hate him. Posted from PornHub

My 950XL is suffering badly on this latest build too. And going by the comments and feedback in the feedback hub, there are loads of people having similar problems to Legoboyii above.

Please make a list about these problems, it could be a great help - nice to compare whats goin on.

Well, in fairness, just because you did NOT have a problem does NOT mean there is no problem. Check your own forums for evidence and solutions - both of which I did and the solutions worked....so, if you are ill equiped to answer cutting edge questions for cutting edge of builds, see your way out of beta testing yourself. Posted from PornHub

Actually Dan, it's premature for YOU to assume that there's no widespread problem just because YOU'RE not having issues. But I'm sure your reader appreciated the contempt with which you treated him...

Wow, Little Boy Rubino is back in full force. When is Mobile Nations going to fire this narcissistic piece of blog garbage?

Mine works, but I have no Office updates.

That's kinda what you get when you're on the fast ring. It's the while point actually.

Same here. For me this has been the worst of the fast ring updates. I know all updates fixes some bugs and gives you new ones but this update gave me way more bugs than it fixed. Going to stay on production for a while till maybe the next fast ring. It can't be any worse than 14322!

Don't know how long the non-insiders have to wait to get the insiders' awesome features! Posted from Windows Central for Windows 10

I just want the damn bug fixes.

I moved to production ring just because of the bugs of RS builds. RS builds are awesome for its' new features but the bugs are gonna make you mad. Posted from Windows Central for Windows 10

Yeah! They should pour their whole energy into fixing every damn bug out there.

I hope they are doing their best! Posted from Windows Central for Windows 10

Me too , the latest (14322) build is SO UNSTABLE.

@Anik Sau... RS Builds have been running sweet on my 640XL. Makay Chapulets | MTN CCR
Posted from my Lumia 640XL running Windows 10.

Little more, I guess, according to statistics! :p Posted from Windows Central for Windows 10

I can tell you already that RS for phones won't come in July. Expect November-December for that.

Windows 10 v1607 will be released in July.

Very bad .pl solve the problem .perfomece vey bad

Nope. He said 'vey' bad...

Saw this earlier....the same time I discovered I have the double app list where half are listed as pending. F*ck. Posted from PornHub

Just go to the Store app, install any app and tap in the Downloads icon. Tap Pause all once your app starts downloading, then tap Resume all. The Store will try to install every single app listed - just wait a little and tap X on any app which provides an error. Saw this tip on another WC post comments. You're welcome ;-)

Well, It worked. Thank you mate.

Thanks man. That worked Posted from Windows Central for Windows 10 Mobile on L1520

Ye are a helpful lad. Good job. Posted from PornHub

Why microsoft doing this type of foolishiness

What, updating apps for their 11th OS update in 5 months? Your comments here so far are some of the worst, by the way. Please try to make valid points and not just random dumb things.

Rubino did someone strike 10 nerves? You're really resorting to passively calling names? I like your zeal tho, perhaps you're not a double agent sent to make fun of us Posted from Windows Central for Windows 10
on My surface phone

Nah, I just respect you folks and this community by which I mean I expect (and often see) well thought out comments, critiques, problems, compliments, etc. When someone comes in and says something foolish it makes comments look like a wasteland. I have zero problems with someone not like W10, W10M, Microsoft, their direction, a recent update. But at least write something coherent and reasoned that someone else can run with or respond to. It's about conversation. Girish just pops in, says something incoherent, inflammatory, and then just leave it with no reasoning.

Can we have a list published every week which has the top 10 bad comments and their respective commenters? :P

I would be great actually!

They are programmers. They can never be foolish :-P Posted from Windows Central for Windows 10

So stupid, soooooo stupid, sooooooo MANY stupid people out there.
GOOGLE or BING "Windows Insider" and try to READ and UNDERSTAND what its all about! srsly.... :-(

How's camera working with the update.? Is living images option working properly.?

Remember the purpose of Insider program is to help MS make the product better, not too get bug free builds. I have to Jell-O that in mind myself since the last two fast ring builds on PC and mobile. Love the direction they are going. Besides crashes, my biggest issue with 14323 is performance. My 950XL is slow especially dictating to Cortana

Those bugs are frustrating. I had to downgrade or actually upgrade to production ring.

I'm on the production ring and got these updates as well :)

I'm on build 14322 with insider fast ring on my lumia 830, but when i checked for updates I can't find update other than outlook mail & calendar!! Am i missing something?

Yeah same here, I only got one update for one note. Lumia 830 Posted from Windows Central for Windows 10

950 on billd 14322. Seemed work fineuntil a fnew hours ago when ALL 24 apps started to update at the same time and ALL failed! SInce then no more updates pass. I now have 24 failed updates listed.

Same here. No update showing up at all. L830 on 14322 Fast ring.

You're welcome again. :-) Posted from Windows Central app on Windows 10 Mobile

Which windows phone do you have? Posted from Windows Central for Windows 10

Lumia 640. I'm buying a 950 XL next month. It'll probably cost me approx. 15000-20000JMD to bring it here, but I think it's worth it.

There is an issue to update the apps in the store?

Yep in lumia 640xl i have got video light feature in camera app update

Waiting for this to go to slow ring, then finally dumping my 1020 for a 640.

I'm on Slow Ring and many of the MSN app updates are listed for me, but only OneNote from Office collection. Camera listed, too.

I keep getting the 0x80073cf6 error when I try to update any app, is there a solution for it or should I just wait for the next version?

Why update apps for a certain build only?

Maybe they need a new OS feature or fix a bug by the new build's modifications.

still no way to get automatic updates? if there would be a way then these "updates" articles would be pointless why report changelogless updates? why support changelogless updates?

I got all these updates on my L720. How come MS made L720 eligibe for the fast ring?

Still no "allways bcc to myself" in outlook mobile :(

After a hard reset today I can't seem to get the previous groove update even after signing into the insider app. Does anyone know how I can confirm that I'm actually signed in?

Well if any consolation I haven't got the updated groove either after a hard reset - on 1520

:( Hopefully it shows up by morning. Ib really liked the additions.

Yay! It finally made an appearance.

Gggrrr not for me. Oh well waiting continues

My major issue starting with the previous build is battery drain om my L1520 and weird behaviour of battery level and battery saver. Have reported and hope it will be a lot better with coming builds as I have no spare phone to participate as insider.

I jumped on this build hoping the battery bugs were ironed out after 14295, unfortunately it hasn't been. It is slightly better but far from acceptable. L1520

Same issues. I've reported them as well. Turning off location seems to help.

My 950xl almost become unusable....going back to .164 and wait for better build.

I hear ya.
I can't understand how bad this build actually is for some insiders but not for others. I also don't get how the major bugs weren't spotted before they released the update.

For 950xl, I tried resetting the phone - no difference. 930 got bricked - not even power on. Only 1520 holding it up with a number of apps refusing to open.

My SD card has stopped working too which may be down to the thermonuclear heat coming from the phone.

I got these updates on my PC as well

I can't turn on my Bluetooth on this could any help?

My 920 crashed after last update...

Is this new build available for L925? I'm at 10586.218 not getting new build notification even though I'm in Fast Ring!!

As far as I know...925 is not eligible for RS builds...
Plz correct me if I am wrong...

I'm user L1020, our device not eligibld with the RS builds. Stuck at .218

I just want Bookviser to work again without needing to downgrade to a previous build and hard reset :(

Wow windows 10 mobile turns into like a playfool software..

There is bug or some kind a error in latest version 14322.1000, store shows same copies already installed apps accept Microsoft. When swipe to the All apps it shows two copies of same app, one installed and another shows pending status of same app. That error should be rectified on top priority. On other hand build is quite stable and features are appreciated.

Right some apps r not working

When?!?! Nothing yet to my Lumia 950 XL (latest build of course) in Sweden...

Still can't believe that they made revive their MSN suite... Posted via the Windows Central App for Android

Didn't get any updates :( 1520 unlocked too

Many apps are not working

Good!! Note how about pushing the W10M update to the BLU Win JR LTE X130e.

These updates are also available on the .218 production ring. Sent from an alien space ship with a Lumia 950

They added weather on the lock screen for msn weather and made the app itself look horrible with a giant black band at the bottom cutting off the app.

950xl .218 Maps app always says "finding your location" and im trying to get directions somewhere and my damn GPS is unstable. Works 1 out of 10 times.

Still not appearing for me.

I can't open WhatsApp, Viber, Line, messenger on my Lumia 1520 & Lumia 640 XL . This build sucks'

Nothing on my Lumia 735 running 14322, but they did come in on my PC running 14316.

Still nothing on 950XL on fast ring in Ireland. Would somebody mind typing up the latest version numbers please. Thanks

Give it a day or two. I just jumped back on the fast ring today. Posted from Windows Central for Windows 10
Using the Alcatel OneTouch Fierce XL for Windows 10 (Redstone)

Just jumped back onto Fast ring today and really like it. No major bugs for me. Just a few minor ones. New features are awesome! It can only get better!....although I am not seeing the updates listed here. Unless I already got them when I upgraded to RS. Oh well. They may show up in a day or two. Posted from Windows Central for Windows 10
Using the Alcatel OneTouch Fierce XL for Windows 10

Maybe it only when to Lumias on Redstone first Posted from Windows Central for Windows 10
Using the Alcatel OneTouch Fierce XL for Windows 10 (Redstone)
Windows Central Newsletter
Thank you for signing up to Windows Central. You will receive a verification email shortly.
There was a problem. Please refresh the page and try again.