Hands-on with Insider Build 14322 for Windows 10 Mobile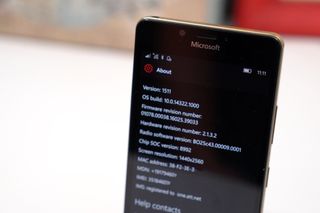 Build 14322 for Windows 10 Mobile became available for download on Thursday to Windows Insiders in the Fast ring, and we've been playing with it on our Lumia 950 (opens in new tab). It's a big update with changes to Notifications, Cortana, Continuum, Lock Screen, and more. We've got it all on video, so make sure to click the play button!
You can see the full list of changes for Windows 10 Mobile preview build 14322, but here are some highlights:
Individual app notifications in Action Center no longer show the app icon repeated for each notification and will only be seen in the header for that group.
You can prioritize app notifications to be in one of 3 levels: Normal, High, or Top.
You can add, remove and re-arrange the Quick Actions that show up in Action Center.
You can now create a Photo Reminder by taking a picture of something you want to be reminded about
All pages in the Settings app now have individual icons associated with them
You can adjust the percentage in which Battery Saver turns on (which is at 20% by default)
You can now set the time in which you are most active on your phone, and Windows Update will avoid automatically installing updates during that time.
Support for most USB Ethernet adapters for Continuum and Type-C
When your phone is locked, the back button on the navigation bar is now replaced with a camera button.
While you are listening to music, you will now be able to control the music you are listening to right from the Lock screen
Forward button in Microsoft Edge
Audio routing feature (not working on some models)
Remember, if you are having a lot of issues you may want to consider a hard reset. We're running the latest 14322 build on the Lumia 950 and Lumia 950 XL with only minor bugs and quirks.
Have you made the switch to the fast ring? What do you think of the new features? Let us know in the comments!
Windows Central Newsletter
Get the best of Windows Central in in your inbox, every day!
Any improvement in overall performance/stability?

On my XL menus and even app launches are certainly faster and smoother.

That camera button replacement only on lockscreen instead of back button is a great addition !!! I think even rumored surface phone or any win10 phone wont be having capactive button anymore , only on screen buttons :P

i rly hope this is not true

I was a huge believer in capacitive buttons over onscreen buttons but after spending a few months with the 640 I wouldn't want to go back. I still want them to swap the search icon for a Cortana icon though, it drives me mad when I press it instead of an in-app search button placed right next to it.

I dont mind onscreen keys but IMO, one hardware button, square windows home key with fingerprint reader, would be better. Swipe up for cortana and swipe right for back.

I don't like the idea of finger prints. i know it's fast but for the security I don't want companies to have all info's of myself. If government needs something they can ask my info themselves.

You obviously don't know how it works. It doesn't transmit or store your fingerprint anywhere in the device, it just stores a hash. Anyway, the government already has your fingerprints.

That is what they say. And no, government doesn't have my finger print. They will have it only if I want a passport

Hey did anyone notice that if you tap and hold a notification it will open a menu to turn off notifications

I've noticed it long ago but I don't use it.

One of my pet hates. a good example is the store try to search and I always seam to press the wrong magnifing glass

So true. I'd like to go one more, to completly replace the search button when your in an app that supports searches. Why would I need to search outside the app when i'm in it?

Is this build available for Lumia 525??

No. That's not a WIndows10 eligible phone. You can only use builds 10586

Have u a definitive answer why the lumia635 1gb ram .is the only phone on the insider program eligible list,that is getting the latest updates at a later date ?. Why is this?. I can't get a definitive answer anywhere,why this is. Thanks

This will be the next one to be abandon...

Because trolls. Posted from Windows Central for XL

Actually it's likely it'll be the next one to be dropped by Microsoft for future insider builds. Microsoft just recently dropped almost their entire 9-series of Lumia phones as well as the Lumia Icon. The 9-series of Lumia phones are more powerful than the vast majority of Microsoft's latest lumia phones since, aside from the 950, Microsoft hasn't produced any decent Windows Phones for a couple years now.

Most of the devices in the 9-series is way outside the 18 month support window they guaranteed for those devices so the support was supposed to be dropped. All of them can install windows 10 though. Windows 10 has 36 months of support though, so these new phones will not lose support.

I have a 1020 running the latest production update and it's running pretty smoothly.

Do you have a link on how to hack a 1020? Posted via the Windows Central App for Android

Hack a 1020? It can run the latest production update without problem. Sent from my Windows 10 PC.

unfortunately it looks like 14322 has dropped S4 support. So you will just get the boot loop. Tried it on my 1020 and yeah.... Hack isnt a good idea on this build anyway. Previous Redstone was amazing for me though

yes...also continuum is very fast too

I so hope this true. Will test right away.

Unfortunally on my 950 certain apps load slower and some games have issues(stuttering, force close) Also facebook messanger and some other apps dosnt load anymore. Id say is 3 steps fwd and one step back with this build. But..need to do our best to report early problems

I'm having the same issue, a number of apps not loading. Also getting issues where the phone locks, the IR light is on but I can't unlock the phone so have to do a hard reset, for me its the buggiest build for a while but I do like some of the changes that have been made

Hi Nathan. I'm having the exact same problems. Did a hard reset fix the problems?

Glad I'm not the only one. It seems to happen (to me) if you "double click" the sleep button. Hard reset soles for the meanwhile. Intersting to se if a complete wipe solves it? I don't want to do that as I have security apps that I have to re-install if i do a complete wipe.

Till is locks up in vibrate mode...had to hard reset twice.... Posted from PornHub

My battery life is bad... Going to do a reset

I have a feeling bad battery life in this build it's due to memory leaks. my phone is getting unusually hot for unknown reasons

My 950XL is the same. I have to restart my phone far more with this build.

My 950XL gets hot too with this build. I should be used to it by now.

My 950XL battery life was excellent in build 14291 but crashed to about half as good in 14295. With 14322 it is back up a significant amount, but not to the levels of two builds ago.

i´ve decided to go back to production on my 950XL DS... this fast ring builds are really bad for the phone

Windows Hello has become a unreliable as it doesn't always work when you bring the phone out of stand by. When pressing the power button to bring the phone to stand by hello will activate and even unlock the phone if it catches your face while in stand by. It's a weird glitch and has impacted battery life immensily. :( Other little glitches so far haven't been obvious but of course I don't go out of my way to test a check list of things. I usually encounter errors as I try to do things.

I'm having pretty similar problems on my L950. I wanna see from comments on this forum if a hard reset fixes it.

I had to revert to production on the 950xl. Even after a reset the OS is far too unstable. Crashed answering a call, crashed opening apps, crashed just sitting.

Daily driver ready then, Daniel? Posted from Windows Central for Windows 10
Using the Alcatel OneTouch Fierce XL for Windows 10

NOPE! nope nope nope nope... wait until december to see this build on production

On my 830 I have not had the same experience, perofrmance has slowed specfically with the camera app and saving takes forever, also, battery draining way too fast. Again, I'm living in a half baked enviroment.

My NL 1520 finally has glance after a long time with this build! Not sure if it was there before, but I have tried many times and it never worked earlier. Only problem - I have to keep it always on. No "peek" option yet.

Check your firware revision number
The latest for 1520 i guess is
02540.00019.15236.45003 (+/- 1) If its something lower, you gotta use WDRT and go back to 8.1 and update it.. Then comeback to 10 ;) Nokia Lumia 1520
~The Power of Windows 10~

How is this build running on your 1520? Hesitant to jump off the Release Preview to grab it.

It's running fine.. Word flow and text prediction got better, emojis got ridiculously ugly looking (may be not my taste).. A serious bug thats giving me problem is lock screen... After locking the phone if i tap the screen multiple times (say 4 times instead of double tap to wakeup the phone) the phone wont turn on instead the screen and navigation buttons start blinking... It wants like 1 min to sit idle before it will start the screen. Same does the power button if pressed multiple times by mistake in a hurry Nokia Lumia 1520
~The Power of Windows 10~

No issues with Glance screen here too, L1520. The only issue i was upset and annoyed abt was the pending apps in app list and in store, Man!! it made me hard reset and download updates of apps twice, spent 3GB data :( then Thanks to the User XBOXFLOAT, i was able to get rid those. guess what, i didnt have this issue that you mentioned abt navigation keys flashing until i delibertaly did what you said, pressed the power button multiple times, and there you go, it started flashing the screen did a soft reset. my L1520 doesnt do that with multiple taps to the screen though LOL

I noticed the flickering too. I had to do a reboot. I haven't had the issue since. As for this build, I'm enjoying it on my 1520, with few bugs, other than the locks screen flicker, initially. I'm just hoping my phone will last until early next year.

Did you try recording a video? the image kind of tears while recording and playback too.

Well, that is annoying. Thanks for that tip. I hope they fix that soon. My daughter graduates soon, with prom next month and I want to be able to take video. But, I'm hopeful that the next build or two will fix and improve those features, by that time.

They all came back in app list as pending after a reboot, no longer in the Store to the do the work around, I am rollingback to 8.1 and will use the 218.

What's the solution? Sent from my cave sitting on a dinosaur

How did you get rid of multiple entries in the app list? Sent from my cave sitting on a dinosaur

How to resolve the app issue go back to store and try to download another app purse the app and start it again it make the other apps hanging to be completed and it will disappear from your app list.

No you don't. Microsoft changed it a while ago so firmware is now installable on the rings too. Also you can just revert to production ring if need be and again you'll receive all firmware updates available. No need for rollback +640 on Windows10Mobile

Well may be but that didnt work for me at least.. I had to revert to 8.1 to get firmware for mine. Nokia Lumia 1520
~The Power of Windows 10~

Yeah it was about a month or two ago :p maybe u had to do it just before they implemented it

I am on production but I see no updates for my firmware. I am currently on build: 10586.218 but my 1520 is still on this firmware: 02540.00019.15053.260002
and when selecting production and checking for updates I don't get any firmwares. Also, what is different about the "Insider release preview" ring? I don't want any unstable redstone builds, so should I try it?

firmware at the moment is available on WDRT only, afaik. and RS is only available at FAST ring

Can you provide me of a way to get my firmware updated? WDRT = Windows Device Recovery Tool? Doesn't this wipe a ones device? Please give me all info about this, Glance haven't been working for me since updating to Windows 10.

Yes WDRT will wipe the device so you better make backup, move photos videos etc to PC or MMC...sync your contacts etc etc.... I had to wipe mine to get the firmware updated but "ShadowWolf" up there says something opposite. Just connect your mobile with WDRT and check for updates.. It will tell you there is an update.. When you compare both OS versions and firmware versions against each other you'll notice the OS version shows downgraded numbers and firmware will show upgraded numbers... The choice to wipe or not to wipe from thereon is in your hands. If you choose Yes, it will download the package and wipe your phone back to to 8.1 and update the firmware. If you want to restore the backup I'll recommend dont do it at this stage.. Dont sign in with your official microsoft account at this point (try a secondary if you have or leave it for later) else what you can do is before starting all this firmware update process rename your device to something not very common like "BHawk1520WM10" and then manually make a backup of your phone.. What it will do is make a backup of your phone on onedrive with the same name as above, you can also check login onedrive.live.com--options--device backups)... This helps when you wipe your phone and re-enter same MS account credentials it wont override the previous original backup automatically with a new one instead keep both...so u got manual choice of restoring the original backup you made before updating. Continuuinge with update process. After getting firmware updated and 8.1 loaded, You can then check for updates and proceed to official win10m build 164 i guess. Then you can rejoin the insiders program and update further till you reach 14322.. Now for a clean experience reset your phone... Start setting up device, login with your official MS account restore the backup you made earlier with the name "BHawk1520wm10" All this takes handsome amount of time say 3-4 hours or even more. So better do when free and now expecting important calls/texts etc Nokia Lumia 1520
~The Power of Windows 10~

It was there before. You just had to turn it on...back on.

950XL. Messaging does not give notification. Many apps fail to launch. Windows hello fails to load very often. Recovery Tool cannot detect the phone.

hard reset....mine is running fine

Very good suggestion. The past few fast ring updates have been too flawless (preview standard) that I forgot how often I reset my 635 in the past.

it worked half a day awesome in my L730 but later I found messenger app completely stopped working, WhatsApp too stopped working later, I am unable to receive phone calls, messages...... battery drained completely to ZERO in half a day.......... rolled back to .218 again... but will sure miss the new features of this build......... - From Windows 10 Nokia Lumia 730

That is the first thing I noticed was on my 640 just how much smoother things felt. The only major problem I am seeing is with the store. I've had to reset my phone as apps were getting stuck in the update process and couldn't be cancelled.

My 950xl is running MUCH better. Holy cow, what an improvement.

On my att 950 it spazed out and kept freezing and closing apps even after hard reset so I had to roll back which surprised me because everything was running good on the previous build.

Actually now that I did a recover then updated to it's running great!

Stability is worse now than the previous redstone build. (950 ATT ).

It's ok for me. Just the built in glance is sketchy

Did here map/drive just disappear ?

It did. They are EoL, after all. Plus new mapping experience is in RS1 builds.

For me the new Maps is not that reliable like Here. Lots of places which were available in Here maps(with offline maps) are not there in Windows Maps. Besides, compass doesn't work, so it's hard to find out where you are heading!

for some reason, i have the Here Drive/Maps , i did a hard reset, even Lumia Cam/Refocus was there, after Hard reset launcing both apps maps/Drive dont work BTW, they crash, uninstalled em.

When you hard reset the phone Lumina camera comes back, to keep it functional you have to stop the store from updating the app..

This version works quite well on my 950XL. Nice features but battery life is not good.

Messenger does not work on my 950 XL with latest build.

Current work around is to open via the messenger button in the Facebook app.

Yeah. But I don't get notifications from Messenger

The same bug won't let mspoweruser open either

There is a workaround. http://mspoweruser.com/psa-apps-may-not-launch-latest-w10m-insider-build...

The other work-around is to install an app like "Transparent Tile Pack" - which was in vogue before the majority of apps supported transparent tiles - and set-up a Messenger tile through that. Works well for me.

Sadly though none of these tile apps have Bookviser :(

You should open any apps from Store. I hit some apps with this issue and I always open Store.

It does work, just won't open through the live tile or apps list (it seems to be a bug that specifically effects the launching of the app). There are some workarounds though. 1) like @Diego Rico said, you can press the messenger icon in the Facebook app; 2) You can open the app through the notifications of the app (this also shows the app is still functioning as it's still receiving messages); 3) (this was a tip given by mspoweruser website) you can download a transparency tiles app, and use the messenger tile from that app (I guess it works as it's not launching it directly, and is using the same method as method 1 as it's an indirect app launch), then you can launch it via tile again. And when this bug is fixed, you can go back to the official app :) the only problem with the third-party app solution is it will only be a static tiles, not a live tile. But hey, at least it is a working fast temp. workaround :) +640 on Windows10Mobile

I still cannot find a workaround to get Bookviser to open - anyone?

Can't wait to see what else they add great job

Double icons are shown on the right swap Anil

"You can adjust the percentage in which Battery Saver turns on (which is at 20% by default)" I've seen several reports of this and it makes me wonder if you people even use Win10M or if I've completely misunderstood what's written, because my 950XL (and wife's 950) have done this from day one...? Posted from Windows Central for Windows 10

I thought the same thing. The auto battery saver and % slider have been available for ages, even on the threshold branch. Odd that this is mentioned as a new feature for this build.

It's not a new feature, but you used to have to click a button to "change battery saver settings" which would take you to a new page. This update just puts it ask out on one page.
TL;DR No new features just a new layout. +640/Win 10

Not really worth mentioning in other words. Posted from Windows Central for Windows 10

Had it on my 920 for ages.

Yep. It was there on Windows Phone 7.5 as well.

Nope! Even trying to hack it onto non-supported devices (except the Icon) will result in an endless bootloop.

Don't do it on icon/930, now i am on windows 8.1 (endless bootloop)

The 930 shouldn't have bootloop issues as it's supported.

I can confirm. My lumia 920 is sadly now on 8.1

Has band connection been improved/fixed?

Damn. Was hoping you would say no so I wouldn't be tempted to go back to fast build.

I hear you. I was avoiding the fast build RS1 builds for this reason. Now I've made the plunge and am pleased with the current stability and performance of the recent build.

Only thing that bothered me was band performance. It's an expensive thing to have not working because of something I've intentionally put on my phone.

Well, it's not working for me, so I'm thinking mileage may vary. It could depend on the phone...I'm using an 830 and experiencing quite a few bugs right now: apps not working; store crashing, screen going black while scrolling, phone randomly shutting down, and still no Band connectivity. Probably gonna need to go back to a previous build.

Daniel how beat up is your MS band? Am I the only one who's metal is all scraped and the rubber has marks on it? Posted via the Windows Central App for Android

I was able to get my Band back by doing a deregister, followed by a factory reset of the Band. Band now syncs to Health, and is receiving notifications from the phone (so far). Since Dan said his was "working fine here", I figured about the last thing left to try was wiping the Band. It worked, apparently. Lumia 640,

Hot hot hot and poor battery life. Might try a fresh install later on my 950xl. BUT I
This is the smartest and fastest release yet with way less bugs.

My temp fix till the next build for the store stuck apps and pending apps in apps list: Go to download and updates page in the store> download a new app> go back to the download and updates page > wait till the new app starts downloading > when the app starts downloading hit PAUSE ALL> wait a little and hit RESUME ALL> u will see that all stuck apps will pretend to download again and complete or hit an error, with an error just hit X> finish everything and notice how all apps will be gone in the store download and updates page as well as the pending tiles in the apps list. Good luck!

Trying this now on lumia 640.. It says 88 to download, even though it when I swipe right, the apps are doubled, 1 downloaded and the other pending of the same app Posted via the Windows Central App for Android

Your a genius!! It worked! Thank you Posted via the Windows Central App for Android

It works.. I have 32 pending apps in queue, now all gone.. Thanks

Thanks it worked like a charm.

Worked like a charm. Thanks!

I really like this build. Waiting on a new battery for my 1520.

Windows Hello is not working correctly on my 950XL. Frustrating!

Im having the same issue!!

Me too... turned it off for now. It kept trying to unlock the phone when the phone was turned off.

same here...phone locks sometimmes

Same thing. When the phone was off and glace was off, hello would be on. Then when I turned the phone on, it'd say Hello couldn't sign you in due to too many failed attempts. Good call on just turning it off.

Same issue on my 950. I am trying a hard reset now.

Probably too late, but a hard reset does not fix Windows Hello problems. The bug is OS level, not introduced by migration. It is best to disable. The malfunction is a massive battery vampire too.

did it work???? the hard reset?

Hello is a bit of a gimmick anyway. Too slow in its current form. I find the passcode process to be quicker

i like it....do not want to disable it

I actually like it as a quick one handed sign in method if I'm carrying a bag or something.

The irony is it works brilliantly on the Surface where it's use is less useful... especially if you open it in portrait mode.

I had to pull the battery because the screen on my 950 decided not to work anymore. Working fine now since I've disabled Hello.

Check to see if your front facing camera is working. I think the windows hello bug is tied to it. Posted from Windows Central for Windows 10

Anyone with L640 having Outlook email download and notification issue on this build?

Not me. It's working just fine

Anyone with a Lumia 928 get the update yet?

928 will never see the RS updates. We're stuck at 10.0.10586.xxx

Windows Hello for L950 is screwed up royally on this build. So much that I had to turn it off. Otherwise, a lot of improvements

I was having problems with Hello as well after the update. Hard reset fixed most of it. However, not sure if this is intentional, but windows hello now works from the glance screen so you no longer have to press the power button to start the scanner.

My issues occured after hard resetting my phone.

Strange - I've done a hard reset but the problems persist.
​What I see is: Press lock button, Windows Hello turns on. If you look at the screen, it will just unlock the phone again.
Lock the phone, look away. Now, press unlock and Windows Hello doesn't work but you can enter your PIN. HOWEVER, you can swipe down to bring notifications/action center, swipe back up and Windows Hello will start to scan again.
Setting up Iris Scan or improving recgonition works, but the progress bar doesn't show up (since first RS build)
Winows Hello prevents user for entering any options to delay locking the device. Default is "every time"

Waiting for these features to come to Production ring

I need automatic selection of theme colour, like in the PCs Lumia 730 DS, Windows 10 Mobile.

Windows Hello iris scanner not working properly on L950, some apps try to open but fail, but then open ok on second attempt... This includes the "Outlook Mail" app amongst others. An ok build but last build had less issues for me.

Agreed. With all the improvements and fixes it feels like 2 steps fowards and 1 step back with Hello broken now and Band connectivity still broken.

When are they going to bring back turning on wifi at favorite locations (wifi geolocation)? WM10 only has settings for manual and hours. That is one of the only features I miss from WP8.1 (besides Family Room)... Other thing I wish they would add is a way to see what apps were recently updated.

Does anybody know why the lumia635 1gb ram .is getting the update at a later date? No-one seems to know why this is the only phone on the insider program eligible list that's getting the update at a later date .why?

Might be your phone alone because of unknown issues...? Have any other lumia 635 with 1gb users comr forward and supported what you're saying...? If not, this is probably a one off issue...hard reset...or u could try tweeting to the windows insiders handle...?

The battery life on the Lumia 950 is just beyond disgusting. It was 100% and within 18 mins with no use I was down to 69%. Wow this is bad.

Yeah that is definitely not good. I am not having anywhere near that terrible performance on the 950XL... Did you try to hard reset to see if that helps?

The Windows Hello bug is a massive battery vampire. If you don't have it off, disable it now and see if that helps. Also, device was very warm for me at least the first hour after updating last night. Today, it's much better and battery life with Windows Hello disabled seems about the same as the previous build.

I think mine is disabled already but 2 hours sgo my battery was 74% and now its 39% so this is totally amazing. Im trying to work out how to get a better battery life on this.

Cortana seems to have lost her voice since the update. Anyone else having this problem?

Cortana is not usable for me. Either crashes or just sits and thinks until I have to multitask and close the application.

Messenger is just black and will not work at all. Any work arounds known for this. ???

Did you try to open it via the messenger button in the Facebook app?

OK this is the workarond. great thanks. What about the terrible battery life on the lumia 950

yea ive down the full reset and battery still terrible.

when sending a mms message there is no confirmation text that its been received.

What about lumia630 dual sim? Is it working properly...

Much better build for lumia 1520 than previus crappy build, release this to slow ring.

looks good, I just changed rings, I like the stability of production ring on the 1520, finally battery is where I like it.

Hey Dan, Are you experiencing any issues to Hello Cortana, over heating, or battery issues after a hard reset?

Hard reset did not fix the my issues.
When I lock my 950 the red light is always on indicating it is looking for iris all the time. If I press the power button to get the phone lock screen where Hello would usually look for my iris, it does not. So I have to type in the pin. But when locked and at the Glance screen it will unlock if it look at the phone. Is that a bug or a new feature?
The phone is still getting hotter then usual.
Battery performance is worse with the latest build for me.
I see two Glance Screen pages. The old one under extras and the new one Settings/Personalization. They both have different settings.....
Aside from that I am loving the new features.

I disabled glance and Windows hello till the next update. Seems to have helped with the overheating. I like the new features too much to want to roll back haha

There's something really wrong with my phone brightness after this update.

Sucks still can't download speech properly. Changing Cortana to US caused problems with other apps using region settings so currently without Cortana for last three builds

Having problems with my iris hello launching when unlock my lumia 950 xl, red light on even when I lock it

It's garbage. Such a choppy and buggy experience it's sad. WP7 & 8 was so smooth... and this is just a nightmare. I updated yesterday on my 640 and had the usual fun wm10 experience: webpages not rendering and/or crashing.... photo app crashes, even the windows central app get stuck trying to load and then crashes and is unable to open it again. Glad I left this cluster%$&!

I think you will have a better result with more CPU. I will confirm it with my 640 later. I am not noticing what you describe on my 950XL.

Anyone else having issues w/ OneDrive app? =s

Battery life has improved, compared to 14295. L1520

Messenger and cortana are dead

Can anyone confirm if phone numbers are now links in mail and calendar app?

They are on 10586. Not sure about RS. Have been like this for a while. If the number is tied to a contact it opens the contact where you can just click to call. If the number is not in the phonebook it opens an unknown contact and the behavior is the same. From both mail and calendar it works like that.

Overall performance is better than any time. But can't open Edge and Feedback Hub. Also can't download anything also updates from Market. Posted on Lumia 930 with
Windows 10 Mobile

You can set the phone to vibrate when your call is answered. Very usefullll onee

This has been there since the beginning on my 950.

Seems like a samsung feature. Nice! Hope its included in builds for other phones

14322 is the first Insider build that has caused serious issues on my Lumia 1520. Here are just a few of the problems that I've encountered: I lost all of my previous SMS messages dating back a few years (backup was always on) The camera no longer functioned (even in Skype) Apps would update and then immediaely update again resulting in duplicates that were marked "pending" The screen would randomly flash "gibberish" characters. The phone key button vibration no longer worked I tried reseting the phone but many of the issues returned. I have now downgraded to 8.1 and I'm waiting for the non-insider Windows 10 update to be pushed through. I still have not recovered any of my SMS messages which is a bummer.

get 10586.218.. i have sort of same issues on L1520

I'm currently using a Lumia 1520 with 8.1 Do I have to wait for my carrier to push out the update or can I get it through the Insider program? The Upgrade Adviser app currently says that my "phone is eligible for upgrade to Windows 10. We are working with your mobile operator...to make the upgrade available." If I can use the Insider program to upgrade to Win 10586.218 then what level should I select to get this particular build (slow, fast)? On Lumia 1520 Thanks

its on production and release preview, what carrier brand phone you have and what country? and i am wondering how did you get the 14322 build in the first place.

I am located in the U.S.. and I'm using a Lumia 1520 on AT&T. I was originally enrolled in the Insider Preview program (fast ring) using the Redstone builds. The latest build (14322) made my phone unusable so I used the recovery tool to downgrade to 8.1. I then installed the Upgrade Adviser and it said my phone qualifies for the Win 10 upgrade. I am waiting for the carrier to push the Windows 10 update but I'm growing impatient. So my questions are: Should I wait for the carrier to send out the Windows 10 update? --or-- Should I reinstall the Insider Preview program and will it allow me to download the latest Threshold build (10586.218)

U can choose the production or developer ring in the insider app. This will enable u to get the stable win 10 mobile. It's not redstone so u should have any problems.

Same problem on my Lumia 535. Sad, very sad

hello. glance screen is bugged in my lumia 950 xl and it's killing my battery big time. the bugs im experiencing: -every time i set the standby time (30 seconds) then turn off my phone, glance screen resets to "off" -but even in off setting, it still displays -and it doesn't display 30 seconds, sometimes i count 5 minutes -there's a delay in it coming on after i pull it out of my pocket, sometimes it doesnt even turn on edit: after typing this, i realized there's now 2 glance screen settings in my phone (extras>extras>glance screen, the original location, and personalization>glance screen, the new location) so that must be the root of the problem. the new location was set to 5 minutes automatically but because i didnt know that i was getting pissed about my settings not sticking. i turned off the new glance screen and now everything works perfect. if youre having problems with glance screen, there might be your answer. FWIW the old location glance screen has more customization than the new location glance screen.

Had the same problem...before I realized it ;)

Text msg sync still not working after a hard reset.

Please start cortana in Pakistan. Why you always deprive Pakistan off. No offline maps are for Pakistan, no Cortana no Urdu Language and no event of Microsoft for Pakistan. Although we have more than 20 crore population, 7th World Atomic power, 6th biggest population and world's best Army then why Pakistan is deprived off every time??

I totally understand the frustration ...but unless Pakistan wishes to actually start an offensive on Microsoft, I don't think military power will be a factor when they decide where Cortana will expand to. MS normally prioritise their biggest markets. I can only presume the number of users in your country is less than that of other regions.

I am in Pakistan too, but the points you made have nothing to do with MSFT giving cortana to PK users. number of users here is too small to adress regions like PK, for example, i have over 200 ppl in my workplace and 3 use Windows samrtphone whome i conveniced to buy one :P

There is Urdu in Windows 10 Mobile. You can add a keyboard.

So still no fix for the erratic outlook live tile count?

Putting aside this fact that there some world renowned software engineers working in Microsoft who hail from Pakistan but they never think about Pakistan with regards to Cortana, Offline Maps and Urdu Language. Although the world's only automobiles software company Netsole is located in Pakistan. 80% vehicles of entire world use Netsole's software but nothing for Pakistan

Perhaps a Pakistani company should hire said Pakistanis and start a Pakistanian company.

Can anyone say how they think battery performance is on Lumia 640 on this build? I'm planning on jumping back to Fast Ring from Slow Ring but battery life is important. Ik that battery won't be *as* good as slow ring for obvs reasons, but how long (exact or on average) does the battery last for regular use? (Not including Game play as that obvs uses lot of battery anyway) +640 on Windows10Mobile

I haven't noticed that big of a difference on my 640DS. It may last slightly less, but to me at least it's negligible at best.

There is an issue which I'm experiencing in my lumia 1520, where in my lockscreen the function of search key, windows key and back key are interchanged. I mean nothing happen when i press search button, when i press windows button it take me to cortana, and when i long press back button, it take me to single handed mode.

950XL: The missing lock screen PIN keypad problem seems to be gone. My notification center rendering or font or whatever it's called is bigger than it was. I assume I could adjust it down but I rather like it this way. The camera button on the lockscreen is terrific, it restores the ability to quickly launch the camera from the lock screen. I think I last had that working on my 1520 with Win 8.1. Not so important to some, but the Twitter app continues to crash unpredictably. This happens on my desktops as well as on the mobile. I'm interested in the reported Groove Music improvements. I haven't had a chance to check that out yet - the day job is getting in the way :)

I updated last night. I had the issues with Hello not working right. When it did, it seemed ultra fast. I turned it off this morning. I can live without that for now. I had one app crash on load, but it worked fine after that. So far I am not seeing any other issues, and it seems fast and smooth. Battery drain looks about the same, but that is only for 5 hours. I had not intended to update, but it auto downloaded, so I said, what the heck. I was worried after reading all of the issues, but at least on my 950XL, so far so good.

Unfortunately in my lumia 540 also battery draining fast. I think edge squeeze battery more..

Hayy Mark glad to see you again

Guys the mediocre messenger application doesn't working on my phone. Lumia 640 XL

We will send w10m for every windows device cause we aren't android who send new versions to new devices only ... But we will send some builds for new devices of course

When your phone is locked, the back button on the navigation bar is now replaced with a camera button I don't think this is for all phone, atleast not for my Lumia 1520

Well no, your phone uses capacitive (physical) buttons which cannot be changed and so it has no need of a onscreen nav bar. This is for phones without physical keys.

The music controls on the lock screen are brilliant but they only appear if music is playing when the phone is locked. Unlike in the volume control screen where they are there at all times.

So much love the improvement, the most important is the performance and suability need much work

Window hello not working properly. Turns on when phone enters stand by and it will not turn on when phone is active.

My Tweetium app won't load now. Just gets to the form to load.... runs a bit and then crashes back to the start screen. And yes I have uninstalled it and reinstalled it. Same thing. I would prefer not to hard reset just for one app. Everything else seems to be running fine and even snappier than before.

Biggest gripe I'm seeing is the Store app thinking there are updates for all installed apps after installing them, then when installing new apps the apps appear with the duplicate pending app. Little things like these really should not still be getting out. Posted via the Windows Central App for Android

It's hands down the worst build released yet. Basic things broken, such as installation of apps. A poorly tested mess that shows no respect for insiders. We are supposed to give feedback, not test the abc's of the OS. This is getting out of hand... If it should be this way, then shut down the Insider program. You need to provide a sufficient level of quality... The pre-release phrase is not an argument to abandon basic software development practices. If you can't do better, better stop now. Pissed off.

Theres no update for the Icon ???

My phone heats up drastically after this update. 1520

Rolling back. Windows Hello is not working even after a hard reset. I use Sleep from Blake Haas which now doesn't even want to start anymore. Alternative apps do not offer the same experience. Instagram (BETA) seemed to close better, but the fact Sleep doesn't work is a deal breaker for me. Should not happen, when it works perfectly fine in a previous build. Also, the amount of untranslated text in menus seems to increase with build after build. Settings is now completely English, while my phone is set to the Netherlands and Dutch language. Same happens in Windows 10 PC too, translated text gives way to English in menus and such.

The small stuff like the camera icon goes missing unless you read the articles I didn't even recognise any of these changes other than the grouping of notifications in the action center

Any one else having issues with their lumia 950 going blank screen and then stuck in vibration? (only way to stop is soft reset or pull battery out) Seems to happen when a call comes in or a text, but it's random at times. Anyone have a solution yet besides a hard reset and waiting for next build.lol

Like some hate some... Camera button is waste/ redundant, there is special camera button so why have it. Boot time is reduced. Like the Icons added in second, third level menu in settings

Nice Mark. Your hololens unboxing is due. Posted via the Windows Central App for Android

They should bring back double tap to wake the phone.. Its a pain press the side button..

In Lumia 535 mobile doesn't proper working camera and outlook mail to might be fix it...early

It works fine after you disable Windows Hello.

Lock screen is still a mess

Why isn't messenger working with this new build? Anyone here also experiencing the same problem?

That's wrote in release news, scroll to "Know iussues"

This build stop my Facebook messenger to work..and action centre is not so good enough as previous build..and no FM Radio..pls improve it.....R*

Should I hard reset my phone? Will it fix the store issue?

mark bro your filipino accent is coming out. tangina

Resting battery drain on this build is 12%/hr, compared to 6%/he on the last build. So unless you can forgo a phone you can get a days use from without charging you might want to give this build a pass.

Another odd thing, Word flow is disabled when entering email addresses in outlook. A small thing but I hate pecking away like I'm using an iPhone.

I really like the new ideas but only wish the implantation was further alone. This build is nearly as baggy and battery hungry as the builds in Aug-Sept of 2015. I've already charged my phone 5 times in one day and restarting 5 with two being hard resets. A lot of apps fail and using the camera is almost a guarantee of a lockup it reboot.

I'm really liking this build. It has many improvements. Lumia 1520 here and so far I haven't needed to do a hard reset.

Apps like Messenger and Bookviser crash. Any fix?

Hi guys. I have a different problem. I was trying the new add remove feature of the action center. However I removed all the settings once and now I cant get back any of them. The moment I turn any setting on the other one gets off and vice versa.. What the hell..

Woah! Just noticed, but all my Here apps got deleted with this update. I thought we were going to be able to keep them if we already had them.

For the first time tunein radio works on my phone.
Camera crashes every time.

Camera button on lock screen will be great

HELP!!!!
Glance screen setting and display setting(adjustment to brightness now I can't set my screen to vivid) missing from extras.How would I get that. Please some do reply.is there an option to download it from store glance screen or display setting.
Device Lumia 640XL thanks in advance
Sent from windows 10 mobile LUmia 640 XL

how do i get this on 1020?

Will they Ever get cortana to work with band 2 :¬(

is the build available for the slow-ring members??

Completely a mess on a 650 with updated firmware

The battery percentage adjustment was there in W10M TH2.

Anyone having issues with edge crashing and unable to download apps in the store? Posted from Windows Central for Windows 10

I am not able to recieve Text messages, is anyone experiencing the same issue? They seem to only come through when someone calls me.

Messenger crippled by update on 640. Runs from FB, but app chokes on load attempt. Reinstall runs at first, but poops after pinning. Will try reinstall w/o pinning.

When it is releasing for Slow ring...???

I just want Bookviser to work. Any suggestions please? Thanks. Ian

Wow!!!!!! Did MS publish the first preview last year accidently!!!!

Pros: Edge is quite faster
Cons: Shifting from wifi to data freezes the phone and force you to do a soft reset or remove the battery.
No FM radio...so, already back to .218

Also, a lot of apps don't work, messenger, expense tracker, etc...this is not for a daily use for sure

.218 is not good either....

I did reset...didn't help.... Got even worse.... Posted via the Windows Central App for Android

My phone still has that "device charging slowly" issue. My cables are bad though. "I'm gonna have to buy all new cables!"

How can i make the apps that doesn't load to load on this build

Love the new build everything works great on my 1520.

4 random reboots in 2 days, and outlook mail has quit updating it's live tile. Wonderful build MS

I cant connect my phone to my pc. cant test my apps.

Most imp uc also not working

Waiting eagerly for the next build

me too. I'm just glad its better than 14291

My 950 xl has been updating since yesterday. Battery can't even charge anymore and it runs so fast. Do I need to hard reset?

It says downloading but it's still @ 0%. I have taken the battery out and even done a soft reset...please help..

The phone is always hot...not even warm

Very issues, very bugs, messenger don't work properly and please be faster with next version... Just to say I have Lumia 535

Guys, Anyone know why My Lumia 1020 didn't get Fast Insider updates anymore, I did reset (Hard and Soft) multiple times but It didn't works. The last version on my phone is: 10586.218

My Lumia 930 video recording became mute with this build and FM radio is gone

I don't understand. What's the whole point of this comment section if no one from windows central has a frigging minute to reply to all that so many helpless unaware n needy windows central fans are posting.. Common Daniel recruit someone here too.. It's real sad.

I love this update. Everything seems to be working fine again.

Messenger & Skype for Business no longer works on this current build. ☹ Windows Central for Windows 10 (Lumia 1520)

The new can't wake the phone up feature is my favorite in this update. Makes me want break my 950xl in half. It's a good thing battery life has gotten even worse, now it only lasts under 4 hours.

What do you mean? Can't wake up?

Nokia Lumia 830, cannot find Flashlight in Settings any longer. Plus many issues already mentioned by others.

Try the actual messenger emblem on Facebook! I have the app and it does not work but I believe it is integrated within the Facebook app

Glance screen on lumia 550 is broken.

The two glance apps might be conflicting...

I have the build 14322, there are many bad changes, but also are good changes, among them Word, Excel, PowerPoint, OneNote - more convinient work.

Glad the video flicker is gone on my 640XL after this update. Posted via the Windows Central App for Android

640 XL here and this build is definitely not quite as annoyignly glitchy as the last build (apps are not just crashing during load); only major issue is the fact that holding down the search button launches Cortana search but it does not register any voice input, mic is shown as activated but has to be touched and will then crash. there are some other minor issues (notifications not playing sound even though volume is on and set high, and phone isn't in Quiet Hours mode),

hello, could any one help me please! my cellular data is not working! please get fixed! ... im using Nokia Lumia 830 updated 14322

One thing I've noticed is that when I open the volume overlay with the phone still locked there's no back button to close it; I have to wait for it to dismiss itself, or turn the screen off then on again. When the overlay is opened the camera button should default to the back button.

The messenger app doesnt work...can anyone help?? Posted from Windows Central for Windows 10 mobile on lumia 930.

I heard uninstalling and reinstalling doesn't help, but you can launch it via Facebook app

Maybe it's just me, but did anyone notice that you can't turn on Hey Cortana? I've been looking everywhere , after I did not see the option in the Cortana settings.

after updating on lumia 930 there is no mobile data at all what can i do

HEY! Cortana/Hey Cortana seems to be fixxed!
That app has been force closing on me for weeks since the last update or two.
It has been taking two or three tries to get it to actually do what I tell it rather than force closing. I just tried it several times just now and it responded and did exactly what it was supposed to without delay! AWESOME!

This update sucks,
Camera,opera,uc don't open.
Update for many apps available but showing error.

Loads of issues on my 950 XL..appart from all usual "fails" ( windows hello not working properly, FM radio is gone, Here drive does not work, ... etc) Camscanner app...which I use a lot does not launch. :( But all the new features are great...carry on MS ..fix the problems and keep thouse lovely new features coming

Camera button on lock screen doesn't work with a device with capacitive buttons. Back button turns I to home button, home turns into Cortana and search button does nothing. Posted from Windows Central for Windows 10
Using the Alcatel OneTouch Fierce XL for Windows 10 (Redstone)

Most of the Lumia phone that have the hardware buttons often have the camera hardware button.

I don't have the hardware camera button. I'm sure there will be a fix to toggle this on and off coming soon

Hmmm. It works fine for me. What phone do you have

Alcatel OneTouch Fierce XL.

Oh lol yea... Not too worried because I have the camera in my quick actions. Guessing a fix for it will come later.

I am using a 640XL and amongst a few app glitches the Films and TV App in 14295 was able to "cast to" a device ie; LCD TV in the house in 14322 this feature is no longer available!
Windows Central Newsletter
Thank you for signing up to Windows Central. You will receive a verification email shortly.
There was a problem. Please refresh the page and try again.