Action Center and Cortana improvements part of Windows 10 Mobile preview build 14322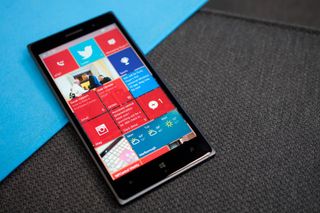 Microsoft has just released Windows 10 Mobile preview build 14322 to members of the Insider testing program on the Fast ring. This build contains more than the usual additions and improvement for the OS.
Windows Insider head Gabriel Aul posted what's new and improved in a blog post:
Visual changes to Action Center: Individual app notifications in Action Center no longer show the app icon repeated for each notification and will only be seen in the header that groups together all the notifications specific for that app. This change allows for more space in Action Center to show more content.
Visual changes to Notifications: We're making Action Center richer with support for notifications with more flexible layouts similar to the richness of Live Tiles. Notifications with images will now display larger than they did previously. Notifications can have "hero image" for content that is an even bigger image size to make content in notifications pop even more.
Cortana notifications in Action Center: We have also added new insights from Cortana to ensure you are not missing anything important, such as a meeting conflict or anything she needs to remind you about.
Notification prioritization in Action Center: You can manage the notification settings for individual apps by going to Settings > System > Notifications & actions and prioritize which app notifications are more important to you. You can prioritize its notifications to be in one of 3 levels: Normal, High, or Top. You can also adjust how many notifications are visible per app. The default is now 3 per app. If an app has more than 3 notifications, just click or tap to expand and see all notifications for that app. This feature is also available on PC starting with Build 14316.
Customize your Quick Actions in Action Center: You can add, remove and re-arrange the Quick Actions that show up in Action Center. To customize your Quick Actions, just go to the Settings > System > Notifications & actions. In this settings page, you will see a replica of your Quick Actions as it appears in Action Center, and with a simple press and hold you can move the Quick Actions to the place where you want them to be. Then to add or remove a Quick Action, there is a link below the grid that will allow you to turn on or off the available Quick Actions.
More ways to create Cortana Reminders: We are making it easier and quicker to set a reminder in Cortana with 2 new exciting ways to create reminders. You can now create a Photo Reminder by taking a picture of something you want to be reminded about, like that beer you just tried and want to pick up next time you're at the store. You can also now set reminders on content from UWP apps that utilize the share contract in Windows, like Microsoft Edge and the News app, so you don't forget to read that article your friend sent you. You can share an article from the News app to Cortana and have her remind you to read it at a later time. This even works with photos from your collection in the Photos app! Give it a try.
Icons for individual settings pages: All pages in the Settings app now have individual icons associated with them. These individual icons will also be shown when you pin a settings page to Start. And we have also added a dropdown flyout with page suggestions that will appear as you type into the Settings search box. These changes are designed to make it easier to find the settings you are looking for.
Navigation bar settings page and vibration setting: We created a page for the navigation bar at Settings > Personalization > Navigation bar. You can now use this page to configure preferences for vibration and double tap the navigation bar to turn off the screen.
Glance screen settings have moved: As part of our work to make settings more discoverable and user friendly, we've simplified the Glance settings options and moved the page out of the Extras section in the Settings app. These settings can now be found via Settings > Personalization > Glance screen. With this change, Glance settings no longer need to be downloaded or updated from the Store.
Updated Battery Settings and Battery Saving Experience: Just like what was seen in last week's PC build, there is now a single entry point for all battery related settings in the Settings app – including Battery Saver. This also includes the updated the Detailed Battery Use page so you can now manage the per-app background settings inline without going to a second page. You can also adjust the percentage in which Battery Saver turns on (which is at 20% by default) – something we had with Windows Phone 8.1 that Insiders wanted to see us re-implement as we merged Battery Sense into the Settings app for both PC and mobile.
Updated Windows Update Settings: You can now also set the time in which you are most active on your phone just like on your PC by adjusting active hours under Settings > Update & security > Windows Update. Windows Update will avoid automatically installing updates during your active hours on your device.
Updated emoji: This build brings our new emoji to your phone. As part of this work, the emoji section of the keyboard has been slightly reorganized to better align with the newly available emoji. It's now arranged as follows: Favorites, Smileys and Animals, People, Celebrations and Objects, Food and Plants, Transportation and Places, Symbols, and ASCII emoticons.
Microsoft Edge improvements for better copy/paste: We've made a couple of improvements to copy and paste on the phone. When you are typing into an edit box on a web page, you will now be able to use the paste button above the keyboard. Also, if you select text on a web page the copy button will appear immediately near the selection.
Microsoft Edge improvements for better tab behavior: Microsoft Edge keeps your tabs under control when you use it with apps on your phone. If you tap on a link in an app that opens a new tab in Microsoft Edge, pressing the back button when you're done will close that tab, then take you back to the app. Your tabs list stays lean and relevant, by smartly closing tabs you're done with. USB Ethernet Support with Continuum (Mobile)
Continuum-capable phones now include support for most USB Ethernet adapters. If you connect a USB Ethernet adapter your Lumia 950 or Lumia 950 XL via the Microsoft Display Dock for example – you will have network connectivity through an attached Ethernet cable. A few notes on this feature:

You may see an error message the first time you connect. There is nothing wrong with your adapter, and the message will be eliminated in a future update.
Not all adapters are supported yet – more will be added in a future update.
In this update, you will not see a visual indicator that you are connected, so if you want to double-check that it's working you can turn off Wi-Fi and cellular data.
Windows 10 Mobile supports proxy configuration for Wi-Fi and VPN connections. Proxy support for LAN connections will be available in a future update.

Camera button on the Lock screen: When your phone is locked, the back button on the navigation bar is now replaced with a camera button. Press and hold this button to launch the Camera app from the Lock screen.
Media controls show on top of the Lock screen: We've heard a lot of feedback on this so we're really excited to get this out to Insiders. While you are listening to music, you will now be able to control the music you are listening to right from the Lock screen! If you turn on your phone's screen, the media controls will now be shown embedded right on top of the Lock screen.
Commenting in the Feedback Hub: Just like on PC, you also have the ability to comment on feedback inside the Feedback Hub on your phone in addition to the responses from our engineering team you have seen in the app already (we call these "sticky comments"). So in addition to up-voting on feedback, you can now comment on feedback too.
Messaging Everywhere Preview Coming Soon: We will soon be enabling a preview of the "Messaging everywhere" feature in Windows 10 that allows you to send and receive text messages from your phone directly from your Windows 10 PC's. You will see options for this feature in the Messaging app on PC but not on Mobile. A newer Mobile build is required for this experience to fully light up. More to come on this when the experience is live.
Windows Central Newsletter
Get the best of Windows Central in in your inbox, every day!
LOL. When will this update train cancer end?!?!

When will the cancer of whiners end?!?! Isn't it great how people such as yourself will whine and complain if you go two or three months without an update, claiming that Microsoft is far behind the competition. Then when they release updates, fixes, new features, etc. you compalin that it is a "cancer." If you think it is bad, then please, point your browser to imore.com or androidcentral.com where you can have your circle-jerk with all your usless little friends.

As soon as you leave the Insider program. :)

What? :O Sent from my Windows 10 PC.

My "As soon as you leave the Insider Program" comment was meant for suppien. :)

@suppien if you had half a brain you would understand what is the insider program PS: never seen a comment down voted so much so fast :))

LOL. When will these cancer trolls end.

my phone topped working completely, unable to do any action, it worked fine for half a day and later I am unable to do any actions..... I think L730 is not meant for Redstone updates, also learned a lesson not to install Fast or Slow rings in primary phones..... although I loved 14322 - Using Windows 10 on Nokia Lumia 730

Nokia lumia 730 glance screen missing this feature add this feature

730 does not have the hardware to support it so glance is not gonna happen for your phone...

Much updates. This anniversary update is gonna be sooo good for mobile :D +640/Win 10

It downloaded really fast too, it's already installing on mine +640/Win 10

How's it on Lumia 640? I've tried the previous build on my Lumia 535 but obvs the hardware is better on 640 but it's also my primary device. Thanks! +640 on Windows10Mobile

Also downloading on my Lumia 640

My download is stuck on 4%

I can live with the bugs on my 640 but unless you like living on the wild side then don't put the prerelease software on main device. There haven't been any stability improvements and battery dropped with Redstone. Production is where you will probably get most from your main device. I cant comment for this build though, it is to new. +640/Win 10

Oh ok about the risks of insider builds :) I've been using fast ring most of the time (obvs except for when it was locked to certain phones). Just still deciding if I should do keep it on my Lumia 535 or if I should update it onto my 640 :p I think I might see how it goes on 535 and make my judgement then +640 on Windows10Mobile

Ik* +640 on Windows10Mobile

That's probably safest +640/Win 10

When you used it for some time on your 535, could you write me how it works? I'm on .218 with mine, but there are so many great things going on on the fast ring, that it's getting harder for me to resist with every build :D But that 535 is my main, and only phone :D
Thanks in advance ;) Posted with the Windows Central app for Windows 10 on HP 250 G1 notebook. It is a scary old monster, I think :D

using fast ring on my 535, very few problems. Only major one is Band Cortana doesn't work, but I think that's the case with all w10m

Cortana isn't even available in my country, and I don't have a Band, sooo... :D I don't know :D I'm still a little bit afraid :D Posted with the Windows Central app for Windows 10 on HP 250 G1 notebook. It is a scary old monster, I think :D

Cortana not available officially in Sweden either, I just have it set to US english. Just updated to 14322, still no Cortana for band, though reportedly fixed in the production release.

I think that's the band firmware issue

Please comment on how the battery performance is in 640 running the latest build. 14295 was horribly draining all charges!

Hard to say, I did a hard reset, I'll try and say tomorrow if you would like. But I don't think it is any worse. +640/Win 10

Ok just let me know via twitter @anik_tweets Posted from Windows Central for Windows 10

I've noticed on my 535 that battery performance is slightly worse, but battery performance on 640 is what's holding me back right now. So I'll see what you think about it for now :) I'm not gunna risk jumping in blindly (I have before and honestly never regretted doing so but I need as much battery life as possible rn Haha) +640 on Windows10Mobile

I'd have to say that battery life isn't up to par. If you're looking for the most out of your battery then this isn't the build for you. +640/Win 10

for my 950XL is awful, one hour drain 40% of it... on a 3,000 battery... can you imagine? and i dont even use the phone in that time.

My XL was the same. I let it set on the charging pad over night and it has settled down. Battery drain about normal today.

Cortana can't make any reminders. It just closes after typing or mic input.

Hey man, does it perform well on your 640 cause the last two previous builds were craps on my 640!?

Seems to be doing pretty well, but some apps don't open (messenger), and I have the issue mentioned with the duplicate apps on apps list and the store showing old previously installed apps. +640/Win 10

Theres a workaround for messenger not opening.

http://mspoweruser.com/psa-apps-may-not-launch-latest-w10m-insider-build...

That is fantastic. Seriously.

Great to see the Cortana improvements; I would be happy if it just didn't crash after executing a search. It's about 50/50 on the 950 regardless of build.

Agreed and it has been annoying me also, and im on a production build posted from earth

Was wondering on any 950 users the got this and how it was running. Haven't got it yet till I saw any posts considering otherwise.

Amen. My 950 @ abt 50/50 as well. So irritating that I copy every search to clipboard so that when Cortana fails I can open edge and paste the search rather than retyping.

Mine's happening the same on my 1520, thought it was me only, now I see it isn't. Good to know...

It is, but I've been getting those hero images in my Engadget notifications ever since I installed it a few weeks ago.

This should hit retail, soon please. Urvansh Mehta

Those are a lot of features!

Such as??? Action centre en some pictograms for settings? Is this what they've been hyping??

Those are nice adds and features, maybe not enough to change the world, but are a nice amount of added things from the last build.

Such as? Read the damn article lol

C'on, I read the whole thing, this update is nice

I think he was replying to rashberry Posted via the Windows Central App for Android

Ah well, kind of hard to tell in the new app, I just get the notifications lol

Whoops the notifications are all wacked out on my phone sorry +640/Win 10

I did ..and the only cool thing besides new icons and action centre is messaging everywhere ...which is coming soon ...so what is everybody so excited about??

This isn't a "this is all you're getting on the anniversary update", it takes time. They're adding new features all the time and gradually so they can monitor the bugs (not to mention the amount of time it'll take to code all the new features they have or are planning on implementing) stop being impatient and ungrateful +640 on Windows10Mobile

This build is AMAZING! Downloading now - Sent From Mars

How can you say this build is amazing when you havent even tried it yet?

I'm using it now. And it is so much better than the previous build. Especially since the screen flickering on full screen video has been fixed - Sent From Mars

He was obvs saying the new features introduced in the build make it amazing. Considering previous build a have been mostly small changes or bug fixes, it does make it stand out more. I can't see why so many people downvoted him for his comment +640 on Windows10Mobile

How about a video preview! Urvansh Mehta

Yea we need a video tour on dis version

How about a new #AskDan video... Posted via the Windows Central App for Android

Best update I've seen in a long time :o

Best update I saw ever was when the store updated itself for the first time lol. It was such a cool surprise. +640/Win 10

Seriously? What's so great about it?

https://blogs.windows.com/windowsexperience/2016/04/14/announcing-window... Fixing the flickering in the music controls alone is reason enough for excitement. :P

That's fixed in .218 itself. It was annoying af. Glad that was fixed in production ring as well..

Im trying to figure that out tooo ...everybody is like wow but I don't see any changes..except for some icons in menu , action centre and some broken apps such worked fine before

new beautiful emojis are enough for me LOL also: We fixed an issue where music would sometimes stop playing a few minutes after the device had been locked or the screen had been turned off.

I get it...after 5 years of nothing people get excited about new smiley ...MS is ******** on us and we're being excited about.

Oh shut up. Go jump to your android or IOS and stop whining and causing arguments on an article of insider builds. It's obvs you hate MS and everything they stand for and create do why are you even here? Unless you just love to see yourself rant [self-absorbed] +640 on Windows10Mobile

We're gonna have to jump ships...even if we dont want to ..i was once like you ..thinking it gets better ...and yes i could have easily bought and android or iphone ..but i thought let me support the underdog one more time with €700 ..and what do i get back ..smileys and the only reason im whinning about microsoft is becuz i dont like the rest ...i mean its not becuz of the mobile os ,not the hardware ...its becuz they strarted something cool but failed to finish it ..theyve being trying for the past 5 years ..but nope not a propper os

You ask some really dumb questions around here.

Nice changelog, but what was wrong with the drop down for music controls?

The drop down wasn't persistent and moved really fast, this is a better solution for lock screen. Especially if they incorporate album/artist on on lock screen it would be sooo good. +640/Win 10

I will be more than happy if they add music controls to pulldown notification area.

RS1 is introducing notification/action center customization, just turn it off. that easy.

It's still there in the volume bar, I guess, after the lockscreen is swiped up. PS:- Yes, it's still present in the volume bar. While it's not flickering much, it's not smooth and lags and stutters while swiftly skipping songs.

The dropdown is still there, they just added extra controls on the lockscreen as well

That's not what I asked though. I asked what was wrong with it not if it's still there.

Well, for one thing, it disappears way too soon

Someone's already said that but ok. I never found it to disappear too quick but that's just me.

Edge tabs opened from other apps now close again with the back button (ala WP7-8.1)- finally!

just yesterday i was like "how the **** did i get 30 tabs!!!!?"

All welcome improvements, looking forward to this going out generally. Question regarding the Ethernet feature: I cannot connect to the WiFi at my school as the code is annoyingly kept secret and the settings hidden on the computers.
But, say I plugged the Ethernet cable straight into my phone with this update, would it theoretically get around this issue and allow me instant access to their network, or would I still be locked out and need a code/tweak a setting to do this? With that network issue solved, Continuum on my 950XL can finally come into it's own...

You would still be locked out as the network is likely to be locked down from the server side.

You need to manually check for network connection. Here what the log says: "In this update, you will not see a visual indicator that you are connected, so if you want to double-check that it's working you can turn off Wi-Fi and cellular data."

If your network people have brains in their heads they have port security turned on so that the port will only allow communication from the original machine that was plugged in. Letting people onto a wired network is a big security risk. So if they're smart your plan won't work, but it might if they don't have good security.

Why has the Lumia 635 been left out of the update yet again u till a later date why?

Likelybecause there is a show stopping bug with that specific model that isnt an icnredibly high priority to fix right now.

Cause that's the next phone they will abandon... Get a x50 as soon as possible.

So much great improvements really pumped for USB2Eth for continuum. One question mark is Glance no longer updatable via the store, does that mean its baked into the os again?

it was never actually baked into the OS, its always been an app.

I won't continuum with my MS dock, until it pumps out at least a 2k image. Its too jaggy right now. Offends my eyes.

Works just fine for me right now for 1st gen tech. Ill continue ti explore what it offers and look forward to its improvements.

It's 1:11 AM here and my good day has already begun with this awesome build!! :D Btw, while the icons in Settings app is a much needed addition, they shouldn't have moved the "section" name from the top bar to below the search bar. Apart from it I am very excited about this build. PS:- Edge has got the "Go forward" feature finally. It's in the See more (ellipsis •••) menu.

Hahaha cool man, when you install tell me is it good :D

Ok, I have installed it and played around a little. The build seems to be working great due to those fixes and with the addition of the mentioned new features. But a few apps including Feedback Hub and Movies & TV are crashing now. Overall, it's good.

It is a good day. I also found $25 in my pants pocket this morning, so I was able to get lunch for today and dinner tonight. Great day indeed!

I'm happy you found the money. I found $5 in my pocket once and I was SOOOOOOOOOOOOOOOOO happy! It was when I needed money the most. Enjoy whatever food you buy and have a great rest of the day!

And what of the new build...?

It's unstable on my Lumia 950XL. The last build introduced some crashes and restarts and the phone refusing to unlock, needing a soft reset. Those issues have carried over to this build on my 950XL. I haven't tested it on my 950 or other devices. The UI is extremely polished and the OS looks better than ever with everything looking great, fast and it feels like Windows 10 Mobile is nearing being ready for new Windows users. Typing is much better and I'm nearly sure a hard reset will fix the issues my 950XL is having. Overall, this is the best build yet, full of refinements and shows a glimpse of what is to come with the Anniversary Update. I recommend this build and can't wait to see what's next!

Music controls on the lock screen? Really? Wow, that's awesome... Can't wait for this build to go to production...

We are actually far away from this being a production build. It would take 4-5 months at least.

It's probably coming in July as part of the Anniversart update.

this time next year, gotcha!

download right now cant wait

Yeah how about a 'hands on' on this one!! We'd love that.... Using Windows Central Universal App on Lumia 730

OK but please also fix the crashing Cortana problem

Nothing on this problem.... posted from earth

OMG! So many new features!
Update or not: That is the question

Sounds great! Installing :-)

I was expecting a transparent action centre but nonetheless this is a great changelong. I love seeing support, I've been in the platform since the glory days of the lumia 900 and I'm struggling to keep the fight for MS if they don't fight to make it better for us. But this give us hope.

Surprisingly no words about "bux fixes" and "better performance"! Posted via the Windows Central App

Windows Central always seperates the 'bug fixes" changelog into its own post. http://www.windowscentral.com/whats-been-fixed-and-whats-still-broken-wi...

"Media controls show on top of the Lock screen​" Shut up and take my money!

Yeah--maybe it's implied, but I have far more problems with general performance and fluidity of the OS (even in production builds) than I do with lack of features or bugs. Don't get me wrong, all of this is greatly appreciated, but I truly hope we get an enormous boost in performance at some point in the near future.

Did you do an hard reset after the upgrade. It makes a huge difference and this is the recommended way from Windows Central and Microsoft . I'm on the fast ring and usually do a reset each 2 or 3 builds

Yeah I always do. It's just a far cry from what we used to have performance wise. Typing feels slow... even hitting the capacitive buttons on the 950 feel like they dont register haptic feedback until your finger is on the way back up. Edge browser "paints" web pages still when scrolling quickly. Pressing and holding images to save them takes multiple attempts. There are a LOT of things to love about W10 Mobile, but I really hope a huge amount of attention is shown to these little things that truly make an operating system great at some point. To be fair, this newest update does feel much better. But still a long way to go.

Exactly my point! Once the snappiest of OSes, WM 10 is way too slow in everyday operations. Posted via the Windows Central App for Android

I thought that by "Cortana improvements" they meant the actual useless Cortana app which looks\feels like an alpha compared to the 8.1 beta

Yeeeees Windows Central for Windows 10-Nokia Lumia 830

A whole lotta shakin' going on! Improvements for Action Center, Settings and Edge, yay!

I'm on latest production version and I cannot get language packs to download so I guess I might as well download this one since it won't work either way.

Wow. Loads of new cool things

Where are now those trolls who say that Microsoft has abandoned Windows Mobile?

just seen one (suppien) up there trolling that why MSFT is so quick with fixing and adding features to a (So called) dead OS.. im like LOL

Mr suppien is on the wrong forum.

What happened to aero glass blurred effect Microsoft, why is this so hard to implement Windows 10 mobile -L535

frigs sake... i just went back to production cause the last fast ring was not stable

Um, it still isn't stable. Apps on my SD Card show up, but do not work. Start screen has only one option. My pictures or sample image. WTF? There is so much more that doesn't work. I am amazed how bad these preview builds are. I'm done. Restoring my phone now.

my phone topped working completely, unable to do any action, it worked fine for half a day and later I am unable to do any actions..... I think L730 is not meant for Redstone updates, also learned a lesson not to install Fast or Slow rings in primary phones..... although I loved 14322 - Using Windows 10 on Nokia Lumia 730 - Using Windows 10 on Nokia Lumia 730(10586.164)

10586.164? You know that 10586.218 was released on Tuesday?

i was gona do the same, but then i was like lets wait this week and here it is.

Only been using this build for the past hour or so but it appears much more stable so far and there are some nice added features

Messenger not opening for me after upgrade I tried to reinstall and nothing L930

Open it from the Facebook (beta) app in the top right. Works for me. Sucks, but it's a work around. Also works when opening from a notification.

Good to know that at least when notification comes I can launch it... hope they fix this soon or release the new UWP version already

http://mspoweruser.com/psa-apps-may-not-launch-latest-w10m-insider-build...

WhatsApp too stopped working, unable to receive calls too - Using Windows 10 on Nokia Lumia 730

Whatsapp opening and functioning on Lumia 920XL after update

Lumia 920XL? Must be updated version of Lumia 920.

I removed SIM2 and now everything works "normally"

Is 14322 support lumia 535..?

YES!! if you're on fast ring, and you have 14295. and if you have the 10586.164 or .218, change to fast ring you wil get it, but you better understand that its a preview build and 535 isnt a champ with low end specs.

And cortana for latin American Spanish speakers will be released after play station 6 debut Send from Blu W510U with Windows 10 mobile

is the older lumias gonna get the redstone update or what ??

Depends what you mean by older. If you mean any x2x or x3x device that did not get the official Windows 10 upgrade and is also not currently receiving Redstone builds (I presume you are) then no, they won't. They've been removed from the program as their hardware cannot support Windows 10 successfully enough. As these devices (consumer-wise) will never get Windows 10, they don't need to test them any more. Plus, they wouldn't be able to handle future builds if they struggle with the current general release.

I'm currently using Lumia 630 on build 10586.218 but I really want that media controls in the lock screen feature

I don't buy the idea that they don't run it well enough, but they are old devices which only make sense to move on from.

Sounds awesome. Any word on size of the download?

Great, all this new features arrived, and here I am, stuck on my Lumia 630 with build 10586.164 . F*** my life. Posted from Windows Central for Windows 10 Mobile

im wondering why you didnt update to the .218 when you can. be Thankfull

How. I tried with the fast, slow and preview release and all show no updates available.

i got it on my 1020, try uninstalling leaving the program and then join the production ring, just a try, i cant really tell what may be the reaosn.

It worked. Well, at least I got something. Posted from Windows Central for Windows 10 Mobile

Will this update come to Releade ring too? :( for unsupported phones

my L 1520 is feeling ALIVE!!! with all these new features, the hardware deserved it, thankyou MSFT.

Can't download the build on my 720 in fast ring. It says its up to date.

its only for the devices officially updated to the W10, 720 can get 10586.218 but not from the redstone branch

at your own risk
https://www.reddit.com/r/windowsphone/comments/4bmmiy/tutorial_for_insta...

@ Supplen, Why are you here..?

Amazing new features. Music control on Lockscreen I was suggesting it since 1-2 months on Feedback Hub, finally. Posted on Lumia 930 with
Windows 10 Mobile

I want to update my 640. Does this build run well on it? Does Band work well in terms of notifications, Cortana etc?

Cortana is pretty broken for me, I'm considering a reset already. +640/Win 10

Guys,
Does your screen still flash when locked while changing music track?

Wow this is huge news. It's been a long time since we got so many new fetures! So excited!

I installed this on a secondary device 640 thank god.I'm on my second hard reset could not open anything after installing it hard reset nothing on the start screen now doing another one. My lock screen had nothin on it. Settings nothing at all was opening thank god I didn't put Redstone on my 950

DONT DO THIS UPDATE ON 930 YOU WILL GET SAD SMILE FACE THEN YOU ILL NEED TO REBOOT TO 8.1, IS HAS HAPPEN TO MANY, NOT ONLY ME.

Lumia 930 here and updated without issues

OK. Updating apps that are on your SD Card is still broken. You have to move them back to your phone, update, and then move them back to your SD Card. How this wasn't fixed is beyond me. The camera button replaceing the back button on the lock screen is nice. Video flicker is fixed. HDR replaced Rich Capture in the camera app. Try to change lighting and I get "Something went wrong, please try again error." Wonderful.

Both your issues are fine on my 640 lte running very good on my phone

I absolutely love this update, only thing that sux is that i don't have flashlight in action center anymore and can't add it through settings. Posted from the WC app for w10 using lumia 1520

Oh wow, thanks so much! I rebooted twice and after the second reboot i could add it to my quick actions again through the option called "add or remove quick actions"! Posted from the WC app for w10 using lumia 1520

L1520 here, flashlight is available to me, i did do a hard reset btw

Is cellular bug is fix in this build? I have a problem on current build for slow ring, sometimes my phone will stuck when I open cellular data and settings or it won't open then there's the sms that super delay to send and receive sms (I can receive them too when I remove both sim) Lumia 535 Dual Sim

I have similar issues on 950XL :(

just wondering if the live image view is again removed from Photos??

Outlook mail stop auto retrieving mail for this build..... It requires manual sync. MS should push an update in Store to fix this........pppppplease!

Let me break out my trusty 1520 to try this...

Did anyone else loose their FM Radio on the 950XL?

I music controls on lock screen means lock screen improvements are in tow.

Can Cortana set timers yet? If not, this is absurd.

I got camera issues on my 535 with this build. Otherwise is good

Same here on 535. Just can't use camera from any app... FM radio is gone..

This looks great. Excited for the anniversary release!

Yes FM Radio is MIA... let's not panic I'm sure it's coming back.

devices like S6 and S7 dont even have FM Radio to begin with, its alright if its MIA, will be back shortly ofcourse :D

Just Finished installing on my L1520, and seems great, excited about trying the new features, Win10 /M is love. so much for a and OS that was not MSFT's Focus or was declared Dead!.... a slap on face of the trolls, MSFT Rocks!!!

Nokia lumia 730 glance screen not sopported this feature please update

Glance is under Personlization, i felt the same when i updated

no kidding but it seems faster. try opening tombstoned apps from the start screen. barely a blip of a splash page! worked for edge, outlook, even maps! amazing! lumia 950 here.

Good to hear... although also hearing a lot of people not being able to launch some apps. Hopefully it will be okay on my 950XL

It is night and day compared to the previous build, my 830 feels like brand new and everything that was failing to me is working now, couldn't be happier

I know it's been like butter on my 640

What about USB-OTG to ethernet support that was missing before on Lumia 950 and 950xl

There is this serious app launching problems in this build. some of the apps like facebook messenger, metro file manager, etc won't launch even when installed to internal storage.

Damn! That is one heck of an update.

Agreed. Though its also very buggy. Next one will be epic coz hopefully it'll be fixed. Posted via the Windows Central App for Android

Cellular data not working in14.
.... Updates in lumia640xl,and it not resolved in latest update 14322.10000

WHY CANT I DOWNLOAD NEW APPS FROM THE STORE AFTER THIS UPDATE? :( Posted from L640XL RS1 WM10

>ASCII emoticons Someone tell me if they included ( ͡° ͜ʖ ͡°)

I really need to find where I hid my Lumia 920 from the kids.lol "Old" people problems. The updates are rolling in left and right. One picture at a time -- LG V10

Which build is more stable.218 or this one

Notification centre is overall good. But i have noticed that there are lot of space in screen can be utilised well. Why do you left around 0.5 cm space between quick action centre and title bar??. As for a 4.5 or 5 inch display phone. Its big. And in volume adjustment bar also. If the space used well it will look more attractive.

My update is stuck at 99% HELP

Am i the only one who needs an applocker as a system app??!!..

+1 Posted via the Windows Central App for Android

Yaa..i dont even understand the logic of the complicated apps corner..applocker isn't that a sophisticated feature to make..i gues..

Ok great, now make Cortana available in The Netherlands... Takes waaaaay to long MS

Did anyone notice message delivery status is finally shown as a status of the text message instead of a separate message from your carrier? Very nice, at last!!

How's the battery performance on L930 on this build?

Closing apps from the task manager is a lot better, they actually close even with the slightest down swipe. Kids corner transition to and from still sucks though, I hope the address that soon.

Downloaded on Lumia 640.Blazing fast.no issues till here.Love this build.

The build has issues with some apps... Facebook Messenger doesn`t work, you have to open it from inside Facebook, a 9GAG app that I was using is doing the same as Facebook.. had to install other, Windows Central gets stuck on opening articles sometimes. I also get stuck Pending apps the Messenger and the new 9GAG apps since I tried to reinstall them... Also seeing some Camera / Groove / Weather / news updates over and over again in the Store.

No double-tap to wake? Epic fail.

Has anyone used it on 735?

Does twitter no longer sync with the people hub?

Lets see if current Mobile ever reaches quality of WP 8.1, before its scrapped and beta test starts anew with Intel chips.

I'm not able to add quick actions after removing them.. Anyone with same problem?

All of that up there ? Made me fall in love with ms again. This is prolly a bugged build but the changes :3 its like christmas morning hype

This is awesome. Cant wait to update! Posted via the Windows Central App for Android

I like the idea, its a big step that Microsoft is taking

Loving the updates, can't wait for them to reach the regular users, but not loving seeing many of the features I have been waiting for, swipe to go back and forward in edge, speed dial or most visited edge start screen, reading list categories and importing from reading app, phone profiles, such as silent, meeting, normal, outdoors, with timing capabilities ... To name a few.

This build contains much improvements. But so many bugs too :D I tried it on my 535, and the first thing today after the university was for me to go in the Nokia Care, and let my phone reset to wp 8.1 :D No, I'm not staying with it, just want to get back to w10m build 10586.218 :D Posted with the Windows Central app for Windows 10 on HP 250 G1 notebook. It is a scary old monster, I think :D

why don't they just put a permanent BATTERY PERCENTAGE at the back of that battery icon??????

i think its better the way it is, just my opinion, battery live tiles are better since they give more info too

In my experience they sadly often don't show the correct %, as they apparently can't update often enough... You have any recommendations of one that does?

Good idea bro. Send From My L830

Has anyone noticed that windows hello doesn't work properly and thatthe device sometimes dresses on Lumia 950? Please share your experience of this build on the Lumia 950 CoJo101 from Lumia 950

How about a hands on so I can cry looking at it on mi icon?

Anyone having connectivity issues? my mobile data and SMS functions are dead, and WiFi doesnt work well. When I try to open de Cellular Data setting either from the Action Center or the Settings page the phone will hang and need to soft-reset. Even after several reboots still same behavor. I have a Lumia 950XL

Cortana and OneDrive app not functioning since update. Am I the only one? 950XL

Cortana is going to be the baddest ***** in the yard

Really like the new features constantly being pushed out...however When will we get peak update times on our Email/Calenday sync? The based on my usage settings is destroying my battery life at night on my Lumia 950 XL when it syncs my work emails...

Anyone else having Hello fail miserably in this build? I've had to turn it off completely as it can get my 950xl stuck. Most times it just doesn't show up when trying to unlock the screen...
Other than that and missing localization everywhere, this is a really great build-it really seems like things are catching up :D

I would love, although that possibly requires an API modification from both Microsoft and developers, to have access to app-based reminders. For example, if you get a new Whatsapp for your friend, remind you to send him the address to the place you're goint to meet. At least something as simple as "Remind me to ask for a cab next time I open United". It would be nice just with text after opening something, but if it allows Cortana to automate some tasks like booking or sharing requests, especially with other apps, it could make UWP and Cortana extremely powerful tools (for the business customer) and sexy features (for casual custumers).

Guess, the Speech for phone accessibility feature is still missing in 14322 build, if so, then its really sad. Microsoft needs understand this important feature, the MS team is more focused on conversting the phone as PC, but phone must be made perfect to use as a phone before using it as a PC. Need lot of changes in battery efficiency, back up is too low compared to w8.1. Hope all these issues will be taken care before releasing this upgrade officially.

FB messenger isn't working in this new build. Anyone else has encountered the same problem?

Cortana's 2 years old now. I've owned two "flagship" Windows phones in that time (920/930), and I still have no proper support for Cortana in Australia (specifically Hey Cortana). I can get around it by changing all my settings to US or UK (speech recognition works fine in both of these set ups by the way, where all this BS about Australian accents being too dificult to recognise is coming from is beyond me), screwing up my typing user experience in the process. Here's a thought: make Cortana available in full in Australia, using the UK speech recognition since it works fine, and if it's not perfect, who cares? I'm on the fast ring, I'm not here for perfect, I'm here to try out new features and give my feedback.

Nasty update..FM was removed.. Sync is not working.. apps showing pending after complete installation.. Video player is not working,, properly charger is not connecting immediately..what the R&D team is doing..without proper testing of software why Microsoft is pushing the updates..

Why don't you just put a link to Microsoft's site and have done with it? https://blogs.windows.com/windowsexperience/2016/04/14/announcing-window... At least Microsoft puts in screenshots of the changes... you take them out. That's some fine tech journalism you're doing at 'Windows Copy/Paste'
Windows Central Newsletter
Thank you for signing up to Windows Central. You will receive a verification email shortly.
There was a problem. Please refresh the page and try again.