FYI: Microsoft's My Family for Windows Phone allows you to manage the downloads of your offspring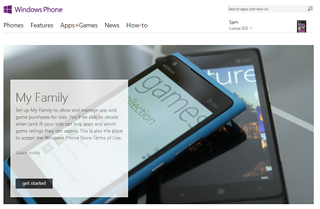 Here's one for all of you who did the bird and the bees with your significant other and now have little offspring running around. It looks like Microsoft has a new feature for Windows Phone parents and kids called 'My Family'. It's a feature we haven't really seen before on windowsphone.com and we're going to go with it's a fairly new thing. It's a cool feature to help manage your kids and their Windows Phone. (Ninja edit: it's new to us because the majority of us writers don't have kids. So if you've known about this for sometime cool story. If not, enjoy it and we hope you find it useful.)
Navigate to the top right dropdown menu on windowsphone.com and you'll see the new tab for My Family. The first step is adding your child's Microsoft Account to your My Family. They need to be under 18 for this to work (duh) and you'll need to know their login information. Once you've added them under yourself they'll show up in your My Family. From here you can set permissions for app and game downloads in the Windows Phone Store. Previously by default if you had a Microsoft Account and Windows Phone you couldn't download from the Store if you were under 18. My Family works to address that need for kids to download apps and games.
After getting started, you'll want to add a kid (it should be yours)
Click 'Fix it' to sign the Store Terms of Use on behalf of your child
Fill in the missing information for your kid (which shouldn't be missing)
After adding and giving permission for app download for the child account you can then tweak a few settings. You can allow them to download both free and paid apps/games, free only, or no downloading. For games you also have the option to set a rating filter that limits their access to games that you deem appropriate for their age and maturity. Click 'update' next to the kids name to access this panel.
Set the permissions for the games they download (I would have hated this as a kid)
Microsoft has been made Windows Phone a more family friendly device. Kids Corner is a great tool for giving your own smartphone to the youngling's and now My Family looks to address the parenting duties for kids with their own devices.
What do you guys think of this new My Family? Any improvements they should make in future implementations of the service?
Thanks for the tip Edwin!
Get the Windows Central Newsletter
All the latest news, reviews, and guides for Windows and Xbox diehards.