FYI: Microsoft's My Family for Windows Phone allows you to manage the downloads of your offspring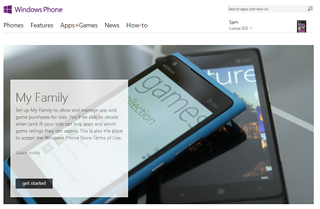 Here's one for all of you who did the bird and the bees with your significant other and now have little offspring running around. It looks like Microsoft has a new feature for Windows Phone parents and kids called 'My Family'. It's a feature we haven't really seen before on windowsphone.com and we're going to go with it's a fairly new thing. It's a cool feature to help manage your kids and their Windows Phone. (Ninja edit: it's new to us because the majority of us writers don't have kids. So if you've known about this for sometime cool story. If not, enjoy it and we hope you find it useful.)
Navigate to the top right dropdown menu on windowsphone.com and you'll see the new tab for My Family. The first step is adding your child's Microsoft Account to your My Family. They need to be under 18 for this to work (duh) and you'll need to know their login information. Once you've added them under yourself they'll show up in your My Family. From here you can set permissions for app and game downloads in the Windows Phone Store. Previously by default if you had a Microsoft Account and Windows Phone you couldn't download from the Store if you were under 18. My Family works to address that need for kids to download apps and games.
After getting started, you'll want to add a kid (it should be yours)
Click 'Fix it' to sign the Store Terms of Use on behalf of your child
Fill in the missing information for your kid (which shouldn't be missing)
After adding and giving permission for app download for the child account you can then tweak a few settings. You can allow them to download both free and paid apps/games, free only, or no downloading. For games you also have the option to set a rating filter that limits their access to games that you deem appropriate for their age and maturity. Click 'update' next to the kids name to access this panel.
Set the permissions for the games they download (I would have hated this as a kid)
Microsoft has been made Windows Phone a more family friendly device. Kids Corner is a great tool for giving your own smartphone to the youngling's and now My Family looks to address the parenting duties for kids with their own devices.
What do you guys think of this new My Family? Any improvements they should make in future implementations of the service?
Thanks for the tip Edwin!
Back to back bee openers, nice!

This is,Old.. Have been using,it for a while now

HEY! Remember that part where you read the first paragraph and we said it was 'new to us'? Or did you just read the headline and skip to the comments? :)

I saw it some time ago as well.

Thanks for the reminder and the great walk-around you posted. Many here are perhaps not aware of this feature and it's something anyone with children would like to use.

Yeah, these reminders, or new things to some of us, are great! Please do more..

Read... but still old... ;)

No kidding. I started using this with my kids WP 7 through the Zune software. I thought it had always been there.

I like it, although none of my kids have WP's. I don't feel like buying a data plan for the little brats.

Hand-me-down wi-fis..? =P

My kid is on t- mobile, $10 a month for the add a line, no data, the lumia 710 was free. A year into the contract we added unlimited data (she's a good kid) for another $10/month. She may not have all the apps of her iPhone using peers, but that doesn't bother her. And they sure do love her phone when makes a hotspot out of it for them. :-)

Confused why you need to know the kid's Microsoft account login info. Will just the ID work or do you also need the password?

Login info = email addy + password.

Needing the password is better as just the ID we could screw with our friends :) oh the fun we could have.

This makes me kinda wanna have kids...kinda. :)

Don't do it! (j/k...I have 2 little girls of my own, but they're driving me CRAZY right now!)

Haha...driving me crazy would be a very short trip! :)

Sounds like the WP version of Family Safety, which I use on my Win 8 PCs and tablets. Good to know about.

All the info from my xbox family/ windows family safety set this all up automatically.

I think for some people, just the fact that there is a page for your phone and info might be a revelation, let alone this one feature of it...lol =P

This is really good for the kids but the problem with this is, there is no way to just approve app purchases as the parent..
I think this would be a great feature. And should also work with windows 8 or the xbox. For some reason they all have different kids stuff.
Think about it Most kids don't have credit cards and we don't want them to spend what every they want as well. I dont see anything wrong with an aproval system, for example if my kid wants a game they would click on buy and an email would be sent to the parrent to approve or disaprove the purchase.. this is setup now with aproving friends ...
Mark


On WP8, you can get close if your kid doesn't have any need for Wallet. Put your CC in their Wallet and put a PIN on it that you keep to yourself. Then purchases can be made but only when you personally enter the PIN. More hands on but it works....

Thank you very much for that tip! I was trying to figure out a way where I could let my sister buy an app with my credit card while not giving her "unlimited" funds access, hehe. But it still seems like Windows Phone needs to bring over some of the Zune Parent Account management features where by a "parent's" credit card could be used if a purchase was approved for the "child."

Yeah, like maybe a email confirmation sent to the parent first for approval?

Meh, they don't need instant buys, especially with so many trials available. I just log into the website, take the restriction off, buy the app for them, and put the restriction right back. Now if you could gift apps.... That would rock.

That's true but you need to be very carful with that. I used to do that, go to xbox.com and don't let them purchase stuff and take on and off the restrictions. But now she has a windows 8 surface and that same rule does not follow. With the restrictions off she can still purchase stuff from with Windows Store in Windows 8...
Just an FYI...

Mine's a little small for that right now, but in a few more years I'll be grateful!

Awe, you're not going to be with Apple by then?

I wish it allowed filtering of websites like it does on Windows 8. We've installed the AVG Family Safety browser on our daughter's L810, but I'd like a finer level of control over what she's allowed to see in the default browser as well.

My kid is a bit young too, but will definitely be using in the up coming years.

'bird and the bees'. Just one bird? Sounds kinky.

Microsoft is building by far the most comprehensive ecosytem for families between this, kids corner and WP8 rooms. I hope to see the Windows 8 parental controls and these being merged in the future.

Really, since I first bought a WP8 phone, I didn't like this feature as it blocked my Outlook account from downloading apps for my phone, and forcing me to make a secondary account to get it work. Sigh.

Why hasn't this been featured in an ad?

They have to get it one by one to avoid overload... ;)

My problem is about my kid browsing the web... I found a lot of porn in his history browsing... How can Microsoft help me with that?

Since internet is made for porn there is no way around it. maybe talk to your kid. but i can guarantee you that porn will not stop your kid from doing a masters degree and having a wonderful girlfriend

That's a bit of a falsehood hon. You and others may be fine but I have met some porn aficionados who quite literally cannot separate a woman's personality from what she can do in bed. No woman would put up with a guy like that unless they are desperately lonely. I'm not going to go crusading but I don't view porn as harmless either.

The parental controls in Windows 8 are great, I use it for my kids so they can't access social networking for example. It also emails me internet usage reports, really great!

Really, all you can do is keep an eye on them and look for the best filters you can. Each of my nephews has gone through this but their mom kept on top of it and they eventually grew out of it. The best protection for that sort of thing is you.

does it prevent in app purchases? buying game items that appear on phone bill?

+1 This would be huge!! My heart skipped a beat when I got my phone back from my child who had been using Kids Corner and there was an open web-page waiting to confirm a $99 in-app purchase!!!


Now what they really need is to allow a parent to use the "Find my phone" feature without having to log in under the child's microsoft account. That would be most useful.

Windows Central Newsletter
Get the best of Windows Central in in your inbox, every day!
Thank you for signing up to Windows Central. You will receive a verification email shortly.
There was a problem. Please refresh the page and try again.