Microsoft releasing Windows Phone 8 SDK on September 7th?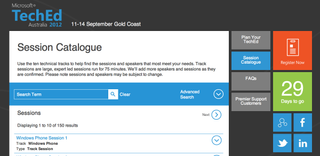 Although the Windows Phone 8 software development kit (SDK) was leaked a few weeks ago, allowing us to go through it like drug-starved loonies, the big question on everyone's mind is When will Microsoft actually release the package to developers?
As one can imagine, SDKs do take quite a lot of work to put together. There are APIs to lockdown, questions and answers to be formulated and it all needs to be written up so that developers will have an easy 'cookbook' for making apps. In that regard, we can see why it would take the Windows Phone Team some time to put one together.
The highly-anticipated Windows Phone 8 SDK
We now think we may have a date for that release: at or around September 7th The date comes by way of inference not a tip or documentation. And like all inferences there are certainly no guarantees.
From September 11 through 14th, Microsoft is holding their TechEd conference in Australia. Windows Phone has eight sessions planned but when one clicks for the session details the following message is shown:
What's odd about that is when you peruse the rest of the sessions for everything else—from Azure to Windows 8 to Lync 2013—all have session details already in full. In fact, out of the 150 sessions for TechEd Australia, it is only Windows Phone that has an embargo on session details for September 7th.
The September 7th embargo on session details for TechEd
The only reason we can think of (and the Windows Phone insider who tipped us) is because those sessions deal with the Windows Phone 8 SDK. After all, TechEd is developer and IT conference so the only thing for them to discuss is the SDK (and they aren't talking Windows Phone 7.5 that late in September).
While that's great news for those devs itching to get their hands on the Windows Phone 8 SDK, it does not give them too much time to start coding apps before the first phones are expected to hit shelves—in fact, at present estimates, that's less than 60 days for them to start to get new apps. That should leave little doubt that Microsoft has a very tight time schedule that they are trying to meet for this massive OS release. Let's hope it doesn't disappoint.
Update: As an odd coincidence, @EShy reminds us that Nokia has something "amazing" planned for September 7th too. Certainly intriguing though we're not sure of the exact connection. We just know that September and October will be very busy for our writers.
Source: Microsoft - TechEd Australia 2012; Thanks to our tipster who wishes to remain anonymous
Windows Central Newsletter
Get the best of Windows Central in your inbox, every day!
Daniel Rubino is the Editor-in-chief of Windows Central, head reviewer, podcast co-host, and analyst. He has been covering Microsoft since 2007 when this site was called WMExperts (and later Windows Phone Central). His interests include Windows, laptops, next-gen computing, and for some reason, watches. Before all this tech stuff, he worked on a Ph.D. in linguistics, watched people sleep (for medical purposes!), and ran the projectors at movie theaters because it was fun.
Can we just know if Arabic and RTL will be supported in WP 7.8 ?

No. It's supported in Windows Phone 8. End of story.

Thank you Daniel. You nailed that response. I'm tired of all this ridiculousness.

You don't have wish list in any coming OS ? If the feature was not been properly clarified? Now tell me who is ridiculous. I hate people who are just seeing things from their small angle.

The end of story part just sounded a BIT rude...I think it would have come off as much more friendly without it, but hey that's just me (:

Perhaps you weren't around to read the first 150 times it was stated to commenters in previous articles on such matters.

I really didn't mean for it to be rude but curt, yes. There are two reasons: we have an article talking about RTL in WP8, which is quite recent. The other is the question is off-topic for this post. It's just a little irksome seeing comments being used as a "general Q&A" area when we have forums which are geared for this type of discussion. The question of RTL and support in Windows Phone is very legitimate. This just wasn't the place for it.

I was around for that, however I prefer not to assume that everyone was as well.

I think your response is just plain rude .. I'm shocked that the writer of the article is saying so :(
I'm intersested too in the arabic support because i have a WP and i love it and i want it to support my own language, and i don't have the money to buy a brand new WP8 right now :)


RTL languages has nothing to do with the WP8 SDK though. It's off topic. Take it to the forums for discussion.

Looks like the SDK release is going to be just after nokia world. Maybe MS are allowing nokia to unveil new features before we see them in the SDK. Fingers crossed.

It certainly makes sense. Releasing the SDK at Nokia World simply makes no sense...or at least discussing it. I can see them announcing it though...

First the Rum'o'meter and now drug starved loonies.

I'd prefer it coming out as soon as possible since, like mentioned, it would give developers more time to work on their apps. Is the updated WP7 for 7.8 coming along the same time? That'd certainly help ease the speculation.
It's about time Microsoft stopped playing catch up and actually started leading the way. I hope Windows Phone 8 helps realize that vision of mine.

I think it's suppose to come out after windows phone 8 is released

As always, Microsoft has been working with selected developers for a while now on WP8 apps. (Audible is one example. )
That's probably how the SDK got leaked in the first place The logic of september 7th make sense, it could also be a day or two before.
Microsoft promised the SDK "later this summer" in the June summit and this is as late as they can do it while still calling it summer. This is also the date Nokia promised something amazing at one of their stores and just a day after Nokia World.
coincidence? could be, but it could also mean that new features were supposed to be revealed there (before that leak took some of the thunder away). As far as developers needing time with the new SDK. Right now our WP7.5 apps are still fine. there's no reason to start writing WP8 apps since there's no target market for that.
I was considering waiting with WP8 versions of my apps for a while but learned recently that the new WP dev center supports multiple versions of the same app. (so a XAP for 7.5 and another for 8.0 would be listed as one app in the store) The only thing that matters for launch is to have some key apps like skype fully integrated using the new APIs.

All I know is I cant wait to see what Nokia has in store for Sept 5. It also happens to be my birthday, so thanks for the gift in advance Mr Elop.

I highly doubt it. There hasn't been an Alpha, Release Candidate yet and I don't think Microsoft can just make the code ready that soon.

They've had it out with a few developers as others have said, so they may not even have a public beta for developers. And also as others have said, its almost too late to actually have a beta now anyway. They will want some wp8 apps ready for launch so they will want to get it out there pretty soon

Windows Phone =/= Windows

This may have been discussed or is unknown. Wp8 plans include sending videos via text? That would be nice

That is part of WIndows Phone Tango build 8773, 8779.

September 7th is about 3 months too late IMO.

I am a bit confused, isn't the leaked sdk already out and isn't that the whole sdk? So we all know what the new features will be, or are there features that can only be seen when browsing the phone? If so then the official release would only mather for app developers and they have had a while to look at it ( the leaked one ) so they could prepare themselfs. Soz about the english...

I just sounded off about this in the forums under "developers". I'd like to know what you think.