Microsoft is reportedly interested in buying Warner Bros. Interactive Entertainment
A major bidding war appears imminent.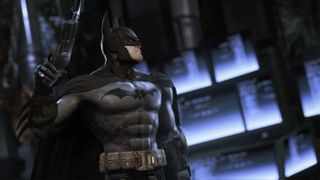 (Image credit: Warner Bros.)
What you need to know
AT&T was previously reported to be interested in selling off the WB Games division.
Activision, Electronic Arts and Take-Two Interactive were all reportedly interested in making a purchase.
Now, Microsoft appears to also be interested in bidding on the division.
WB Games includes Rocksteady, Monolith, NetherRealm and several other studios.
A few weeks ago, we shared the news that AT&T was reportedly considering selling off the Warner Bros. Interactive Entertainment division. This division includes studios like Rocksteady, NetherRealm, Monolith and others, as well as some classic gaming properties such as Mortal Kombat. AT&T was reportedly seeking a price somewhere between $2 billion and $4 billion, with Take-Two Interactive, Electronic Arts and Activision all interested in making a bid.
Now, it appears that there's another big company considering bidding for the acquisition. According to a new report from The Information (opens in new tab), Microsoft is also interested in bidding on Warner Bros. Interactive Entertainment. Microsoft has acquired several new game development studios over the last two years, including Double Fine Productions, Obsidian Entertainment, Playground Games, Ninja Theory and others as a part of growing Xbox Game Studios.
Regardless of who (if anyone) ends up making this purchase, it means a dramatic shift for the gaming industry and the loss of a major publisher. It's not the only rumored big purchase around though, as PlayStation parent company Sony is reportedly interested in purchasing Leyou, who own Warframe developed Digital Extremes and Gears Tactics developer Splash Damage.
Xbox Series X/S
Main
What is the Xbox Series X release date?
How much does Xbox Series X cost?
Why you can't preorder Xbox Series X yet
Windows Central Newsletter
Get the best of Windows Central in your inbox, every day!
Samuel Tolbert is a freelance writer covering gaming news, previews, reviews, interviews and different aspects of the gaming industry, specifically focusing on Xbox and PC gaming on Windows Central. You can find him on Twitter @SamuelTolbert.
This is worth the cost of not letting Amazon or Google get their hands on them. Can you imagine how much this is worth any future game service if it included exclusive rights to WB digital IP?

Getting heated up in the developer studio space. I think the signs are clear that it is content that will own the future of gaming, especially with game streaming becoming a thing recently, suddenly, it's the developers that may be calling the shots soon

So Mortal Kombat, Batman Games (and other DC games) and even all Lego games could be console exclusive to Xbox? That would be huge.

So...we don't know. If this purchase happens, AT&T isn't selling their IPs. They might however grant Microsoft any exclusive license to use them, much Disney did with Star Wars/EA.

For this price point I expect something like that.

I would expect the Lego games to stay cross platform if they do buy them. And they would have to probably pay per title when it comes to DC ip.

Microsoft should do this! I don't care if all the games are exclusive, just that we get them as part of gamepass, which would offer unrivalled value, and they still make massive money selling on PlayStation and PC!

Microsoft would win a bidding war. They could almost buy their competitors in this competition. The question I have is Microsoft just mainly buying the publishing rights for WB properties? Other than a few IPs, the bulk of what WBI develops are WB and third-party IPs that Microsoft would not own even after this purchase. Is Microsoft literally just buying Mortal Combat and the rights to DC Comics?

They would buy mortal kombat and like 4 studios.

WB Games consists of 16 studios not 4.

I used to think a partnership with Netflix and Spotify were key to gamepass. But if this happens a partnership with HBO MAX could be intriguing

Seems too expensive. You get Mortal Kombat and few licenses to DC and Warner's characters for a period of time. The only reason to purchase it would be denying Amazon, Google, or Sony and, as far as I know, none of them showed any interest.

You also get several high-quality studios though, which is by far the thing Microsoft is most interested in.

Ed Boon and Co making Killer Instinct. Half-Life 3 confirmed.

I'm more worried about Microsoft closing the studio two years down the line.

It is a tiresome incorrect narrative you are propagating. Studios close it happens. And so is the fact new studios are created. In fact Sony has closed more studios in the past 8 years then Microsoft.

@pjosephson
Look at MS's history and it's studios & gaming franchises...
Sony closed more gaming studios in the last 8 years? Can you prove that? I find that hard to believe considering MS's record.

Incognito Entertainment (2009)
Team Ico (2011)
Bigbig Studios (2012)
Psygnosis/Studio Liverpool (2012)
Zipper Interactive (2012)
Evolution Studios (2016)
Guerrilla Cambridge (2017)
Manchester Studio (2020)

The guy said last 8 years. So really it should be:
Psygnosis/Studio Liverpool (2012)
Evolution Studios (2016)
Guerrilla Cambridge (2017)
Manchester Studio (2020) So fine, I'll name you four:
Microsoft Studios Victoria (2013)
Twisted Pixel (2015)
Lionhead studios (2016)
Press Play Studios (2016) Plus these:
Team dakota just disappeared and then we had Function Studios, Good Science, LXP, SOTA, and BigPark all disappearing in 2016 when Lionhead was closed.
Or studios like Lift London moving away from gaming. Look at the studios MS were proudly presenting on their studios page in early 2016 ffs. How many of these 18 studios are sill present?
https://cdn.wccftech.com/wp-content/uploads/2016/03/microsoftstudios1.png
This shows that pjosephson was talking bs... And if you want to look at the prior to 2016, just look at this post:
https://www.neogaf.com/threads/looking-back-at-microsofts-13-years-of-fi... That tells a story...

Twisted Pixel Games just parted ways with Microsoft and still exist. They went on to release Ms. Splosion Man on Nintendo Switch and have made four Oculus games. Many of the Lionhead staff have moved over to Playground Games where they will continue to work on Fable. Five of those Sony studios closed were based in England which makes me wonder how long before Media Molecule is closed down.

Well Codemasters took over Evolution Studios. Also many of devs from the Sony studios were moved to other Sony studios. Many of these are part of restructuring of studios.
We're talking about studios here...
And MS's history here... Their history/track record with gaming studios, game development and number of games produced... Let's be honest here, they are far being what Sony despite having a lot more money...

It's not just about game studios, every company MS acquires has either been shutdown or is dying a slow death like Skype. Other companies do that as well, but not as often or prominent as MS. If any other company had purchased Nokia, I'm pretty sure it would still be making phones.

Never know with Microsoft.

This would be a huge win for Microsoft. NetherRealm could continue working on the Killer Instinct franchise and just put it into the rotation with Injustice and Mortal Kombat. Acquiring the Batman and other DC licenses would go a long way to combat Sony's exclusive rights to Spiderman. That was one of their biggest selling games this generation. The possibilities are endless.

Rather have MS buy them instead of EA and Activision, even though I don't own and plan to own a Xbox Console. The best place would be Sony but they don't seem interested.

In any case you wouldn't need a XB console to play any of MS's future games they'll be on PC/steam...

Like most console gamers I don't have a PC strong enough to run these games and even then consoles are just better for me and most. If Xcloud releases and it's amazing, then I will have a chance to play those games, if not then it's not a big deal, I never cared about their games.

Quite interesting how so many people are looking at this from MS or XB's point of view and not from a gamer's or even a XB gamer's point of view. From a gamer's point of view $4b of MS's gaming budget is going to go in the pocket of non-gaming investors of AT&T. $4b that is not going to be spent on making games for us gamers. For me that's a massive loss for gaming. I would rather see MS spend money on making new studios or expanding existing one and that money go directly into making new games & IPs, or giving a new life to old franchise they own rather than spend money on 3rd party studios just to make them "console exclusives".

I agree. But it does seem like MS has only shown interest in acquiring studios that are either up for sale already, or studios that were in trouble financially or lacking financial support to realize their dreams. Ninja Theory, Obsidian, Inexile all confirmed financial issues. And MS allowed them to not worry of funding. Instead have freedom and money to make what they want. So MS has helped these developers. They have also made The Initiative from the ground up. And have expanded Playground Studios into 2 development teams. At least it's not a case where MS is just using their immense wealth to simply buy anything they want. MS have enough money to buy every publisher and developer and still walk home laughing to the bank. Whylat they have actually done is quite ethical. And bidding on WB Games is absolutely fine as they are up for sale. At the end of the day if Sony or others can't bid for them due to their worth, that's not really MS fault.

If this happens LithTech will go back to it's roots > DirectEngine. Interesting times.

This is tough time period. On the one hand it's hard to see so many devs become exclusive. But on the other hand with Google and Amazon entering the market, there is little choice but to beat them to the punch. Throughout the 90s and early 2000s Sony acquired studios themselves. Like Naughty Dog for example. They didn't build ND themselves. They acquired them. But back then game development was cheaper. And Sony needed something to go up against Nintendo. So they splashed the cash back then to get them a great start. Now it's almost a case of splash the cash to stowe off new competitors with very deep pockets. Although Sonys pockets aren't nearly as deep as Google, Amazon and MS they bought their studios at a time gamig was alot smaller. All I can hope is EA or Activision don't get them. What has happened to Bungie, Bioware and others under those publishers is terrible. If MS does get WB Games, that would mean all their games on Gamepass. And to be honest Gamepass is all I use now. Haven't bought a game in 24 months. So that would be a good thing for me. If they are up for sale, it's not MS fault. It's AT&T. But MS would be stupid not to at least bid for all these ready made Dev studios. It takes a long time to build a studio. And have that built studio develop a bond. Let's wait and see. It's all conjecture at this point.