Microsoft is rolling out new travel and package tracking features for Outlook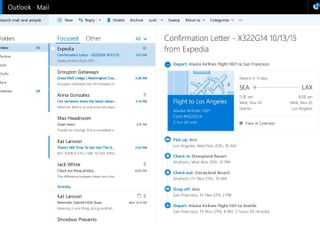 Microsoft is rolling out new Outlook mail and calendar features to Office 365 subscribers. They include better ways to keep track of travel reservations and package deliveries.
In a blog post (opens in new tab), Microsoft stated:
Outlook will also add those same travel reservation cards to a user's calendar automatically, and will send reminders about those plans 24 hours and three hours in advance. The same features will also be included for package delivery emails
The new features are rolling out now to Outlook.com web users and will be available later for Windows 10, iOS, and Android if they have an Office 365 subscription that has Exchange Online.
Windows Central Newsletter
Get the best of Windows Central in your inbox, every day!
Hence their "Delivery Beta" app I bet.

That app is a joke. The time reported by that app was always off by one hour (don't remember if ahead or behind) I just use Cortana to track my packages.

I find the app "Package Tracker" to be much more reliable. 100% of the time.

Cortana used to work for tracking packages on WP8.1 but on W10 it never has. I'm in the UK and UPS packages won't track but Cortana will take me to the web page if I type in the tracking ID, so she half does it

When will the rollout of the NEW Outlook web experience be completed? Just asking since I'm still stuck on the older version while some of my friends are on the new version

Seriously, this. I'm still on the old Outlook. I've been using it since day 1. My wife has the new Outlook. I thought the rollout was supposed to be done by now.

Worse still, it's really not worth the wait. No dark theme, no handy 'send and archive' feature...it's basically the same experience with a slightly new coat of paint.

Im stuck on the old version as well. But my new MS account I use for preview builds got updated right a way. :( Unfair.

I noticed the package tracking feature while using Outlook today. I just thought it was something I had missed...

Obviously it takes years until Microsoft makes something that others have made it 5 years before. So disappointing.

They're slow with everything. This is basic stuff. Remember when it took them a yr to add copy and paste capabilities to WP7?

Wasn't it about 6 months? The first iPhone had this issue too, not sure how long it took them to fix. It was poor of both of them to release their mobile OS without it though I agree on that

Very nice. Our lives just keep getting easier.

What means a Office 365 subscription with "Exchange Online"
I have Office 365 Personal...